With everything that's going on in the world right now, it's sometimes easy to forget that it's springtime. Although we can't be out and about right now, we can certainly try to capture the essence of the season inside our homes. And what better way to do that than with a few spring decor accents.
So if you're done with your cleaning and decluttering, it's time for a spring refresh! This spring decor accent roundup has something for every style and every budget.
You'll find picks in:
Rosy Neutrals
Boho Neutrals
Floral Accent Pillows &
Spring Storage!
Ready to spruce up your space this season? Check out these home accent picks.
Spring Decor Accent Roundup!
Spring Neutrals
I wanted to find items that you can easily swap in and out. A lot of spring decor accents can easily transition into summer, so finding timeless pieces was key.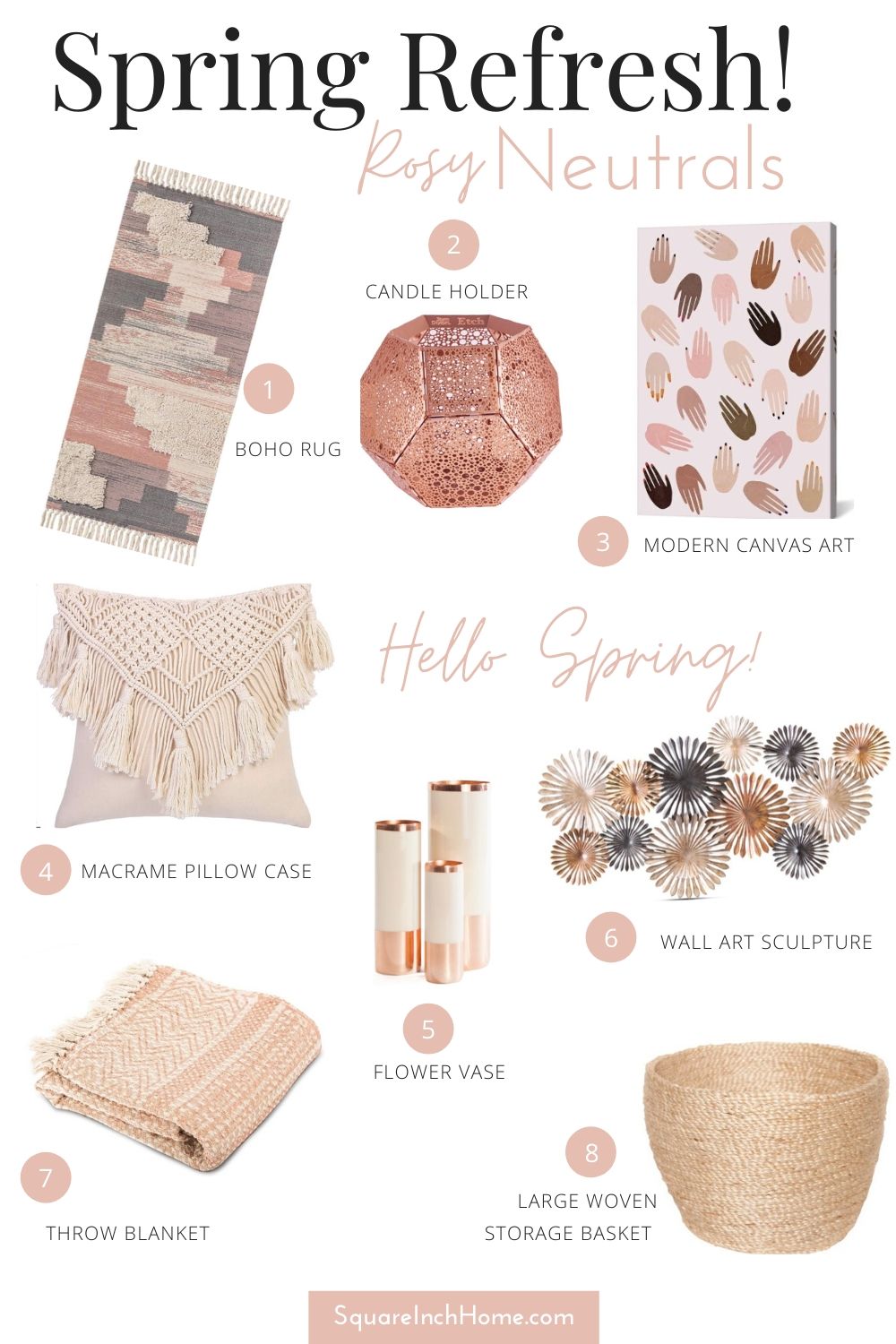 1.Dining/Accent Chair | 2. Boho Wall Art Set | 3. Rattan Baskets |4. Rattan Coffee Table | 5. Sunburst Wall Mirror | 6. Hand-Woven Area Rug | 7. Boho Throw Pillow Cases
Spring Accent Pillows
Throw pillows are a must for switching up your living room decor and it's likely that you'll need multiples. So I wanted to include some affordable styles & sets.
I also decided to curate pillow covers instead of actual pillows. This way you're not stuck trying to find somewhere to store them when the time comes to change your decor. Plus they're easier to clean and switch out!
Spring Storage
Storage is essential, no matter what size home. If you're storing things in plain sight, then stylish or decorative storage is the way to go. These offer double-duty functionality. They're practical and pretty!
1. Utility Rolling Cart Storage Organizer | 2. Medium Natural Storage Baskets | 3. 3pc Large Cotton Rope Basket | 4. XXL Cotton Rope Basket | 5. Gold Mirror Tray Jewelry Organizer | 6. Bamboo and Jute Rope Storage Basket | 7. Stackable Home Storage Organizer Box | 8. Rolling Abaca (plant fiber) Storage Bin | 9. Large Cotton Rope Basket | 10. Nordic Decorative Storage Boxes
YOU MAY ALSO LIKE:
Work From Home: 24 Modern Desks, Perfect For Small Spaces!
How To Decorate Small Spaces? – The Ultimate Guide!
Budget-Friendly Ways To Update Your Decor This Spring!
7 Ways To Create An Accent Wall Without Paint
13 Handbag Storage Ideas That Will Save You A Ton Of Space!
Pinterest's Most Stylish Kitchen Pegboard Ideas
Turn Your Tiny Bathroom Sink Into A Spacious Makeup Counter.