Turning Your Newly-Built House Into A Home
Whether you have just purchased a new home or you have just moved in, there are many ways to turn your new house into a home that is beautiful and comfortable.
The key is to take your time and choose the right decor and furniture to turn your house into a home that you can be proud of.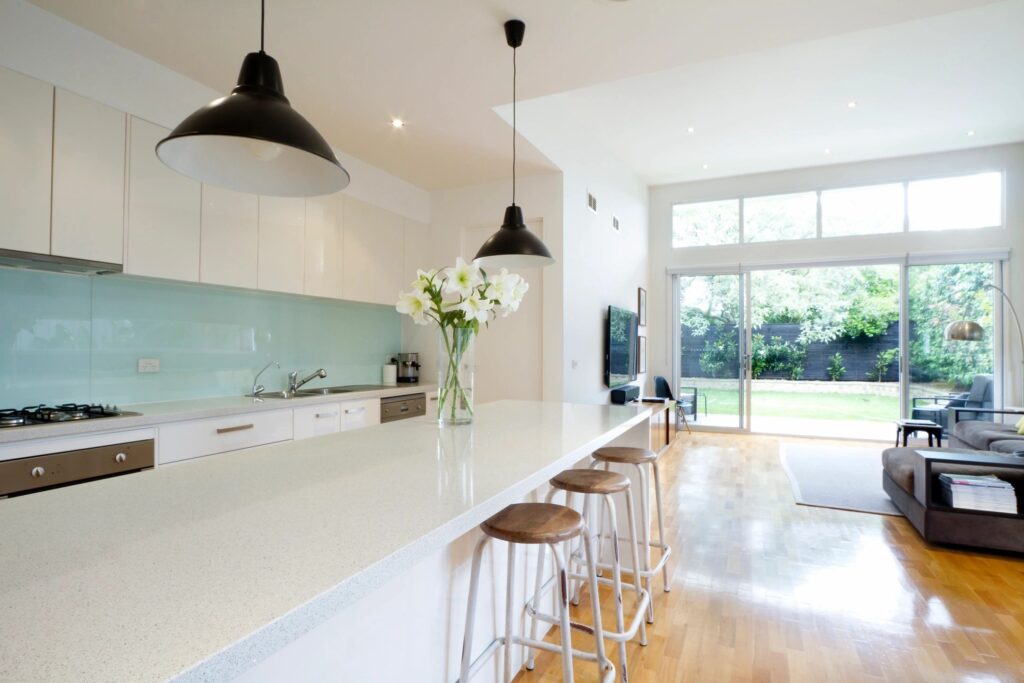 Building a Faux Fireplace
Whether you want to add a touch of rustic charm or a focal point to your new living room, building a faux fireplace can make a big impact. Not only will it look real, it will also help to make a small space feel more cozy.
To begin building a faux fireplace, you will need to gather the materials needed. You can choose from reclaimed wood, or you can purchase a piece of plywood. Then you will need a variety of tools to help you with the project.
For the mantel, you will need a piece of plywood or a thick piece of pine. You can also choose to add a stone surround or add decorative pieces. For a more colorful look, you can paint the wood.
Once the piece of plywood has been cut to the right size, you can assemble it. You can use adhesive to attach the pieces together or you can nail it together.
For the base of your fireplace, you will need a piece of plywood the same width as the base molding. You can use wood glue to attach it to the base or, again simply nail it together.
Wallpaper Murals
Choosing wallpaper murals for your home is an easy way to add color and a custom look to your wall. Whether you want to create a focal point, add dimension, or bring in the outdoors, murals can help you get the look you want.
Unlike wallpaper that is printed with a repeating pattern, murals feature a single, non-repetitive image. This allows you to customize your wall with high-quality images. You can add text or graphics to your mural and even flip it on its side to add a different look to your wall.
When selecting a mural, make sure it's sized to fit your wall. You'll need to measure your wall before buying, and then order your mural in the size you need. This makes installing it easier.
Depending on your particular mural, you might need to apply adhesive to the back of the mural before hanging it. Make sure to apply the adhesive on a clean, flat surface. This will ensure you get optimum adhesion.
Most murals are also sold in panels. You will need to install each panel one at a time. You will need to measure your wall carefully to ensure you get the perfect fit.
The Lighting
Lighting plays a huge role in creating the right atmosphere and ambiance within a living space. When it comes to turning your newly-built house into a home, picking out the right lighting is essential.
Here are some tips on how you can use the right kind of lighting to turn your newly built house into a cozy place to call home:
Use a variety of fixtures and lamps.
When creating the right atmosphere, it's important to use a mixture of lighting sources. Not only does this add visual texture, but it also allows you to customize the level and type of light in each room for different tasks or activities. Consider using floor lamps, table lamps, wall sconces, and ceiling fixtures to add the perfect touch of illumination.
Installing dimmer switches on your lights gives you greater control over the brightness in a room. This allows you to create different moods depending on what activity or occasion is happening in that space. In addition, dimmers are an energy-efficient way to use less electricity and save money in the long run.
Task lighting is essential for properly illuminating the area you're focusing on, such as a desk or countertop. This type of lighting should be tailored to the specific tasks that will be performed in each room and should offer a high level of brightness.
Accent lighting is great for highlighting artwork or architectural features in your home, such as a fireplace or bookcase. Consider using small recessed lights, wall sconces, or track lighting to add the perfect touch of illumination that will make these features stand out.
By following these tips, you can easily turn your newly-built house into a cozy home with the perfect amount of lighting.
Dress the Windows
Using the right type of window treatments can make a big difference in your home's overall ambiance. There are lots of different types of window treatments available, so you will need to take your time and do your homework.
A good window treatment is a smart choice and is a small but important part of the home improvement process.
The best window treatment is a versatile one. A good example of this would be a classic bay window that has been dressed up with a set of blinds.
For the best effect, consider adding a sheer curtain to the mix. This is especially useful if your windows are glazed or glass doors.
A window with a lot of natural light will require a more flamboyant treatment, while a room with little light will need more of a subtle touch.
Place Mirrors
Whether you are building a new home, moving into a new home or are looking to add some sparkle to an existing home, mirrors can provide you with the decor you need to create a beautiful living space.
They are affordable, versatile, and can be used to make a huge impact without breaking the bank.
Mirrors are also very functional. They can also be used as part of a gallery wall. You can even group several smaller mirrors to create a fresh look for a plain room.
If you're building a new home, you should be sure to purchase mirrors that will match your new decor. They are available in a variety of styles and shapes. You can choose from vertical mirrors, floor-length mirrors, wall-mounted mirrors, and more.
Home Decor small items
Creating your own home can be an overwhelming task. There are many different elements involved, including flooring, furniture arrangement, and decor.
Your choices will vary depending on the aesthetics of your home and your own personal taste. You may want to choose a style that is welcoming and practical or you may want to choose a style that is stylish and vintage.
If you are looking for advice, you may want to consult a professional. However, if you are not a professional, there are some things that you can do alone, with little creativity, to help transform your home into a welcoming and welcoming space.
If you are unsure what you should buy, you can choose a focal point. Whether this is a large piece of furniture or a few smaller items, a focal point can make your home feel special.
A focal point can be anything from a gorgeous couch you see on Instagram to an inexpensive piece of furniture you love.