Kitchen Remodeling: Stunning Ideas to Revamp Your Kitchen Space 
The need to have a stunning and attractive kitchen would propel one to adopt an idea among various options. Whether small or grand, motivation arises from having a couple of ideas informing the choice of structure and model, one may choose. The motivation could arise from seeing the latest trends making you want to add a subtle and convert your kitchen to have a modern outlook.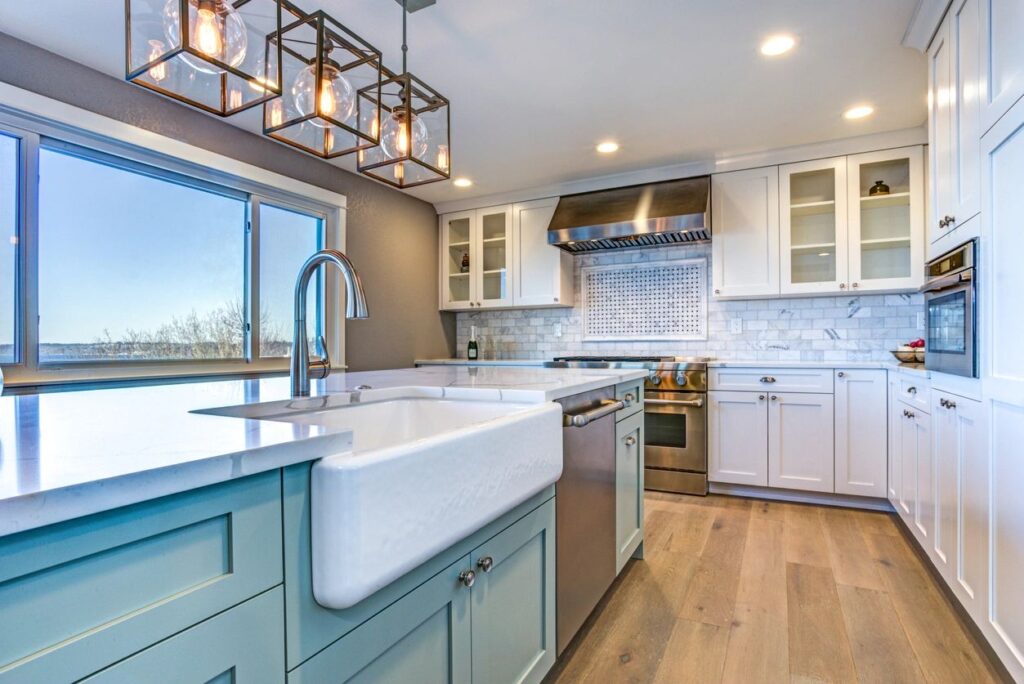 Ideally, one doesn't have to overthink and overlook simple changes like painting the old cabinet with an enticing color or revamping the backsplash. The endgame for a revamp remains to make the kitchen homey, not a factory or third-party processing homestead. Below are some ideas that would propel you to get your hands dirty in no time regarding kitchen remodeling.
Changing Basic Fixtures and Finishes 
A poorly planned layout affects the style or function of basic fixtures and finishes. One's kitchen looks poorly organized when tools and foodstuffs are improperly stored. Some changes to fixtures and finishes could include switching out the stainless steel sink that came with the house for apron-front porcelain, which boosts the room's charm. Brass bin pulls, butcher block countertops, and a copper backsplash behind the range add warmth to the new cabinets. Ensure that the fixtures you install will work with the finishes and paints giving you style and functional space.
Choosing New Cabinets for Your Remodel
Choosing new cabinets would serve one well if your main idea for remodeling a kitchen is aesthetics. The choices are plenty, even on a tight budget. One of the best cabinet models is the Ready to Assemble (RTA) kitchen cabinet. They come in a flat pack and all the hardware needed for assembly. It saves you substantial labor costs, giving you extra room to spend on quality products. 
Ditching Old Appliances for New Ones
Over time, kitchen interiors may become dull, and they may have lost their overall appeal. This is why indulging yourself in luxe appliances will bring out the aesthetics and improve the utility of the kitchen space. These appliances bring a new look to your kitchen and offer the 'hands-on' change you deserve. Old memories of your old kitchen remain with the old electronics, but changing them does not mean your home has changed. The space remains the same, only that you have added some style. Not only have the new-age appliances changed how you can use them, but they have also changed how they look too. To thoroughly enjoy your finished kitchen remodeling, ditch that 25-year-old refrigerator and opt for a stylish, sleek one that matches the decor and theme of your kitchen.
Adopting New Creative Lighting!
It's brilliant to be creative and smart with your kitchen lights to combine beauty and convenience for a better kitchen remodel. You can achieve the desired effect by mixing and matching different light fixtures in different spots in the kitchen. Whether you are looking for ambient or task lighting, you could plan the layout and the budget.
To combine task lights with cost-friendliness, you need to go the LED ceiling lights route. Besides being eco-friendly, these lights save a lot of dollars on electricity bills. You can also bring out the wow factor with these lights if you go for pendant lights above your kitchen island or dining area. For ambient use, you can choose chandeliers or even new-age track lighting. Make sure to install dimmers if you plan to spend some time eating dinners with your loved one in the dining area. 
Conclusion
An affordable and space-friendly kitchen would be the ideal focus when revamping. Various ideas lead to one common goal; revamping and refinishing a kitchen to have a modern outlook.