Mid-Century Modern Living Room – Design Board
Design boards are my new favorite thing! I can spend all day creating these. This week is all about Mid-Century Modern living room decor- Small Space Style! Mid-century Modern interior design is all about functionality, elegance, and simplicity. No fluff. Just beautiful, functional pieces. I covered Mid-Century Modern interior design in one of my earlier posts and explained why this style is perfect for small spaces. You can read more about it HERE!
Mid-Century Mod furniture is the perfect scale for small rooms, making it a popular choice among small space dwellers. It's a style I always come back to when curating furniture faves. You'll see a lot of it on this site. So naturally, I thought I'd create a design board with a few stylish pieces I found on Amazon. All in the style of mid-century modern.
By the way, Amazon has an entire section dedicated to Mid-Century Modern Decor! It's worth checking out.
Mid-Century Modern Living Room Decor For Small Living Rooms.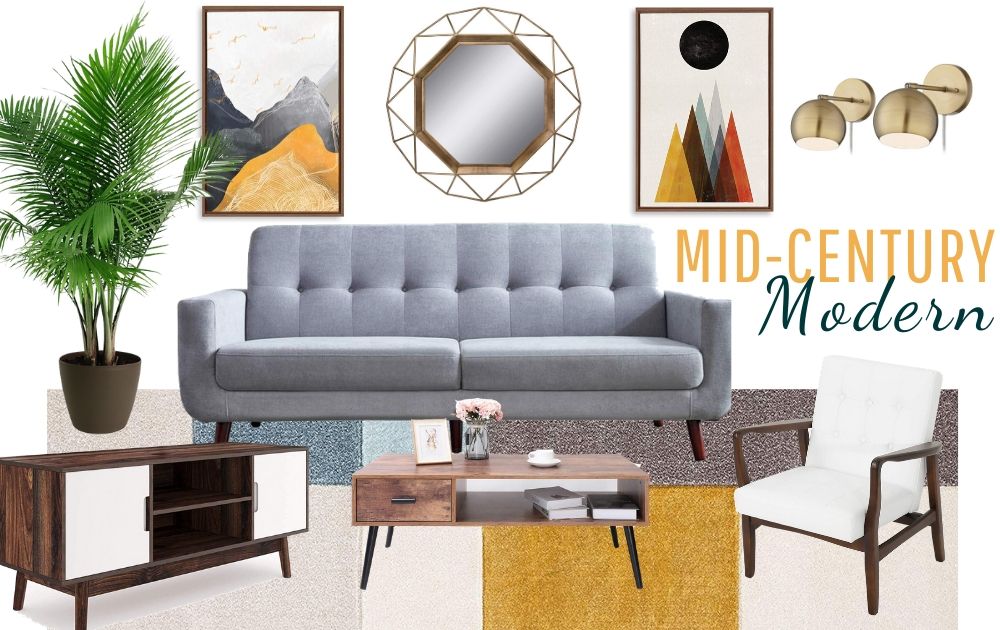 This living room features a mixture of warm and cool colors with gray and orange/gold hues and dark, wooden furniture. I started with the sofa and built the design around it, choosing only mid-century modern pieces.
The Furniture – Mid-Century Modern furniture is characterized by its smooth, clean lines, tucked fabric, and wooden features. It's floating effect creates a light and airy feel throughout the space. This is especially important for smaller rooms. Chairs are often shaped to cradle the human body. You gotta love that! It's basically art in the form of seating. Since we're dealing with small living rooms, I wanted to include pieces that offered extra storage (the coffee table and TV stand/console).
If you have trouble identifying mid-century modern furniture, Look out for: spidery legs, open sides, tightly sewn, neatly tucked fabric and classic shapes.
Rug & Artwork -The geometric, multi-color rug and art print are a nod to the traditional mid-century modern color palette. Mid-Century Modern design often features retro colors such as moody hues of brown, orange and rust, So I wanted to incorporate similar colors in this design. I particularly liked the cool and warm tone combination of the rug and I think it pairs nicely with the artwork.
Mid-Century Modern Patterns & Prints often features geometric, asymmetrical, and abstract patterns and shapes.
Mid-century Modern lamps feature either very straight, geometric lines or round, curved contour, like the wall lights in this design board.
PIN THIS FOR LATER!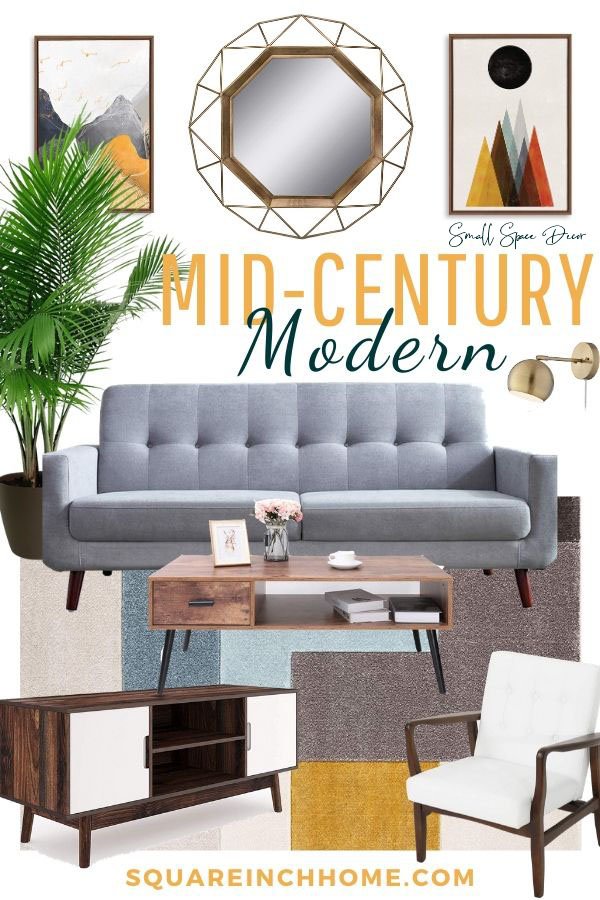 You May Also Like: