Share this
Shopping for that special someone who lives in a small apartment or tiny home can be challenging. Small space dwellers don't have a lot of room for extra stuff. So gifting should be well thought out and at best useful.
There are some things to keep in mind when shopping for someone who lives in a small home: Scale, Function, and Purpose. If the gift doesn't fall into at least one of these categories it may not be the right choice for the home. Luckily there are a ton of options that they'll love! Here are some amazingly useful and thoughtful gifts for small apartments and tiny homes.
I split this list into 3 sections to make browsing easier:
**This page may contain affiliate links. If you purchase something through these links, I may receive a small commission. You will NOT pay more for products purchased through these links. I only recommend products that I love and trust! **
Gifts For Small Kitchens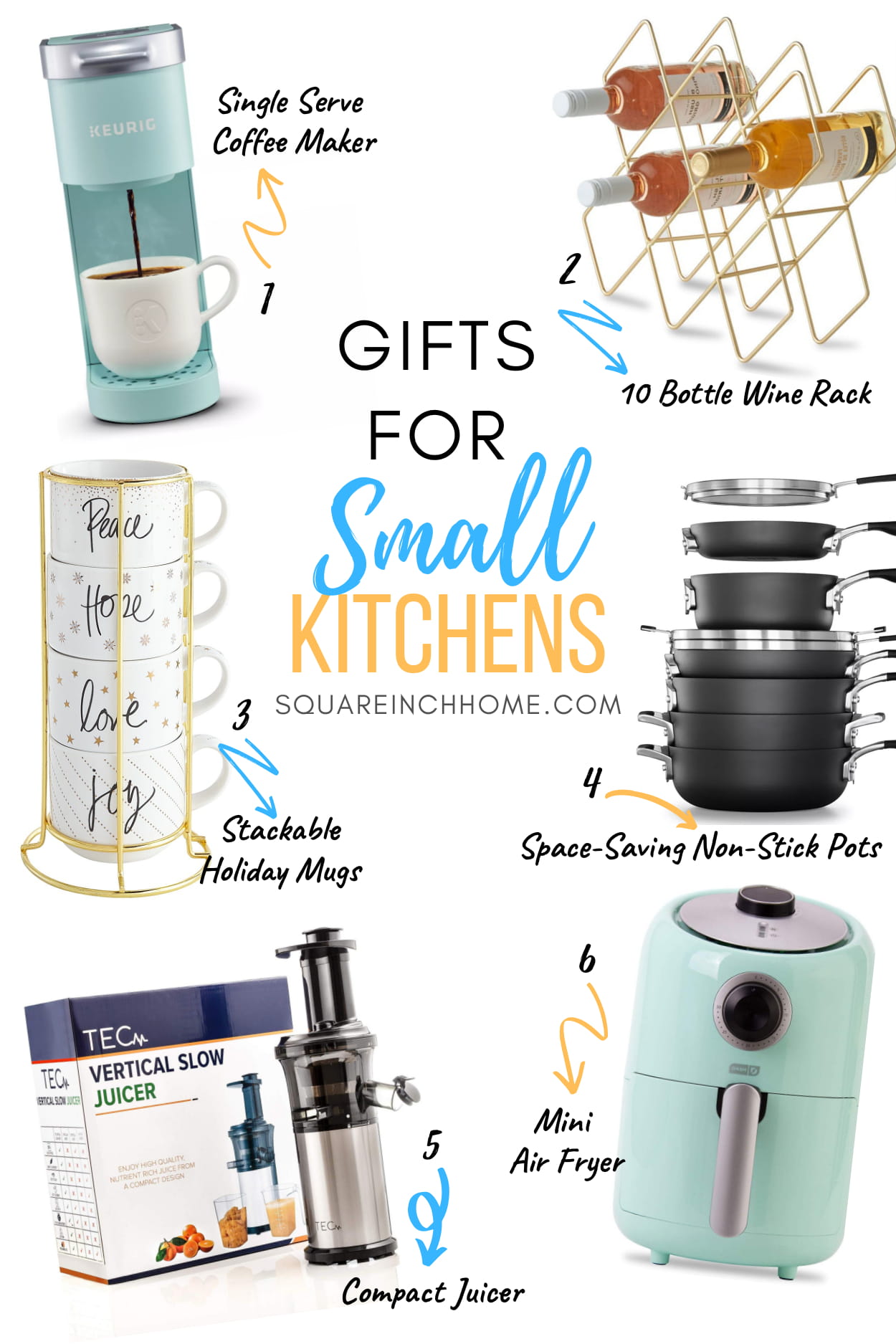 1. Mini Single-Serve K-Cup Pod Coffee Maker – See Price On Amazon – don't expect the receiver of this gift to offer you a cup of coffee when you visit. You've given them the perfect excuse.
2. Freestanding 10 Bottle Tabletop Wine Rack– For their ever-growing wine and liquor collection.
3 Sentiments Stackable Mug Set – $24.99. Save Space and spread some Joy with these pretty and functional mug set.
4. 9 pc Space-Saving Nonstick Cookware Set – For the home chefs and food enthusiasts. This stackable pot set will save a ton of cabinet space when storing. They'll have all the cooking resources they need without sacrificing space.
5. Portable, Compact Juicer – See Updated Price On Amazon. A perfect gift for the health-conscious friend with limited counter space. Quiet and effective. This juicer leaves nothing to waste!
6. Compact Air Fryer Oven Cooker – See Updated Price On Amazon. Everyone and their mama has an air fryer these days. There's no reason why people with tiny kitchens shouldn't have one too. I mean, its an Aqua Blue Air Fryer!…Take my money already!
Home Decor Gifts For Small Homes & Apartments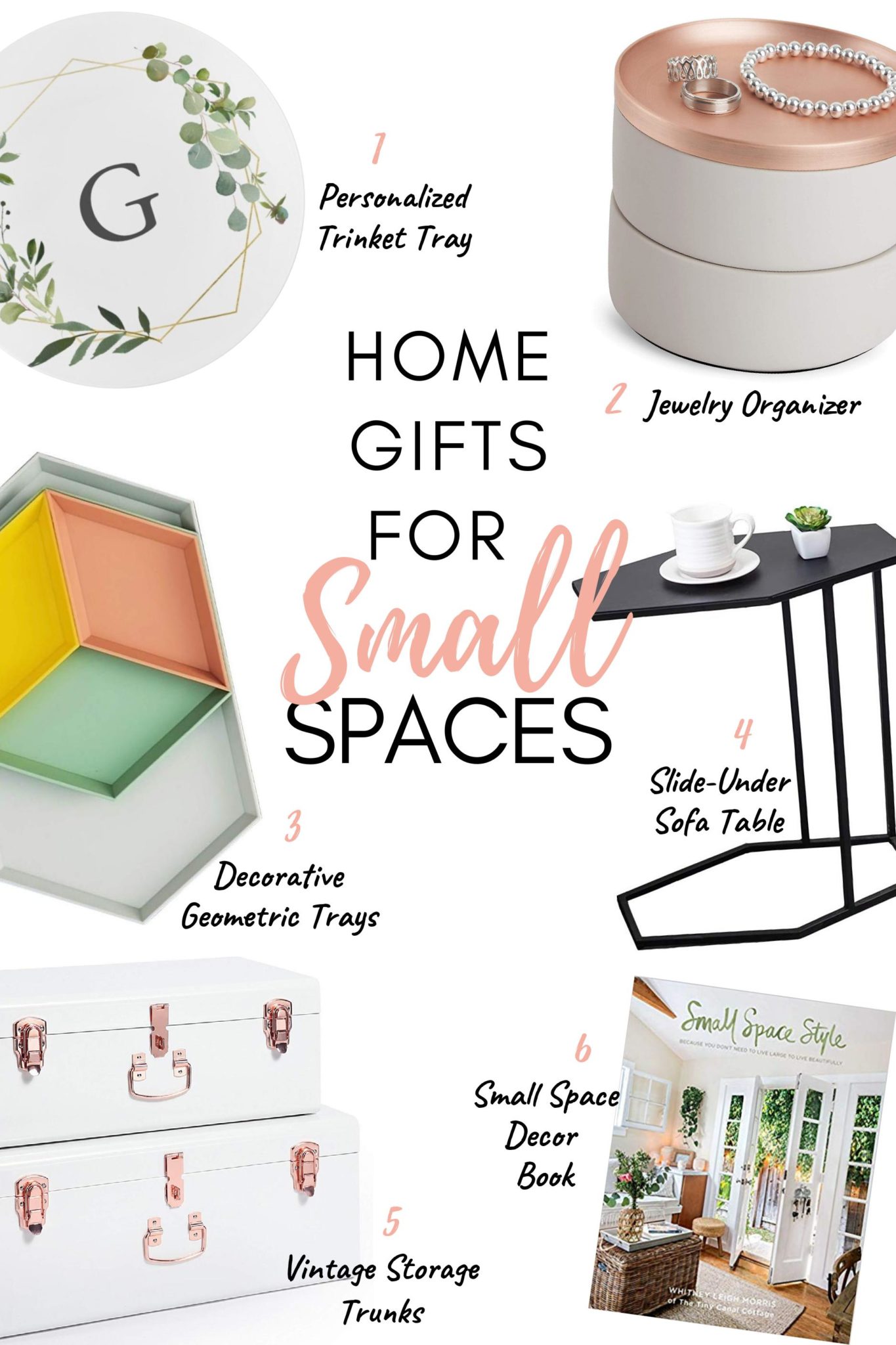 1. Personalized Eucalyptus Trinket Tray from Zazzle ($25.65) – Everyone loves personal gifts. Personalized home products make perfect gifts for people who are into decor. Personalize this pretty trinket tray to create a gift they'll love. Check out ZAZZLE for more custom and personalized gifts! You can even create your own home decor gifts and products!
2. Two-Tier Resin Storage Container/ Jewelry Box from Amazon – This stackable resin storage container is not only space-saving, but it's also stunning, with its rose gold top and gray base. It's Practical and Pretty! That's 2-for-1 right there!
3. Unbreakable Decorative Geometric Storage & Trinket Tray – Talk about modern design. This modular 4 piece tray set can be used to store anything and can be shaped in over 5 different combinations. They can use them to store anything, from jewelry to loose change and even as a snack & drink tray.
4. Space-Saving Slide Under, C-Shaped Table – A side table that doesn't get in the way. Both stylish and convenient, this 'C' shaped space-saving table is a great option when there's no room for a standard side table. Use for storing coffee and drinks or as a laptop table. Makes the perfect gift for small apartments and tiny homes.
5. White & Rose Gold Vintage Storage Trunks – For those who love the vintage look. These storage trunks will add huge style and storage to any room. They're spacious and come in a variety of colors to match their style and decor. Get them in: Black Velvet & Gold, Navy & Gold, White & Gold, Blush Pink, and Gray & Rose Gold.
6. Small Space Style: Because You Don't Need to Live Large to Live Beautifully By Whitney Leigh Morris – Gift them with knowledge and help them decorate their small space. Interior design maven Whitney Leigh Morris shares her tips on decorating small spaces from her own experience living in an under 400 square feet home. Packed with over 200 tips, beautiful images, and illustrations to help small space dwellers create a home they'll love.
---
RELATED POST: Home Decor & Kitchen Gift Ideas For Mom!
---
Tech Gifts For Small Space Dwellers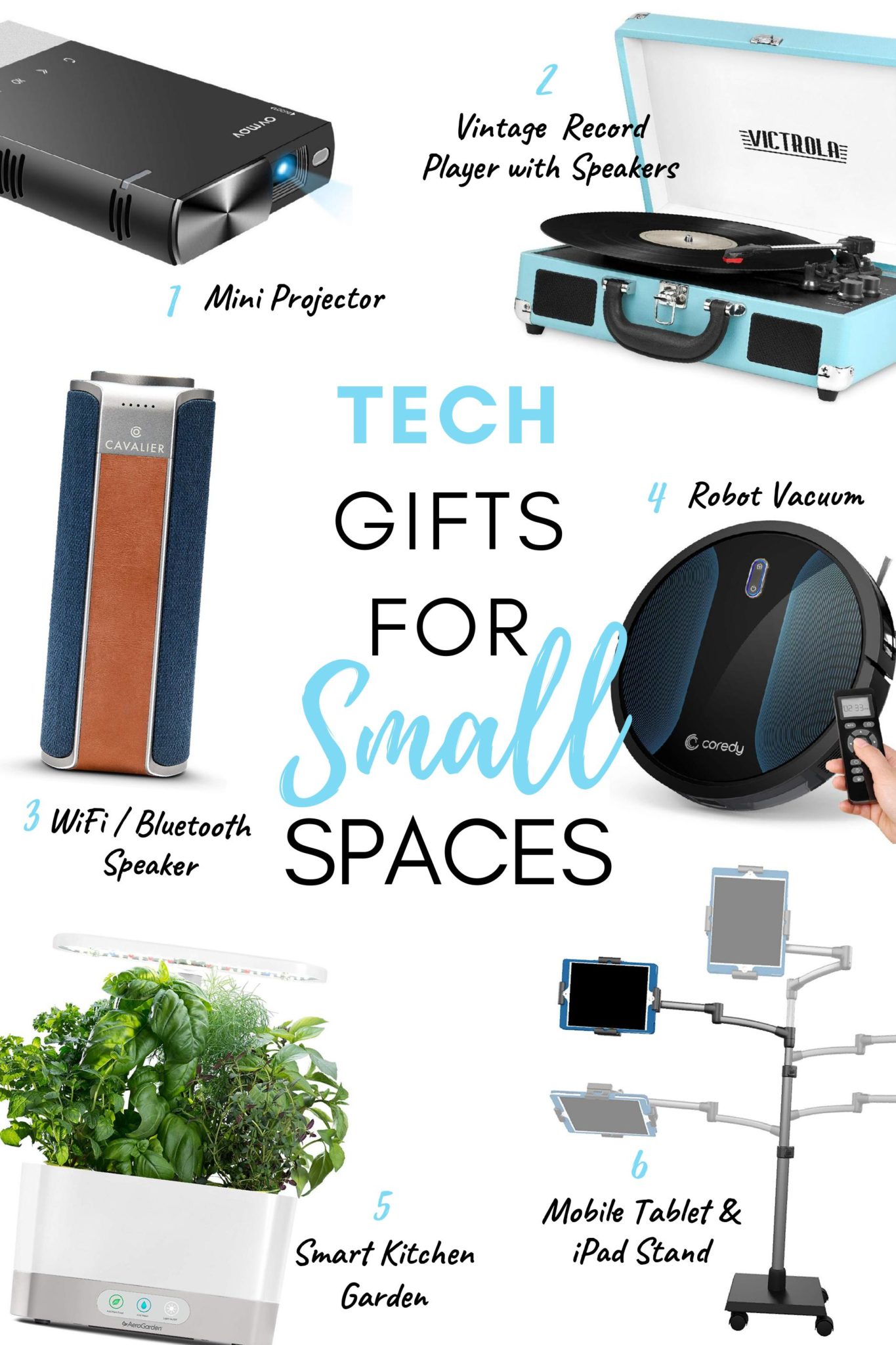 1. Mini Projector | 2. Vintage Bluetooth Suitcase Turntable with Speakers | 3. Portable Wireless Bluetooth Speaker | 4. Robot Vacuum Cleaner | 5. Smart Herb & Vegetable Kitchen Garden | 6.  Deluxe iPad Floor Stand
I hope these were able to spark some ideas. Remember to keep scale, function, and purpose in mind when buying gifts for small apartments and tiny homes. You're already on the right track with doing a little research beforehand. Whatever you decide to get them, I'm sure they'll love it!
You May Also Like:
Personalized Home Gifts For Decor Lovers
Home Decor & Kitchen Gift Ideas For Mom!
Double-Duty-Decor: 20 Gorgeous Mirrors With Storage!
Home Refresh: Update Your Decor With These Swappable Accents!
23 Decorative Wall Shelves For More Beautiful Storage
Stay Clutter-Free With These Beautiful Handwoven, Artisan Baskets
Don't Miss The Latest Posts!
PIN THESE FOR LATER!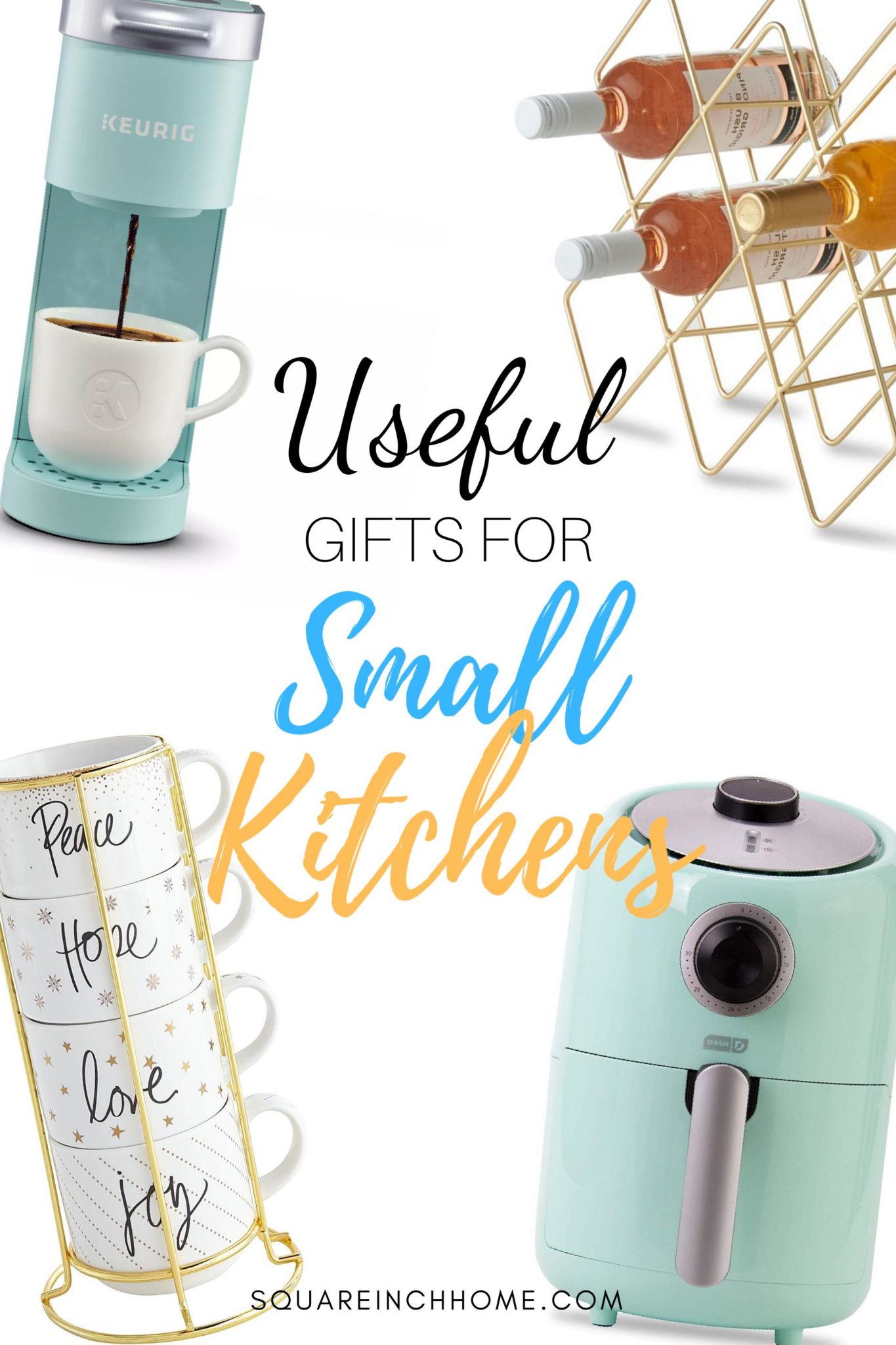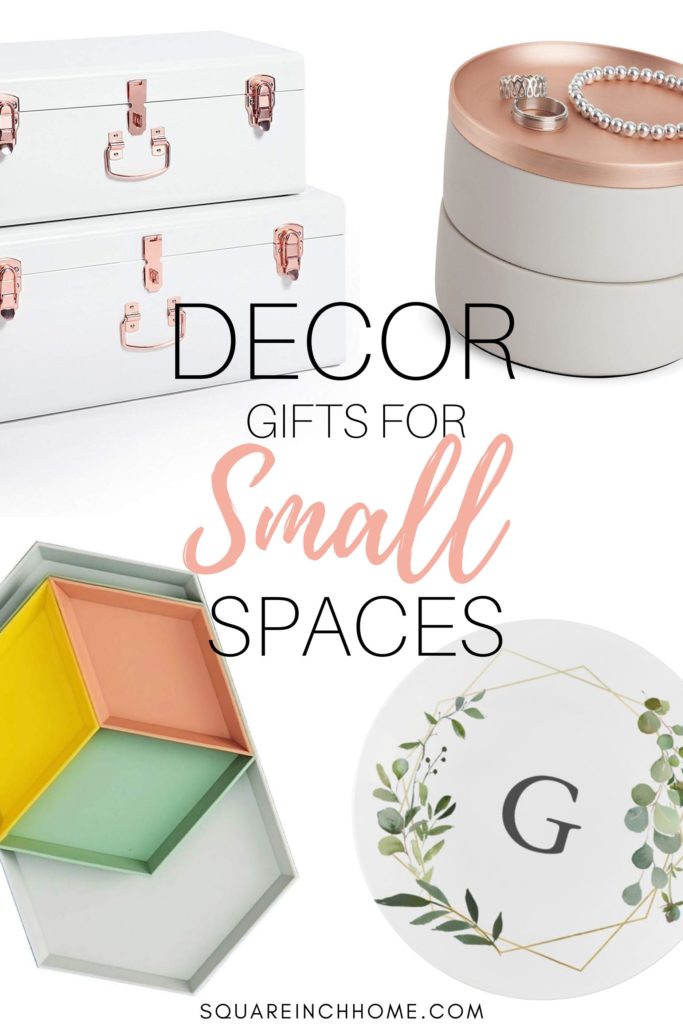 Share this