Rattan furniture has become a long-standing trend in the home decor world. More and more people are moving towards sustainable, and organic materials to fill their homes, and rattan furniture remains a popular choice.
This versatile furniture style was often used as outdoor/patio furniture, but rattan has moved indoors and is now more modern than ever. It's beautiful, natural and warm tones add stunning Bohemian and Scandinavian vibes to any interior.
Rattan materials have moved beyond patio furniture and can now be found in almost every element in interior decor. From, light fixtures to storage and planters. It's laid back, neutral colors play nicely with other furniture styles and decor pallets. The material is strong and sturdy, making it a sustainable option for furniture.
Fun Fact About Rattan
Rattan is actually a type of vine that rapidly grows in the jungles of South Eastern region. It grows in the shape of a pole, and its diameter varies between one to three inches. Rattan is one of the strongest woods and possesses the ability to grow up high as a hundred feet.
Rattan boasts a strong core and is thus durable and even hard to break. The solid core of rattan along with vertical grains is harvested, and is cut into smaller sections and is generally steamed to give varied shapes.
Source: Homeedit – The Difference Between Wicker And Rattan Furniture
Modern Rattan Accent Chair
Lombok Rattan Lounge Chair $ 395 from Citizenry
Handcrafted in Indonesia by the Artisans of Cirebon. This rattan chair is both statement-making and architectural, while comfortable and perfectly lounge-y. Made using lightweight, yet durable manau rattan, this chair features intricate weaving and braid details – a stunning accent for your space. Bottom line? You'll want to kick back in this beauty on the daily (especially when cocktail hour rolls around).
See more Artisan Rattan furniture & accessories from Citizenry.
Rattan Coffee Table
Cottage Innovative 34″ Round Woven Rattan Accent Coffee Table. $419.99 from Homary
Designed with a hollow-out rattan, this coffee table brings a natural taste and cottage touch with the alluring appeal.
Get more modern affordable furniture Here at Homary.
Rattan Storage Baskets & Accessories
Aldo Basket (Set of 2) $280 from Burke Decor
Bring a natural, Deco-inspired look to indoor storage, with a set of rattan baskets, cross-woven for an open look with rich texture. If you're looking for decorative baskets, I've rounded up a few stunning storage baskets here!
See more Rattan Accessories Here at Burke Decor!
Rattan Wall Hooks Hanger $81 from Fint Design
Conveniently provide your home with a stylish way to store coats, hats, keys and more with a Nordic style wall hook hanger. Ideal for entry ways, kitchens, bathrooms and bedrooms, its unique wooden design accents any current decor. Combine functionality and decoration to achieve an easy, designer hanging system in your home.
See more STUNNING Scandinavian / Nordic decor accessories from Fint Design.
Rattan Storage Furniture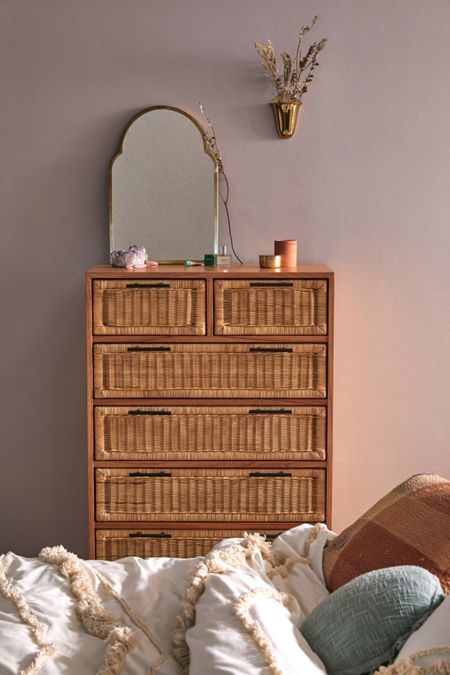 Mikko 6-Drawer Dresser With Rattan Drawers $799
Rattan bedroom furniture is perfect for creating a dreamy bohemian oasis. This dresser blends boho details with a sleekly modern aesthetic. Part of Urban Outfitter's exclusive Mikko Collection, this tall 6-drawer dresser uses a mindi wood veneer structure, with a basket-woven rattan face and slim metal pulls. It features 4 full-sized drawers with 2 half-drawers to hold all your bedroom essentials.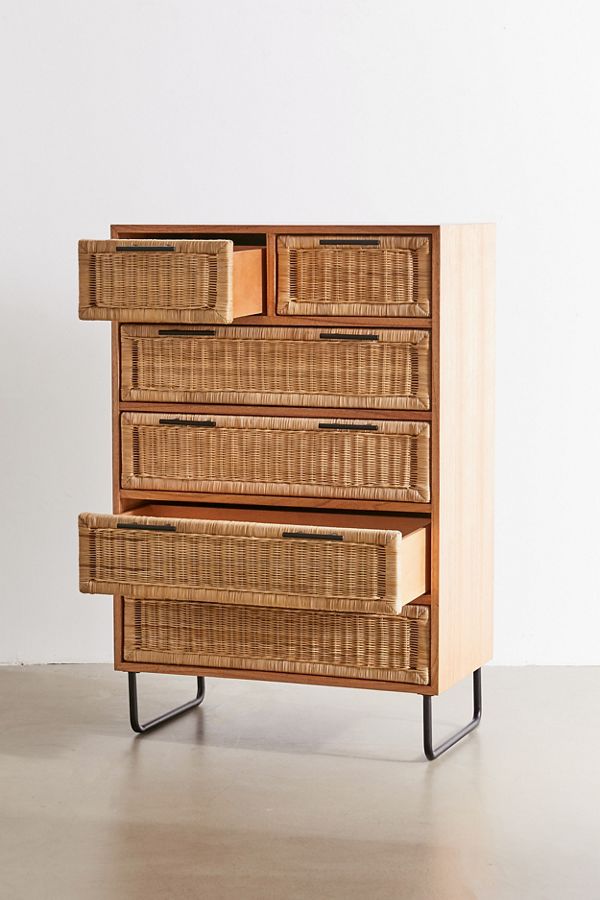 Edith Rattan Side Table $246.08
The Edith Rattan Side Table is built with A rattan frame with brass accents to create a charming and modern design. It features a hand-bent rattan pole, cane weave, and brass bindings.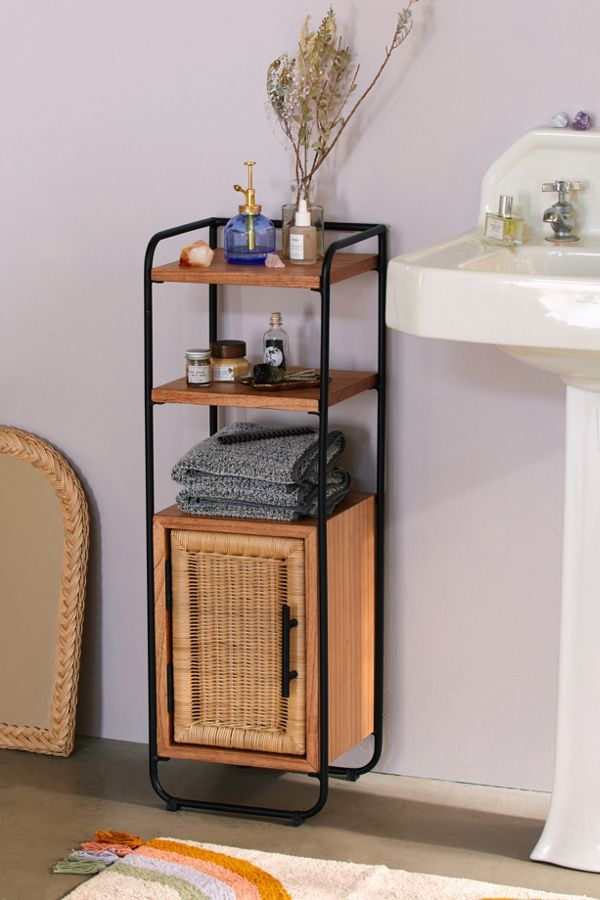 Veneer Wood & Rattan Bathroom Storage $199
This bathroom storage piece features a tiered shelf and cabinet, with a rattan basket-woven hinge-open door featuring a metal pull. Use these wooden shelves to store everyday bathroom essentials and displaying decor accessories.
Rattan Lamps / Lighting
Dalilah Rattan Pendant Lamp $600
An oversized vintage bulb with gold hardware play well with a rattan shade in Dalilah. White trim and a white cord bring a sophisticated element. Place this pendant above a kitchen island for a coastal chic statement.
See More Rattan Lamps Here on Burke Decor!
Modern Rattan Outdoor Furniture
Deborah Outdoor Modern 2-Seater Faux Rattan Chat Set $140.85 from GDF Studios
There's nothing quite like relaxing in the space of your own backyard whenever you want. With this club chair set, you can bring your outdoor space together with an effortlessly stylish flair. Crafted to superior excellence that maintains a minimalistic yet durable structure by using a perfect blend of rattan and metal.
Get more affordable outdoor furniture from GDF Studio
Rattan Furniture & Accessories From Urban Outfitters!
For More Furniture Ideas For Small Spaces:
Small Balcony Furniture Ideas + Some Decor Inspiration
24 Modern Desks, Perfect For Small Spaces!
30 Balcony Bistro Sets For Small Spaces!
Corner Furniture Pieces Every Small Living Room Needs