Modern Rattan Furniture & Decor Pieces That Will Add Warmth & Charm To Any Decor.
Rattan furniture has become a long-standing trend in the home decor world. More and more people are moving towards sustainable, and organic materials to fill their homes, and rattan furniture remains a popular choice.
Rattan materials have moved beyond patio furniture and can now be found in almost every element in interior decor. From, light fixtures to storage and planters.  Its laid-back, neutral colors play nicely with other furniture styles and decor pallets. The material is strong and sturdy, making it a sustainable option for furniture and accessories
Fun Fact About Rattan
Rattan is actually a type of vine that grows in the jungles of the South Eastern region. It grows in the shape of a pole, and its diameter varies between one to three inches. Rattan is one of the strongest woods and possesses the ability to grow as high as a hundred feet.
Rattan boasts a strong core and is thus durable and even hard to break. The solid core of rattan along with vertical grains is harvested, and is cut into smaller sections and is generally steamed to give varied shapes.
Source: Homeedit – The Difference Between Wicker And Rattan Furniture
*This page contains affiliate links. If you purchase something via these links, I may receive a small commission at no extra cost to you. See the full disclosure here**
Stylish, Modern Rattan Furniture & Decor You'll Love!
Modern Rattan Accent Chair
Lombok Rattan Lounge Chair $ 395 from Citizenry
Handcrafted in Indonesia by the Artisans of Cirebon. This rattan chair is both statement-making and architectural, while comfortable and perfect for lounging. Made using lightweight, yet durable manau rattan, this chair features intricate weaving and braid details – a stunning accent for your space. Bottom line? You'll want to kick back in this beauty on a daily (especially when cocktail hour rolls around).
See more Artisan Rattan furniture & accessories from Citizenry.
Rattan Bed
Hannah Platform Bed, Natural
Twin: 42.5″W x 79″D x 46.5″H; Queen: 62.25″W x 83″D x 46.5″H; King: 78.25″W x 83″D x 46… [More]
Rattan Clothing Rack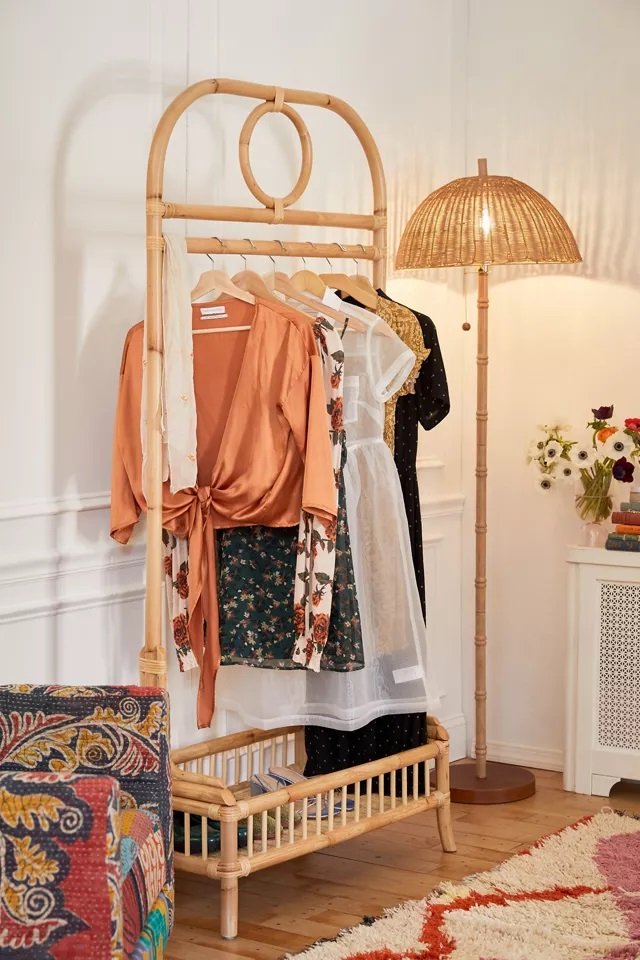 Shop This Rattan Clothing Rack Here At Urban Outfitters
Rattan Mirror
Neom Round Mirror
We're bringing the beach to you! This round mirror's rattan-wrapped frame adds organic … [More]
Rattan Storage Baskets
Yedidah Basket (Set of 2)
Bring a natural, Deco-inspired look to indoor storage, with a set of rattan baskets, cr… [More]
Rattan Wall Hook
Rattan Wall Hooks Hanger $81 from Fint Design
Conveniently provide your home with a stylish way to store coats, hats, keys, and more with a Nordic style wall hook hanger. Ideal for entryways, kitchens, bathrooms, and bedrooms, its unique wooden design accents any current decor. Combine functionality and decoration to achieve an easy, designer hanging system in your home.
See more STUNNING Scandinavian / Nordic decor accessories from Fint Design.
Rattan Pendant Light
Abree Cylinder Pendant Light
The perfect natural touch to your space, this cylinder pendant lights up a room with ci… [More]
Rattan Hanging Chair
Rymona Hanging Accent Chair
Give your space a little bohemian flair with this rattan hanging chair, complete with l… [More]
Rattan Indoor / Outdoor Bar Stool
Pima Bar Stool, Cappuccino Dot
For indoor or covered outdoor use. Store indoors when not in use, to preserve its beauty. [More]
Rattan Bedframe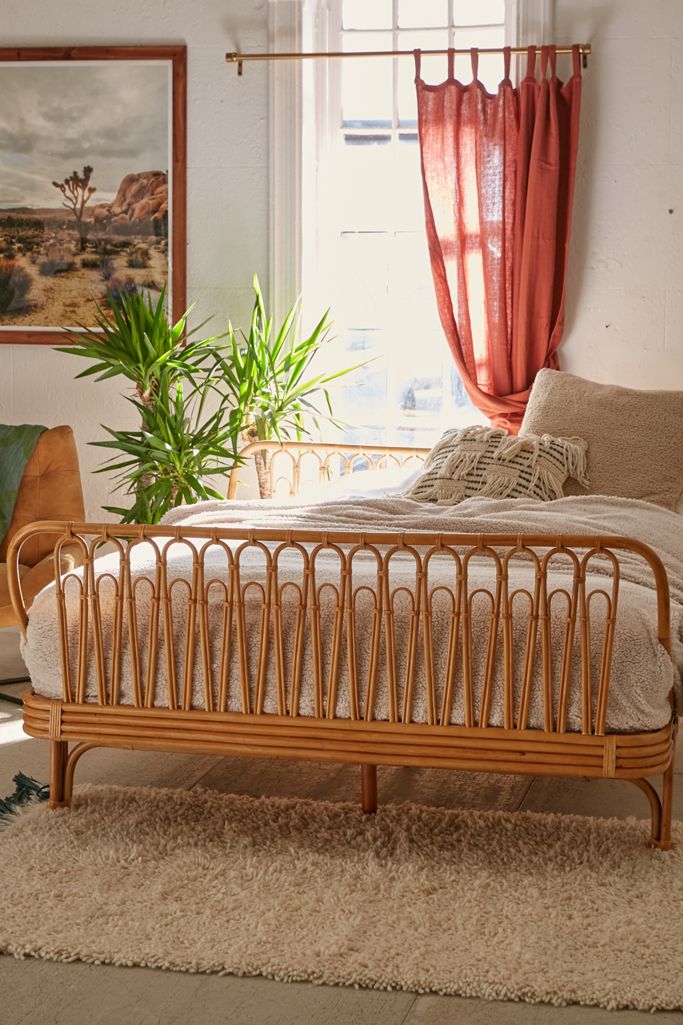 Get the Canoga Rattan Bed For $598.00 – $999.00 from Urban Outfitters
For boho bedroom vibes, choose a rattan bed frame. Urban Outfitters' Canoga Rattan Bed is built to last and uniquely designed for bohemian decor lovers. See more Rattan Furniture From Urban Outfitters HERE!
Rattan & Bamboo Wall Shelf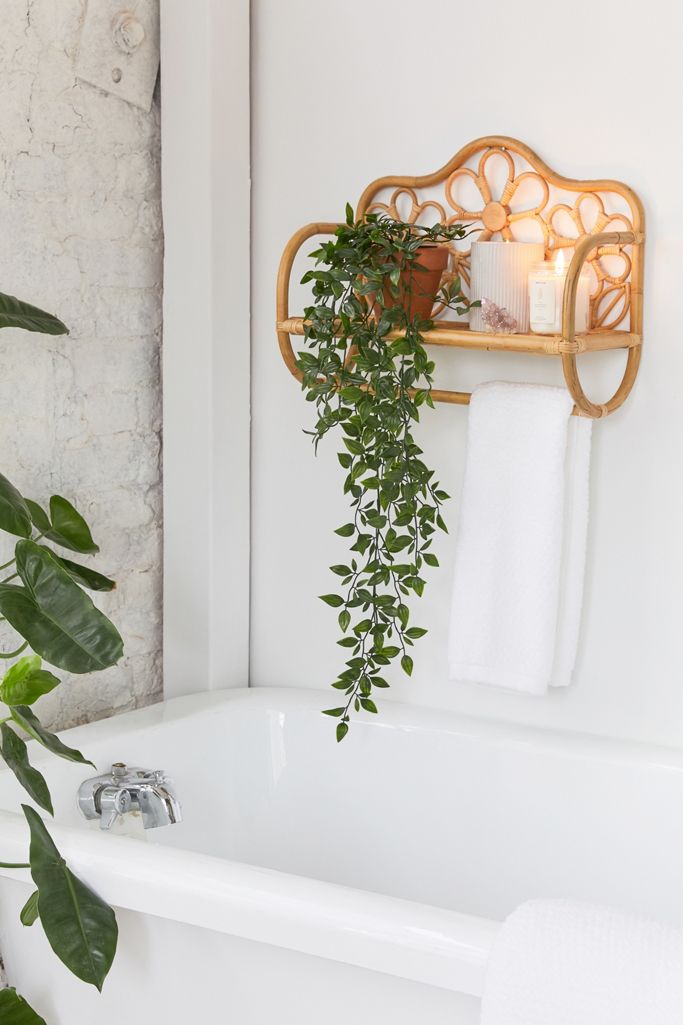 Shop the Rattan Daisy Wall Shelf for $59 from Urban Outfitters.
Stay clutter-free with a stunning rattan and bamboo shelf from Urnan Outfitters. This curving rattan shelf is perfect for storing bathroom essentials or for displaying you favorite decor accessories.
Rattan Furniture Finds From Amazon
More Decor Ideas:
Don't Miss The Latest Posts!