Urban Outfitters introduced five new furniture collections this fall, for every space and every style. Including new Rattan furniture pieces! The new collections include a variety of styles from bohemian to midcentury-modern and Scandinavian designs (see them Here). With more than 80 new pieces to choose from, the assortment includes a variety of beds, vanities, armoires, dining tables, sofas, storage solutions, and chairs.
But this post is ALL about the new, modern Rattan pieces. Their Mikko Rattan Furniture Collection is a boho lover's dream!  Featuring a mix of modern and eclectic styles with its curved lines and metal accents.
Rattan furniture has made a big comeback this year and is growing in popularity, as people are moving towards more sustainable, organic materials to fill their homes with. This versatile furniture style is often used as outdoor/patio furniture, but rattan has moved indoors and is now more modern than ever. It's beautiful, natural and warm tones give major Bohemian and Scandinavian vibes to interiors, and can now be found in almost every element in interior decor. From, light fixtures to storage and planters. It's laid back, neutral colors play nicely with other furniture styles and decor pallets. The material is strong and sturdy, making it a sustainable option for furniture.
Fun Fact About Rattan Material
Rattan is actually a type of vine that rapidly grows in the jungles of South Eastern region. It grows in the shape of a pole, and its diameter varies between one to three inches. Rattan is one of the strongest woods and possesses the ability to grow up high as a hundred feet.
Rattan boasts a strong core and is thus durable and even hard to break. The solid core of rattan along with vertical grains is harvested, and is cut into smaller sections and is generally steamed to give varied shapes.
Source: Homeedit – The Difference Between Wicker And Rattan Furniture
Urban Outfitters' new Rattan pieces are perfectly scaled for small spaces!
These rattan pieces check all the boxes for small space furniture; clean lines, trim and compact, raised legs, visually lightweight, and neutral in color. Urban Outfitters made sure that there was something new for every room. Take a look!
Rattan Bedroom Furniture
Mikko 6-Drawer Dresser With Rattan Drawers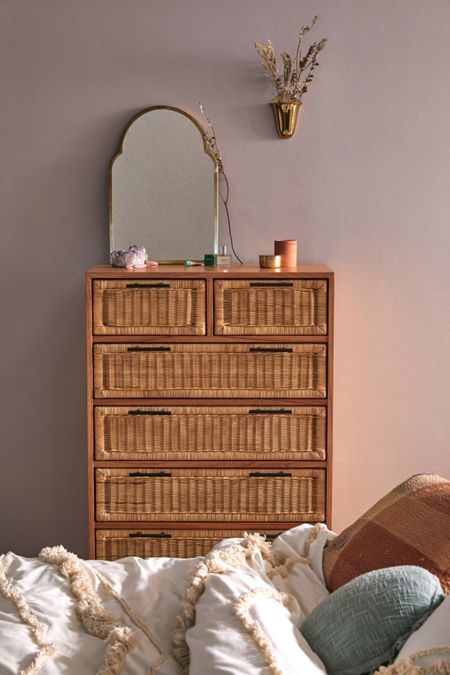 Cost $799
Rattan bedroom furniture is perfect for creating a dreamy bohemian oasis. This dresser blends boho details with a sleekly modern aesthetic. Part of Urban Outfitter's exclusive Mikko Collection, this tall 6-drawer dresser uses a mindi wood veneer structure, with a basket-woven rattan face and slim metal pulls. It features 4 full-sized drawers with 2 half-drawers to hold all your bedroom essentials.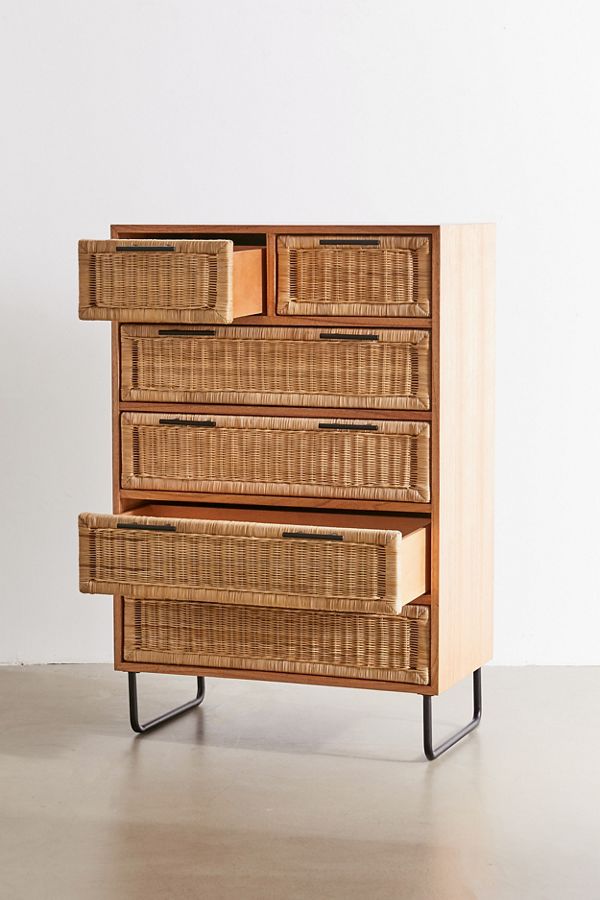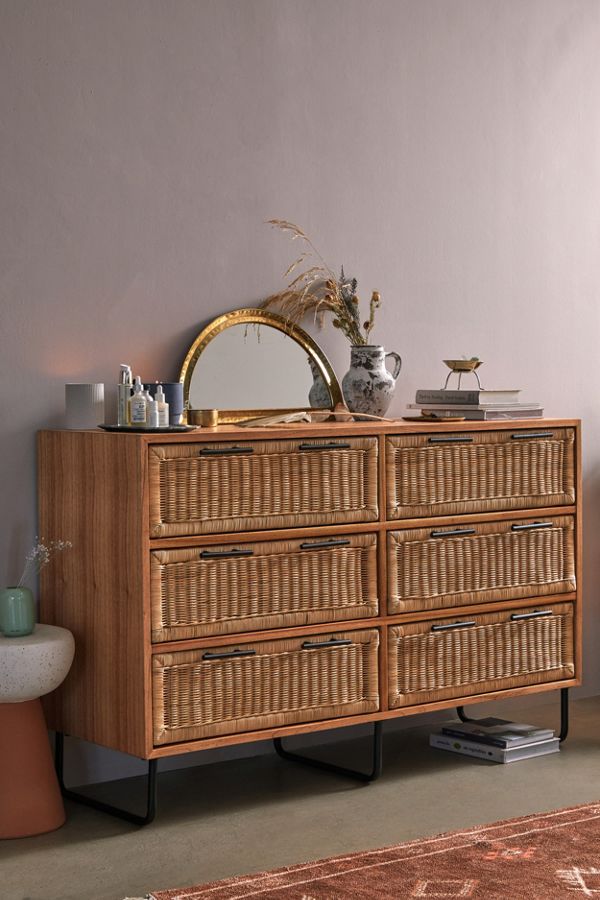 Cost: $799
Mikko Rattan Bed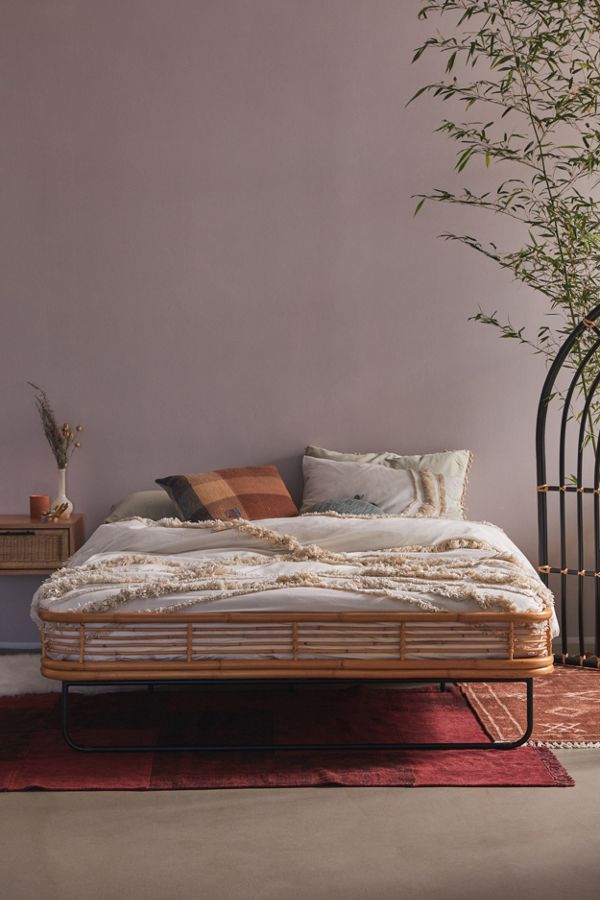 Cost: $799
Simple yet beautifully designed. This rattan bed features a wrapped rattan frame with curved edges at head and foot, with linear accents, complete with a slatted base and metal legs. Sweet Boho Dreams!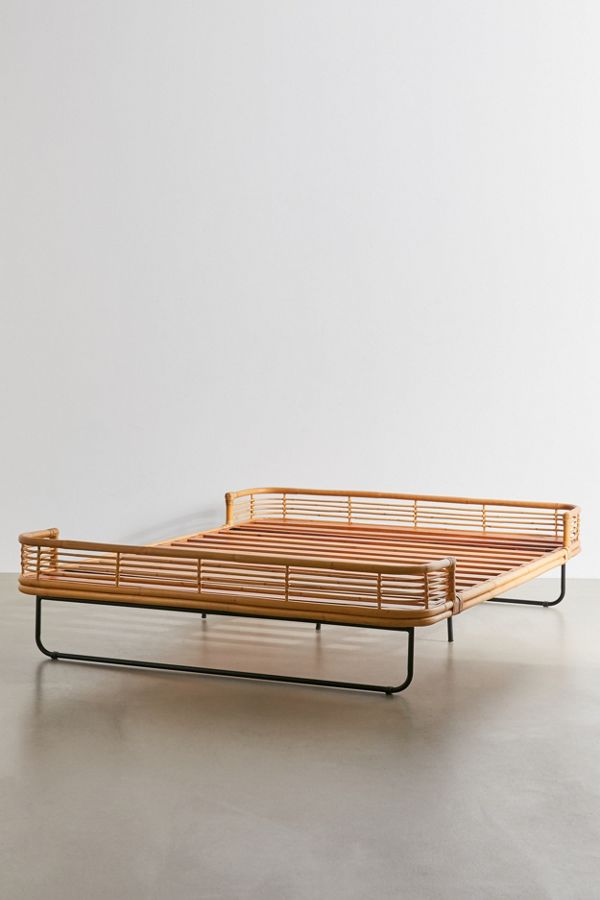 Rattan Nightstand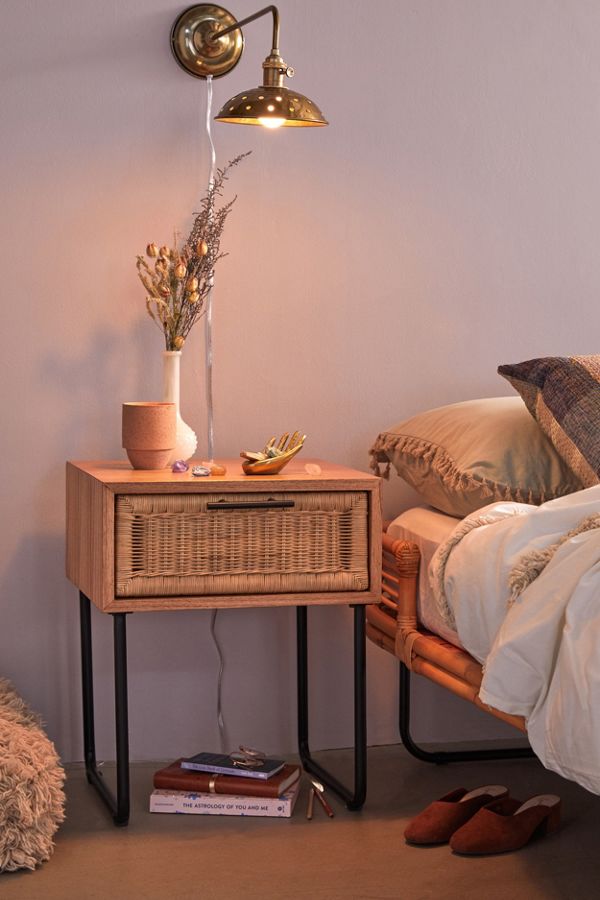 Cost: $179
Rattan Nightstand. Store all your bedtime essentials in this rattan nightstand. Use as an end table for living rooms too. This piece features the same mindi wood veneer drawer with rattan drawers for extra storage.
Rattan Living Room Furniture
Mikko Rattan Sofa & Accent Chair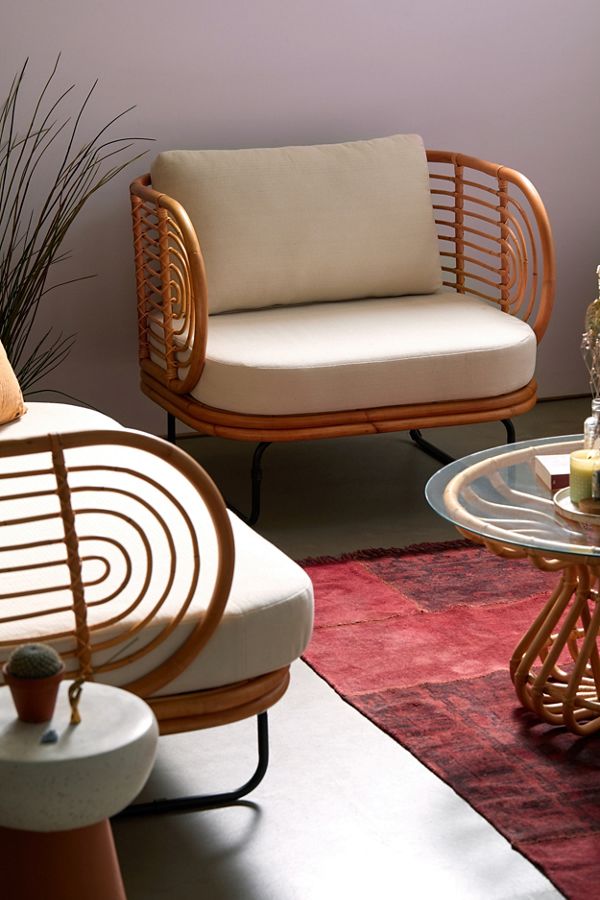 Cost: $379
Lounge in style in this modern rattan accent chair, with its curved edges and plush white cushions. Add this chair to your decor or complete the look with the matching settee sofa. Either way, it's a beautiful bohemian style piece.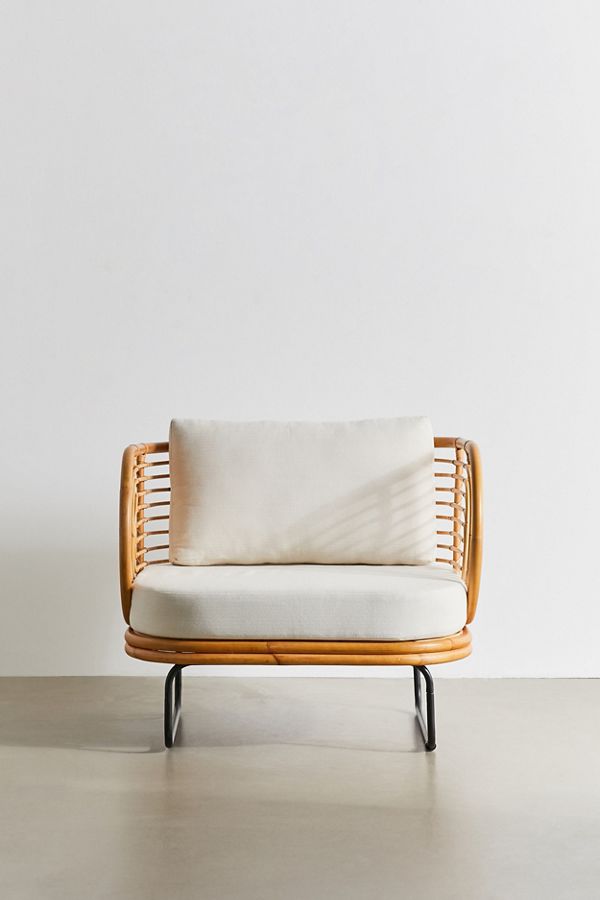 Cost: $379
Modern Rattan Settee Sofa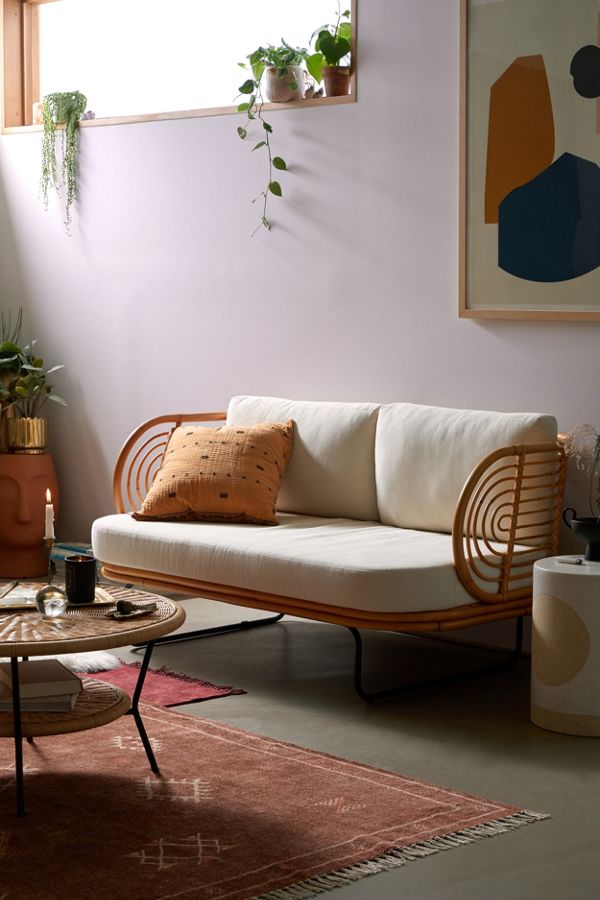 Cost: $699
Keep the curved elements going with the matching rattan settee sofa to complete the perfect boho-modernist living room. Rounded furniture really helps to break up the harsh, straight lines of small rooms.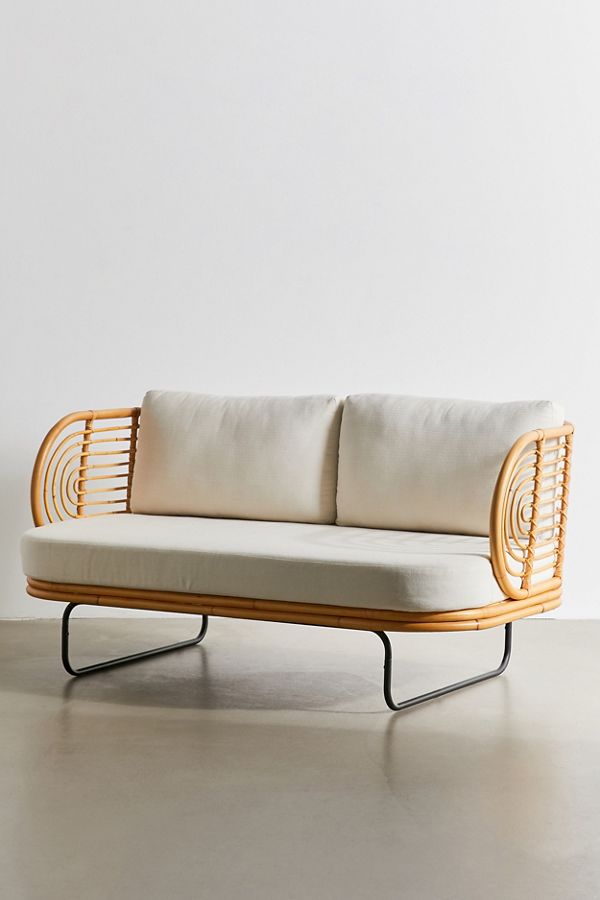 Cost: $699
Modern Round Rattan Coffee Table & End Table With Storage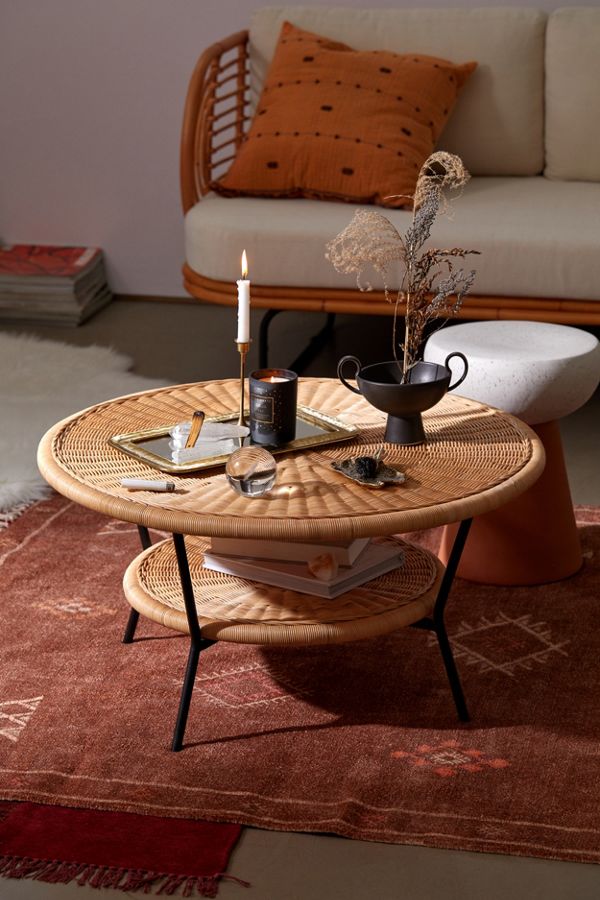 Cost: $229
This rattan coffee table offers both style and storage with two tiers of basket-woven rattan, wrapped around an angular metal frame. Use the smaller base tier for storing books, magazines, decor accessories and more.
Round Rattan Side Table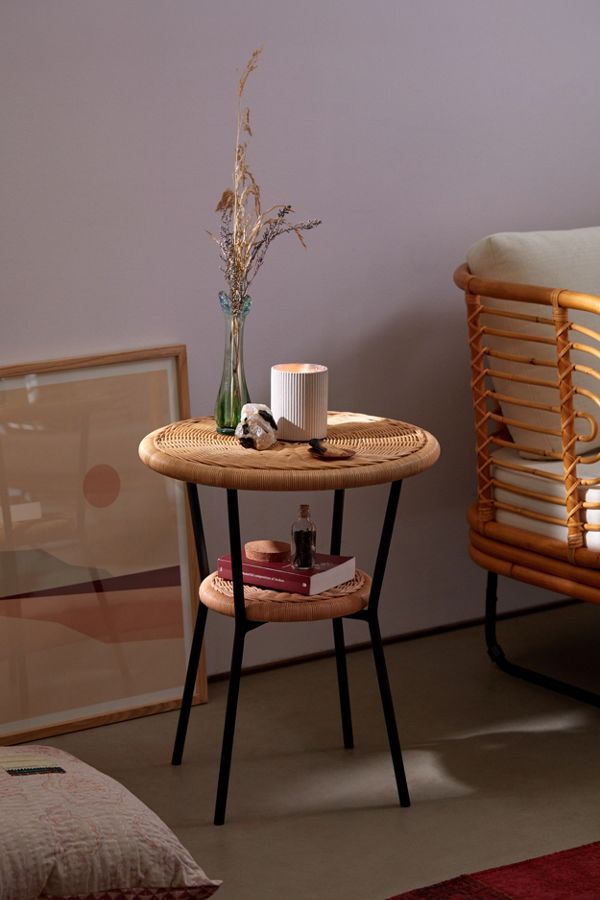 Cost $99
Black & Natural Rattan Divider Screen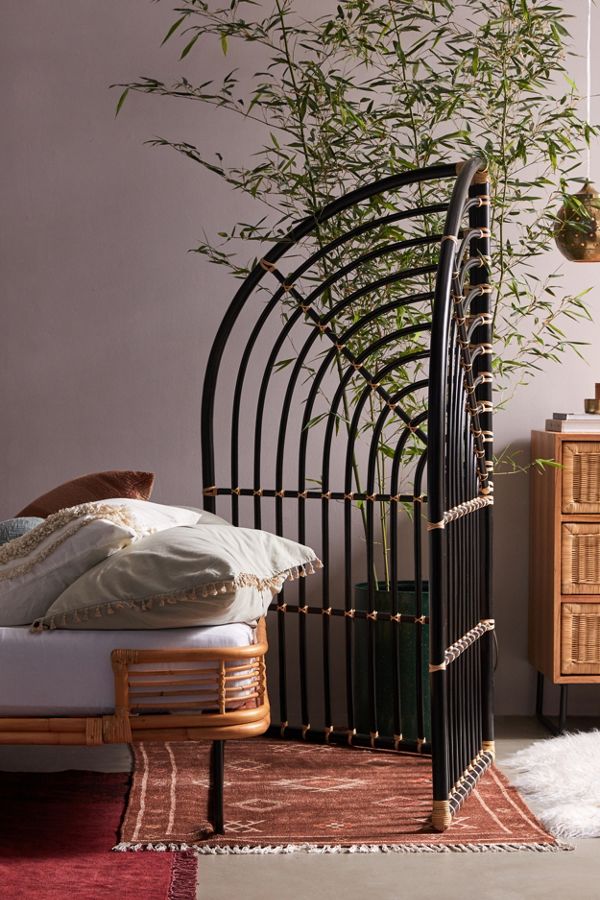 Cost: $399
My new favorite from UO Rattan collection! This divider screen offers adequate separation without blocking the view to the other half of the room, due to its 'see-through' design. It visually divides the space while maintaining the natural flow throughout the room. A BIG bonus for small spaces!
The natural ties that bind the divider together blend nicely with the rest of the rattan furniture in this space. And look!… More curved lines.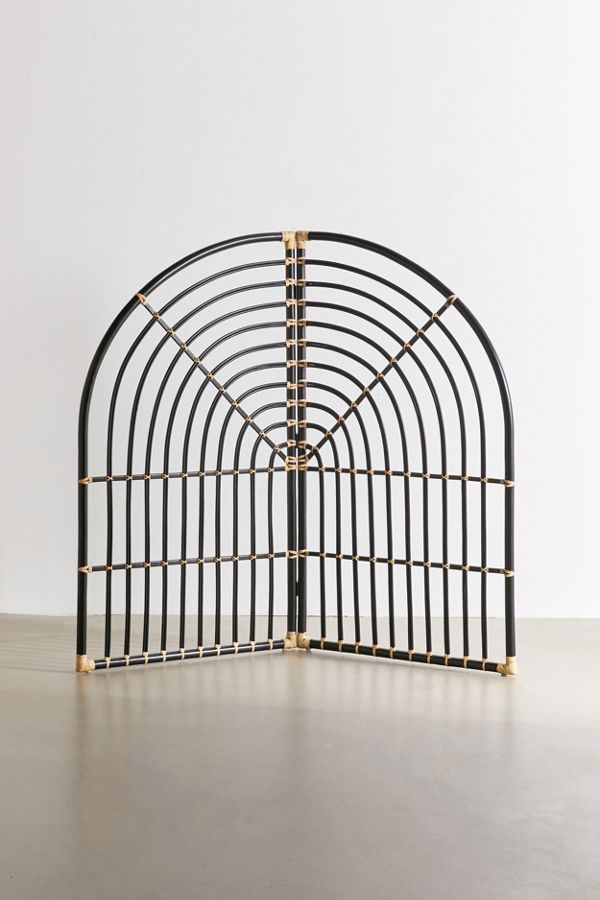 Cost $399
Rattan Bathroom Storage Unit
Veneer Wood & Rattan Bathroom Storage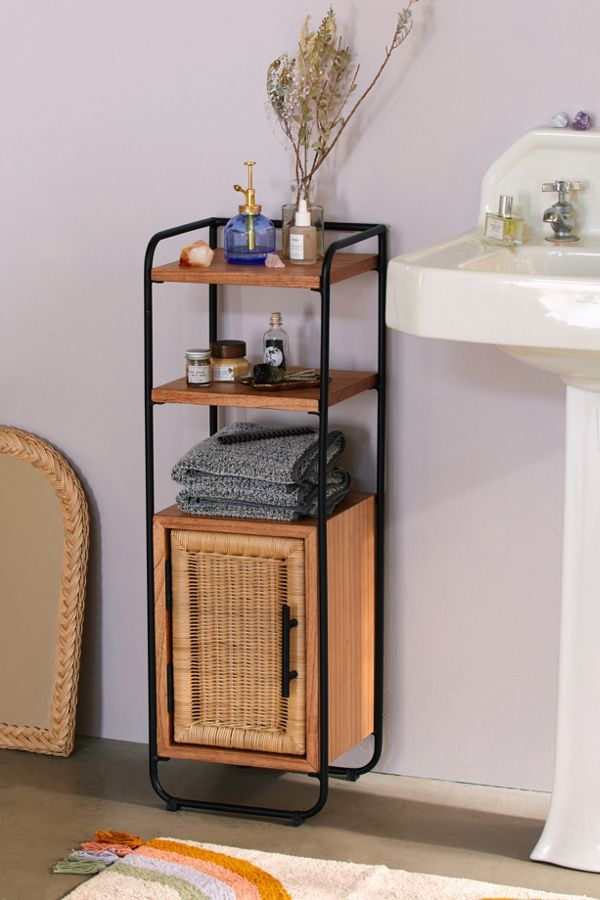 Cost $199
This bathroom storage piece features mindi wood veneer shelf tiers and cabinet, with a rattan basket-woven hinge-open door featuring a metal pull. Use these wooden shelves to store everyday bathroom essentials and displaying decor accessories.
Don't miss Urban Outfitters SALE Items! Check out their Small Space Furniture and Decor section for more space-saving solutions.
Read More On Furniture For Small Spaces: