Disclosure: Some of the links in this post are affiliate links. This means if you click on the link and purchase the item, I will receive a small commission at NO extra cost to you.
Small Spaces Love Mirrors…
Mirrors are a beautiful and handy accessory for small spaces. Decorative mirrors with shelves and hooks take on a whole new function. They're both pretty and practical!
Mirrors bounce light around and have the power to visually expand a room. Add A mirror to the end of a hallway and watch that entire space transform. Hang one opposite or near a window and poof! you have the illusion of two windows and more natural light (small rooms need as much light as possible).
It's the old optical illusion trick. Mirrors can make it seem like you've got way more square feet and light than you actually do. A big bonus for small rooms!
So Why Not Get One With Extra Storage?
There's nothing better than getting two products for the price of one. These mirrors with shelves and extra storage are perfect for opening up small rooms AND adding extra storage. Bonus Factor: They're Absolutely Beautiful! .
Stylish Mirrors With Shelves & Hooks.
Antique Brass Mirror With Shelf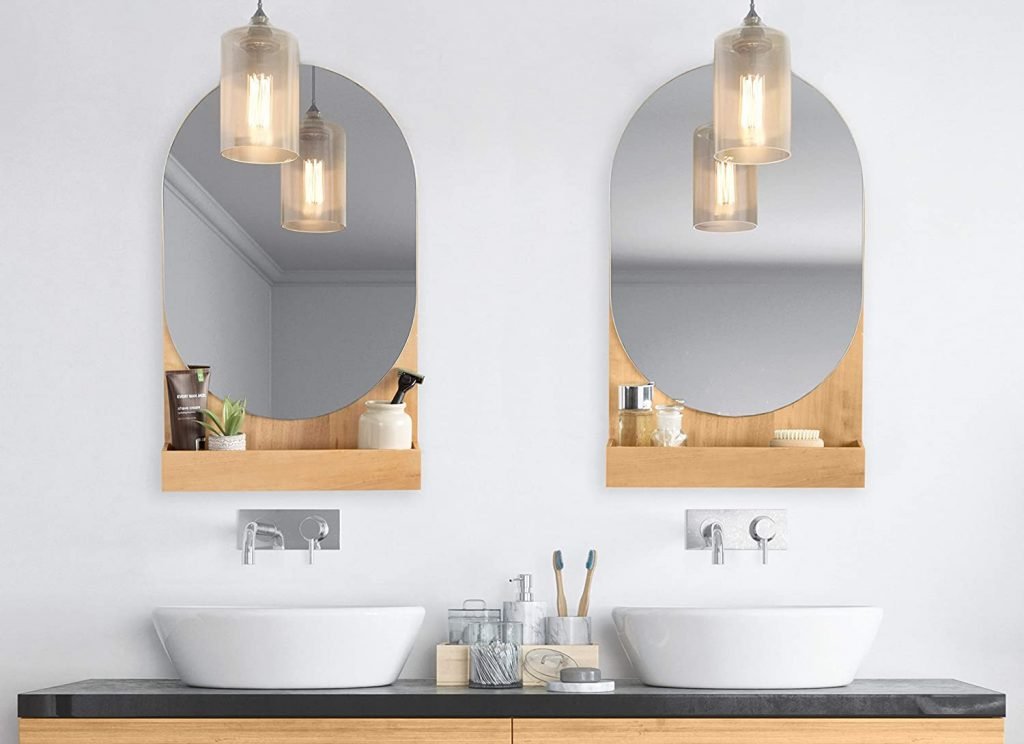 If you love Scandinavian decor, then this Wood Framed Capsule Mirror is a beautiful piece to consider. The Astra Capsule mirror features a clean and simple design with a premium wood frame and high-quality glass. This mirror brings style and sophistication to any space, with its oval shape and light wooden finish (which is really popular now).
Use this shelved mirror to store your makeup, bath products, decor accents, or use it as a catch-all in your entryway. Shop this mirror Here on Amazon.
If you prefer a darker toned wood, this mirror is also available in Walnut Brown. Which is equally stunning!
Metal Accent Mirror with Shelf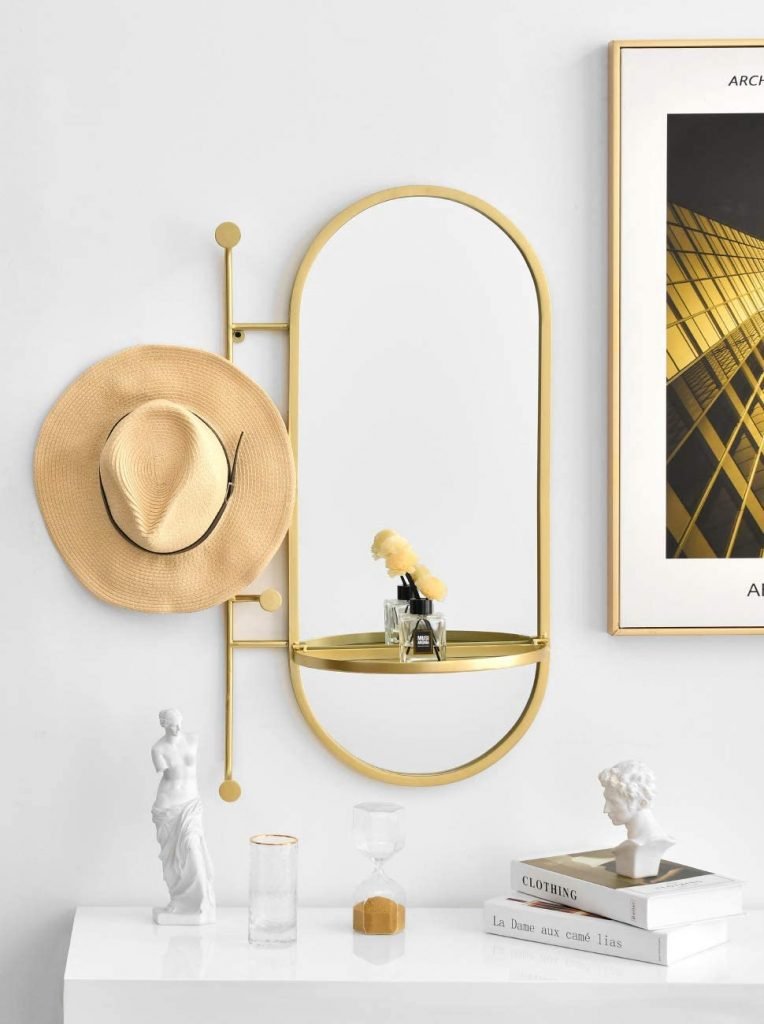 The Bikarsoul Oval Wall Mirror from Amazon adds glam and storage to your decor without the hefty price tag. Equipped with a shelf and hooks, this luxe shelved mirror is just the right size for displaying your favorite ornaments. Or just a nice place to put your lipstick and scarves in your entryway. Either way, this mirror adds a beautiful modern, classy look to any room.
There's another beautiful alternative here . Same gold oval mirror with shelf just without the hooks
Round Wooden Wall Mirror With Shelf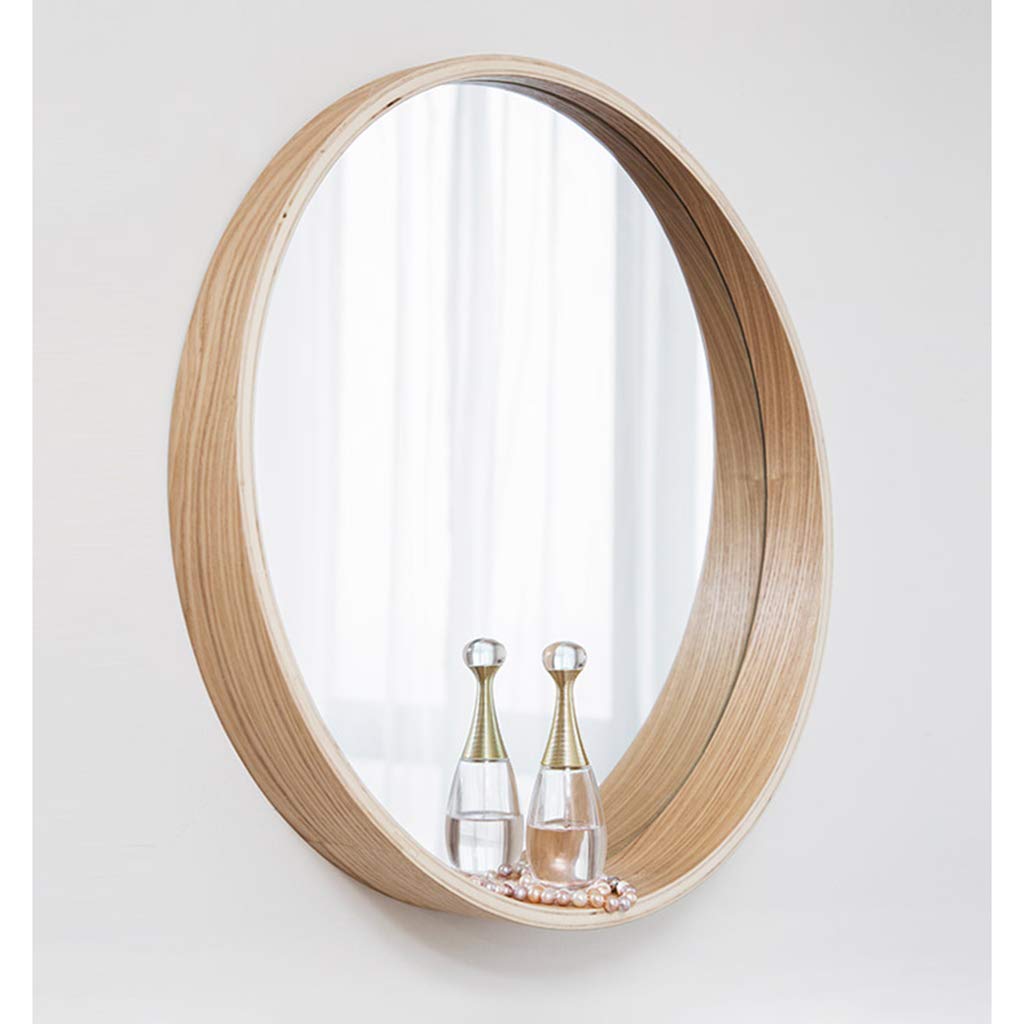 Round Simple Wooden Decorative Mirror (See Price Here On Amazon). The wooden frame in this one is giving off stunning Scandinavian vibes. The ledge, while not a full-on shelf, is great for displaying your favorite home accents.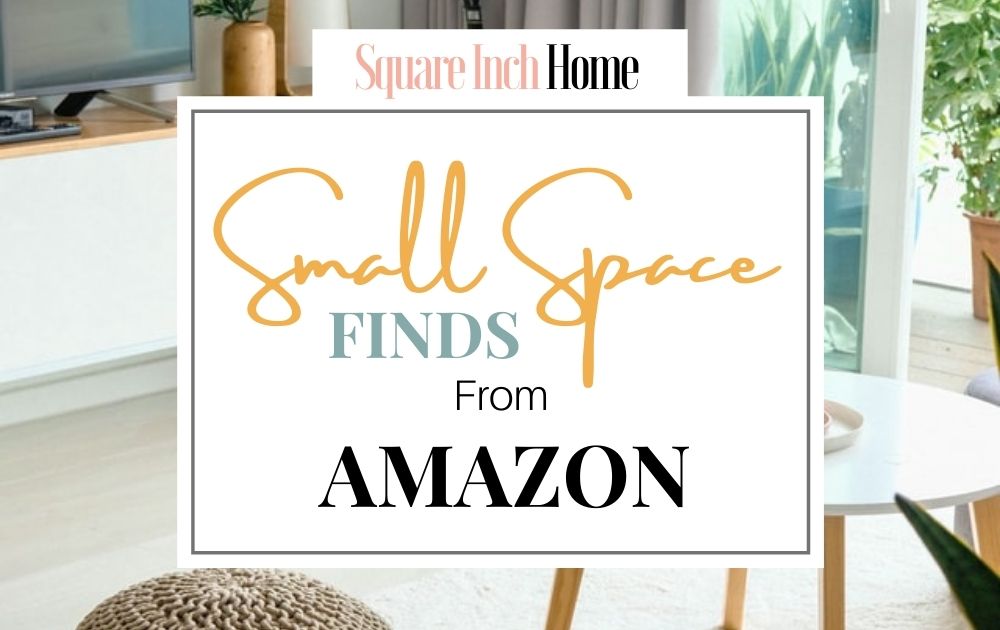 Hazel Round Rattan Mirror
Hazel Round Rattan Mirror ($228). Ratan furniture and accessories are having a moment these days. They've been trending all year and show no sign of losing popularity in the near future. Bohemian interior design lovers are huge fans of rattan pieces and this mirror with pocket shelf is a great way to add natural, organic and boho elements to your decor.
Black Bathroom Mirror With Shelves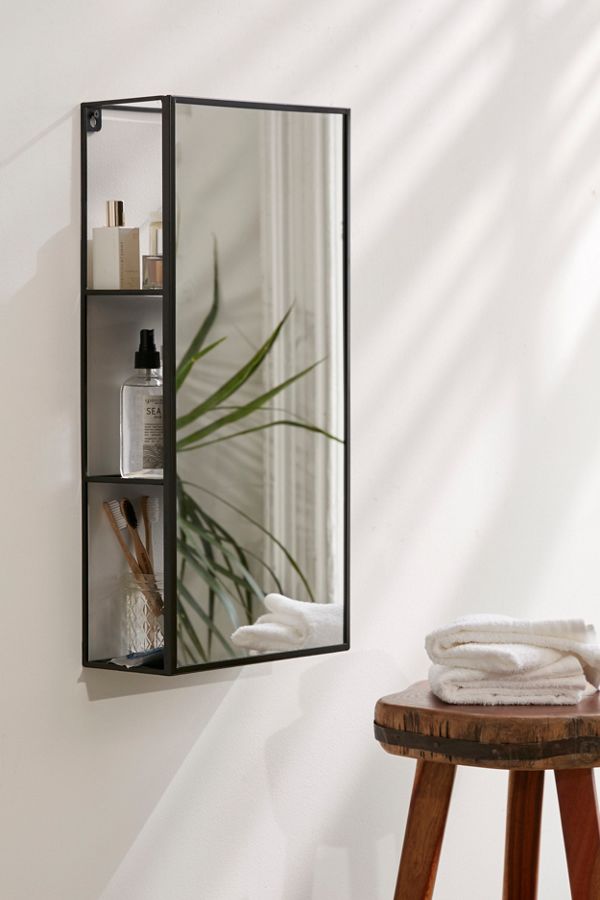 Cubiko Storage Mirror On Amazon. A mirror designed to make the most of small space living. Tucked behind the profile of the mirror are three shelves for hidden storage. A versatile product for storing accessories, bathroom essentials, keys and more. Great for use in the bathroom, bedroom or entryway.
Modern Hexagon Floating Wall Shelves with Mirror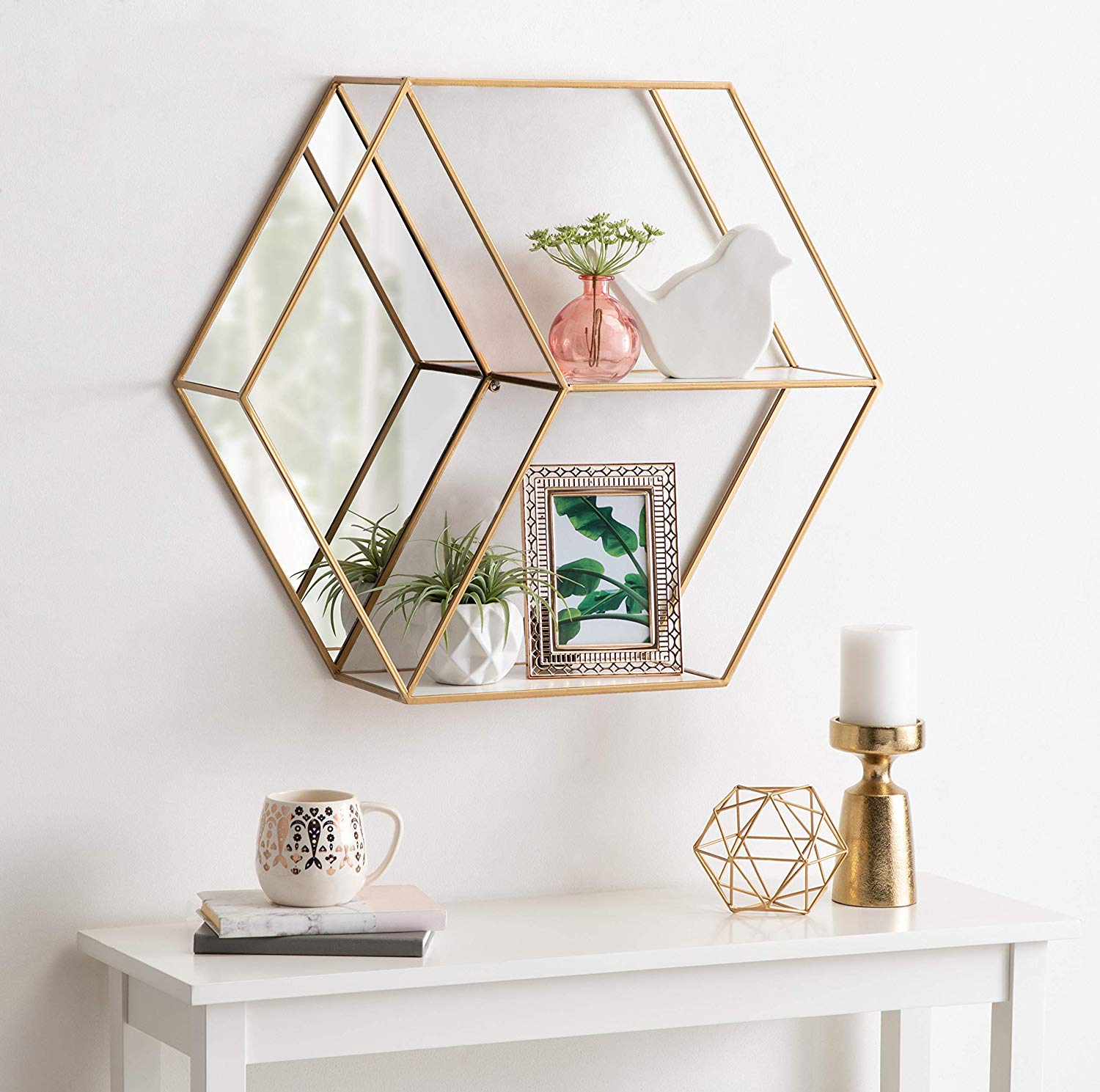 Modern Hexagon Mirror With Floating Shelves (Amazon). A modern decorative design with lots of functionality, this versatile shelf and mirror unit makes for easy decorative display space. Use for organizing and displaying your favorite home accents in the bathroom, bedroom, dining room, or in any other room that needs attractive open storage.
Round Entryway Mirror With Shelf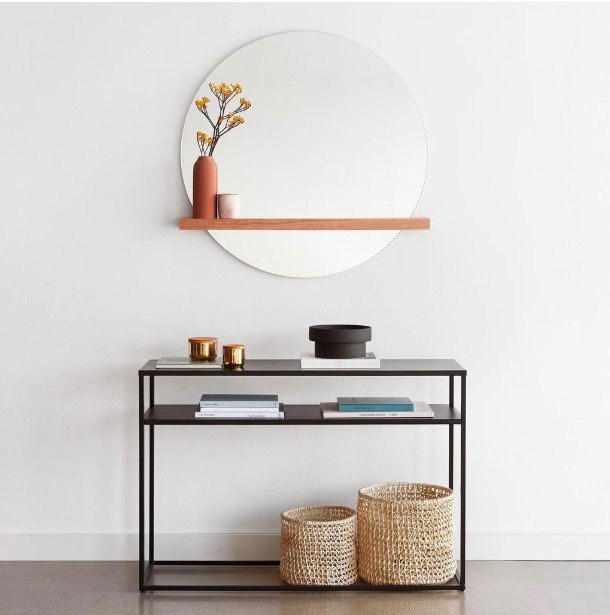 Round Bellavista Wall Mirror With Shelf ($375). A mirror that looks simply stunning anywhere it goes. Part function, part art. This shelf mirror is a best-of-both-worlds design. Featuring a clean, minimal circular shape, finished with a hand-carved lenga wood shelf. This piece makes an impact in your entry, hallway, or above your couch.
Nordic Bamboo Bathroom Mirror With Shelf & Hooks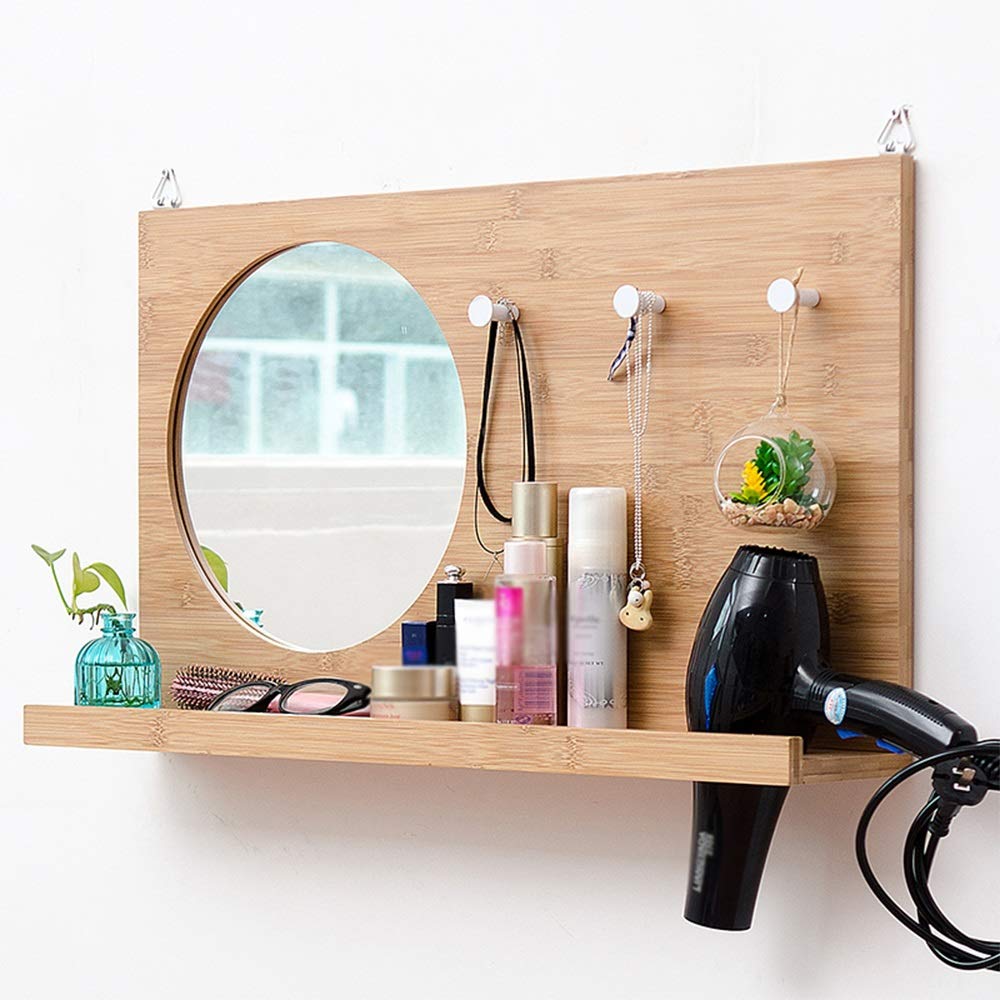 Nordic Bamboo Bathroom Mirror With Shelf & Hooks (See Price Here On Amazon). The perfect multipurpose bathroom mirror for getting ready. This Bamboo shelved mirror with hooks conveniently store your bathroom or makeup & hair essentials, all within reach.
Rustic-Modern Farmhouse Metal Frame Accent Mirror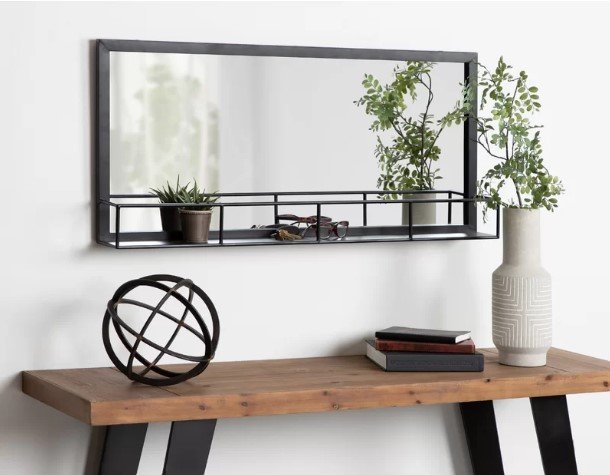 Rustic-Modern Farmhouse Accent Mirror With Shelf From Amazon. Available in Gold too! This decorative metal framed mirror with a large, lower shelf is perfect for your kitchen or entryway organization. A nice addition to lovely farmhouse decor.
Gold Half Circle Mirror With Hooks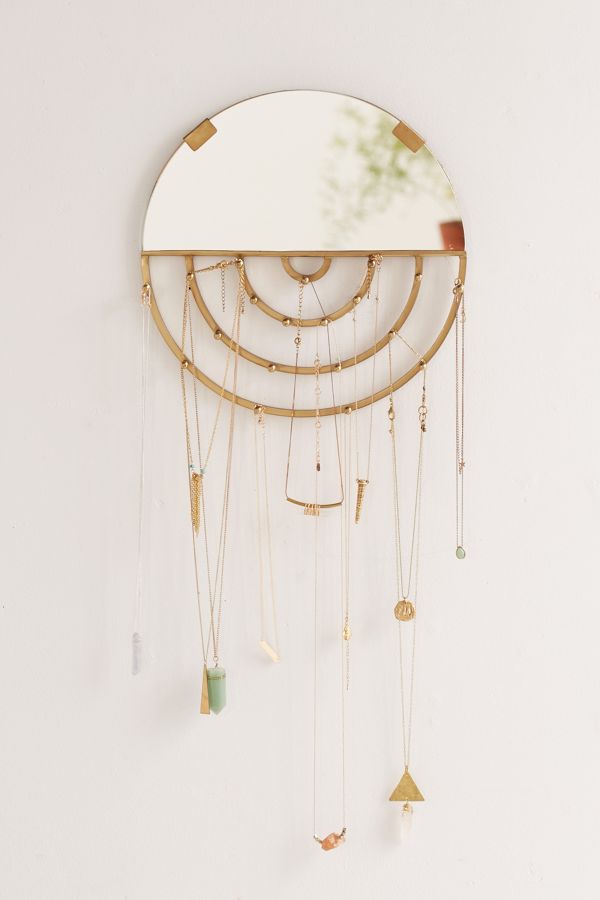 Aimee Jewelry Storage Hanging Mirror With Hooks ($29). A 2-in-1 mirror & jewelry storage, made from metal and glass for a chic addition to any space. Complete with a mirror and over 10 hooks for hanging necklaces, bracelets, earrings + more. For just $29, you can't go wrong!
Boho Leaning Rattan Mirror With Storage Racks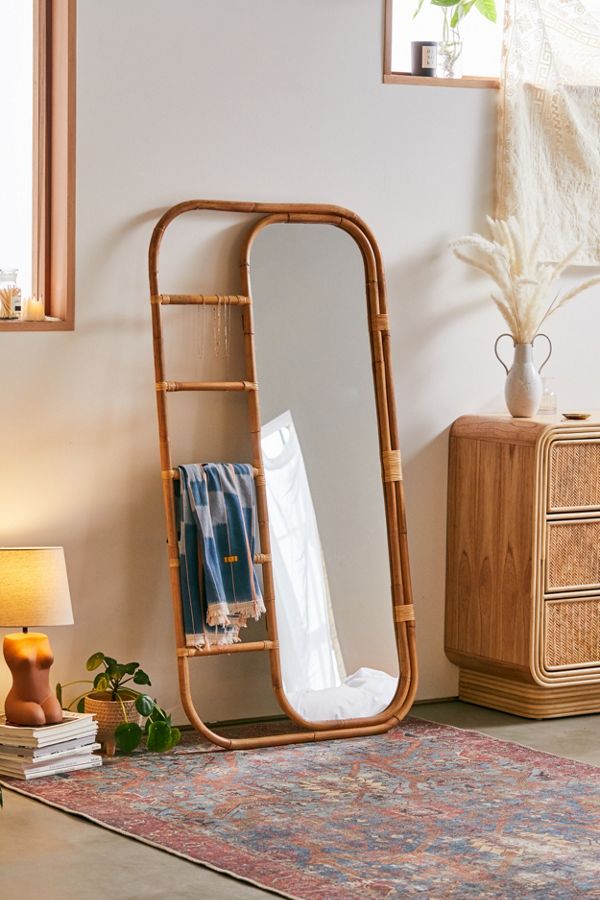 Ria Leaning Rattan Mirror With Storage Racks ($179). Low-key and oh-so-boho, this full-length leaning mirror features 5 rungs for hanging essentials. Use in the bedroom or bathroom to enhance your bobo decor.
Round Wooden Bathroom Mirror With Storage Shelves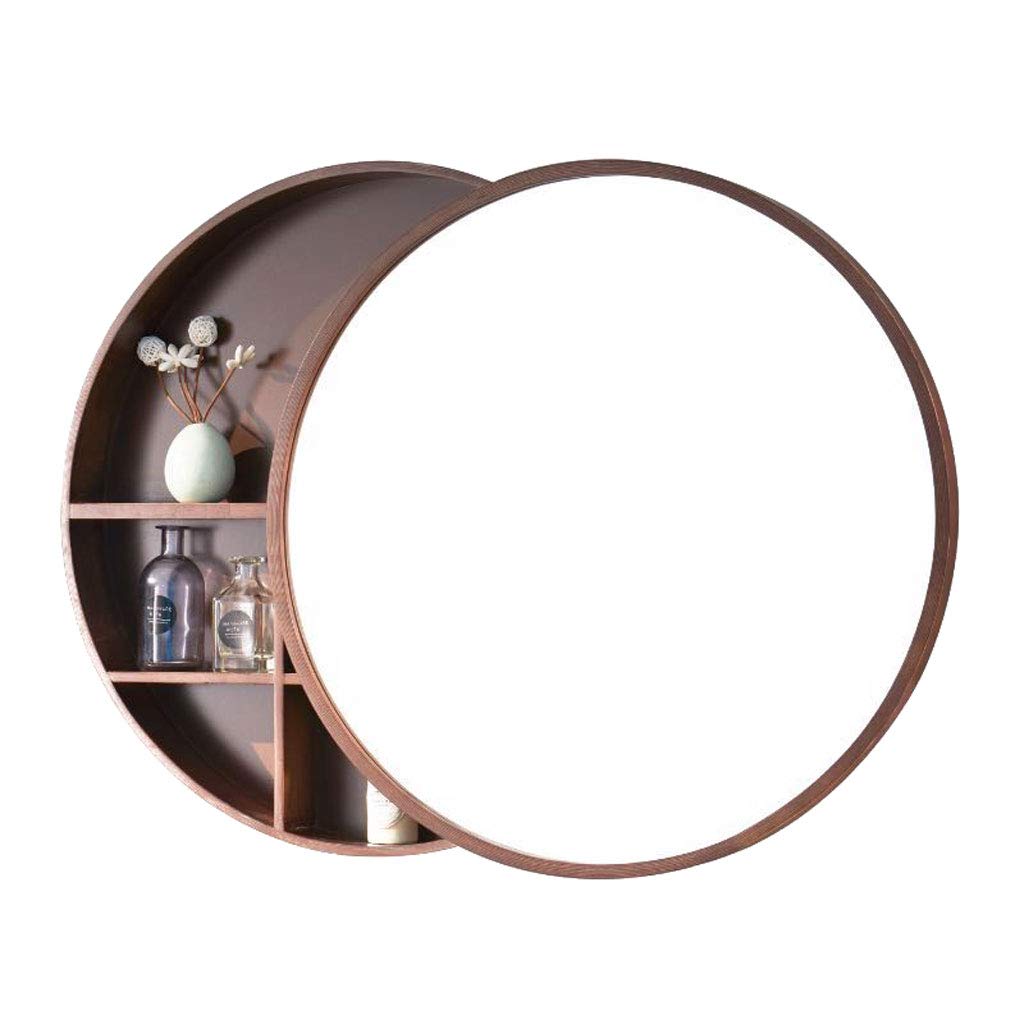 Round Wooden Bathroom Mirror With Hidden Shelves (See Price Here On Amazon). This round sliding bathroom mirror boasts of a solid wood frame and high definition mirror. Store bathroom essentials and beauty products in the hidden shelves behind the mirror.
Rustic Distressed Metal Accent Mirror With Shelf & Hooks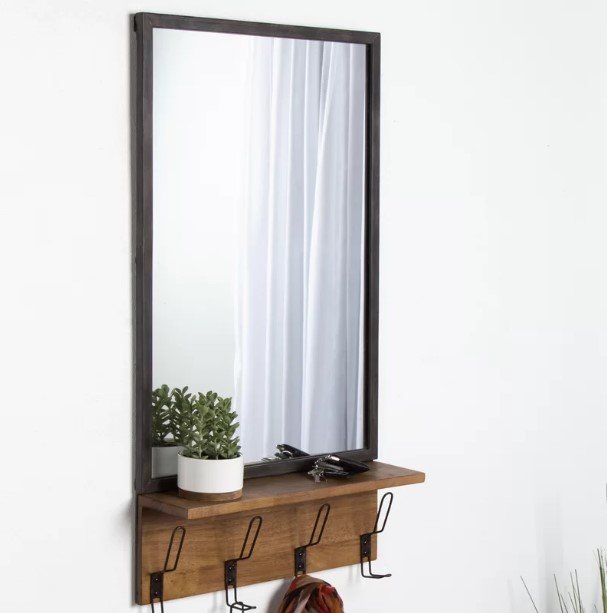 Distressed Metal Accent Mirror With Shelves & Hooks (From Amazon). Bring order to the entryway or tidy up your bedroom with this versatile accent mirror, featuring four hooks below that let you hang up keys, jackets, bags, and beyond. Crafted from iron and a neutral wooden shelf below, this mirror goes well with the Farmhouse interior design trend that's happening now.
Gold Metal Hanging Mirror With Shelf
Gold Metal Hanging Mirror With Storage Shelf ($228) From Anthropologie. Give your walls a simplistic elegance with a chic gold frame mirror for your beauty products or home accents. A stylish way to open up your small space.
Rustic Wood Framed Mirror With Cubby Shelves
Rustic Wood Framed Accent Mirror With Multiple Shelves ($148.49) from Home Depot. Make the most of your wall space. A cubby framed mirror with shelves for storing your trinkets, makeup, bathroom products or for showcasing your decorative home accents. The charming rustic brown finish complements any classic- or modern farmhouse-inspired space.
Gold Teardrop Mirror With Wooden Shelves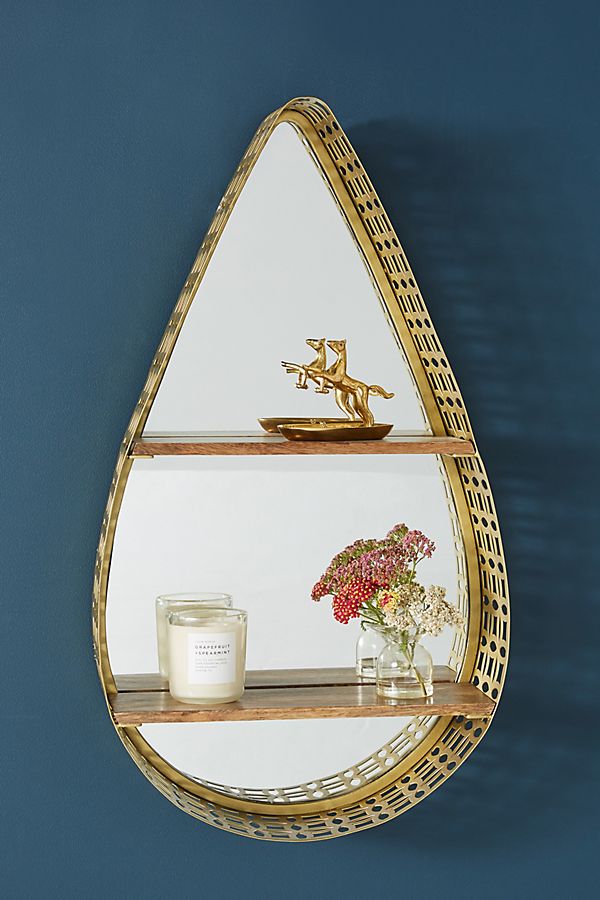 Nessa Gold Mirror With Wooden Shelves ($248.00). This handcrafted teardrop-shaped shelving unit is an eye-catching piece to display your favorite books, plants, and photos.
Antique gold-finished Steel Mirror With Shelf And Hooks
Antique gold-finished steel Mirror With Shelf And Hooks ($168). The Windward Mirror blends nautical charm with modern luxury. A built-in shelf with hooks makes this piece ideal for front entryways and bathrooms. Antique gold-finished steel piping and a porthole style mirror complete the look!
Sliding Bathroom Mirror With Hidden Storage Shelves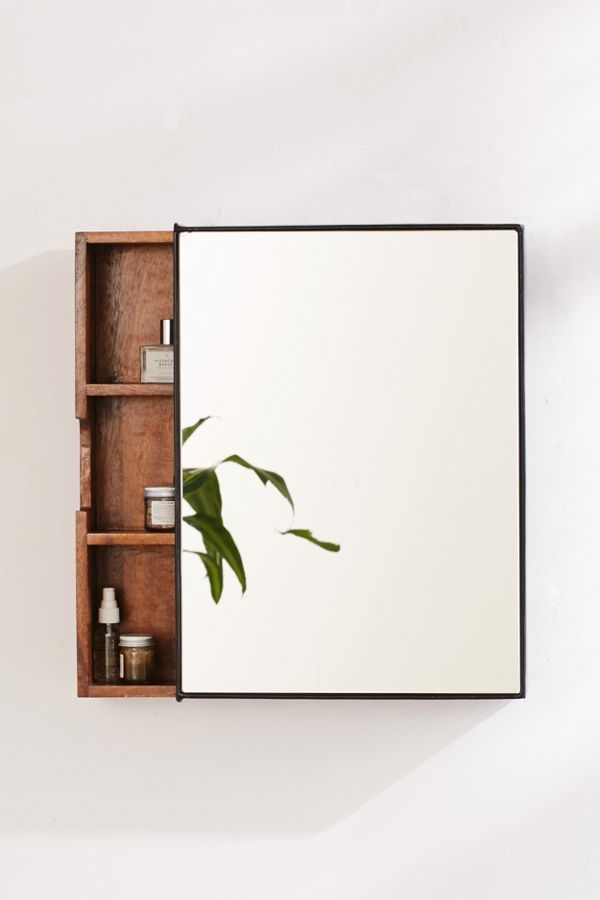 Sliding Bathroom Mirror With Hidden Shelves ($129). Made from natural mango wood, this mirror makes a classy medicine cabinet for the bathroom, with a sleekly sliding mirrored front and 3 interior shelves for storage.
Rustic Round Mirror With Square Metal Frame & Wood Shelf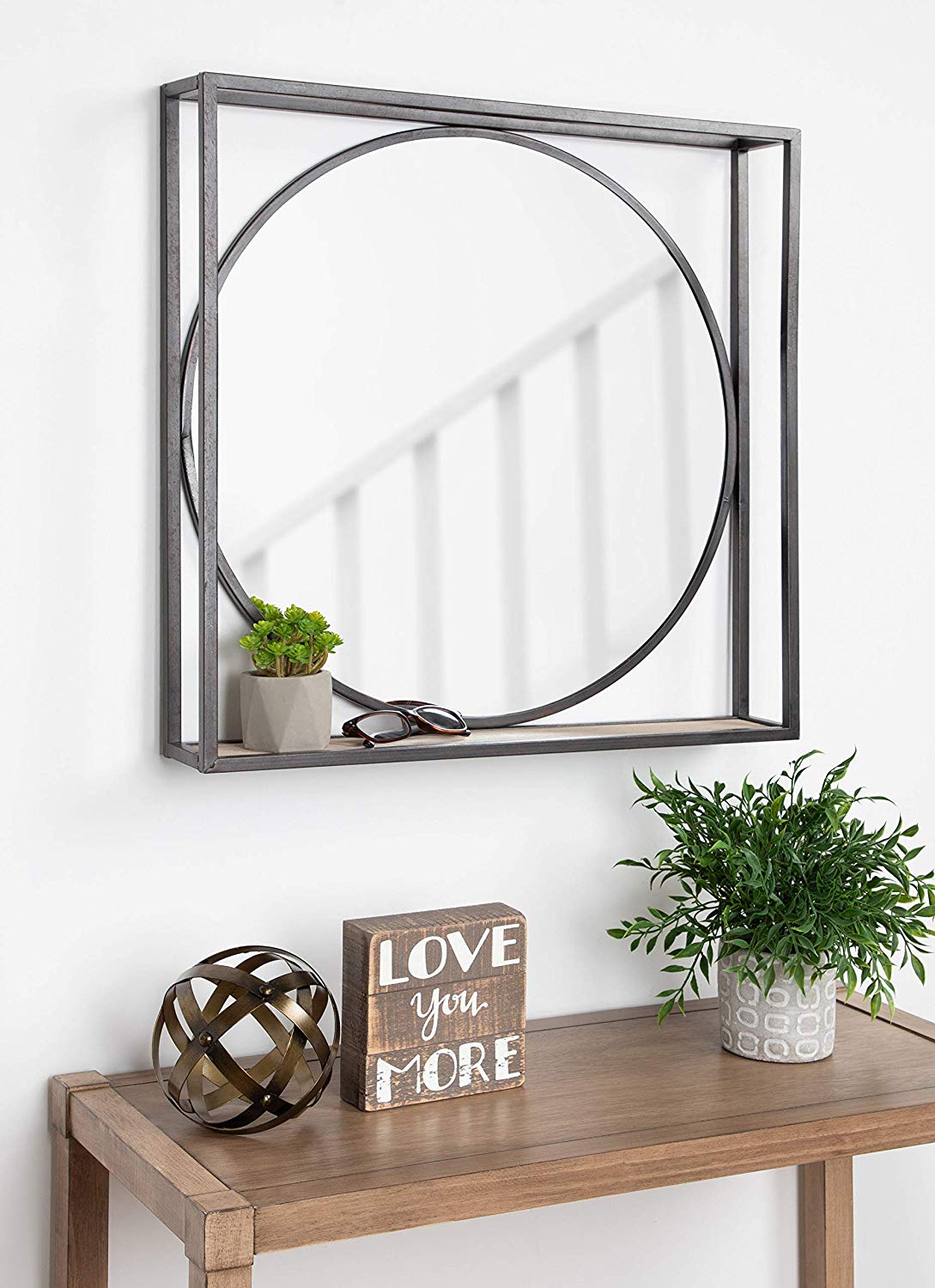 Rustic Modern Round Mirror With Square Metal Frame & Wooden Shelf (See Price Here On Amazon). An artistic display on its own, this mirror/shelf combination is a beautiful part of any home decorating scheme. The gorgeous raw iron look of the metal frame gives a sophisticated rustic modern appearance and adorns the sizable round mirror adding depth and brightness. Another mirror to complement a modern farmhouse decor space.
Hazel Rattan Floor Mirror With Pocket Storage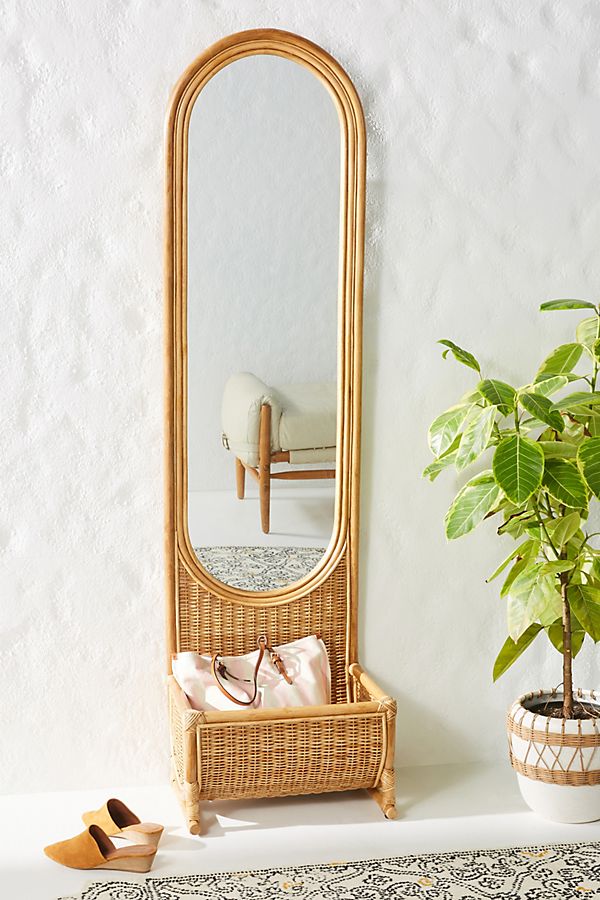 Boho Hazel Rattan Floor Mirror ($498). With a woven rattan frame and a convenient catch-all basket attached, this mirror offers both function and texture to an entryway or a living space.
Mirrors with shelves are a great double-duty home accessory for small spaces. Find ways to incorporate them into your decor as often as possible.
You May Also Like:
Don't Miss The Latest Posts!
PIN THIS FOR LATER & SHARE!