18 Small & Stylish Entryway Bench Ideas – For A Great First Impression
Looking for small entryway bench ideas? You're in luck. I just found 18 stylish benches perfect for small entryways. And they're packed with storage!
The entrance to your home should be stylish yet organized. If you're working with a small space then you'll know the importance of storage and perfectly scaled entryway furniture. A storage bench is one of the most cost-effective ways to maximize space in a small entryway. They also offer versatile storage and come in a variety of styles, colors, and designs.
A modern entryway bench with shoe storage, drawers, and/or hooks will help you keep your entryway organized and clutter-free. I put together 18 stylish small entryway bench ideas that I think you'll love!
By the way, if want more entryway storage ideas for small spaces and small apartments, you might be interested in these:
For design and decor inspiration check out these Bright & Airy Entryway Decor Ideas For Apartments!
18 Small Entryway Bench Ideas With Storage!
**This page may contain affiliate links. If you purchase something through these links, I may receive a small commission at no extra cost to you. See full disclosure here.**
Maybelle Shutter Door Entryway Storage Bench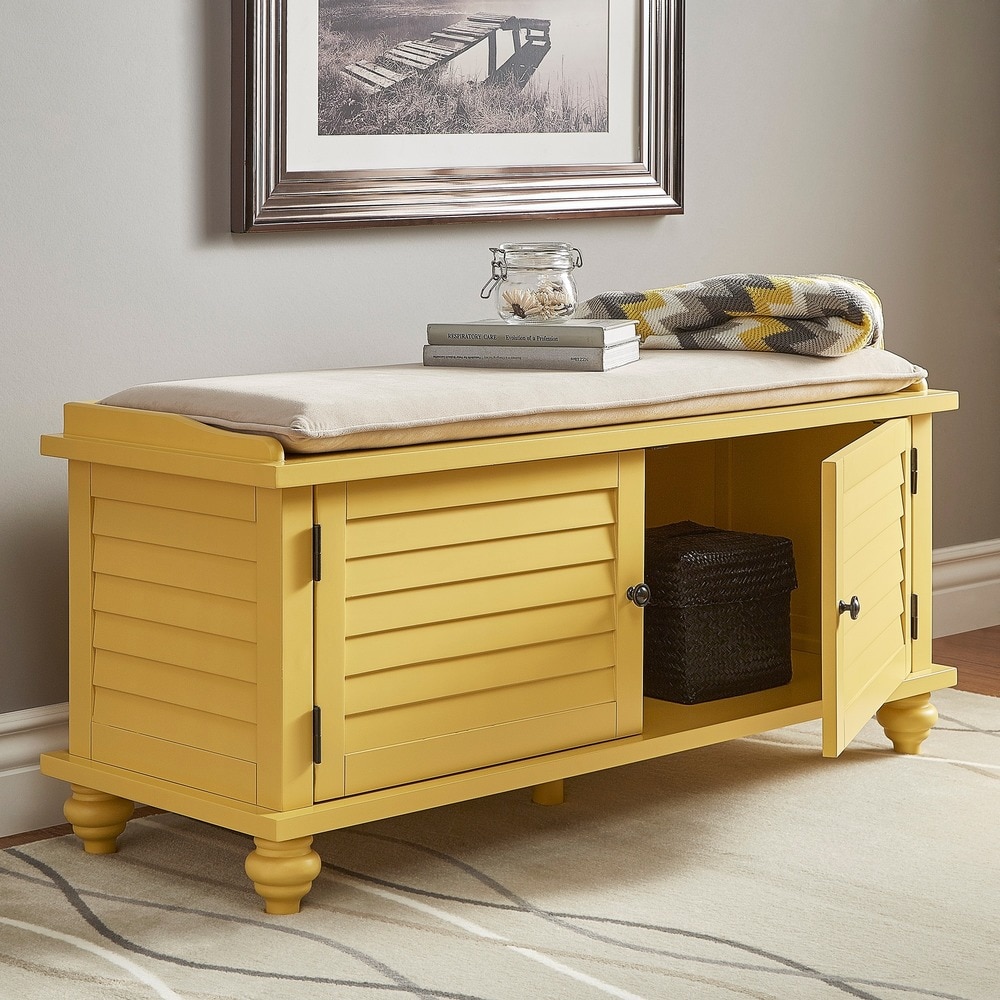 For functionality and style, the Maybelle storage bench from iNSPIRE Q Classic delivers on both fronts. This entryway storage bench stuns with traditional elements like the shutter doors and bun feet, both working together to create a timeless look. Keep your entryway clutter-free by storing shoes, purses, and other items out of sight, within the spacious storage compartment. This yellow is stunning! With multiple color options, finding one that suits your decor is easy! BUY IT here at Overstock.
Isaac Oak Finish Entryway Wooden Storage Bench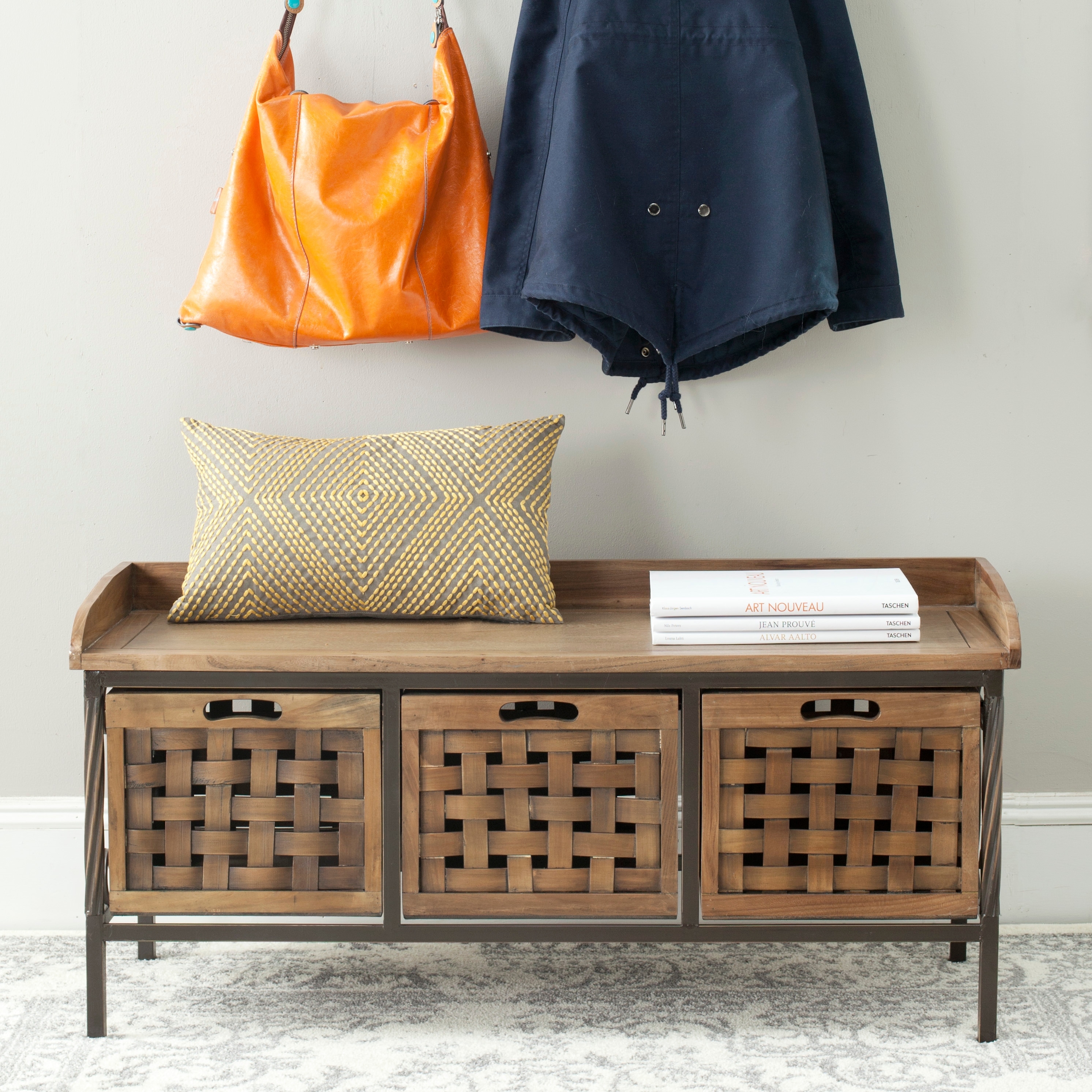 If you're going for rustic decor the Isaac Wooden Storage Bench is the perfect piece of seating for any entryway or mudroom. The bench features an iron frame and three intricately detailed storage bins to keep your small entryway organized. Store shoes, shopping totes, hats, and more. The woven detailing on the drawers paired with the iron frame create a nice blend of boho and industrial design. Just beautiful! This small entryway bench is measured at 42.5″ x 15.5″ x 20″, making it a viable option for small entryways. BUY IT here at Overstock.
Mid-Century Modern Entryway Bench with Storage Drawers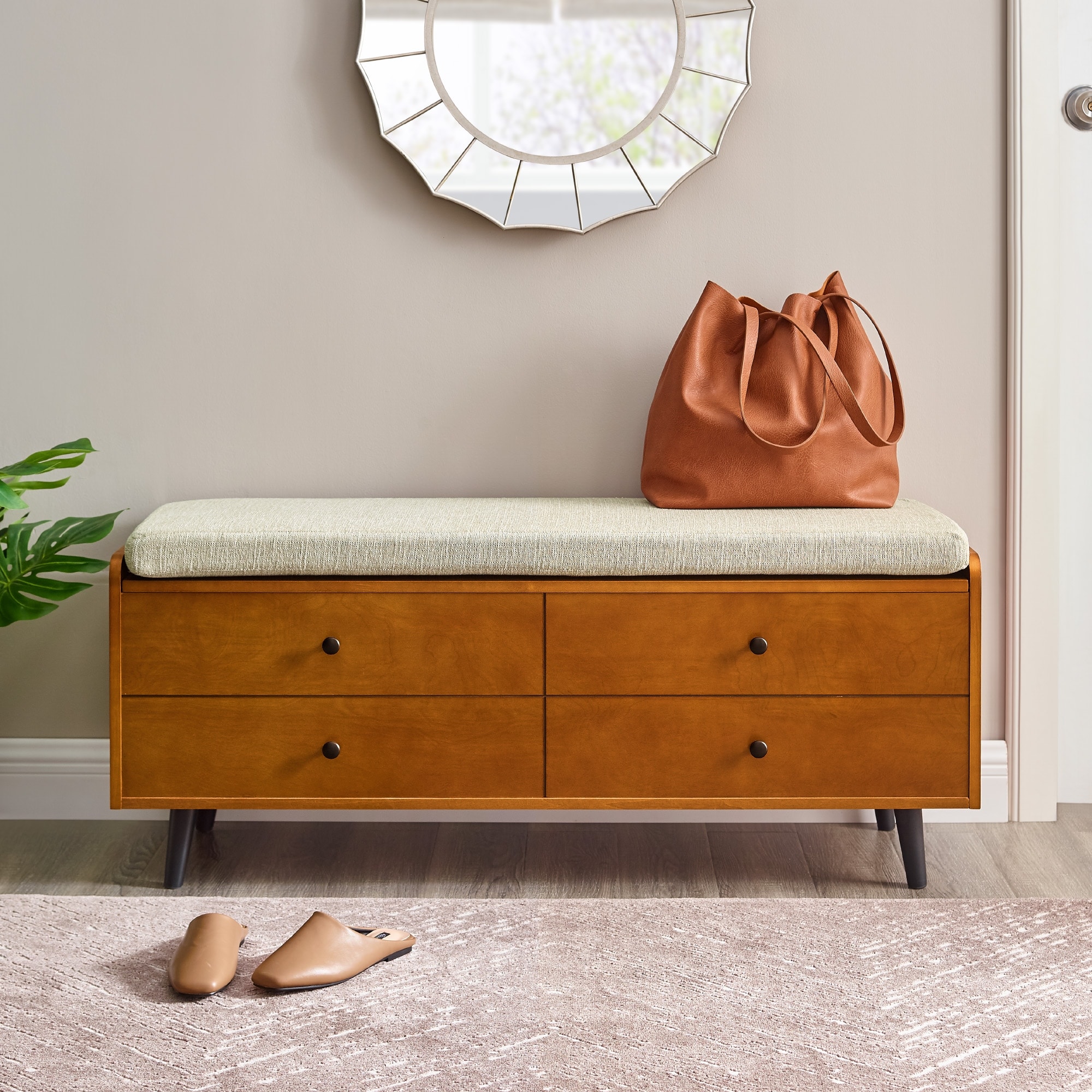 Envision placing this Mid-Century Modern Storage Bench in a soft, sunlit entryway. The attractive, faux drawers and comfy, cushioned top create a charming first impression. Lift the bench's top to open deep storage for handbags, shoes, hats, and other entryway items. And don't worry about accidental slamming, because the door features soft close hinges creating a gentle glide. BUY IT here at Overstock
Copper Grove Cranesbill Mudroom Shoe Storage Bench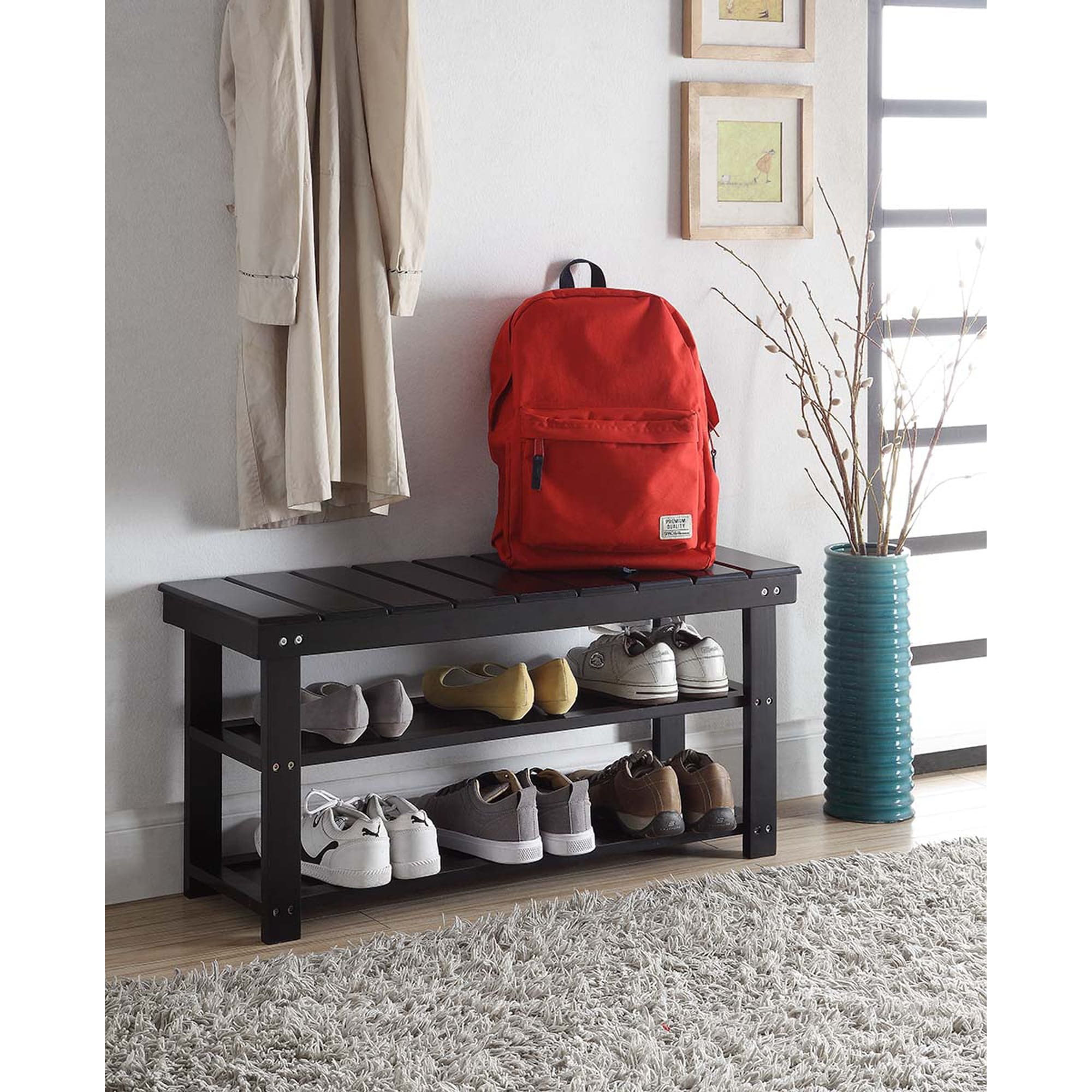 Keep things simple with the Copper Grove Cranesbill Mudroom shoe storage bench. A contemporary style entryway bench with two lower shelves for storing shoes. The open storage makes it easy to slip your shoes on and off while keeping them organized.  BUY IT here at Overstock
Madison Park Tufted Entryway Storage Bench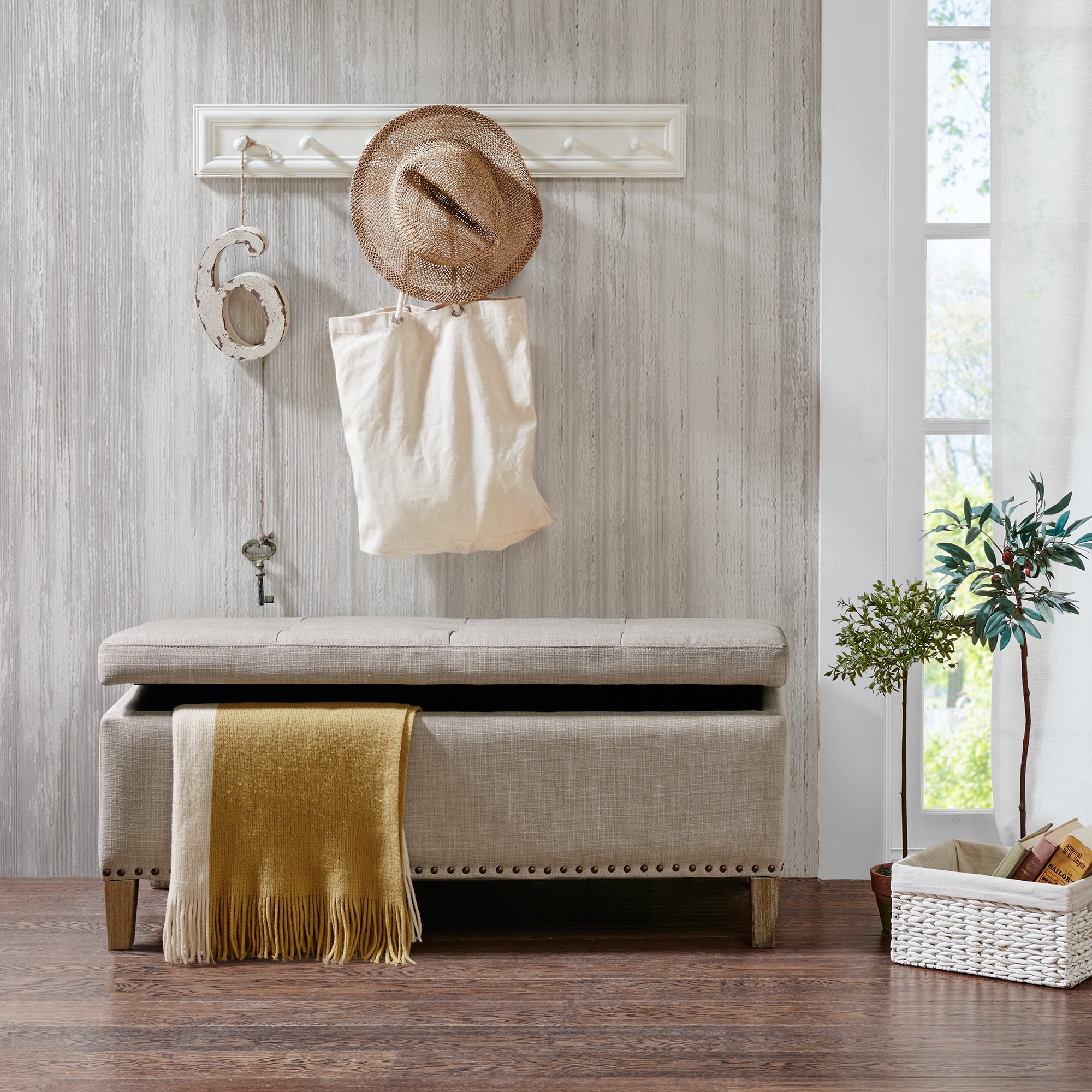 Eliminate the clutter and elevate your home with this elegant Tufted Storage Bench from Madison Park. Upholstered in taupe polyester, this storage bench features a high-density foam cushion so you can rest comfortably on the provided seat. Individually placed copper nail heads line the bottom of the frame add a hint of shine and classic charm to your entryway decor. BUY IT here at Overstock
Tufted Fabric Entryways Bench With Shoe Storage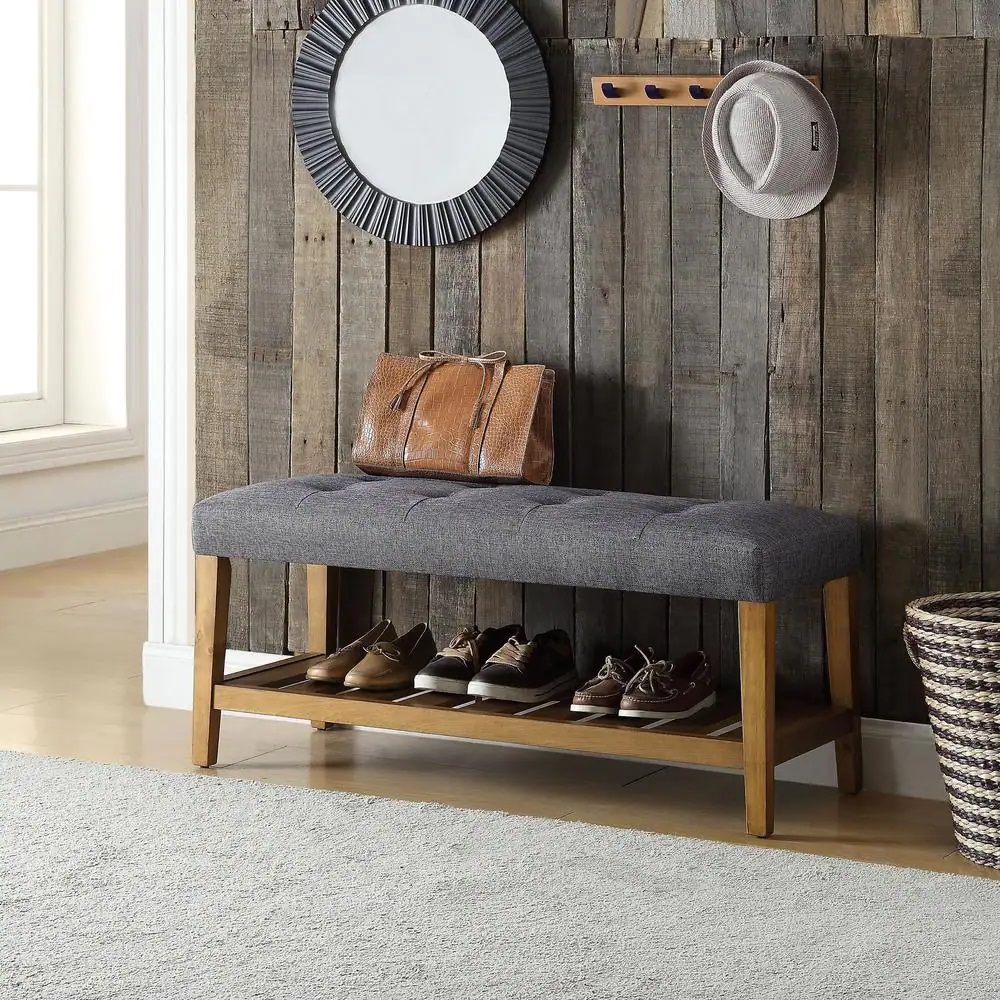 For a simple modern style, this tufted fabric bench with shoe storage by Porch & Den is a viable option. Offering uncomplicated storage for shoes and a comfy place to sit as you put them on, this bench is great for apartment entryways. BUY IT here at Overstock
KozzHogar Entryway Bench with Shoe Storage & Drawer
Take your entryway storage game to another level with the KozzHogar shoe bench. With two drawers and three shoe compartments, this bench helps you to maximize storage in small entryways and adds plenty of functionality. The KozzHogar shoe bench is compact, versatile, and perfect for apartments and tiny homes. It's pretty cheap too! Buy It Here on Amazon
Entryway Bench with Back & Flip Up Storage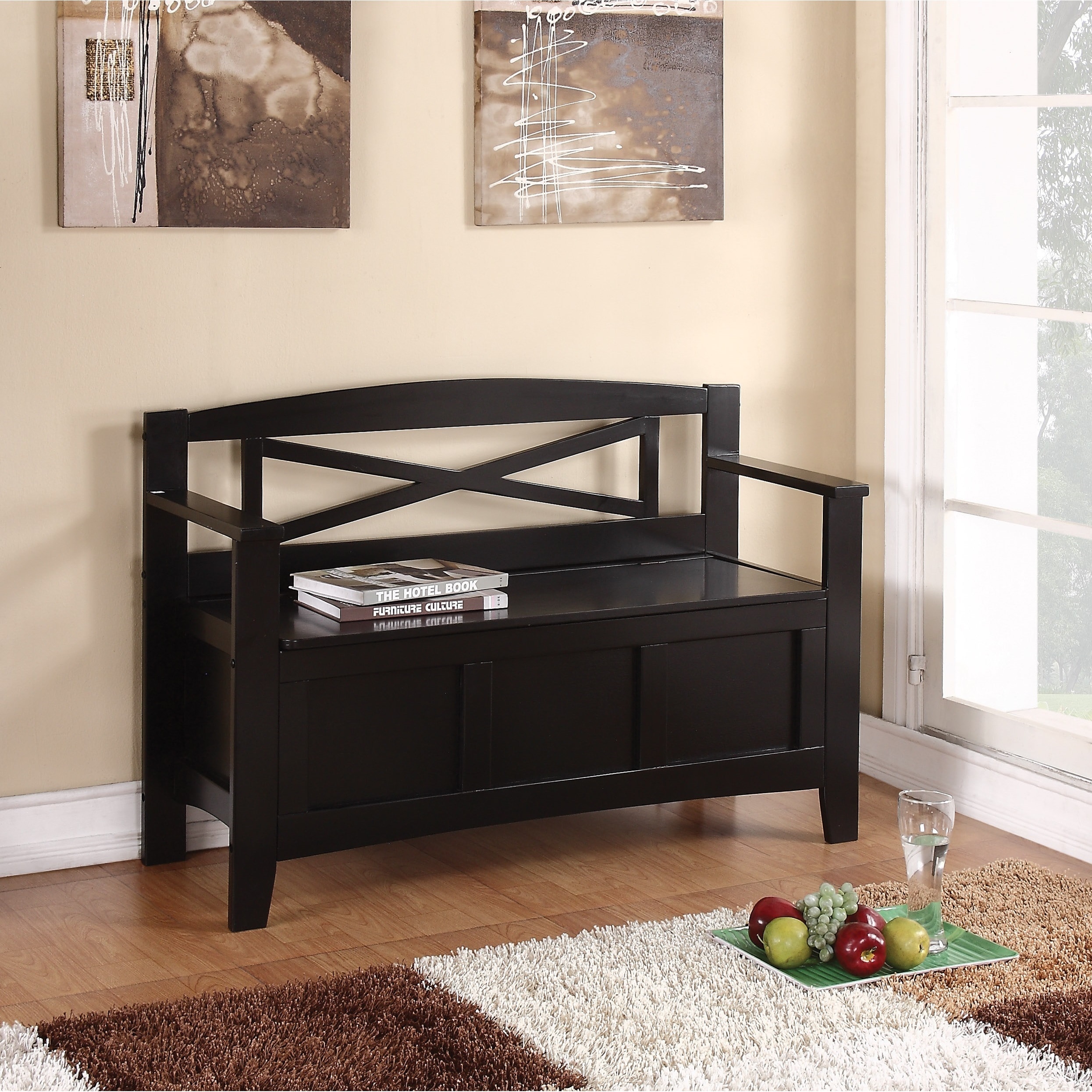 Be intentionally chic with this Country Styled Entryway Storage Bench. The seat flips up to reveal storage space where you can stash items and leave your space uncluttered. Oozing country charm, this bench sports a cross-stroke back, a square-off edge design, and a painted black finish to make a statement. BUY IT here at Overstock.
Modern, Small Entryway Bench with Drawer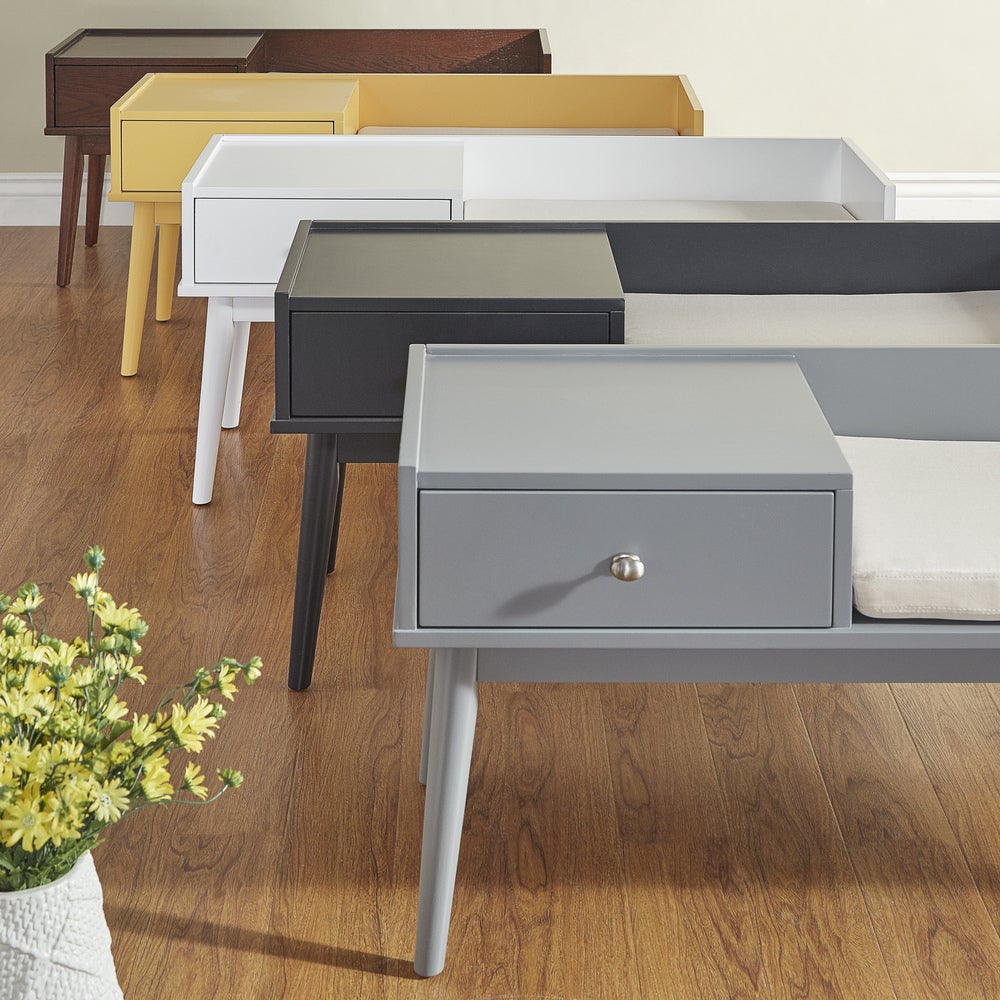 Sleek, modern, and sophisticated. That is how I would describe the Niklas bench from iNSPIRE Q Modern. This entryway bench checks all the boxes for small space furniture. It's visually lightweight, functional, and leggy making it perfect for small entryways. The mid-century Niklas bench features sleek lines and tapered legs while staying relevant to contemporary design trends. Sit on the cushioned seat to put on shoes while the spacious drawer stores keys, magazines, hats, gloves, or other items away and out of sight. Add function and style to your small foyer, entryway, hallway, or mud-room. BUY IT here at Overstock.
Old Stone Vintage Grey Storage Bench with Storage Baskets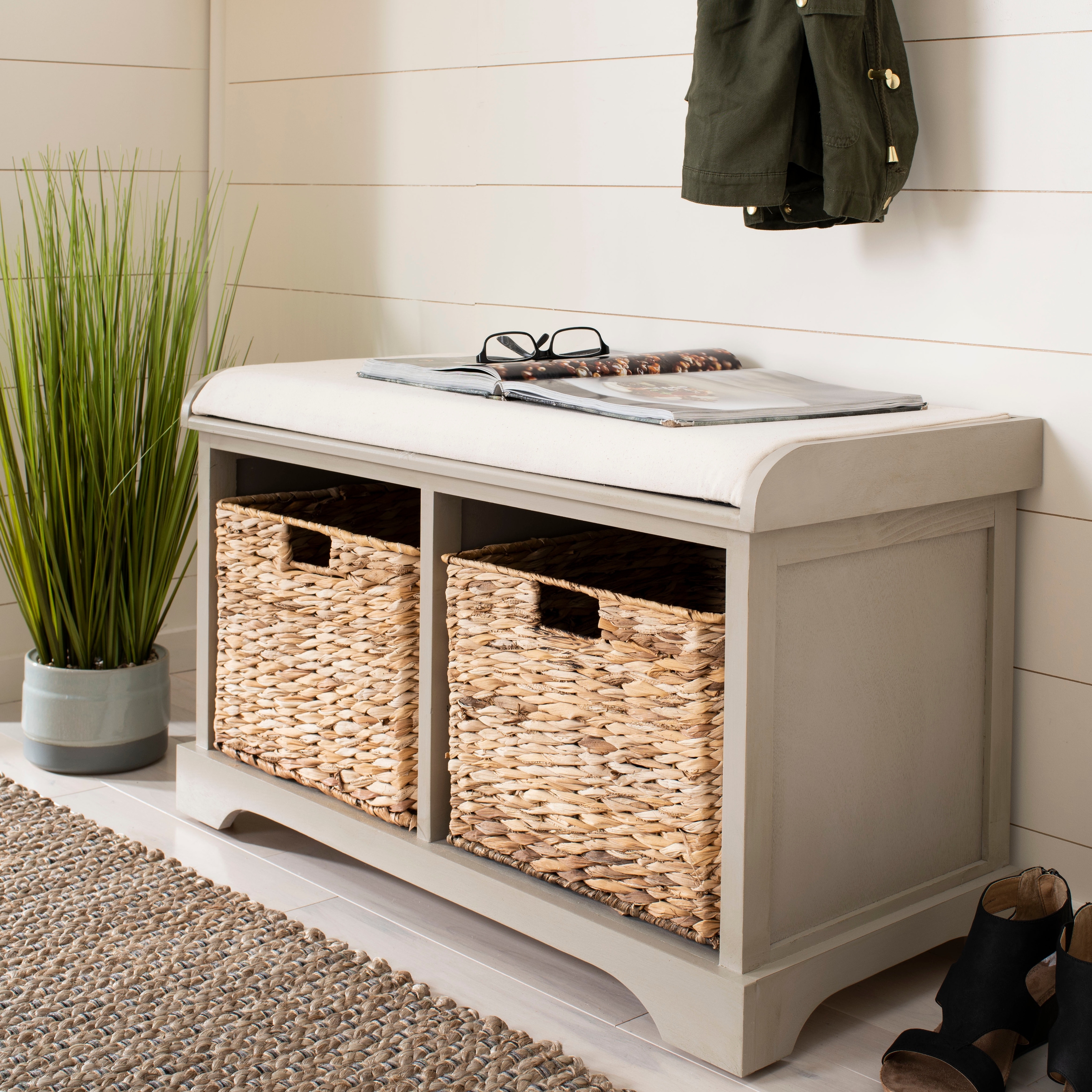 This charming storage bench with a pine wood frame and soft upholstery seat is perfect for changing shoes in an entry hall. Chic woven baskets are perfect for holding shoes, hats, purses, and more. BUY IT Here at Overstock.
Becken Ridge Small Entryway Storage Bench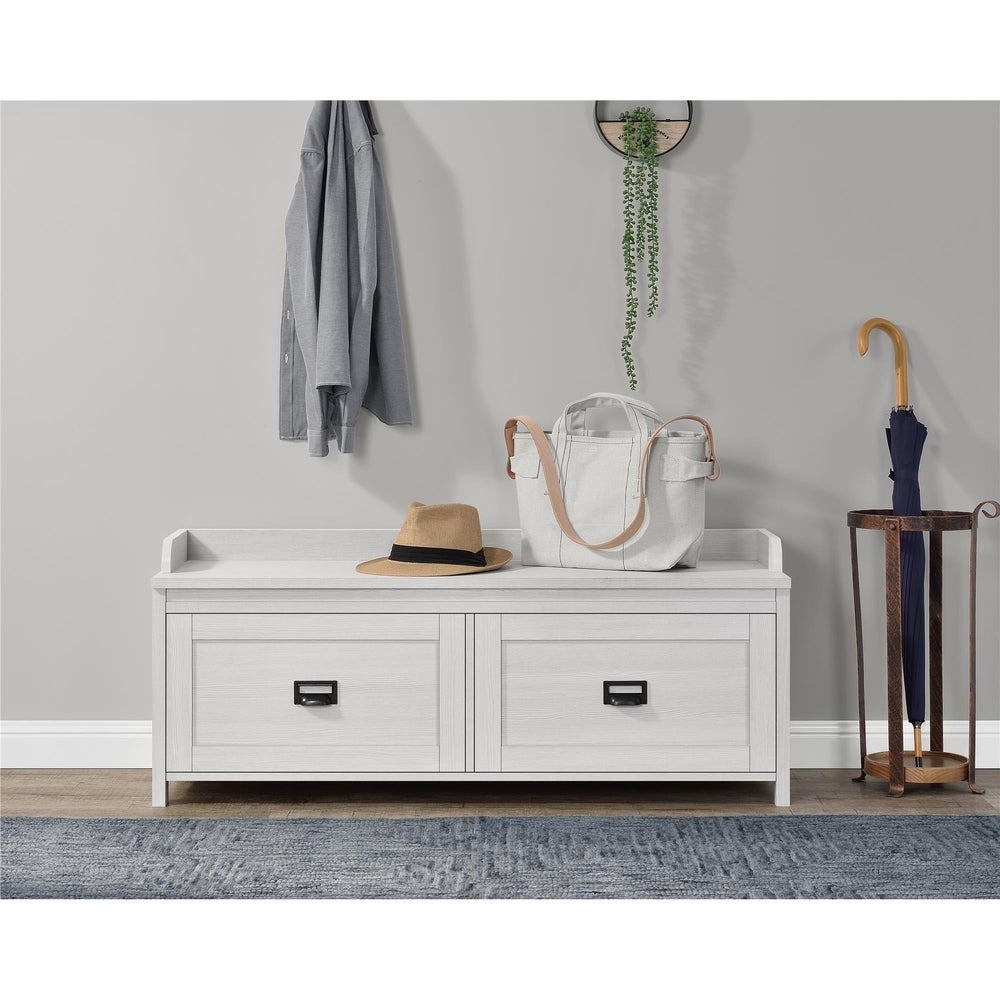 Create a warm, inviting entrance into your home with the Avenue Greene Becken Ridge Entryway Storage Bench. The rustic barn-style design gives the look of an old weathered barn door. The woodgrain finish adds to the rustic charm of this piece. Add pillows or a cushion to the benchtop to create a comfortable place to take your shoes on and off. The 2 large deep drawers allow you to keep your entryway organized. Both drawers have durable metal slides for a smooth gliding drawer. A stylish option for a small apartment entryway. BUY IT Here at Overstock
The Gray Barn Sliding Barn Door Litter Box Bench
An innovative, double-duty piece for cat owners. The Gray Barn Sliding Barn Door Litter Box Bench is stylish and practical and will be the perfect solution to the litter box plight in your mudroom. This bench is equipped with two storage compartments, one circle cut-out and one sliding door.  Conceal a litter box on one side and store daily essentials on the other.  Your whiskery friend will be thrilled with his/her newfound privacy to take care of business and you'll be thrilled that it's happening behind closed doors. Buy It Here at Overstock.
Industrial Style Entryway Storage Bench
Create a convenient storage space while adding additional seating options to your home with the Sauder North Avenue Storage Bench from Amazon. This entryway storage bench features a spacious seat, making it the perfect spot to tie your shoes in the morning, kick your boots off at night. The seat flips up to reveal a hidden storage area that includes a divider for you to organize and store anything from books and blankets to jackets and handbags. It also features a lid stay for safety. The lower grate-styled shelf provides you with additional storage space that is ideal for shoes or easy-access storage for just about anything. Its simple design and hidden storage make this bench a great fit for small entryways. Buy It Here on Amazon.
Carbon Loft Industrial Entryway Storage Bench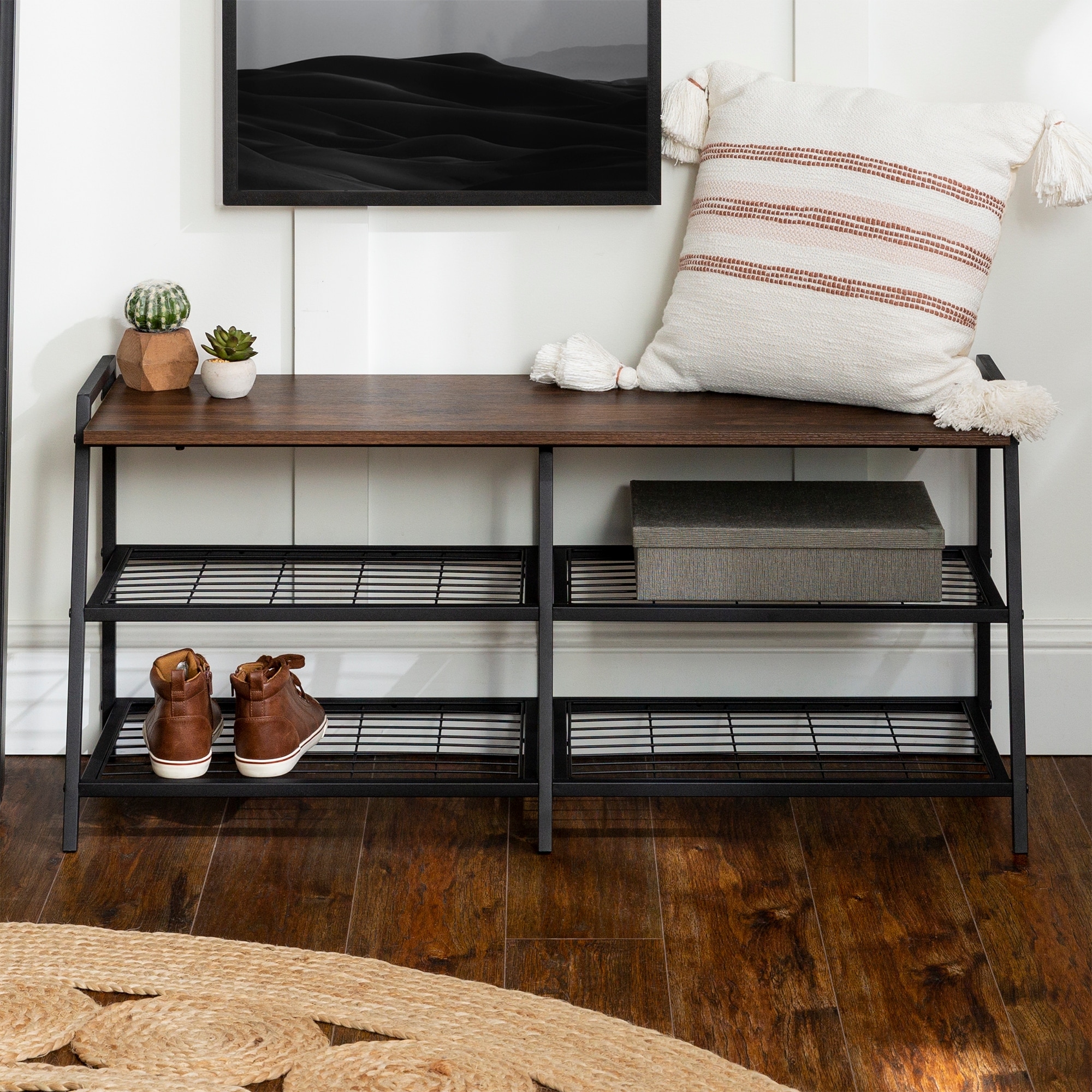 The Lahuri Industrial Entry Bench is a stunning combination of modern design and practicality. With its light, open design, this entryway bench provides ample space for shoes, bags, books, and more. This bench exudes an industrial, urban style. Buy It Here at Overstock.
Wooden Storage Bench With Drawers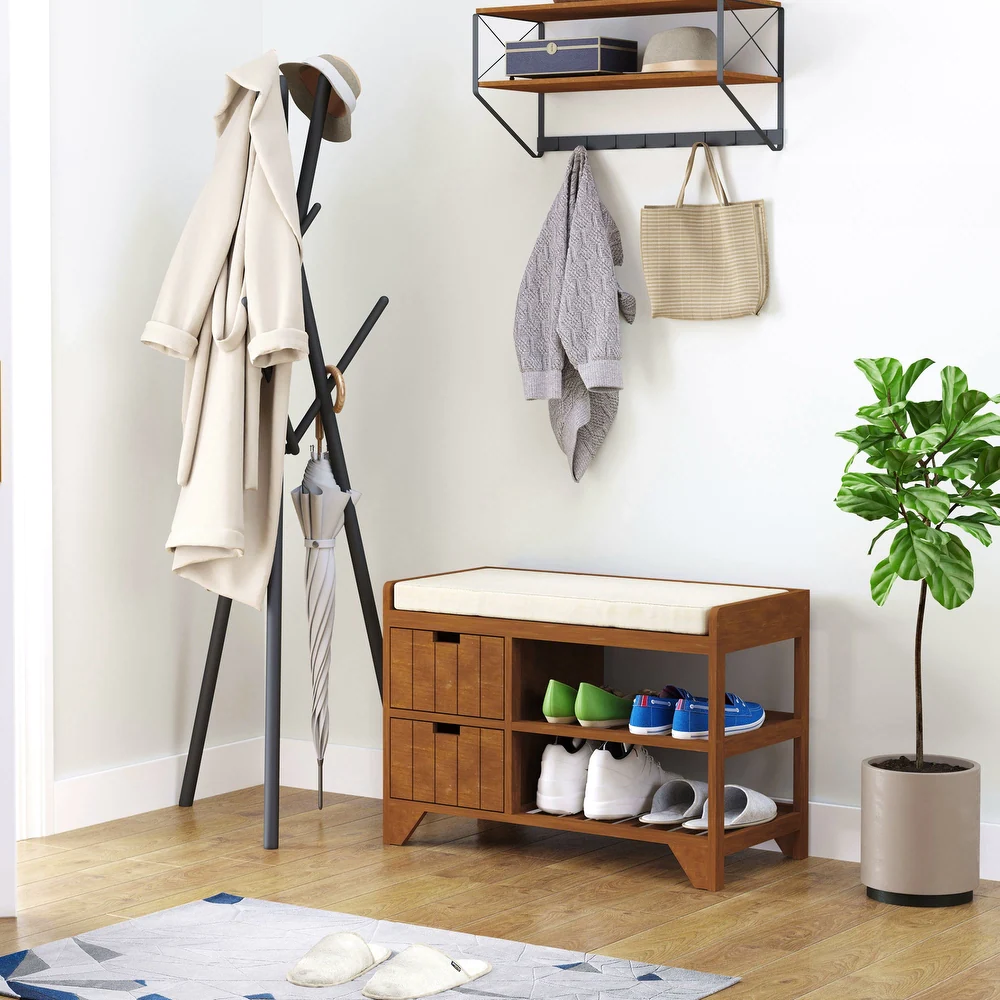 Add rustic country-inspired storage and seating to your small entryway with this Wooden Bench and Shoe Rack from HomCom. This 3-in-1 piece of furniture features a comfortable padded top seat, two low-slatted shoe racks that offer storage space, and two pull-out drawers that are perfect for accessories. The durable slatted frame and padded upholstery cushioning make this bench a stylish and functional addition to any home. Buy It Here at Overstock.
Hall Tree Entryway Storage Bench Unit With Hooks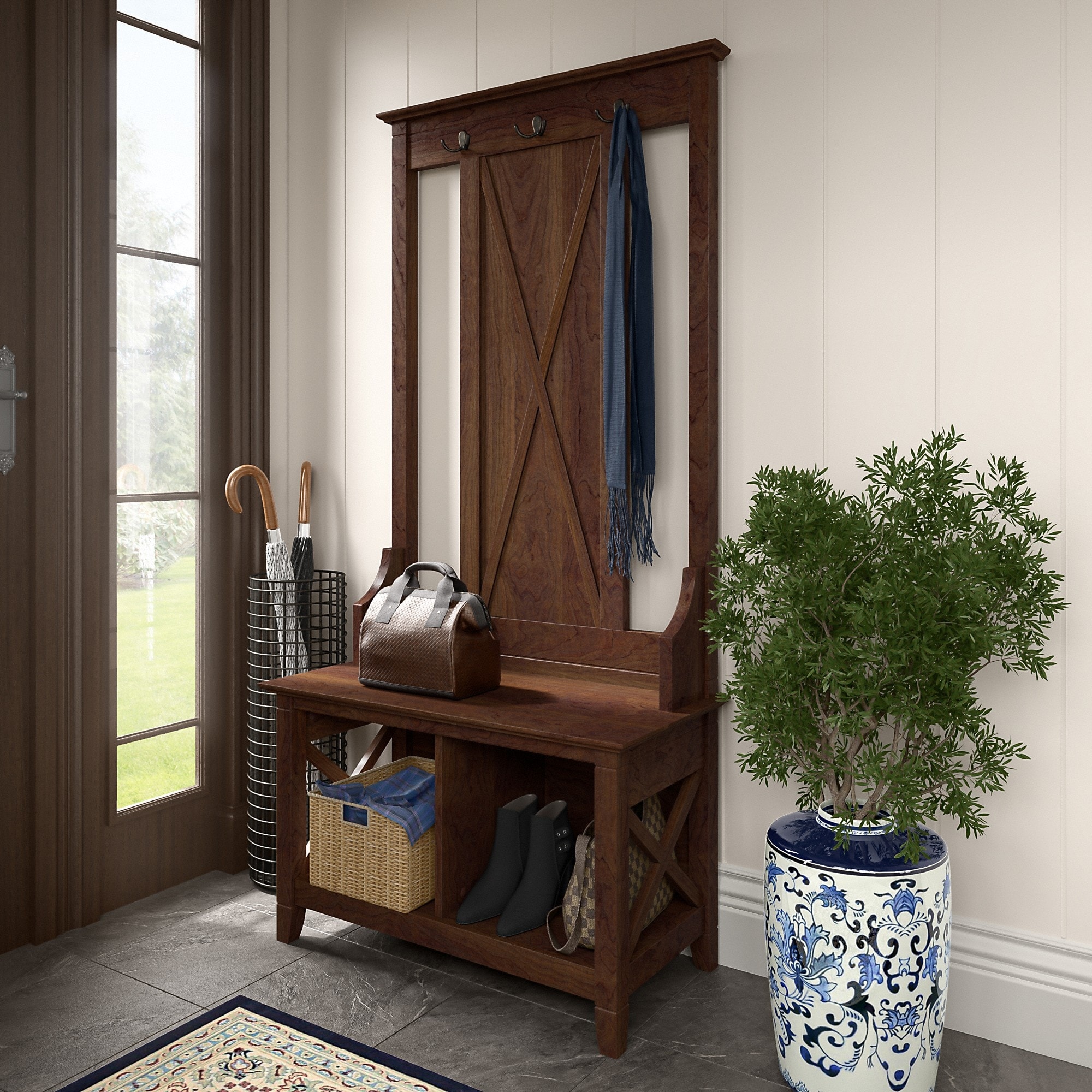 The Hall Tree Shoe Storage Bench from Bush Furniture provides an entryway solution that's casual and stylish. This entryway organizer has space for shoes, outerwear, and accessories so they're right where you need them when it's time to go. The Hall Tree includes three double-prong coat hooks for hanging jackets, hats, scarves, and more. This entryway unit occupies vertical space rather than floor space, making it a great choice for smaller entryways. Buy It Here.
The Gray Barn Wood Shoe Bench with Storage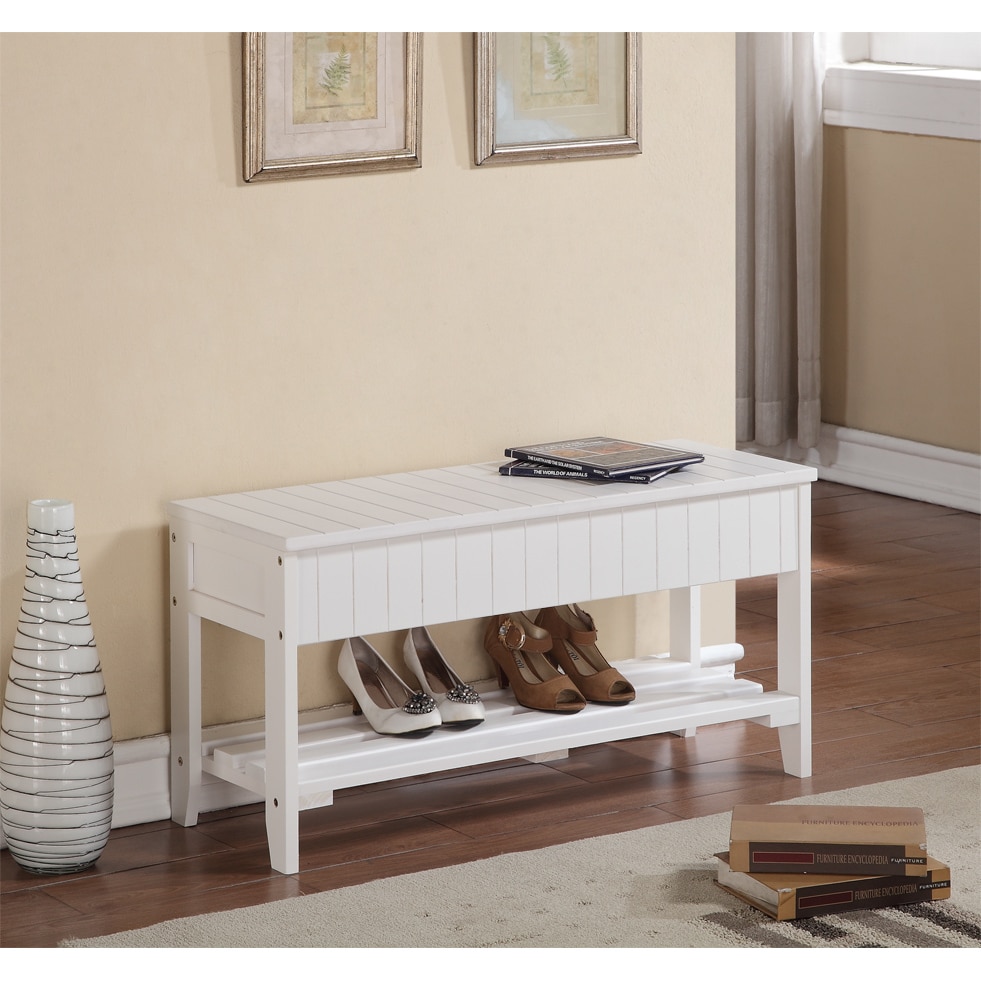 A Charming and durable design gives this bench a timeless and lasting presence in your home. Your choice of crisp white or rich cherry is easy to blend with existing decor for an effortless and useful accent. Buy It Here.
Avenue Greene Entryway Hall Tree with Storage Bench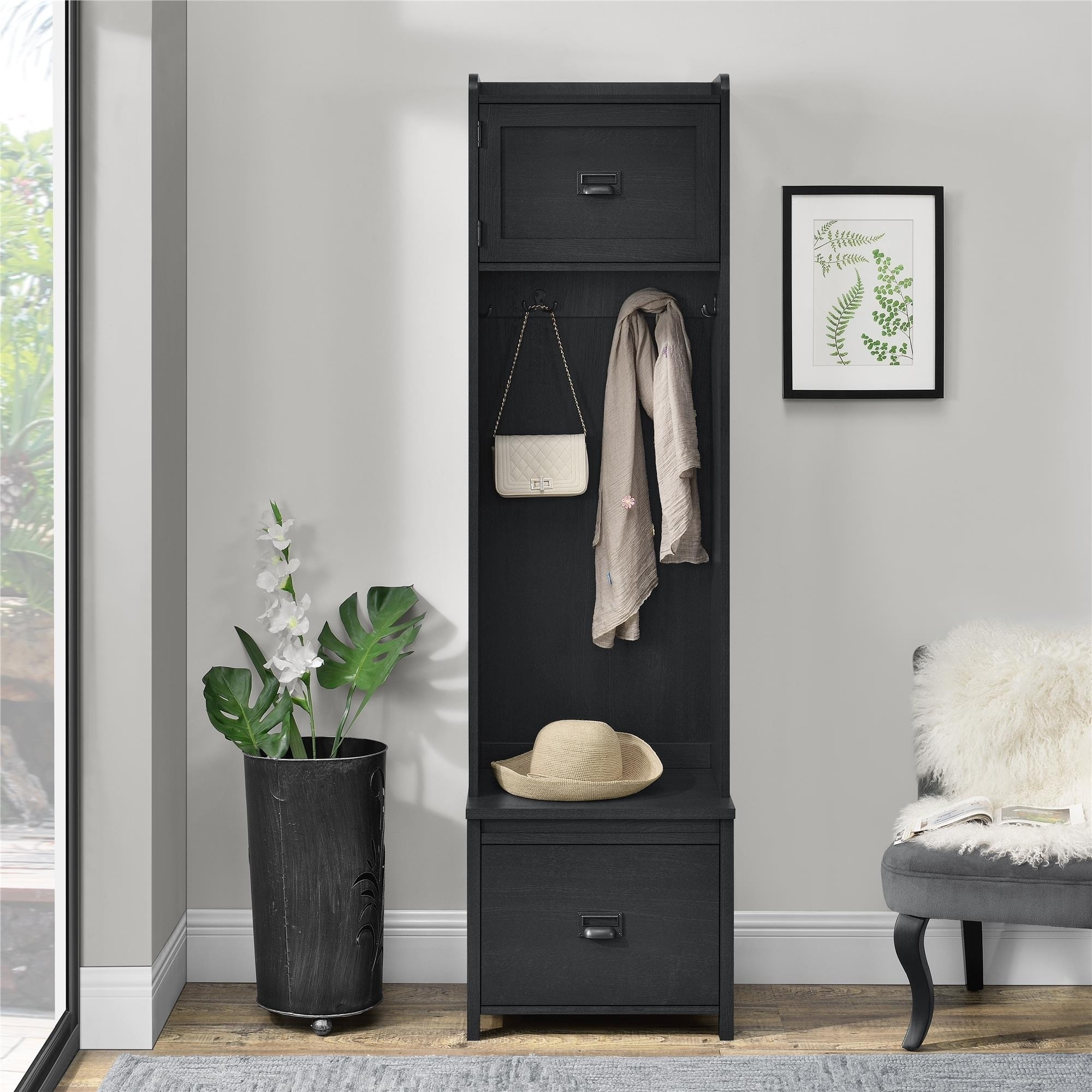 The Avenue Greene Entryway Hall Tree with Storage Bench showcases a classy weathered black woodgrain finish for optimum style and functionality. This small hall tree, Entryway unit is compact, offers versatile storage, and occupies very little space. Buy It Here at Overstock.
Conclusion
There you have it. 18 small entryway bench ideas with storage. Decorating and organizing your entryway provides an opportunity to not only make a great first impression but to also create a warm and inviting 'welcome home'. Small entryways need adequate storage in order to prevent that cluttered look. This is why a small storage bench works so well for these spaces. Storage benches offer dual-functionality by providing seating and storage all in one piece.
While there are many storage options for small entryways and mudrooms I find that concealed storage works best for maintaining a clean and uncluttered space. Benches with drawers, cabinet doors, or baskets work well to hide away items while keeping them within reach.
I hope you found some inspiration from this list. They're all viable options. Happy decorating!
You May Also Like:
Want More Furniture Ideas For Small-Spaces?
Pin This Post For Later!