Small Bathroom With No Windows? – Here's What You Need To Know.
Let's face it. A small bathroom with no windows is truly the stuff of nightmares. Natural light is a necessity for small rooms and when you take that away, the room can feel dreary, boxed in, and well… like a bat cave.
Fortunately, it doesn't have to. There are ways to make your small windowless bathroom feel less gloomy and more inviting. I put together a few tips to help you do just that! With these minimal changes and hacks, you can take your bathroom from claustrophobic to chic in no time!
*This page may contain affiliate links. If you purchase something through these links, I may receive a small commission. I only recommend products that I love and trust! Read the full disclosure here. **
10 Ways To Spruce Up A Small Bathroom With No Windows
Ensure Proper Ventilation
Whether you're showering or brushing your teeth, it's going to add a considerable amount of moisture into the air. An unventilated bathroom with high humidity leaves behind damp, musty odors and gives way to mold and other bacteria. Not good!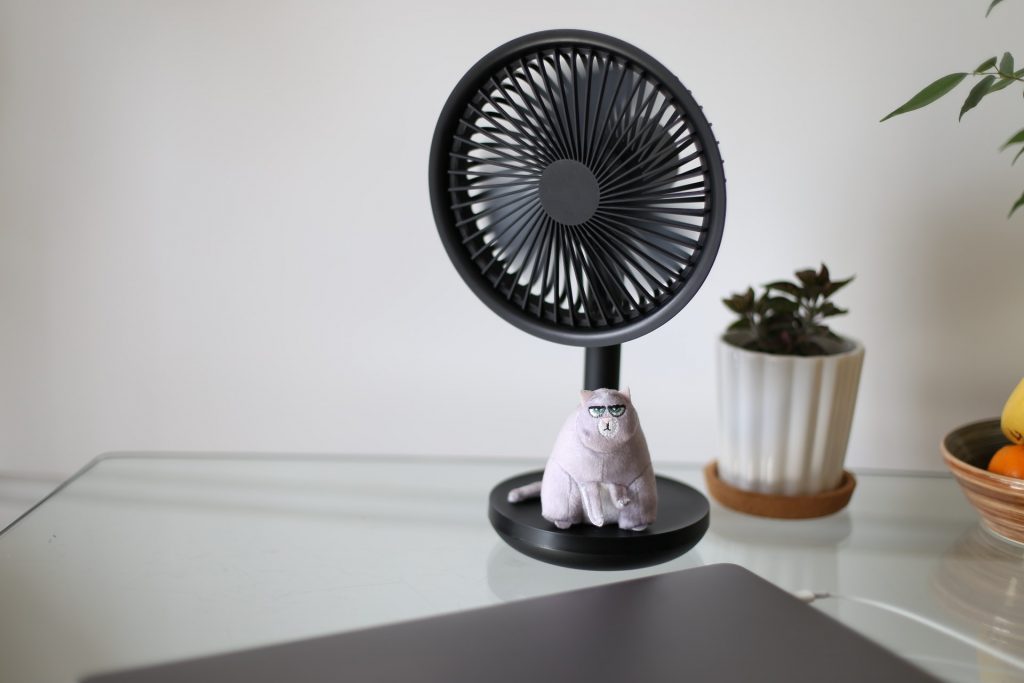 For homeowners, installing an exhaust fan is an easy fix to this problem. But if you're renting or unable to install an exhaust fan there are a few ways to ventilate your bathroom and avoid mold and unpleasant odors.
Here are some ideas for ventilating a bathroom with no windows:
Use a portable, oscilating fan – this will help dry wet surfaces quickly with little work. The fan should be placed in a way, so it points to the wettest areas. Mount it on your wall or place it on your countertop or stool. Try a table fan from Amazon or a these battery operated portable fans .
Don't Dry Towels Inside – hanging wet towels inside a bathroom with no windows is a mistake. Doing so creates excess moisture in the air as the towel dries and often leaves a musty smell behind. Hang wet towels outside or in a well ventilated area in your home.
Keep bathroom door open during or after showers– This will allow steam to escape right away, preventing it from gathering up and trapping inside but more importantly it will allow fresh air to flow in.
Wipe water spills on counters and mirrors – manually removing moisture will go a long way in keeping your bathroom dry and clean.


Use a Dehumidifier – These small devices absorb moisture from the air and retain it in their tanks via condensation. Small and compact dehumidifiers (Amazon) can fit neatly on shelves or your bathroom countertop. I also found this 6 pack mini dehumidifyers for small spaces like closets, pantries, cars etc.
Use Clear and/or Metallic Fittings
One way to spruce up a small bathroom with no windows is to use clear and/or metallic fittings. "If you don't have a window letting light in, then you won't want something that takes light away. Polished metal, glass, mirrored fixtures and Lucite are great materials for adding interest and drama without absorbing light." – Houzz.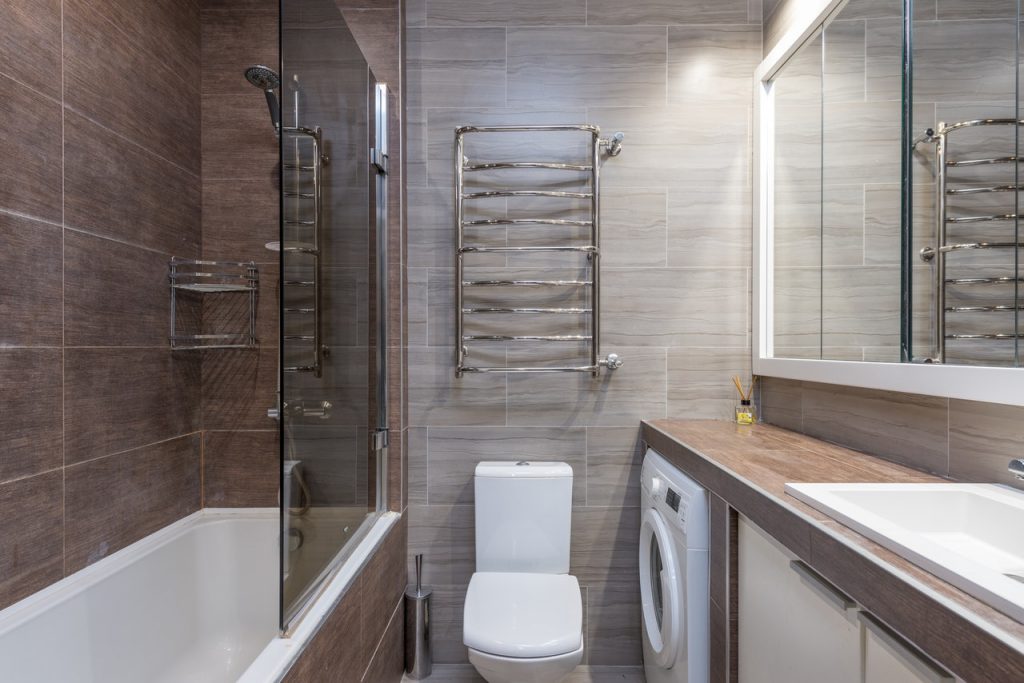 Homeowners can opt for glass or transparent shower doors and screens. Renters can try a clear shower curtain. This will reflect the artificial light like mirrors and make the room feel less crowded. With a clear shower curtain or screen, you'll be able to see straight through making the room feel bigger in comparison. Renters can also swap out cabinet handles and light fixtures for metallic ones.
If you're renting and looking to upgrade your small bathroom here are 7 Reversible Ways To 'Renovate' Your Rental Bathroom.
Keep It Clean & Clutter-Free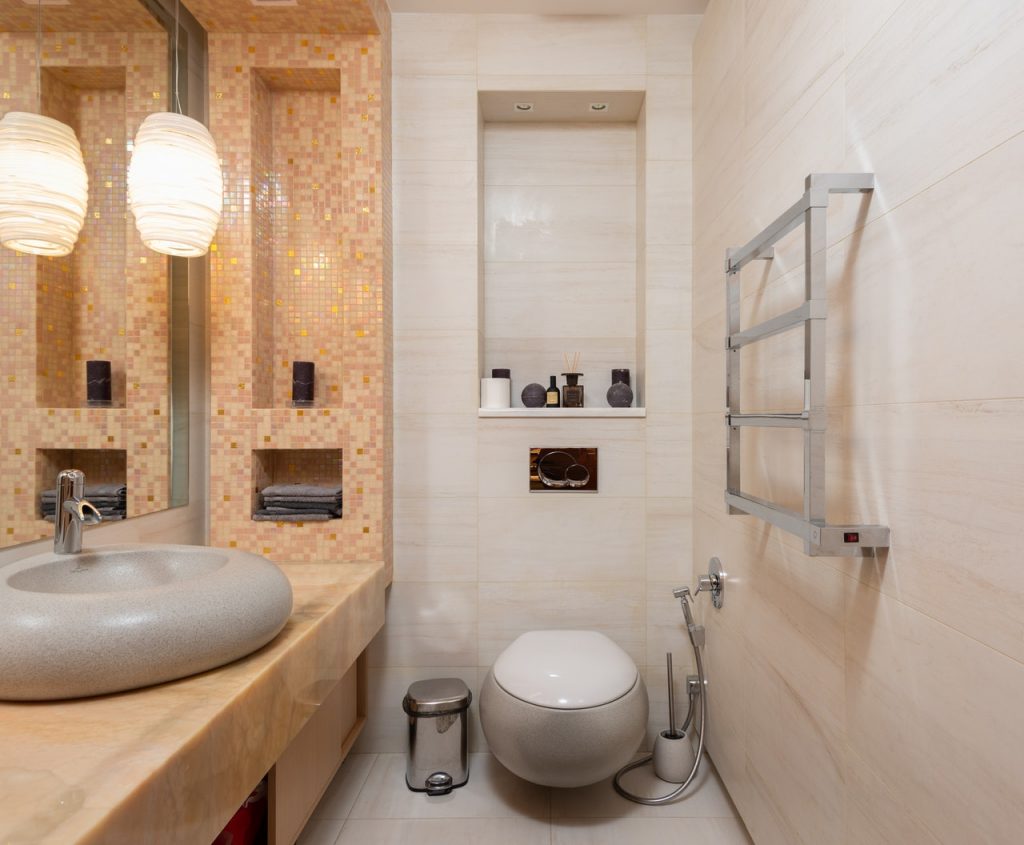 An important tip for any small bathroom is to clean regularly and maintain a clutter-free space. Cleaning will remove unwanted bacteria and dirt that builds up over time. This will avoid any unpleasant odors. Creative bathroom storage will help manage clutter and keep things organized.
Don't forget about Visual clutter. Its insidious nature can wreak havoc in small spaces. Decluttering your bathroom often will make the space feel bigger and more inviting. So don't skip it.
For bathroom organization ideas and decluttering tips check out my other posts:
Focus On Lighting Fixtures
Since you don't have a window, choosing the right lighting fixtures will make or break your space. Another way to brighten up a small bathroom with no windows is to use a centered ceiling light fixture. This paired with wall scones on either side of your vanity will brighten up the room quite nicely.
Renters can try plugin wall lights (Overstock), battery-operated wall sconces (Amazon) or even an LED bathroom mirror (from Overstock). Have fun with it! Interesting lighting designs can beat back the drab feeling of not having any windows.
There are many ways to use lighting to make a small room feel bigger but here are two important tips for lighting a small bathroom with no windows:
Tip #1: Layer lighting right over mirrors or glass to help bounce light around the room. This works like magic! 
Tip #2: look for fixtures with clear or seeded glass to maximize the light. If you already have great light fixtures but still feel boxed in, try swapping out the bulbs to ones with more wattage to see if that will make a difference. You may also consider Bespoke Frameless Glass; frameless shower enclosures are clean, modern and perfect for these spaces.
Brighten Up With White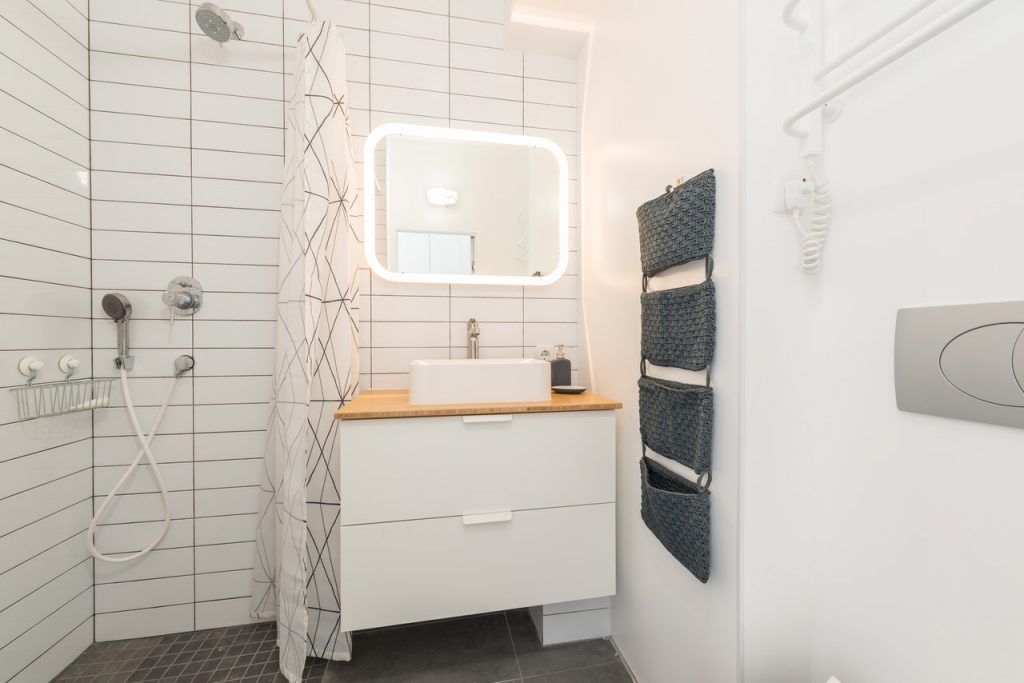 One way of tricking the space into feeling bright and airy is by using a lot of white. Grab a nice white paint color and transform your dark and gloomy bathroom. Light-colored paint will also reflect the artificial light in the room, further brightening up your bathroom. If white feels a bit too dull for you, try pastels or light neutral tones to create the same effect.
Step-Up Your Decor Game
Decor accessories and beautiful wall art will do well to distract from your lack of windows. The trick is to make your decor the focal of the room. Check out these Small Bathroom Decor Ideas for some inspiration!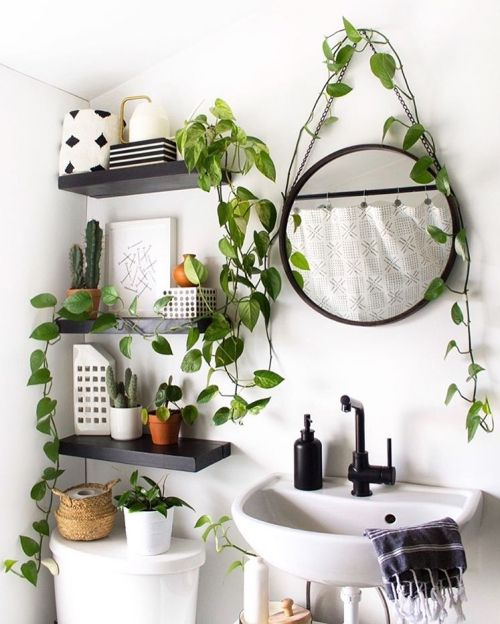 Add colorful accessories, unique and interesting wall decor, decorative storage, and more. Beautiful wall decor and playful accessories will eliminate that dark and dreary feeling, making the room feel cheerful and inviting. Plants bring life and color to any space and there are a select few that thrive in humid and low-light conditions. Like Ferns, the Parlor Palm or the gorgeous trailing Pothos from Bloomscape.
Place Mirrors Strategically
Mirrors in unexpected places really help to expand spaces, especially near the ground, where they let the floor stretch out. Position wall mirrors directly opposite the doorway to maximize natural light inside your windowless bathroom. A full-length mirror in this spot is perfect!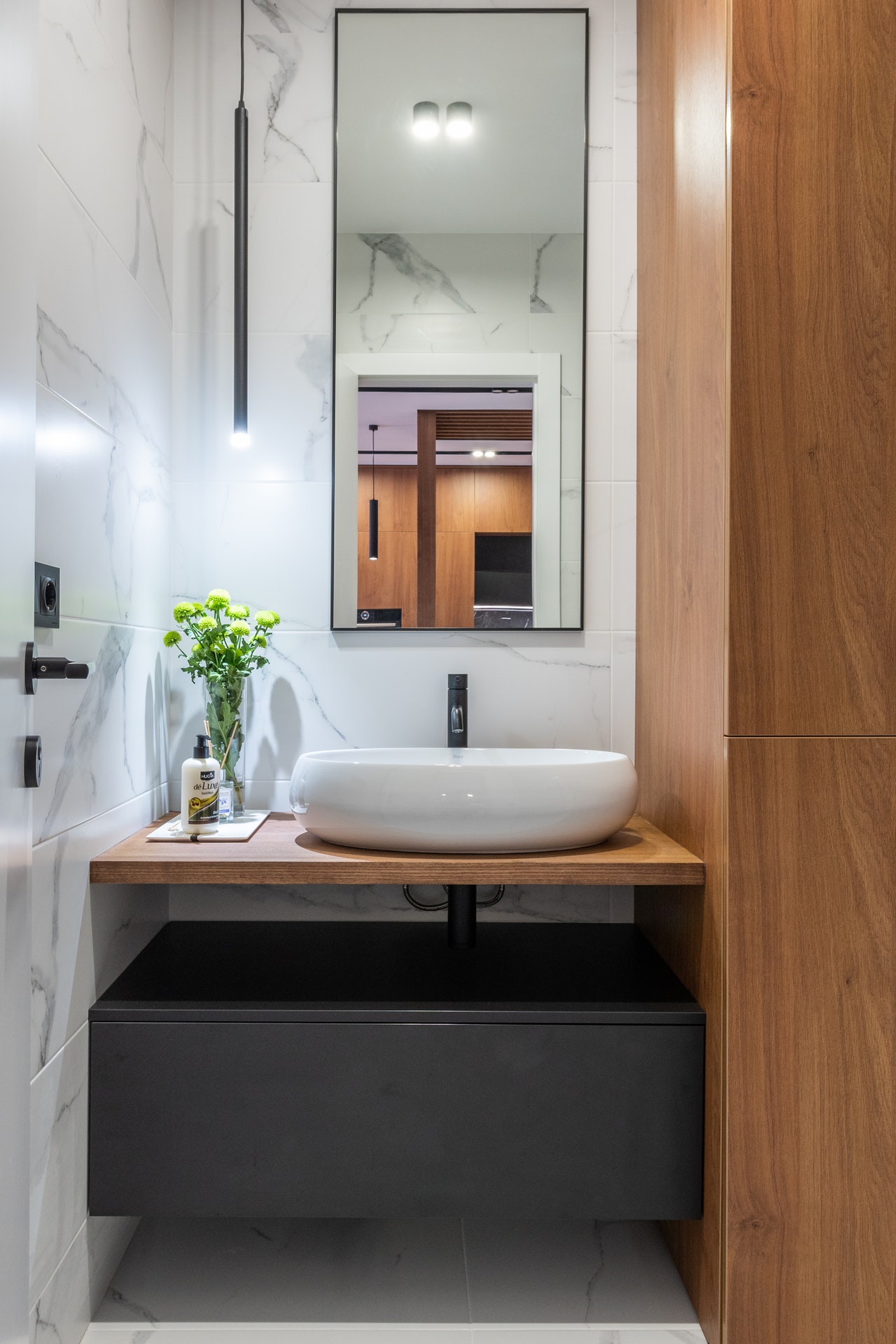 Multiple mirrors or a large mirror over your vanity will double the light provided by anyone source, while making the room appear larger and more open. Try a mirror with shelves and pockets for added functionality. You can never have too much storage in a small bathroom.
Fake A Window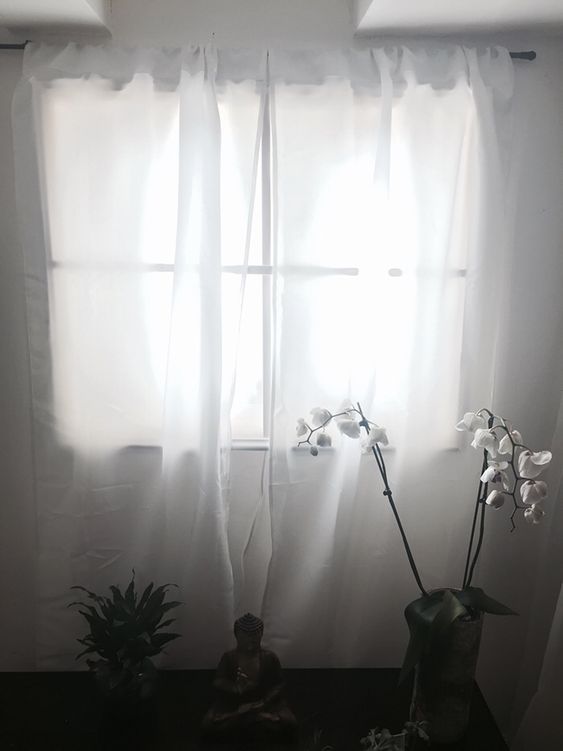 If you have no windows in your small bathroom you can fake it. Try a window mural from Amazon or DIY a faux window using LED lights and a wooden frame as seen here on Bored Panda. You can also add Landscape murals to add depth. These wallpaper designs visually stretch your space. Note that your bathroom must be properly ventilated to use removable wallpaper.
For an even more convincing option try CoeLux faux window system. It not only replicates how the sun moves across the sky, but also the color temperature of sunlight using energy-saving LED technology. So clever!
Stretch Your Space With A Wall Mural. But Be Careful…
Adding Wallpaper to a damp, humid bathroom with no windows is risky but it can be done. Scenic or landscape wallpaper murals will visually stretch your space making it appear bigger than it actually is. Just like mirrors, these wallpaper designs create a powerful optical illusion by adding depth. The effect is amazing!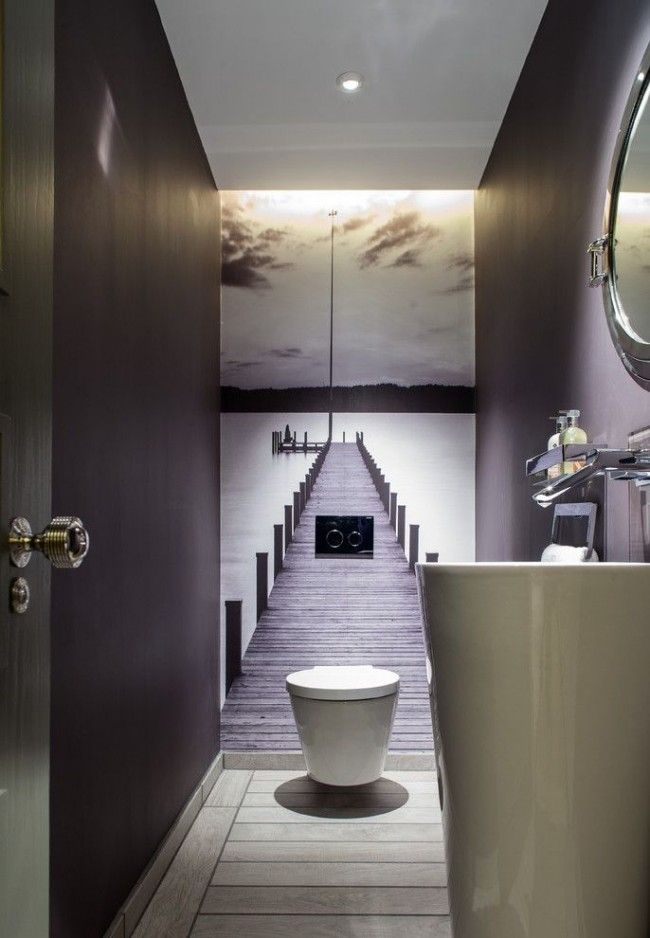 Should you use wallpaper in a bathroom with no windows? Consider these first:
Do you have proper ventilation in the room? (ehaust fan, portable fan or dehumidifier etc.) If yes, then it's a go!
If it's in a kids' bathroom and your kids are notorious for getting water everywhere then you might want to skip using wallpaper.
Where do you plan to add wallpaper? – If it's a spot where a lot of water is going to get splashed on the wallpaper like near your bathroom sink, then it's a no go. Instead, try hanging wallpaper higher up on the wall to avoid getting it wet.
Where to get wallpaper murals that add depth?
For more wallpaper ideas check out The Best Wallpaper Patterns For Small Spaces!
Embrace The Darkness For A Moody, Luxurious Vibe
It might seem counterintuitive to make a dark space feel even dimmer, but dark does not necessarily equal gloomy. Dark paint paired with gold or other metallic accents can feel quite luxurious. The effect is bold, moody, and glamourous.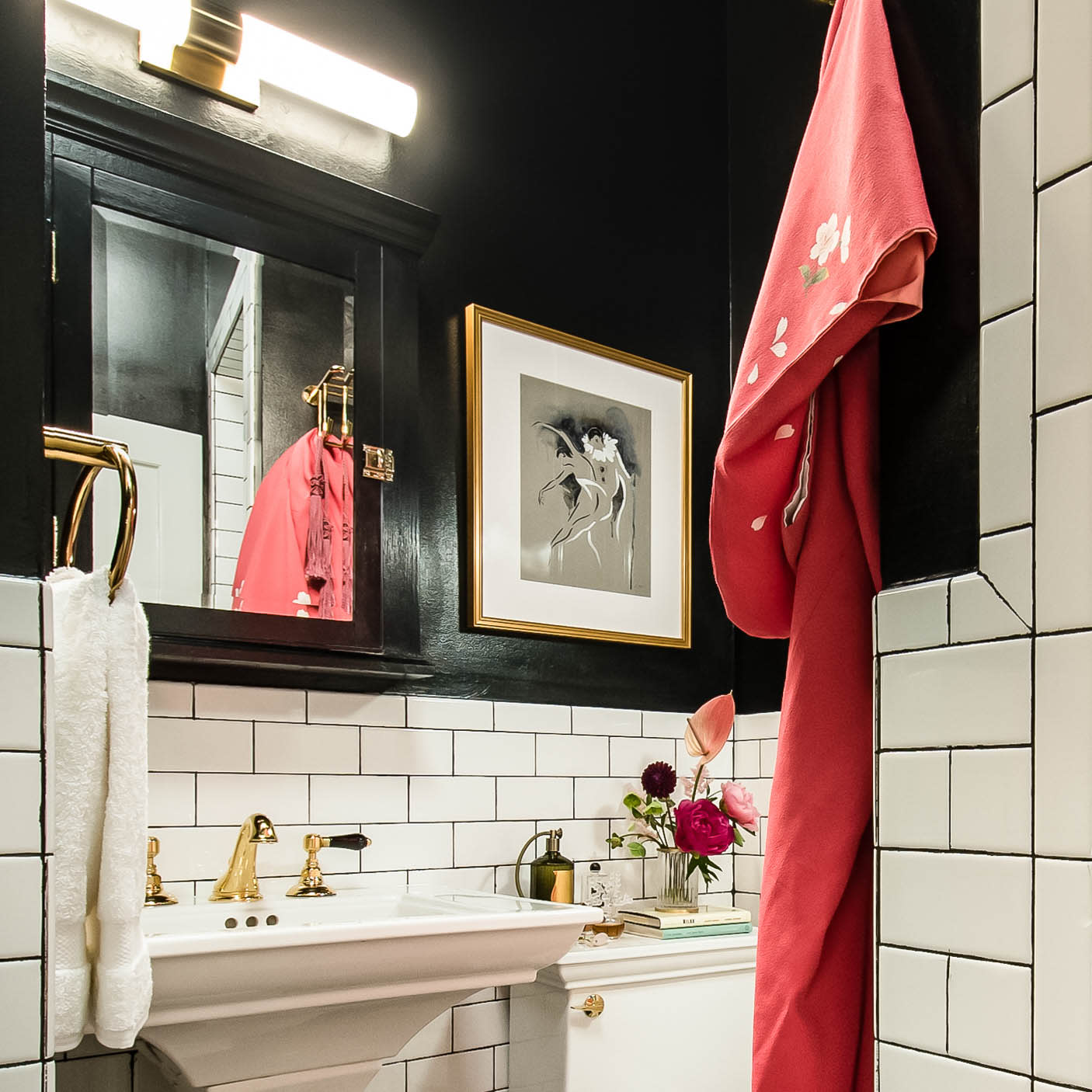 There are ways to use dark paint in a small bathroom with great success! These articles below will show you how and give you some ideas and inspiration:
Want More Bathroom Ideas?
Pin This For Later!