10 Landscape Wallpaper Murals That Will Make Any Room Look Bigger!
If you're looking for a landscape wallpaper mural for your small room, start here!
There are a number of wallpaper patterns that make small rooms look bigger, but landscape murals are by far the best.
Picturesque landscape murals add amazing depth that visually enlarges the room, making it feel wider and/or taller. It's the perfect hack for small spaces!
If you're ready to create stunning optical illusion and transform your decor then read on. I put together 12 beautiful landscape wallpaper murals that will make any room look bigger.
They're perfect for small living rooms, entryways, small bedrooms, and even bathrooms. Stretch your space with these scenic wallpaper picks.
By the way, if you want to explore more wallpaper patterns for small spaces, check these out:
**This page may contain affiliate links. If you purchase something through these links, I may receive a small commission at no extra cost to you. See full disclosure here.**
12 Landscape Wallpaper Murals For Small Spaces!
Lakeside Pier Landscape Wallpaper Mural

Lakeside Pier
from: MagicMurals.com
A beautiful wall mural printed from a Photo of a Lakeside Pier. It's just one of the thousands of high-resolution, premium quality, wall murals, and large art prints at Magic Murals. Available as self-adhesive & removable, pre-pasted or paste-required wallcoverings. Buy It Here at Magic Murals. * Watermarks are removed from finished murals.
Removable Watercolor Mountain Landscape Fabric Wallpaper
Use this removable Watercolor Mountain Textile Wallpaper to add a touch of elegance to your decor. You don't need to be a professional to install this fabric wall mural. Using new wallpaper technology, this mural is repositionable, easy to install, and does not leave a residue when removed. All tools and detailed instructions are included. See more details Here at Overstock.
Black and White Brooklyn Bridge Citiscape Wall Mural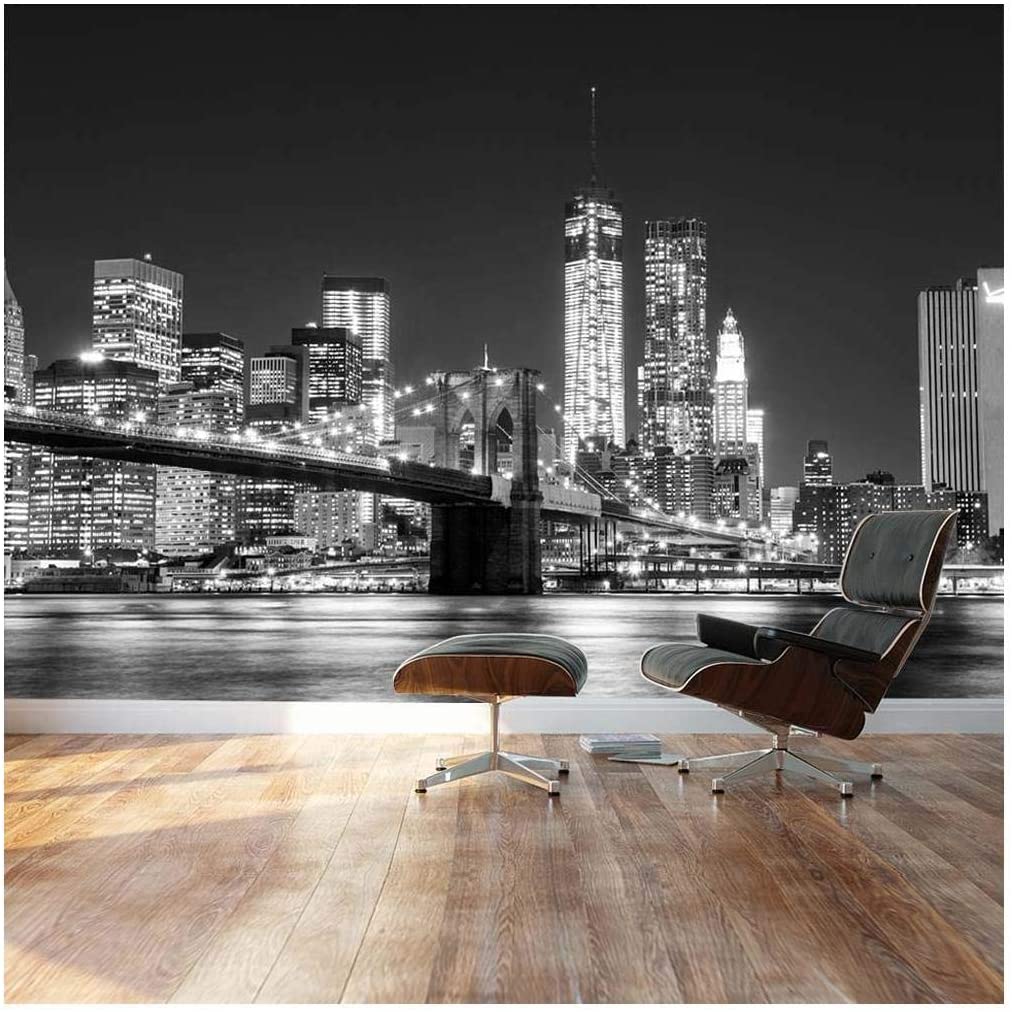 This removable Black & White Cityscape Wallpaper Mural will stretch your space and add that urban vibe to your decor. The wall mural is easy to apply, remove or reposition without that pesky residue left behind – Just peel & stick! Buy It Here on Amazon.
Green Forest Landscape Wallpaper Mural

Green Forest
from: MagicMurals.com
Enjoy the peace and serenity that comes with seeing this lush, Green Forest Wall Mural every day. This wall mural will not only make your room look bigger, but it's also the perfect way to bring the outdoors in. Nature lovers will be happy to display this beautiful landscape mural in their homes. See it Here at Magic Murals.
Retro Jungle Landscape Textile Wallpaper
Another stunning fabric wall mural to upgrade your home. This removable Retro Jungle Landscape Wallpaper is breathable, antibacterial, non-flammable, and not affected by water or humidity. If you love tropical, wildlife, and nature themes, this is an elegant and modern option. This mural would look stunning, no matter where you put it. Starting at $86, Buy this mural Here at Overstock.
Beachy Seascape Wallpaper Mural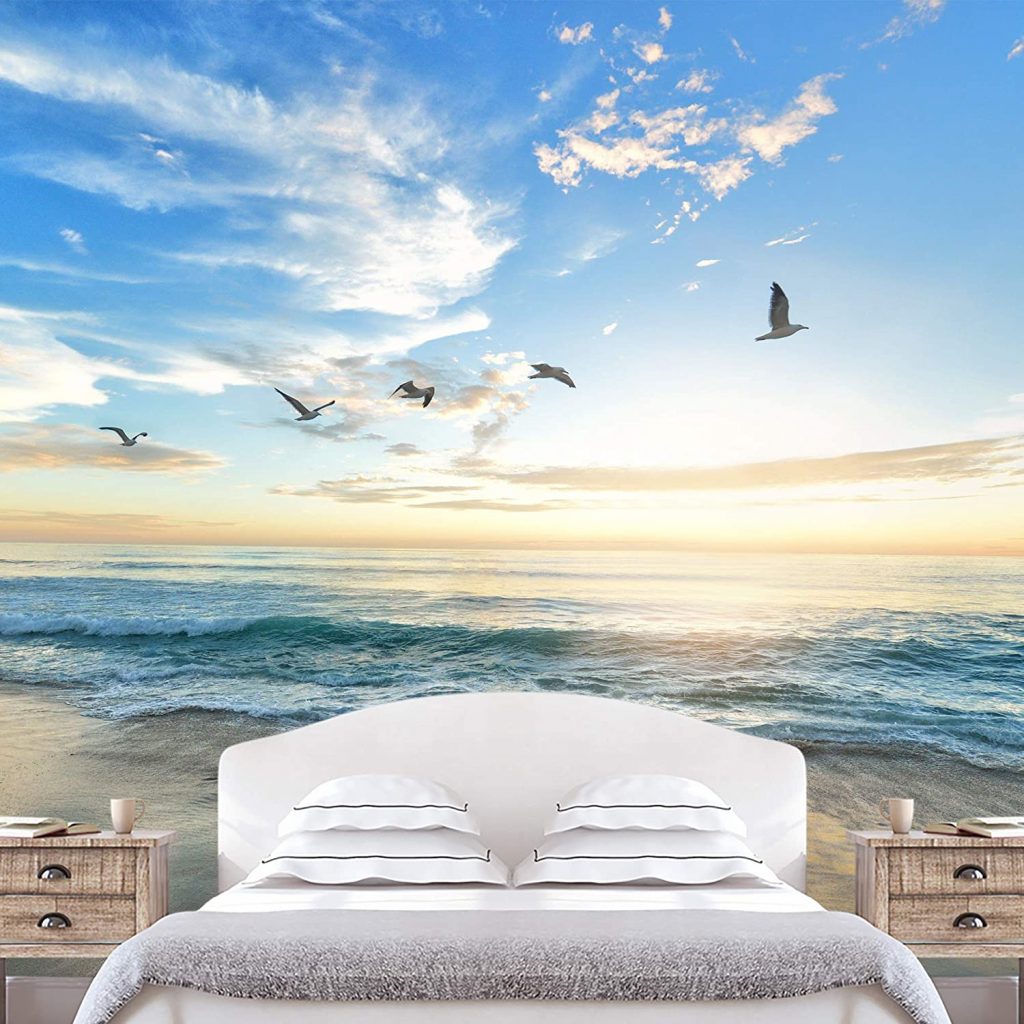 Enjoy summer all year round with this Beach Seascape Wallpaper Mural! This removable, self-adhesive wallpaper is cut into 4 pieces for easy installation. You can put it on flat, dry surfaces such as walls, doors, even windows. Just peel and stick. There are many more beach settings to choose from. See it Here on Amazon.
Pier to Paradise Landscape Wallpaper Mural

Pier to Paradise
from: MagicMurals.com
Sticking with the beach theme, the Pier to Paradise Wall Mural will add warm tropical vibes to any space in your home. Keep that Caribbean vacation going with this sunny photo landscape mural. Add it to your bedroom wall, your living room, or your entryway. A bright and beautiful piece no matter where you put it. Comes in small, medium, large, and custom sizes. Starting at $133.63. Buy it Here at Magic Murals!
Mediterranean Terrace Wall Mural

Mediterranean Terrace
from: MagicMurals.com
Take a trip to Italy with this Mediterranean Terrace Landscape Wallpaper. The flower-filled terrace of a Mediterranean Villa looks out onto the sea and toward the Cliffside village of Cinque Terre beyond. NOW $127.82 $170.50 (25% OFF). Buy it Here at Magic Murals.
Monochrome Charcoal Cityscape Wallpaper
If you're more on the artsy side this Monochrome Cityscape Wall Mural is for you. This fabric wall mural strikes the perfect balance between a beautiful painting and wallpaper. It's artistic, classic, and deserves to shine on its own. This city landscape wallpaper is perfect for your home office, dining room, studio, or anywhere you want to add visual interest. Starts at $84. Buy It Here on Overstock.
Football Crowds

Football Crowds
from: MagicMurals.com
The lights are on in the football stadium as the stands are filled with fans. This Football Stadium Wall Mural is perfect for your game room or mancave. Enjoy the Friday night games with this scenic stadium wallpaper. Buy it here at Magic Murals.
Winter Landscape Wall Mural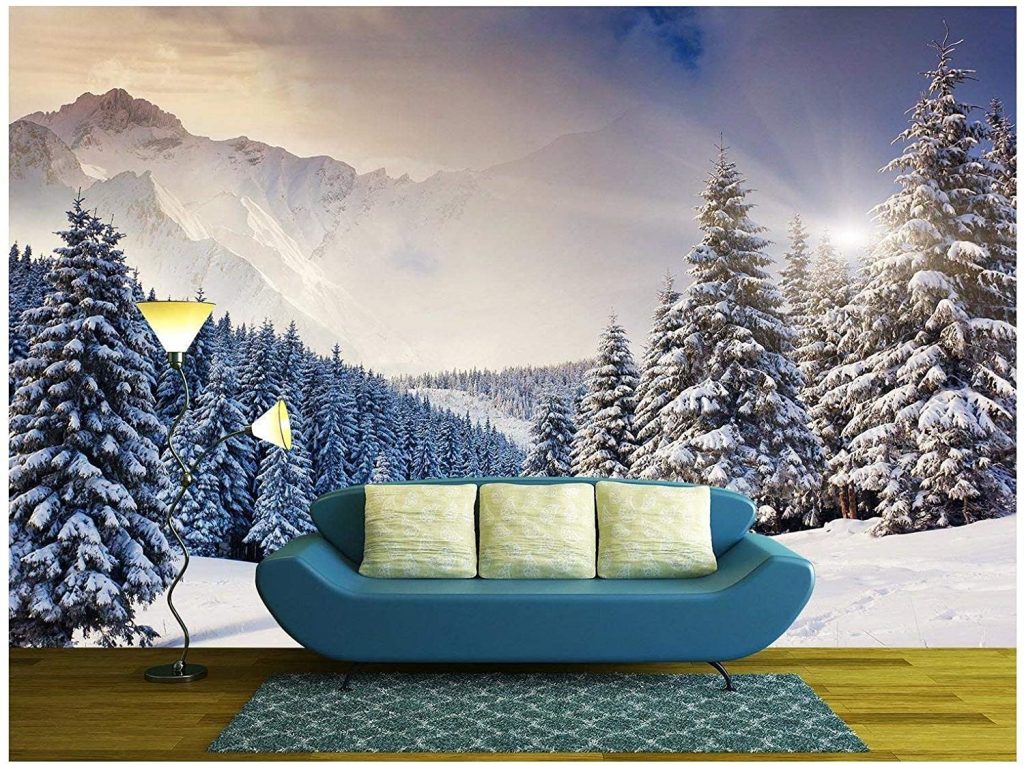 Winter Landscape Wall Murals evoke the beauty and peacefulness of winter, from footprints in the snow to snow-capped trees to calm winter sunrises. Winter scenes set the mood for the season and create a cozy space in your favorite rooms. Buy it here on Amazon.
Beach Moon Wallpaper Mural

Beach Moon
from: MagicMurals.com
Change the mood in your home with this Full Moon, Beach landscape Mural. The moon is reflecting on the water as the waves gently reach the shore. Sand mounds created by walkers and the wind create a wavelike pattern in this mural. A serene and romantic night scene that is sure to set the mood. See it here at Magic Murals.
Create Your Custom Forest Wallpaper Mural
Have an image you want to use as your mural? These wallpaper retailers let you submit your designs and photos, to create a personalized mural you'll love.
Murals Your Way
Limitless Walls
Don't have an image? Unsplash has a ton of free-to-use landscape images you can download. Browse their high-quality images, grab one that you love, and submit it to one of the retailers above.
I hope you were inspired by these landscape wallpaper murals. They're an easy hack for making a small room look bigger. More than that, they are beautiful home accessories that will instantly transform your decor. Have fun with it and happy decorating!
Want More Wallpaper Ideas for Small Spaces?
Pin This For Later!