10 Unique Striped Wallpaper Ideas For Small Rooms
Looking for stylish striped wallpaper ideas for your small room? I've got you covered! I found 10 wallpaper designs that put a modern twist on classic stripes!
Stripes are a popular design pattern that can be used to create a bold and modern look. They are also a great way to add texture and dimension to a room. Striped wallpaper also helps create visual interest in the room. It's a great way to draw attention away from the size of the room!
Stripe patterns can be simple, such as a single color or pattern with a white background, or more complex with different colors and patterns. These striped wallpaper ideas will stretch your small space and enhance your decor!
For more wallpaper ideas for small spaces check out these other articles:
Stylish Striped Wallpaper Ideas To Stretch Your Small Room!
**This page may contain affiliate links. If you purchase something through these links, I may receive a small commission at no extra cost to you. See full disclosure here.**
Does Striped Wallpaper Make A Room Look Bigger?
Yes! Stripe wallpaper is a good choice for small rooms because it creates the illusion of more space. A vertical stripe pattern on the wall will make the room seem taller. While horizontal stripes will make it appear wider. But stripes can do so much more. As you'll see in this list, striped wallpaper can also add amazing depth to your small space!
Other Types Of Wallpaper Make A Small Room Look Bigger?
Some wallpaper designs work better for small rooms than others. Among those are:
These designs help to create powerful optical illusions that visually stretch small spaces. You may not be able to physically enlargen your room but you can trick the eye into thinking it's bigger than it really is! Here are 12 stylish striped wallpaper ideas for small spaces.
Organic Striped Wallpaper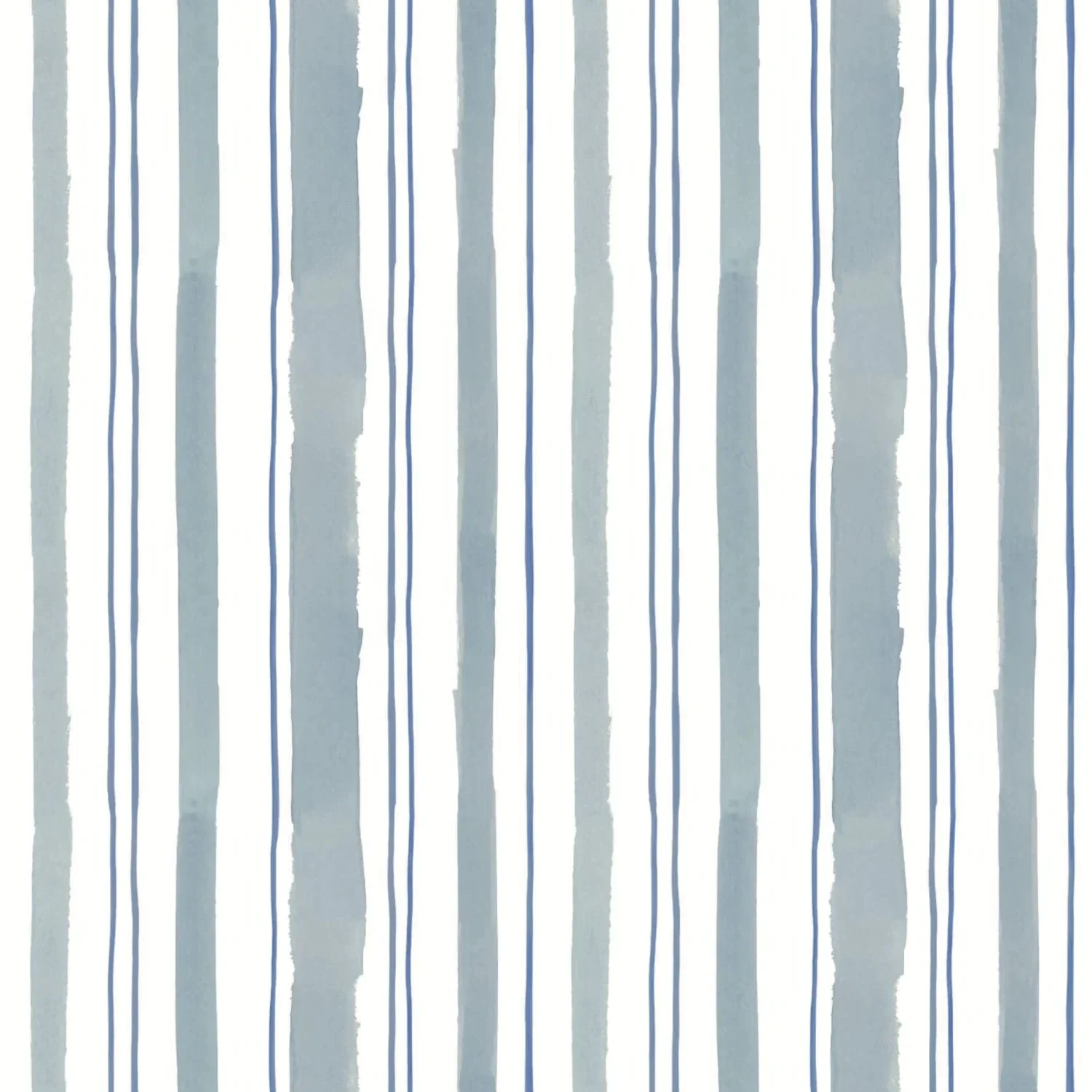 Stripes is part of the Wovn Home x Chasing Paper Collection, a collection inspired by the beauty found in everyday life, from travel to literature and nature. These prints and color palettes are versatile and traditional, with a modern twist. Available in 3 colors. Peel and Stick Wallpaper.
Quill Stripe Wallppaper

Quill Wallpaper
from:
Hygge & West
This striking design was inspired by a Lakota garment that used porcupine quills for both adornment and patterning. With its intricate, hand-drawn lines, this new take on the classic stripe complements nearly any aesthetic and is sure to make a statement. Buy It Here from Hygee & West.
Classic Black & White Stripe Wallpaper
As festive as Carnevale in Venice, Mardi Gras in the Big Easy, or an exotic island vacation. This 3″ Black & White Stripe Wallpaper conjures thoughts of beach cabanas and summer soirees; in flashy or gentle colors. Buy It Here from US Wall Decor.
Retro Cleo Stripes
The Cleo Stripe Horizontal Wallpaper is designed by Shadé Akanbi for Chasing Paper. The print's color makes for a fun neutral and playful vibe! The earth-toned palette, combined with the various stripe sizes in one print, is a welcomed twist on traditional stripes. This is Peel and Stick Wallpaper. Buy It Here at Chasing Paper.
Social Club Stripe Wallpaper
Simply refined and disciplined, with broad bands of color separated by narrow contrasting ribbons, Social Club Stripe Wallpaper is not only timeless but also adaptable to almost any decor. See It Here from US Wall Decor.
Scholarship Horizontal Stripe Wallpaper In Navy
Designed with bold colored bands varying in size, the Scholarship Stripe Wallpaper is a beautiful statement piece for your decor. Get It Here at US Wall Decor.
Black & White French Tribal Stripe Wallpaper
Transform your ordinary wall into a work of art with this Holli Zollinger Tribal Strip Removable Wallpaper. The black and white colors ensure the repeating tribal stripe pattern decorates your wall with a modern touch. This wallpaper features a peel and stick design for easy application and removal.
Magnolia Home Pick-Up Sticks Peel & Stick Wallpaper by Joanna Gaines
A trendy wallpaper design to add modern style to your decor. These soft lines create a loosely defined herringbone pattern with an all-over stripe effect. This product is a superior non-woven, eco-friendly peel and stick wallpaper, which removes easily in full strips without damage to surfaces. See More Joanna Gaines Wallcoverings Here.
Fleeting Horizon Stripe Wallpaper – Tan
Looking for a less structured and more organic stripe wallpaper design? The irregular pattern of Fleeting Horizontal Stripe Wallpaper is unique and cleverly contemporary. Available in other colors, this design is simply lovely and sure to make an impression.
Wide Pinstripe Wallpaper in Gray & Yellow
Now your bland white walls can come to life with this Wide Pinstripe Wallpaper. The design features randomly spaced lines, from pencil-thin to marker wide stripes. These stripes will add modern sophistication to any small room.
Where To Buy Stylish Wallpaper Online?
There you have it! 13 striped wallpaper ideas for small rooms. Striped wallpaper, no matter the design is a fun way to visually stretch your small room. Use them in your entryway, bathroom, powder room, or create an accent wall with bold stripes in your bedroom or living room. Striped wall coverings should definitely be on your list of small-space hacks! Happy Decorating!
Related Articles:
Pin This Article For Later!