7 Ways To Create An Accent Wall Without Paint
So, you want to spruce up your space with an accent wall, but your landlord won't have it. Ugghhh…Renter problems!
Fortunately, there are a few workarounds to help you achieve the accent wall you want, without breaking your rental agreement. Here are seven ways to create an accent wall without a drop of paint.
**This post may contain affiliate links. If you purchase something through these links, I may receive a small commission. I only recommend products that I love and trust! **
7 Ways to Create An Accent Wall Without Paint.
1. Washi Tape Accent Wall
Washi Tape is a wildly popular Japanese masking tape that comes in several widths and lengths and hundreds of colors and designs to choose from. The options are endless. Create eye-catching, striped designs to achieve the perfect accent wall. Washi tape is easy to remove won't cause any damage to walls.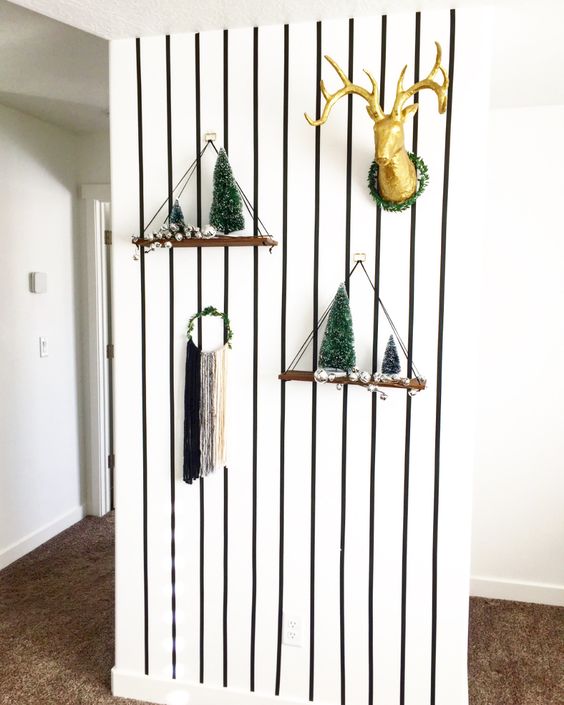 2. Wall Stickers & Decals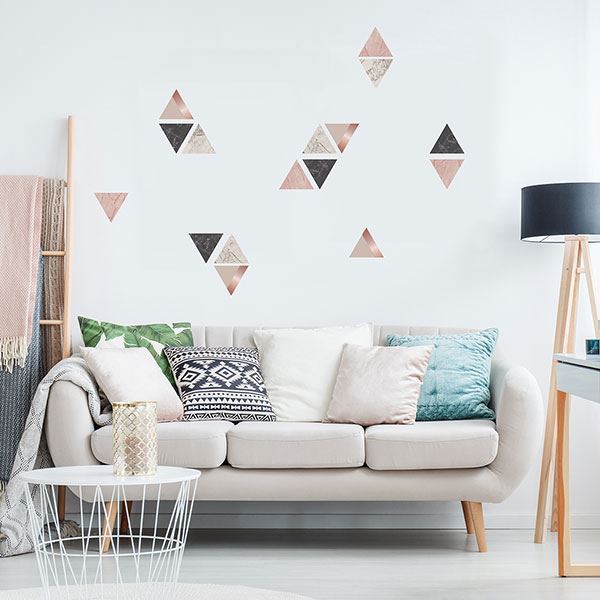 Peelable stickers offer variety and ease of use. They are easy to remove when it's time to move or when you're ready to switch up your decor.
Gold Metalic Palm Leaves Wall Decal –From Amazon
3. Peel & Stick Wallpaper
Temporary wallpaper is a popular way to create an accent wall without paint. Peel & stick wallpaper works snd look just like regular wallpaper making it the perfect non-permanent option.
These gems can add the same vibrancy in color as paint, so creating bold, rich colored accent walls is not only possible but super easy. Peel & stick wallpaper offers fast and easy setup and takedown and the options are endless! And since you're working with just one wall, you get a little wiggle room to splurge on gorgeous patterns.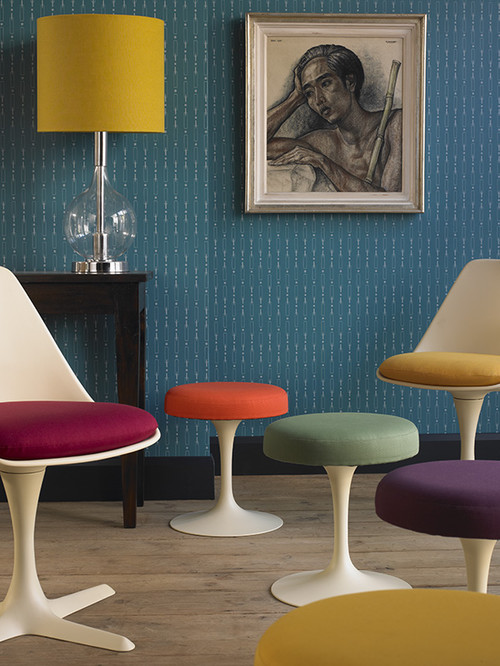 Patterned and textured wallpaper work really well in small spaces–if done correctly. See The Best Wallpaper Patterns For Small Spaces for tips on how to choose and use wallpaper for small rooms.
Where To Buy Stylish Temporary Wallpaper? – Spoonflower | Walls Need Love | Amazon | Graham & Brown |RoomMates
4. Curtains
Who said curtains are only for window dressing? Hang them across your wall to create an attractive and unique accent wall. A curtain wall is considerably easier than painting and wallpapering, and won't cost you your security deposit.
To create an accent wall using curtains, simply install an ordinary curtain rod along one of your walls, (as close to the ceiling as possible) and hang a curtain or drapes of your choice. Make sure it's long enough to gently brush the floor. This gives it a true ceiling-to-floor accent wall look.
5. Fabric
Fabric is an under-utilized option for creating accent walls because many are not aware that it's even possible. A fabric accent is not only a cheaper option but it's perfect for matching different elements in your decor. Let's say you just create beautiful pillow covers for your throw pillows. Ramp up your decor by adding that same gorgeous fabric to your wall! Fabric offers so many opportunities to truly personalize your space.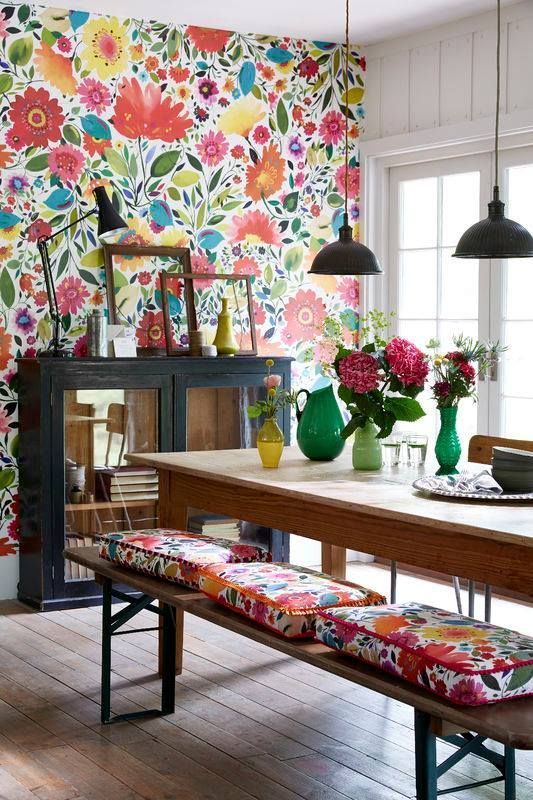 There are 2 ways to do this:
1. Pull your favorite fabric taught across the wall and staple the edges across and down the edges of the wall. Then trim away any excess fabric and you're done!
2. For a professionally installed look (Recommended), use liquid starch as an adhesive to secure the fabric onto the wall. See how Youtuber Monica Rose does it in her video. This method is super simple to execute and remove, leaving no damage whatsoever to your walls!
6. A Large-Scale Mural
This is where small spaces can really come to life. Large landscape murals create the illusion of more space. Imagery that draws the eye outward will make the wall appear to stretch beyond the end-point. This will make any small room look and feel larger than it really is! Magic Murals has a huge collection of beautiful scenic and, Landscape Murals for any room, and style.
These murals will not only capture the attention of everyone who enters your home but they will most certainly add life and depth to any room.
These come in a wide array of images and colors. Of course, choose the self-adhesive materials to make installation and removal quick and easy without damage. 
Related:
Where To Buy Landscape Murals? – Magic Murals | Limitless Walls | Graham & Brown | Amazon
7. A Gallery Accent Wall Or Sculpture
Surely hanging a few pictures won't piss off your landlord. Let your personality shine with a beautiful gallery wall filled with all your favorite pieces of art and designs. Go big with a ceiling to floor gallery!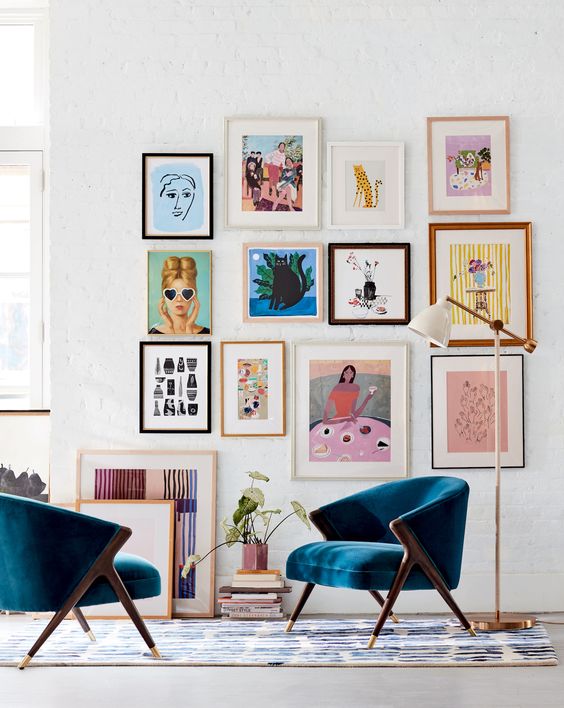 You May Also Like:
Want More Decor Ideas?