Turn Your Tiny Bathroom Sink Into A Spacious Makeup Counter With "The Matte"
If you live in a small home or apartment, chances are you have a tiny bathroom. To the women who do their makeup in that tiny bathroom, I know the struggle. The "Before" shot in the image above is an accurate depiction of that struggle. Which is why I was so excited to tell you about this cool product I found!
*This page may contain affiliate links. If you purchase something through these links, I may receive a small commission. I only recommend products that I love and trust! **
PIN THIS FOR LATER!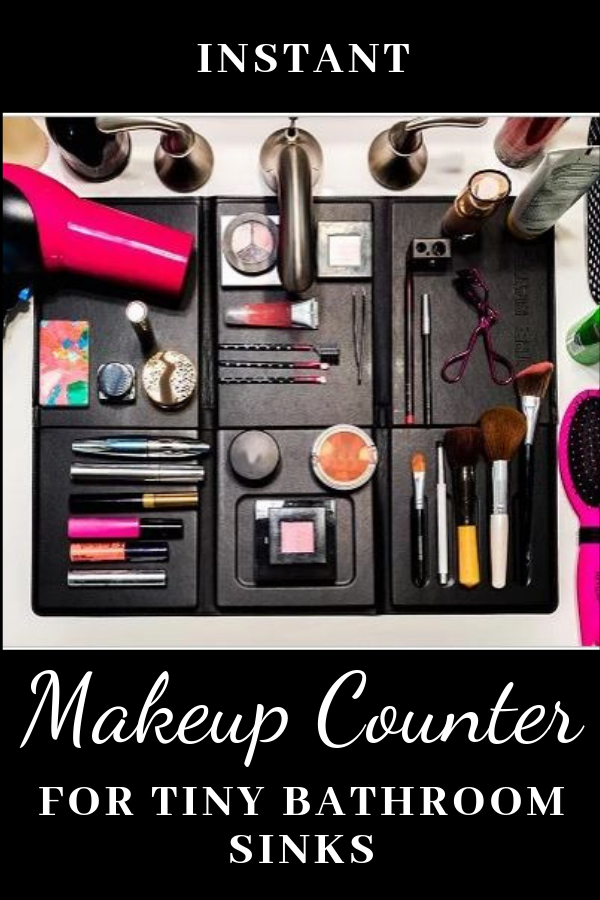 Introducing, The Matte! – For Small Bathrooms With Limited Counter Space.
The Matte is the perfect over-the-sink makeup organizer for small bathrooms! Giving you all the space you need to get ready without the mess. It provides a clean, sanitary surface for makeup brushes and beauty blenders. The grooves on the Matte prevent your make from rolling around and actually helps to keep things organized. For more small bathroom storage ideas, check out these clever bathroom storage solutions.
See Updated Price Here on Amazon 
What I love about this product is that it's perfect for travel. Great for freshening up on the plane, in airports, or getting ready in those small hotel bathrooms with limited countertop space. Not to mention it protects your cosmetics from unsanitary surfaces. The Matte is lightweight and compact. When folded, this over-the-sink makeup organizer is about the size of an iPad case, making it easy to carry around. The Matte measures at 17.25″W x 19.5″L and 1/8″ tall and holds up to 2 pounds of beauty essentials.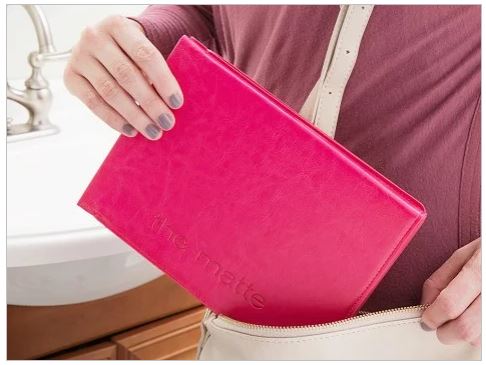 See Updated Price Here on Amazon 
The Matte is available in both pink and black and fits most standard sinks. Be sure to measure your own sink before purchasing this product, to ensure a sturdy fit. The Matte is every small space dweller's dream.  Get It Here!
Want More Bathroom Ideas?
You May Also Like: