In a previous post, I talked about choosing the right furniture for a small bedroom and one of the major tips, 'leggy' furniture. Leggy, meaning furniture with slender, raised legs. The best sofas for small living rooms have these same features. These types of sofas not only bring a modern, mid-century vibe to the room but they're perfect for maximizing space and reducing visual clutter. Sofas with raised legs elongate the eyes due to its 'see-through' base and this creates the illusion of more space.
If you've read some of my other posts or just browsed the images on this blog, you'd see that I'm obsessed with mid-century mod pieces. The straight, clean lines, spidery legs, the way that they're designed to literally cradle the body is just beautiful to me. For more living room tips, check out how to arrange furniture in a small living room. For design inspiration, check out these Small Living Rooms With Big Style.
Let's get to the FUN stuff!
These leggy sofas will make your small living room feel airy and bright.
Raised light grey tufted sofa with natural wooden legs.
Great for creating a Scandi (Scandinavian) inspired living room.
Muted Blue Small Sectional
Ivory Loveseat Sofa
Blue Royal Design 3-Seater Sofa
White, Wooden Distrikt 3 Seater Sofa
I'm getting major boho vibes with this one. This 'slouchy' sofa is laid back with its plump cushions and natural wooden finish.
Small Black Loveseat Sofa
Modern White Tufted Sofa
How gorgeous is this?! White sofas are always on-trend and provide nice a clean palette for all your colorful decor accessories and accents.
Maraschino Scott Sofa
Simple, sleek…and RED.
Burrard Seasalt Gray Sofa
If you like deep seat sofas, then this one is for you.
Oatmeal Woven Sofa & Ottoman
The color Oatmeal never looked so good!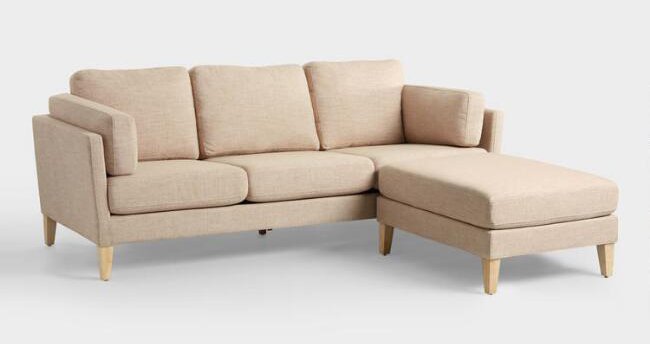 One of the best sofas for small living rooms is those that come with separate ottomans. You can transform these sofas into a sectional or use the ottoman separately as a footstool or for extra seating. Its multifunctional feature makes it perfect for small spaces. This oatmeal sofa is beautiful. Its neutral color will pair well with a variety of decor pallets. 
PIN THIS FOR LATER!