20 Small Bathroom Storage Cabinet Ideas For Tiny Bathrooms
A small bathroom storage cabinet is a great way to keep your bathroom clutter-free and organized.
Tiny bathrooms can be a challenge when it comes to storage, but if you're strategic you might be able to stretch your space a bit more. This means finding ways to squeeze in extra storage without hogging floor space.
I found 20 small bathroom storage cabinets to help you do just that!
These space-saver bathroom cabinets will add storage and style to any bathroom. You'll find narrow bathroom storage cabinets, over the toilet cabinets, as well as compact freestanding options.
Let's get your small bathroom organized!
20 Space-Saving Bathroom Storage Cabinets Perfect For Small Bathrooms!
Pin This For Later!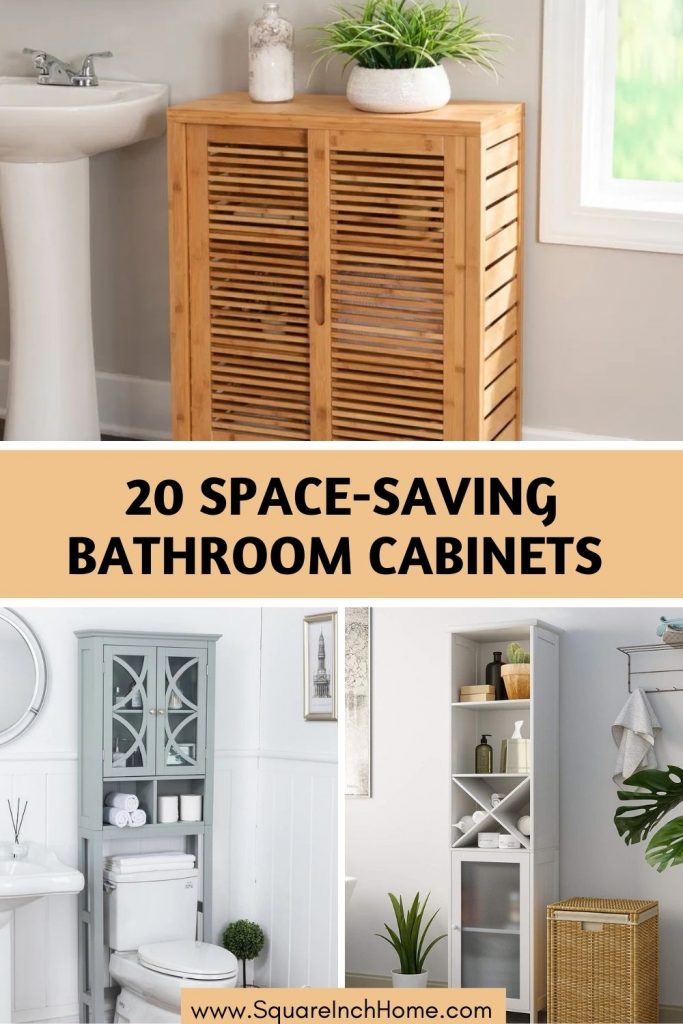 **This page may contain affiliate links. If you purchase something through these links, I may receive a small commission at no extra cost to you. See the full disclosure here. **
HomCom Slim Bathroom Tower Storage Cabinet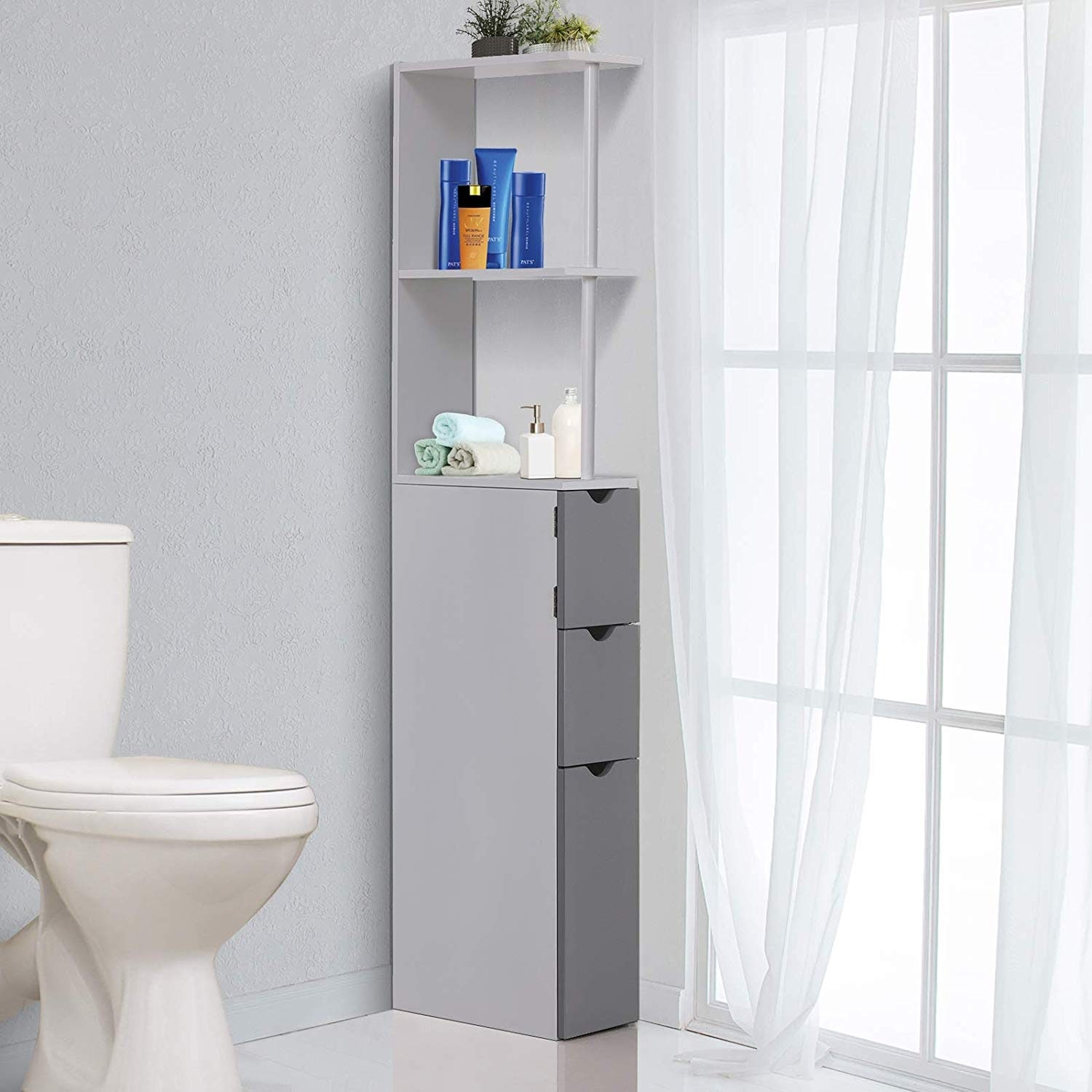 Buy It Here At Overstock
With its tall and slim vertical profile in a modern style, the HomCom Bathroom Tower Storage Cabinet features 2 open shelves and 3 bottom drawers for ample storage space. Without a doubt, it's a practical and multipurpose piece of furniture that will help you organize all your bathroom essentials in one convenient place. Not limited to the bathroom, this storage unit is ideal for the kitchen, bedroom, or entryway. Buy It Here At Overstock
Elegant Home Fashions Freestanding Narrow Bathroom Cabinet 
Buy It Here At Amazon
A highly rated bathroom cabinet for storing your linens, toiletries, and more. It's tall and narrow so it won't occupy too much space. See updated price here on Amazon
Tangkula Tall Bathroom Cabinet
Buy It Here At Amazon
The Tangkula Free Standing Tower Cabinet comes with five open shelves and one cupboard with a door. This unit offers plenty of storage space for you to arrange your towels, plants, or cosmetics. The storage compartment below lets you hide all those personal necessities like toilet paper, tampons, and cleaning products. The brown unit is beautiful but it's also available in grey and white! Buy It Here At Amazon
Shutter Door Corner Floor Cabinet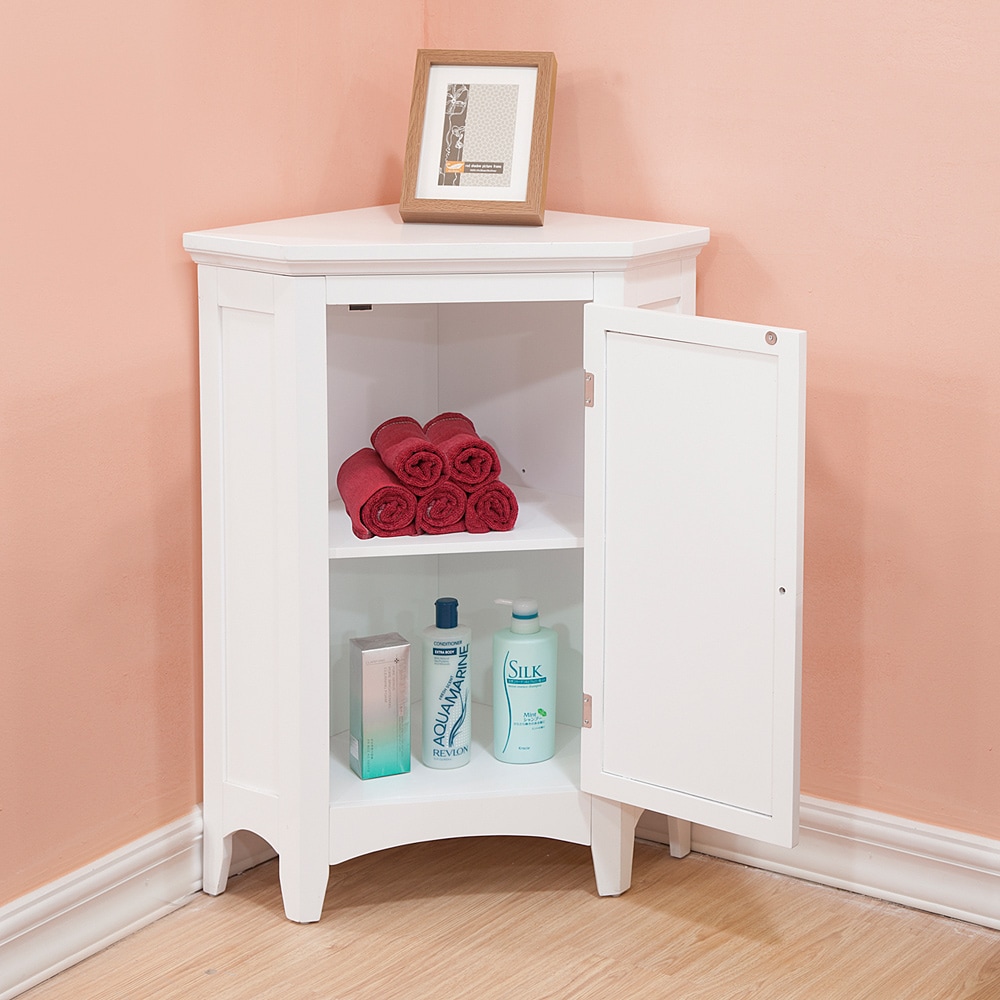 Buy It Here At Overstock
Corner Furniture is golden when working with small spaces! Spruce up your guest bathroom with this attractive corner floor cabinet. This white cabinet sits snugly in the corner and has two shelves inside. Its traditional design adds visual appeal to any space. Buy It Here At Overstock
HOMCOM Pedestal Sink Bathroom Vanity Cabinet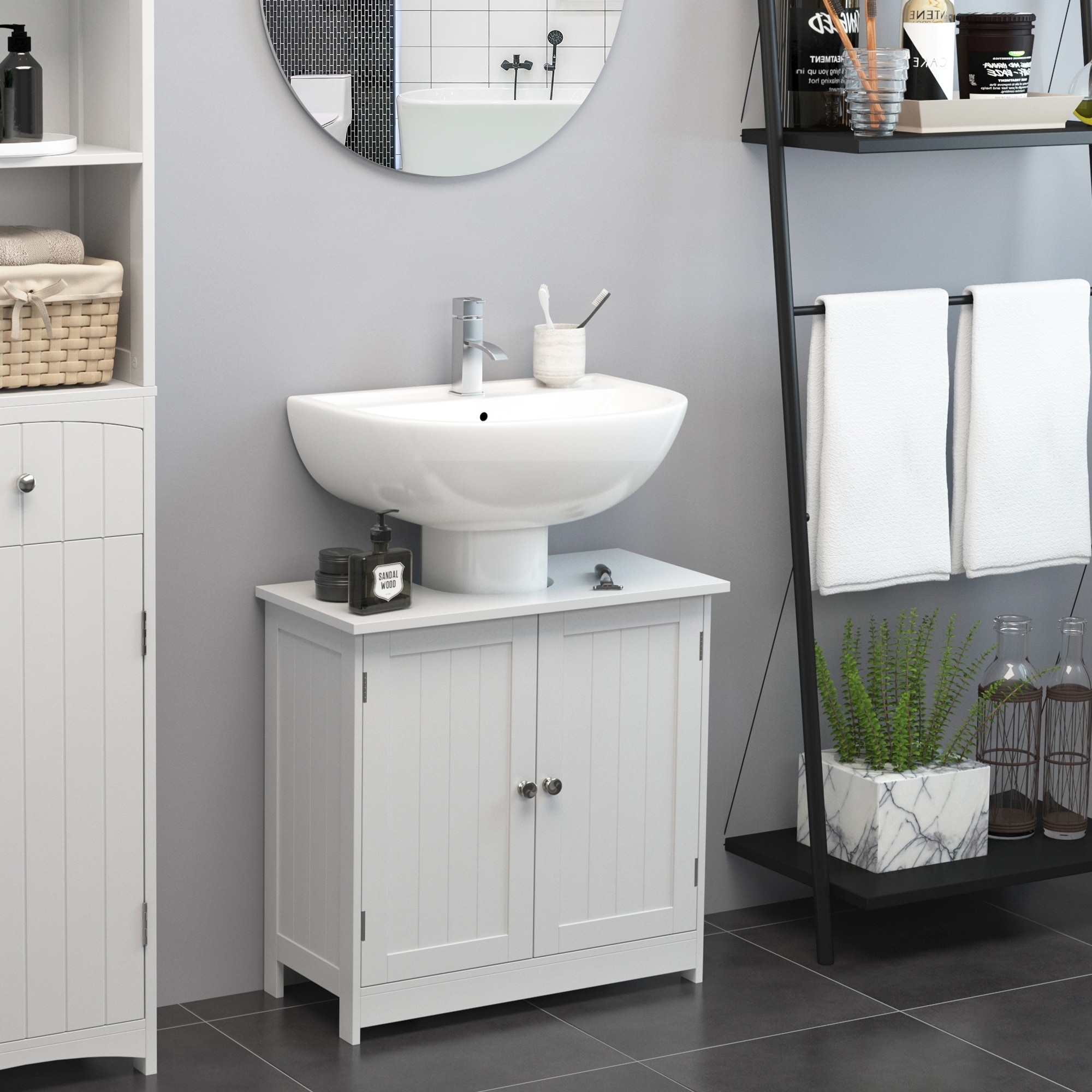 Buy It Here At Overstock for $101.49
For those of us without bathroom counter space, this cabinet is a clever solution. The HomCom 24″ Pedestal Sink Bathroom Vanity Cabinet adds an element of elegance and surface space for your toiletries. With plenty of adjustable storage underneath, it's sure to be the budget-friendly focal point of your bathroom space. Buy It Here At Overstock
River Ridge Bathroom Cabinet with Side Shelves
Buy It Here At Overstock for $96.49
If you want equal parts style and function then the Elsworth Bathroom Cabinet is a great option. It features a convenient single shutter door design with side shelves and a storage shelf enclosed within the cabinet. This cabinet offers convenient and stylish extra bathroom storage. This modern, clean design adds instant appeal to any decor. Buy It Here At Overstock
Tall Corner Bathroom Cabinet with Doors & Shelves
Buy It Here At Amazon
Another corner cabinet to help you maximize storage and save space. This unit features open shelves and a double-door storage cabinet with additional adjustable shelves for more customized and concealed storage. See the updated price here at Amazon
Small Bamboo Storage Cabinet
Buy It Here At Amazon
The VIAGDO Bamboo Bathroom Cabinet is a stylish addition to any boho bathroom decor. This slender bathroom storage is a combination of shelves and storage cabinets. You get 4 open shelves with a hidden storage cabinet below. The design is simple, natural, and functional. See updated price Here At Amazon.
Haotian Toilet Paper Roll Holder & Storage Cabinet
Buy It Here At Amazon
If you just need a place to store toilet paper and cleaning supplies or that unsightly toilet brush then this budget storage piece is perfect! Fits even the tiniest of spaces. This slim, space-saving bathroom storage cart features sliding doors with an internal adjustable shelf. Use the compartment on the left to store your toilet brush & holder out of sight. A true tiny bathroom solution, this one.
3 Tier Shelf Bathroom Cabinet With Removable X-Shaped Stand
Buy It Here At Amazon
The Tiptiper Bathroom Cabinet features a modern design pact with extra storage and customizable options. It has 3 open storage compartments & a removable X-shaped rack, and an enclosed storage cabinet with a tempered glass-door and adjustable shelf. Store your shampoo, shower gel, aromatherapy on the open shelves. Use the X-shaped rack to store extra towels. The bottom glass-door cabinet allows you to hide spare toothpaste, soaps, and other items. See the updated price Here At Amazon
HomCom Freestanding Over-The-Toilet Storage Cabinet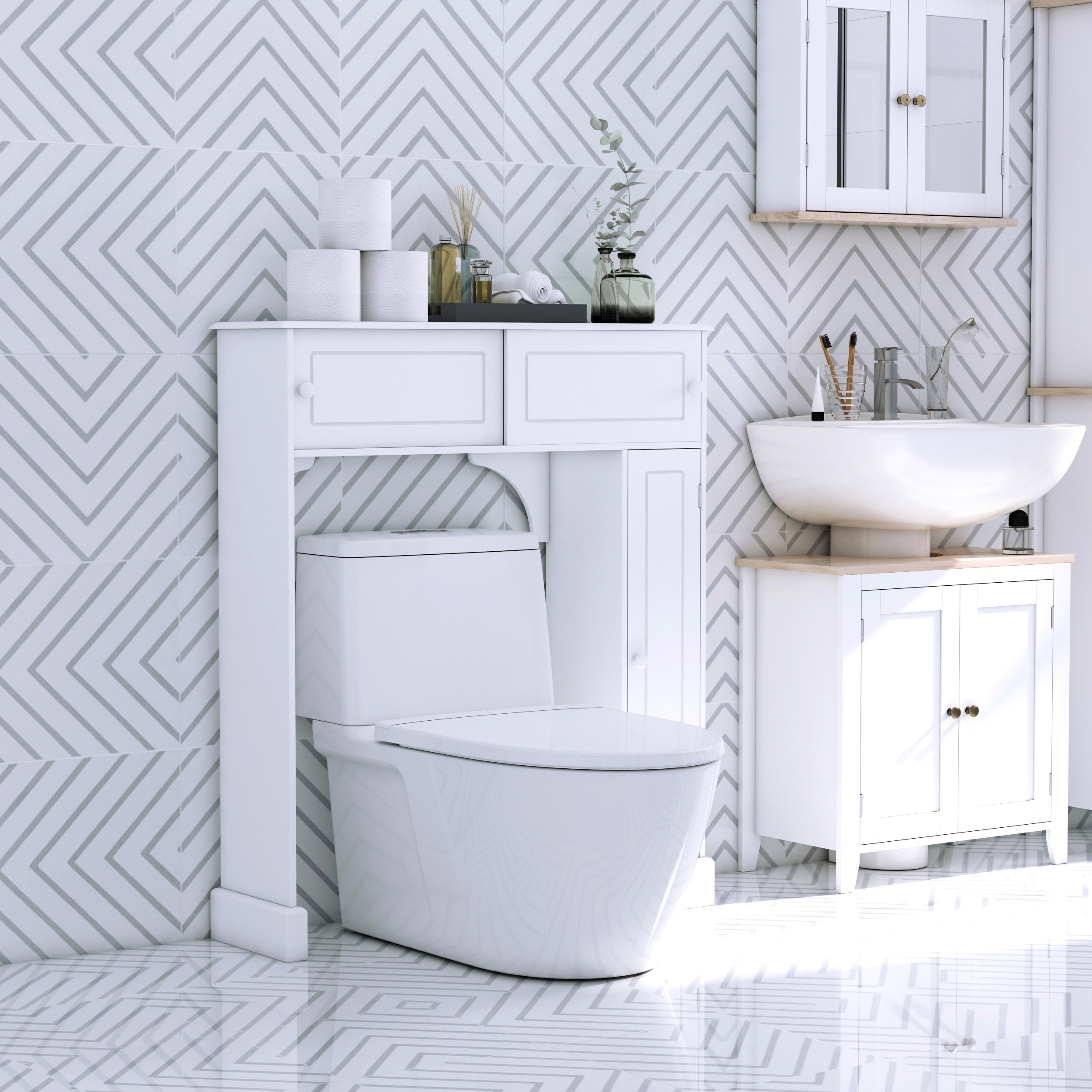 Buy It Here At Overstock for $139.99
Utilize your unused bathroom space with this Over-The-Toilet Storage Cabinet from HomCom. With solid engineered wood board construction and a classic soft white finish, this storage piece will blend nicely into any bathroom decor.  It features a two-door cabinet and 4 cubbies with 3-level adjustable shelf for easy access storage. This cabinet works well in laundry rooms too and can fit snugly over your washer. Buy It Here At Overstock .
River Ridge 2-Door Wall Cabinet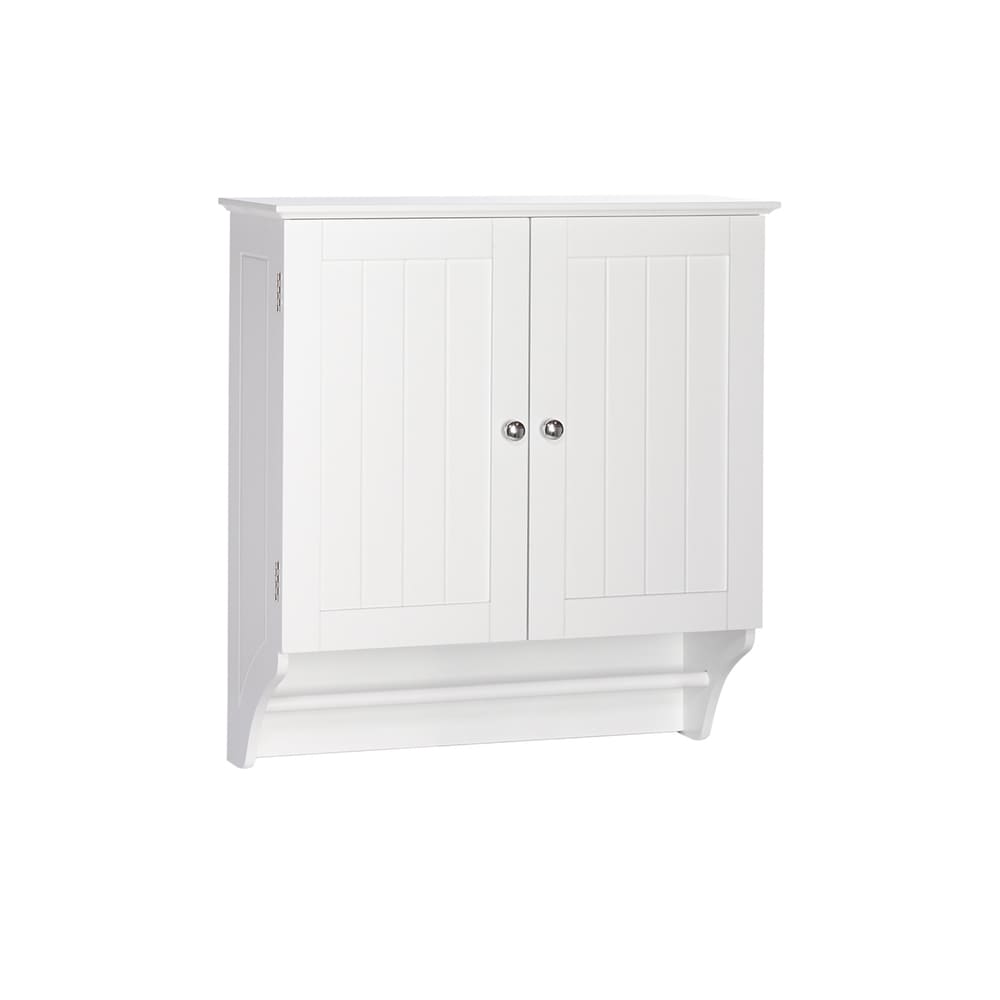 Buy It Here At Overstock for $81.99
The RiverRidge Wall Cabinet utilizes prime real estate in small bathrooms. Wall-mounted storage is by far the best way to save space in small spaces. The two doors in this unit let you tuck personal items inside the spacious cabinet, keeping them out of sight. The towel rack keeps washcloths and hand towels within easy reach. This is such a versatile piece you can use them in the laundry room or kitchen for added storage. See It Here At Overstock.
Over The Toilet Bathroom Cabinet With Cubby Storage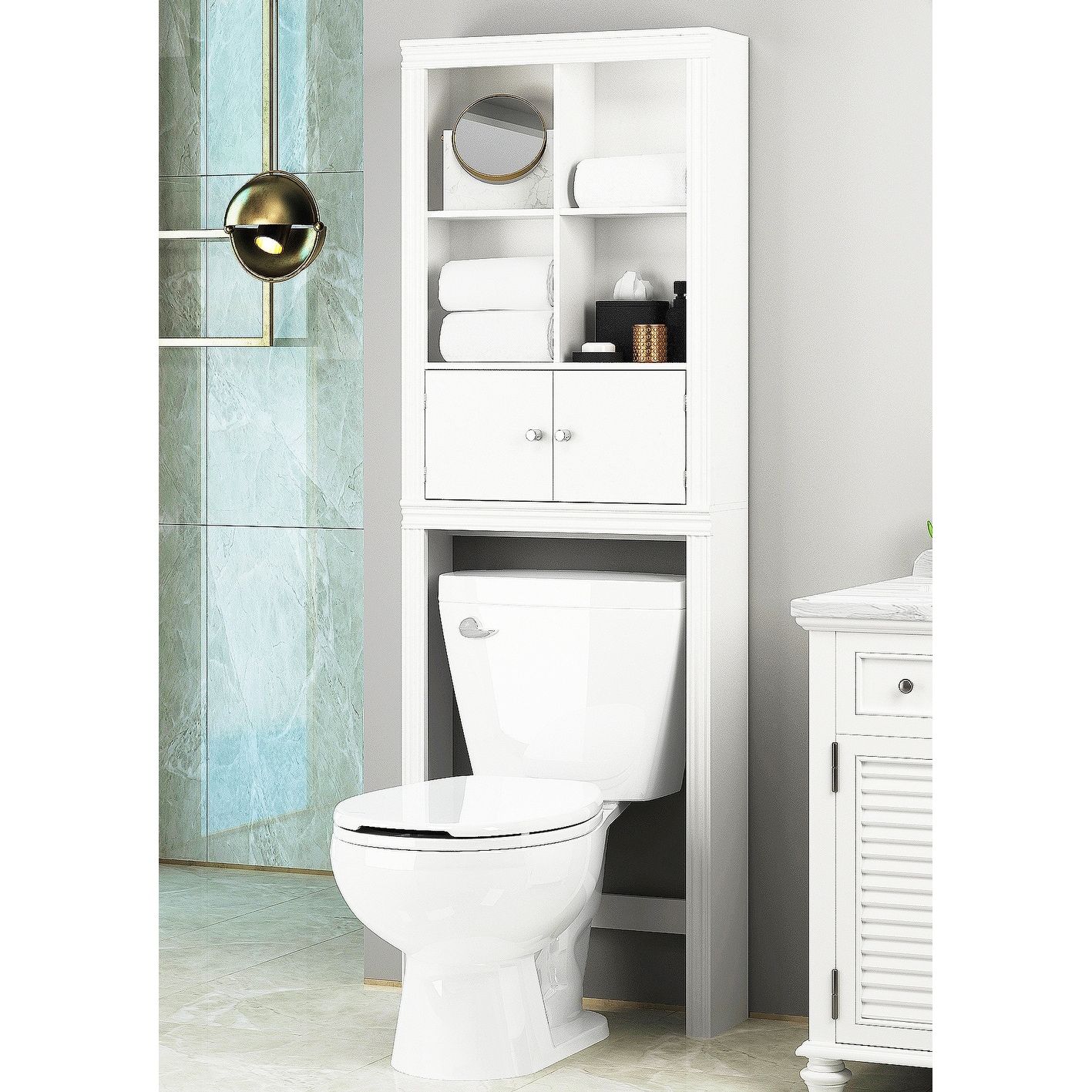 Buy It Here At Overstock for $109.94
The Spirich Home Over The Toilet Bathroom Space Saver comes with both 4 open cubbies for displaying your favorite pieces and a storage cabinet with doors for storing toiletries out of sight. It's modern, compact and won't take up a lot of space. See It Here At Overstock.
Slim Toilet Paper Cabinet Storage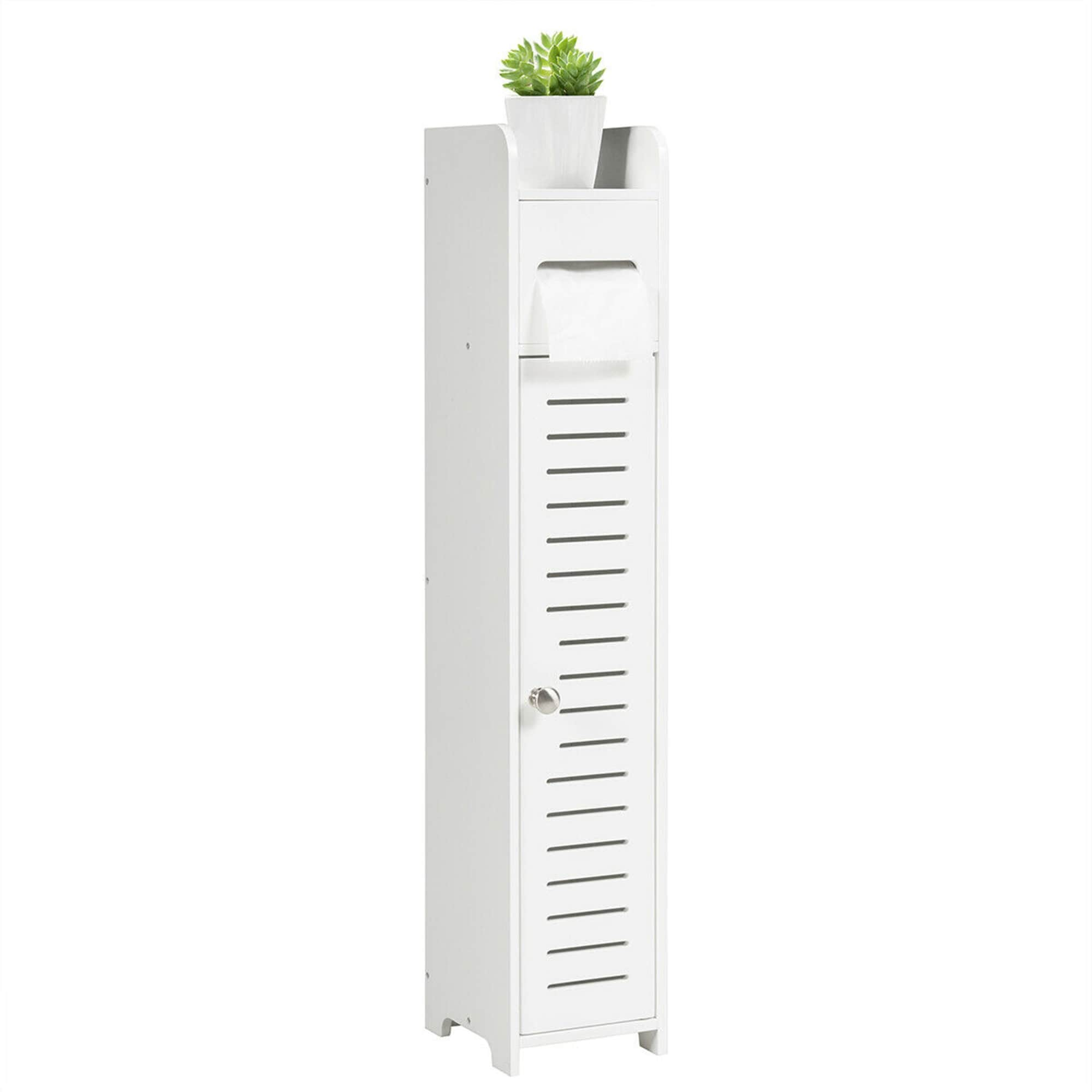 Buy It Here At Overstock for $62.99
Another slim cabinet for storing extra toilet paper. The Gymax Small Toilet Paper Cabinet offers 1 top tissue compartment, and 2 bottom shelves for storing extra TP or tampons, cleaning supplies, or your toilet brush. Use the top shelf to hold your mobile phone when you need it. This unit fits perfectly between your sink vanity and toilet, between the wall and dryer, between the toilet and the tub. This is small-space furniture! Buy It Here At Overstock.
Bathroom Linen Cabinet with Mirror Door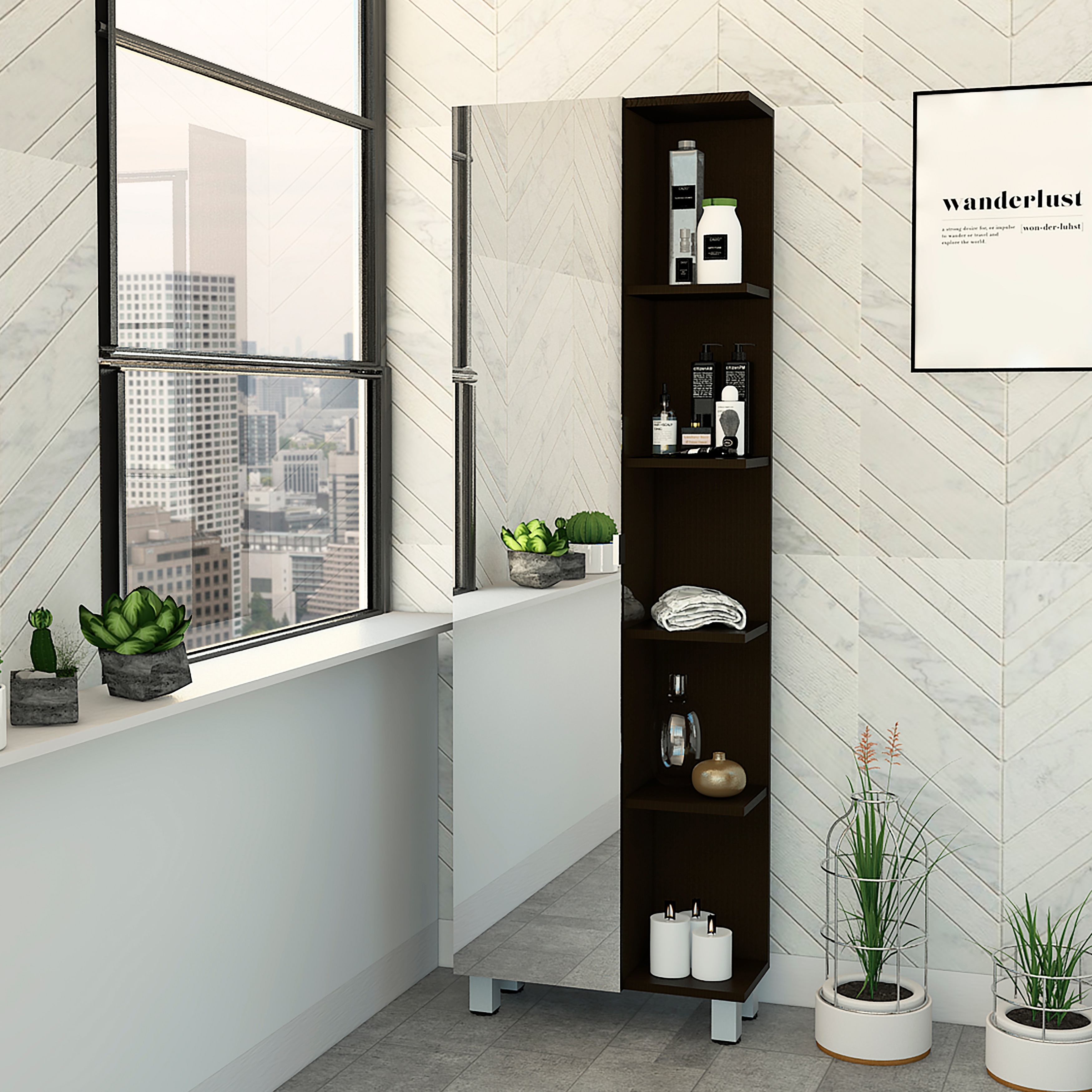 Buy It Here At Overstock for $209.99
This Tuhome Urano Bathroom Cabinet comes with 5 open external storage shelves and 1 cabinet with 3 adjustable shelves and a mirrored door (options without mirror available). This cabinet brings you a modern touch to any space, with high-quality materials and hardware, a smooth finish, and a combination of concealed and opened shelves. Use it anywhere in the home for added, space-saving storage. Buy It Here At Overstock.
4-Drawer White Wooden Bathroom Cabinet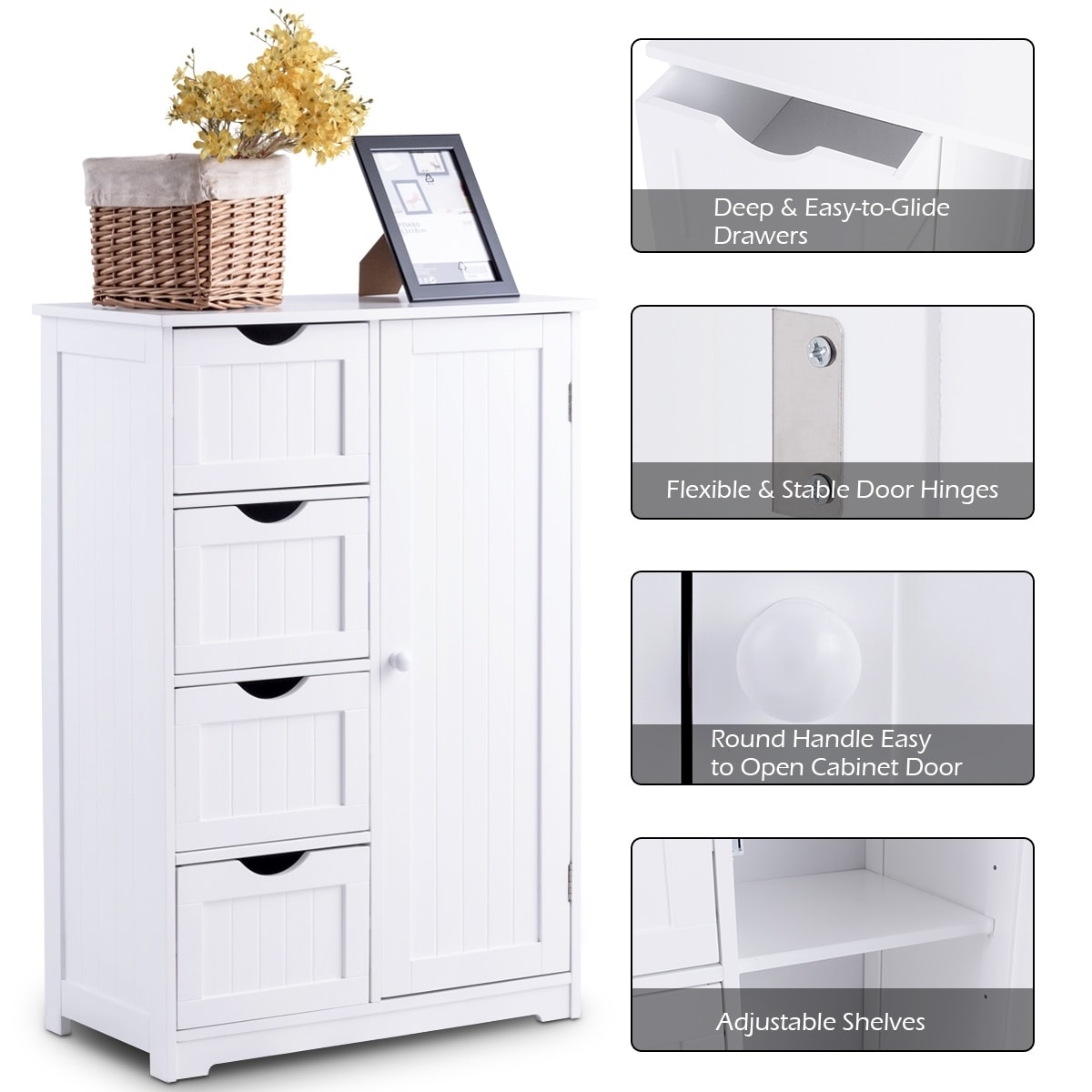 Buy It Here At Overstock for $124.99
This small bathroom cabinet is a budget-friendly storage solution. It has four drawers and one cabinet area with a shelf inside. This cabinet is neat, compact, and functional. See It Here At Overstock .
Bracken Bamboo Two Door Floor Cabinet
Buy It Here At Overstock for $199.49
The Bracken Two Door Floor Cabinet is perfect for adding style and storage to your space. Two sliding doors keep the interior hidden, while three shelves provide ample storage for all of your bathroom essentials. This storage cabinet is crafted from solid bamboo, the piece is both sturdy and durable with a classic clean look. See It Here At Overstock.
Glitzhome Modern Gray Over The Toilet Bathroom Cabinet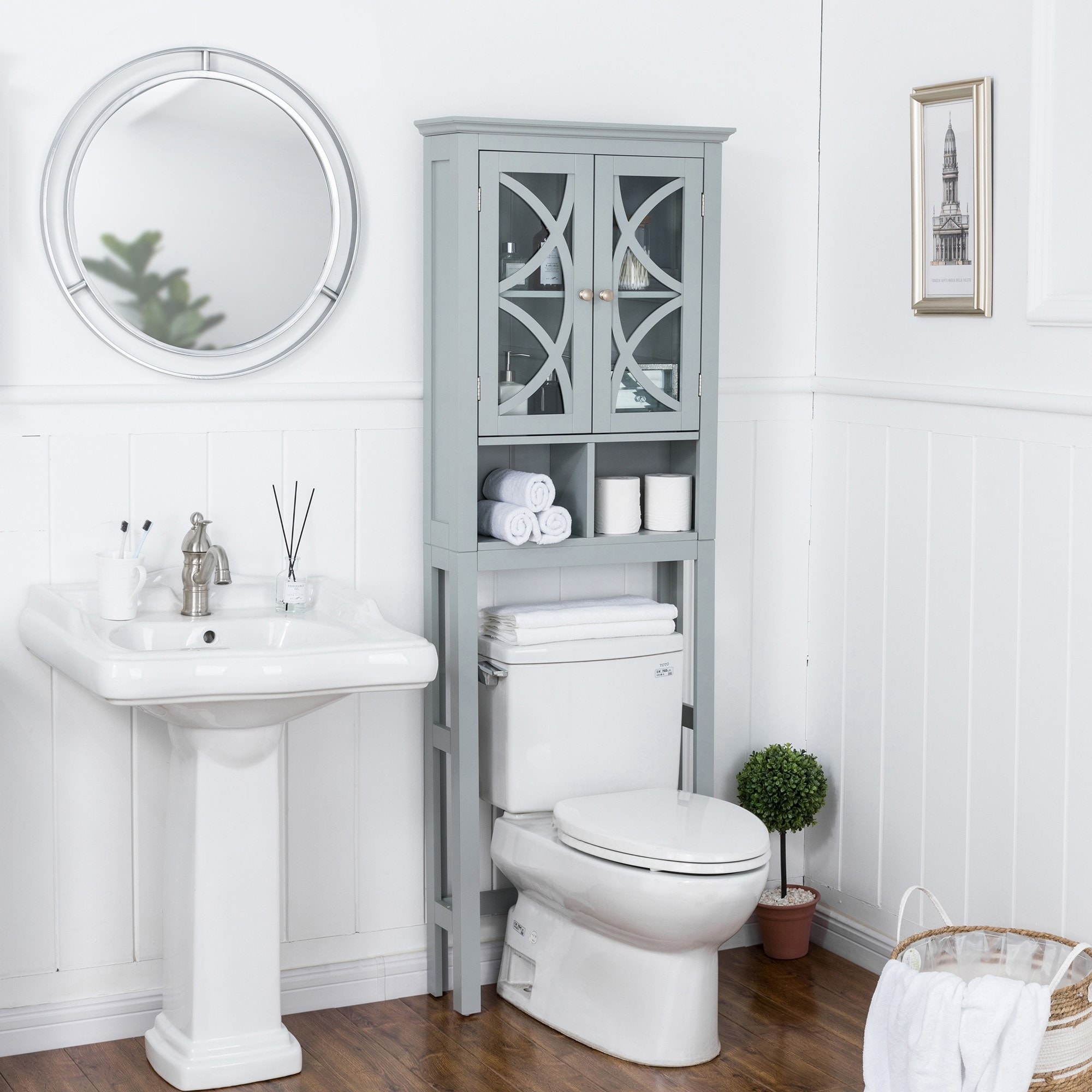 Buy It Here At Overstock for $169.99
The Glitzhome Bathroom Cabinet Space-Saver features a crown molded top, 2 tempered glass doors accented with semilunar paneled design, and beveled molding with satin nickel-finished knobs, and 2 lower open shelf offers space for storing frequently used item. This piece is an Elegant, eye-catcher in any bathroom, and serves not only as storage but also as a decoration in the home. See It Here At Overstock.
Multifunctional Bathroom Floor Cabinet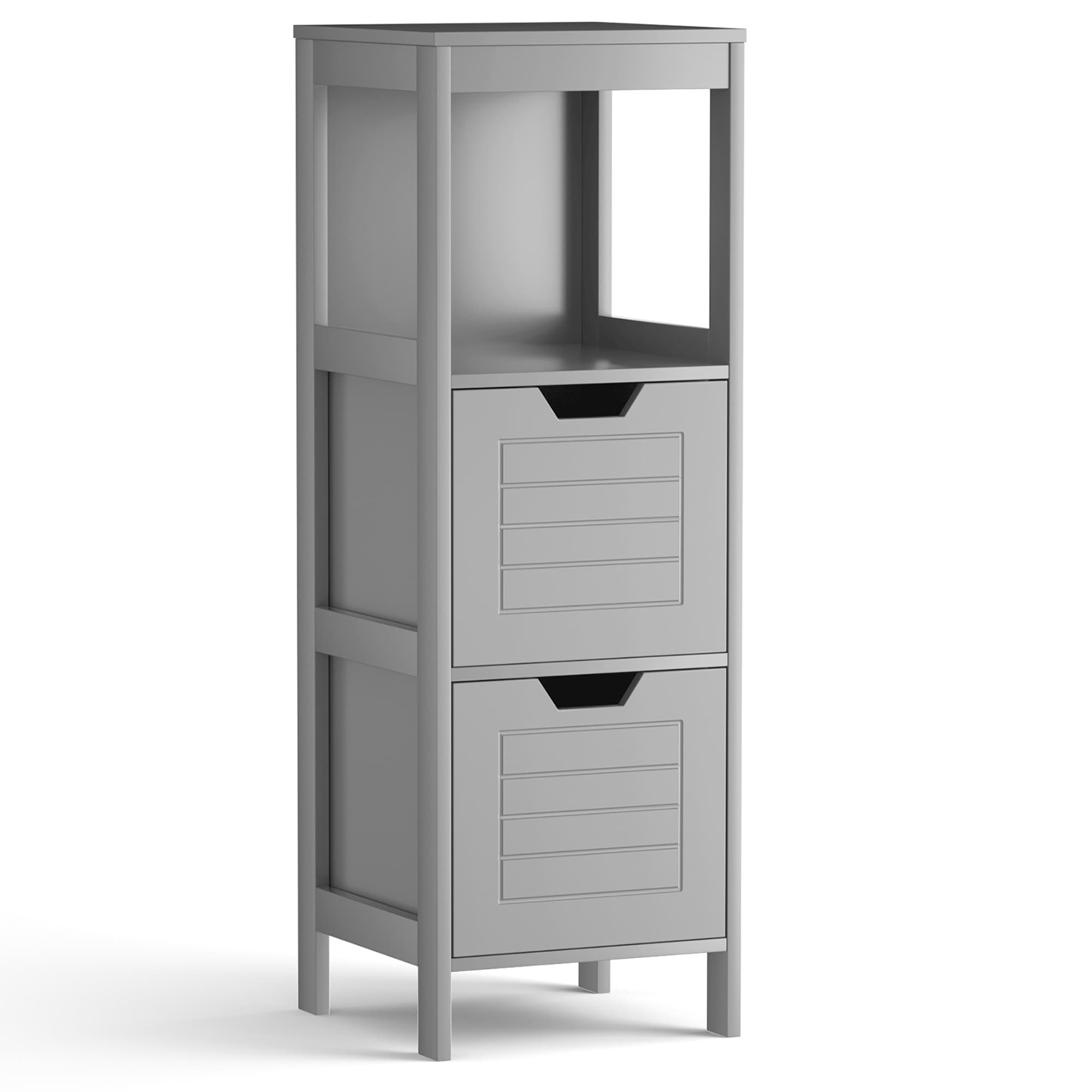 Buy It Here At Overstock for $106.49
A simple, elegant bathroom storage cabinet that will add a unique charm to your space. With two drawers, you can conceal towels, toiletries, and other essentials to make your space tidy. It's an ideal storage solution for small bathrooms, living room, bedroom, and hallway. Also Available in white. See It Here At Overstock.
Space Saver Bathroom Wall Storage Cabinet
Buy It Here On Amazon
With over 1,000 raving reviews on Amazon, the ChooChoo Bathroom Wall Cabinet is a popular choice for bathroom storage. This bathroom cabinet has 2 adjustable shelves, offering customizable storage behind 2 doors. A classic white finish adds elegance to your decor, complemented by sleek lines for a clean look. Store your toiletries or use it as a medicine cabinet. Either way its a space-saving and affordable bathroom storage solution. See updated price Here On Amazon.
Want More Small Bathroom Ideas & Solutions?
Discover Small Bathroom Storage Solutions From Amazon
Latest On The Blog: