Small Bathroom Accent Wall Ideas -19 Inspiring Looks To Try!
Looking for small bathroom accent wall ideas? I've got you covered! A small bathroom can certainly benefit from an accent wall. Creating an eye-catching focal point will detract from the smallness of the room and can even make your small bathroom look and feel bigger (think 3D wallpaper murals).
These small bathroom accent walls feature some truly inspiring and creative accent wall ideas to help you transform your space.
What's Included In This Roundup?
Creative Accent Wall Ideas
Wallpaper Accent Wall Ideas
Dark Accent Wall Ideas For Small Bathrooms
Let's get inspired!
19 Inspiring Accent Wall Ideas For Small Bathrooms
**This page may contain affiliate links. If you purchase something through these links, I may receive a small commission at no extra cost to you. See full disclosure here.**
Add A Modern Geometric Accent Wall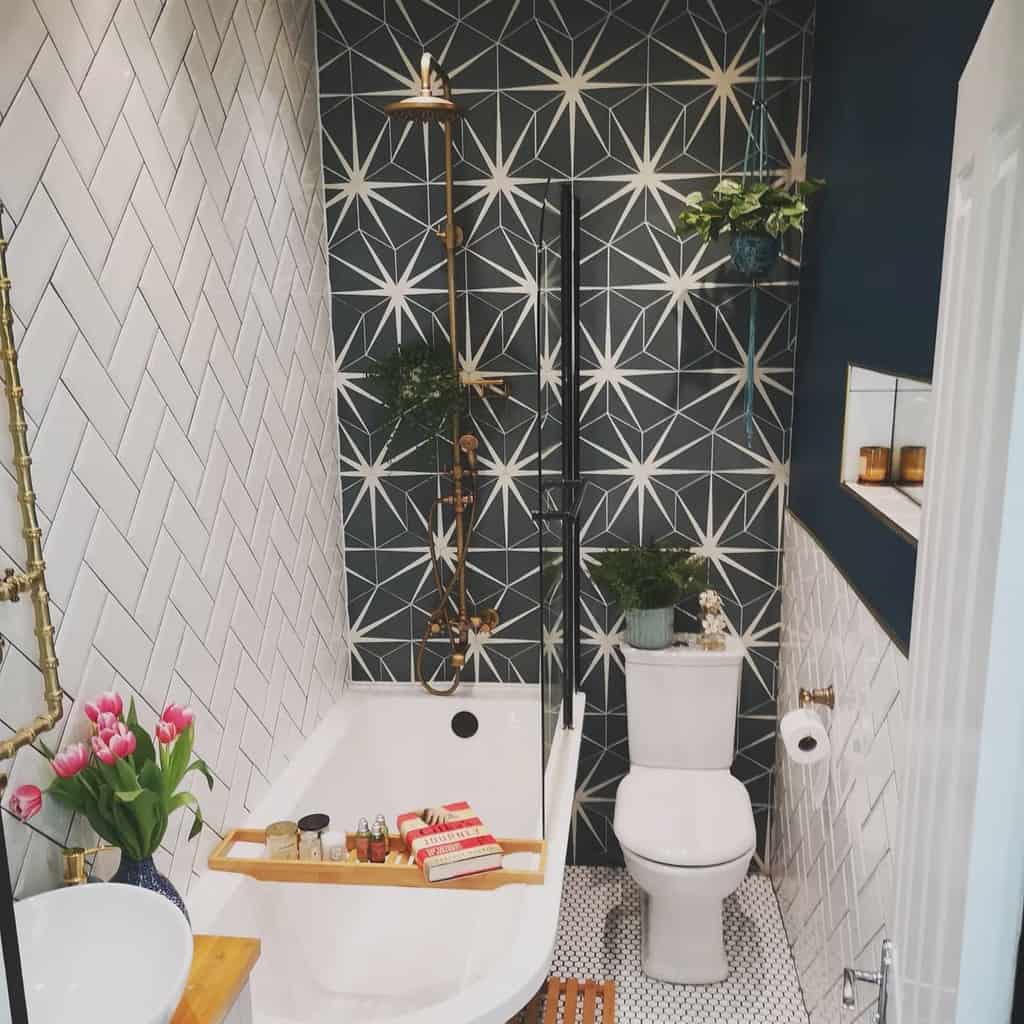 Source: renovationreport via Instagram
Go bold with a geometric accent wall design. This small bathroom is absolute perfection!
Keep It Simple With A Color-Block Accent Wall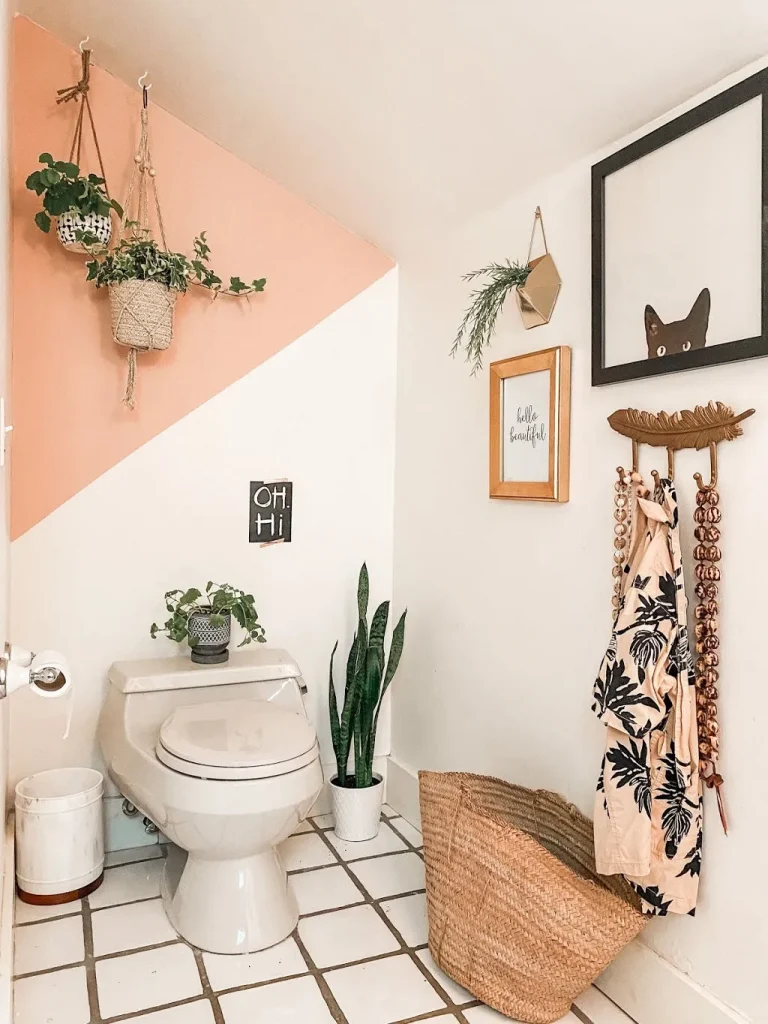 Color-blocking is always fun to experiment with. A small painted corner on one wall adds so much personality to this space. This technique is a cheap and quick way to add an accent wall to your space. It's also an opportunity to be creative. Experiment with different geometric patterns and colors using this technique. A color block accent wall will certainly transform your small bathroom!
Artistic Bathroom Accent Wall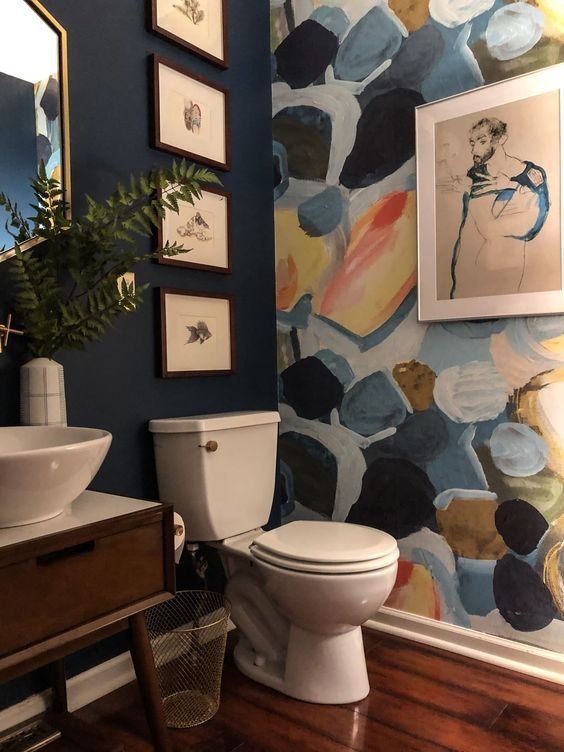 More on the artsy side? Then why not create your own personal work of art for your bathroom accent wall? An art wall is a great way to create something special and memorable. If you're not the artsy type but love the look of an art wall, a large art mural will create the perfect art accent wall.
Wood Panel Bathroom Accent Wall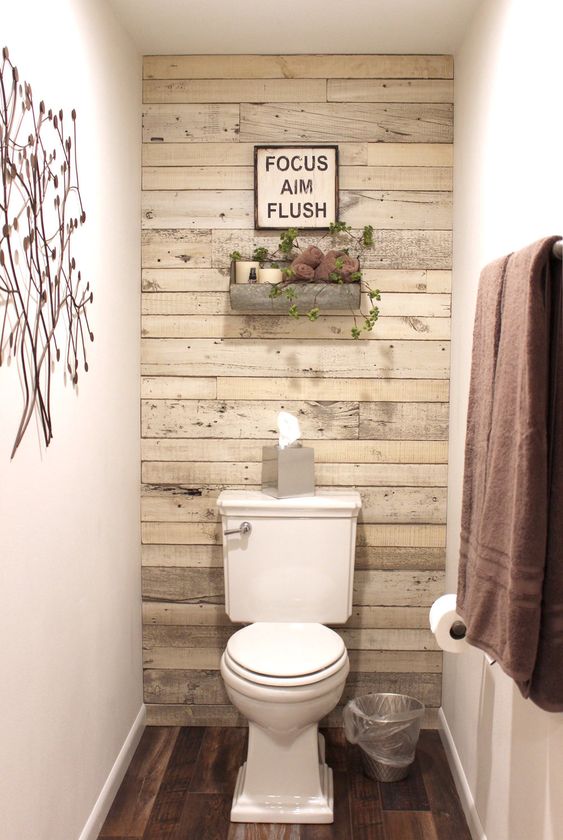 Pinterest
For a more rustic, natural bathroom design try a wood panel feature wall. For renters, wood panel wallpaper will create the same look.
Half Accent Wall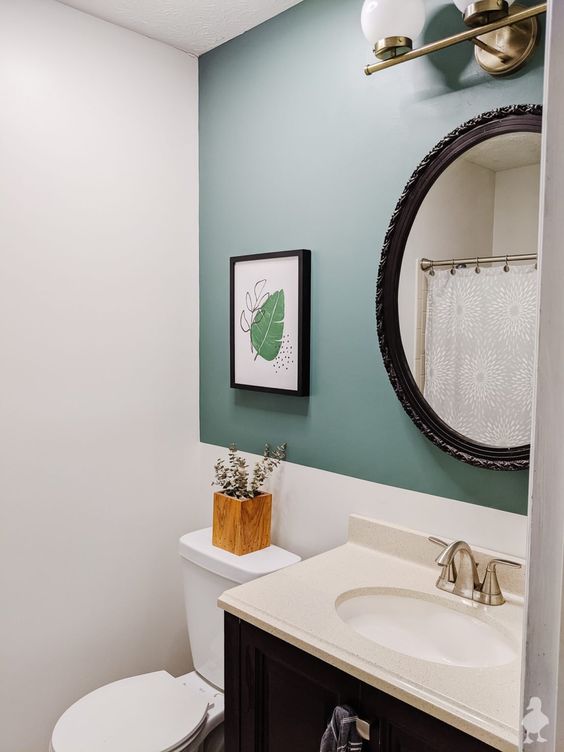 Try a half accent wall for your small bathroom to add dimension to the space. This option is great if you just want to add a small but impactful block of color without overwhelming the space. A half accent wall is also perfect if you want to use dark paint in your small bathroom. See more examples of dark bathroom accent walls below!
Slated Feature Wall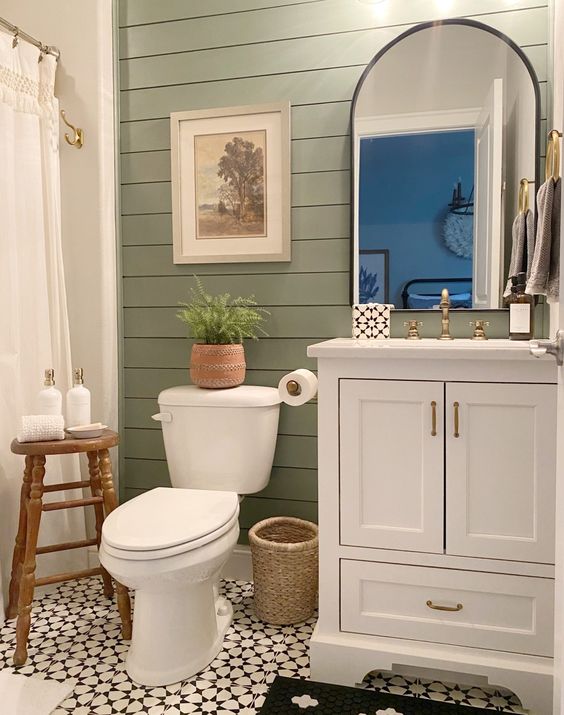 Our Vintage Nest via Pinterest
Create Shower Accent Wall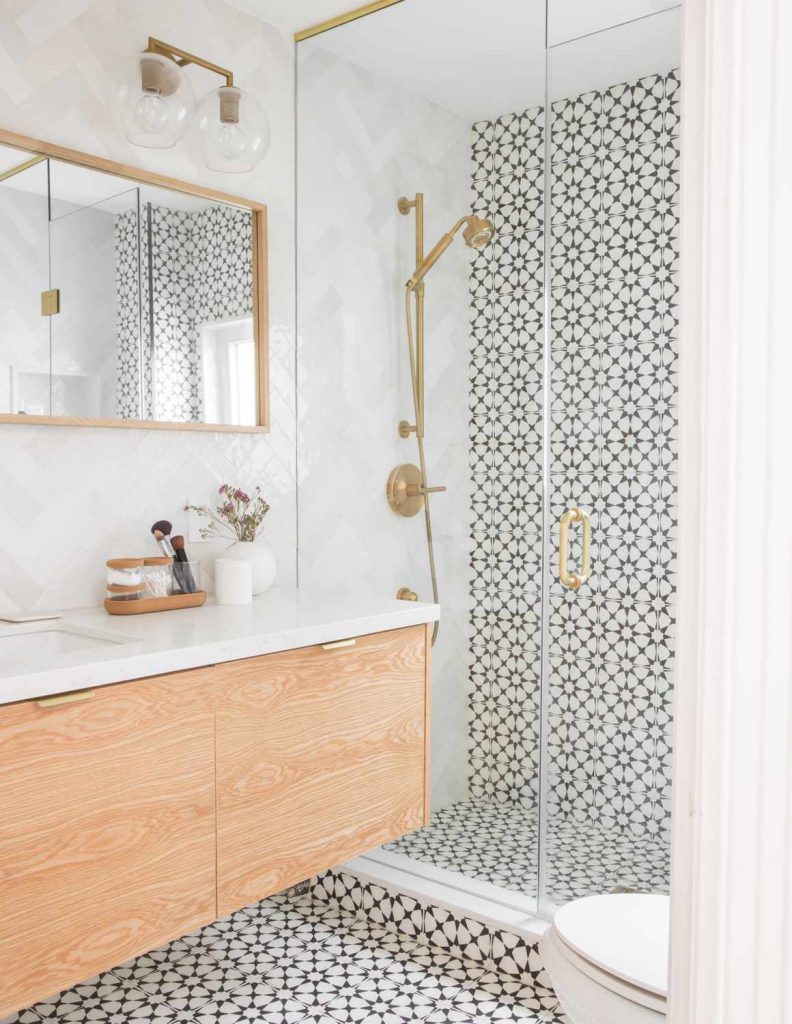 Image #1: Lauren Miller / Ashley Montgomery Design. Image #2: Pinterest
Create an accent wall inside your bathroom shower with patterned tile. Go for a striking design or create a unique tile pattern like the herringbone tile on the right.
Try A Gallery Accent Wall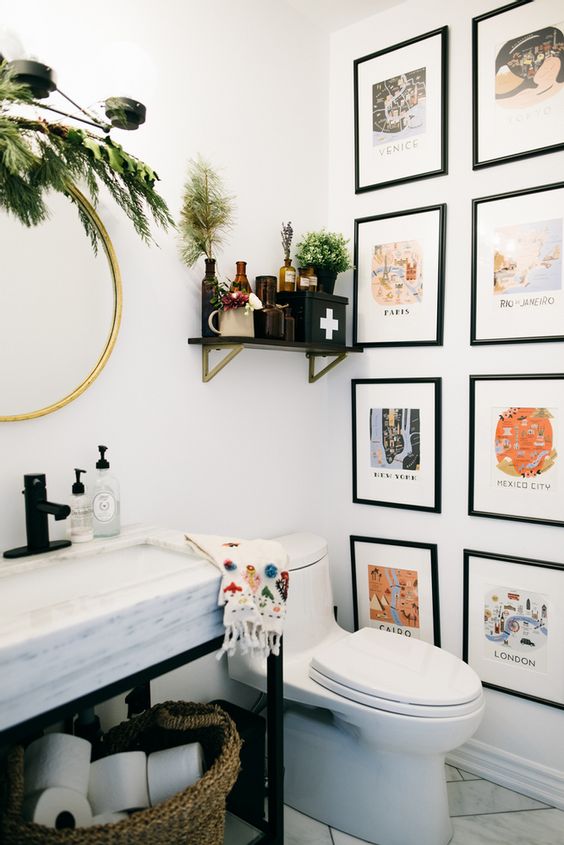 Photo by Janet Kwan via Pinterest
Skip the paint altogether and create a gallery accent wall to spruce up your bathroom. This is quick, easy, and versatile. You can simply switch out the artwork whenever you're ready to redecorate!
Luxe Geometric Feature Wall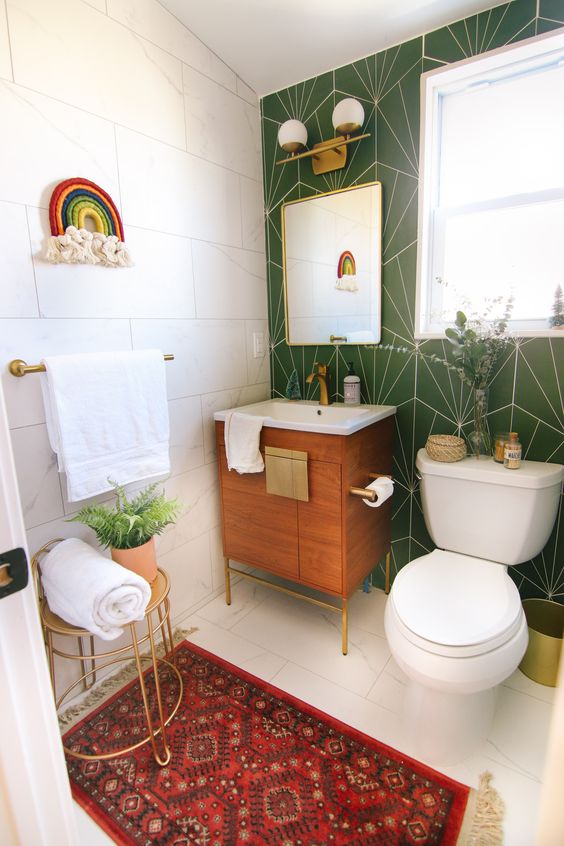 Steffy's Pros & Cons via Pinterest
Try a bold geometric accent wall, paired with gold accents for a modern boho, luxe bathroom design.
Wallpaper Feature Wall Ideas For Small Bathrooms
Wallpaper is another alternative for creating an accent wall in a small bathroom. They come in a multitude of colors, designs, and materials. Plus, the renter-friendly peel-and-stick options make for easy application and removal. These wallpaper accent wall ideas are simply stunning!
3D & Landscape Wallpaper Accent Wall For Small Bathroom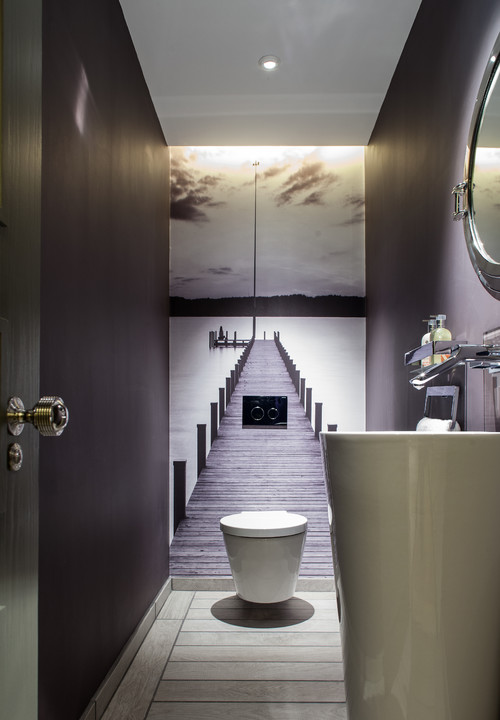 Images: Vastu Interior Design / Ale Design via Pinterest
Landscape and 3D wallpaper are notorious for making small spaces look and feel bigger. These images stretch the eye outward, creating amazing depth. This creates the illusion of more space, as the image seems to go on forever. If your goal is to make your small bathroom look bigger then a landscape wallpaper mural is the most effective way to do it!
Striped Wallpaper Accent Wall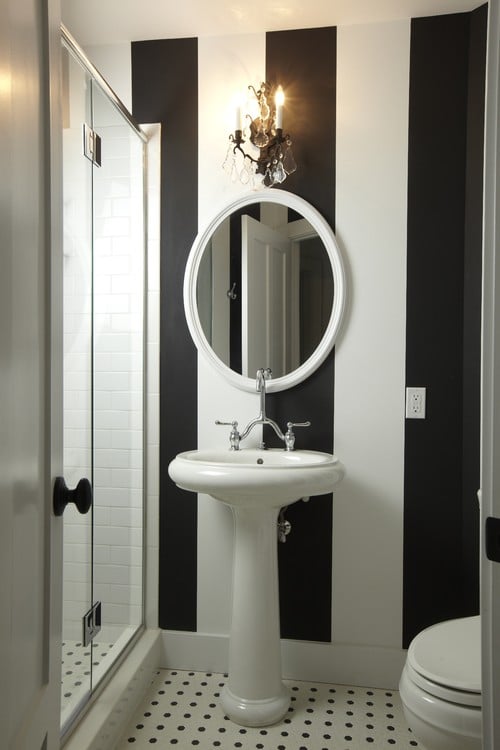 Striped wallpaper also has the ability to make a small bathroom look bigger. Vertical stripes create the illusion of height as it draws the eye upward. Stripes are a popular wallpaper pattern that delivers classic elegance to any space. Create a striped accent wall with black and white stripes or colorful, unique stripe pattern alternates. I compiled some modern striped wallpaper designs in this roundup.
Wow With Florals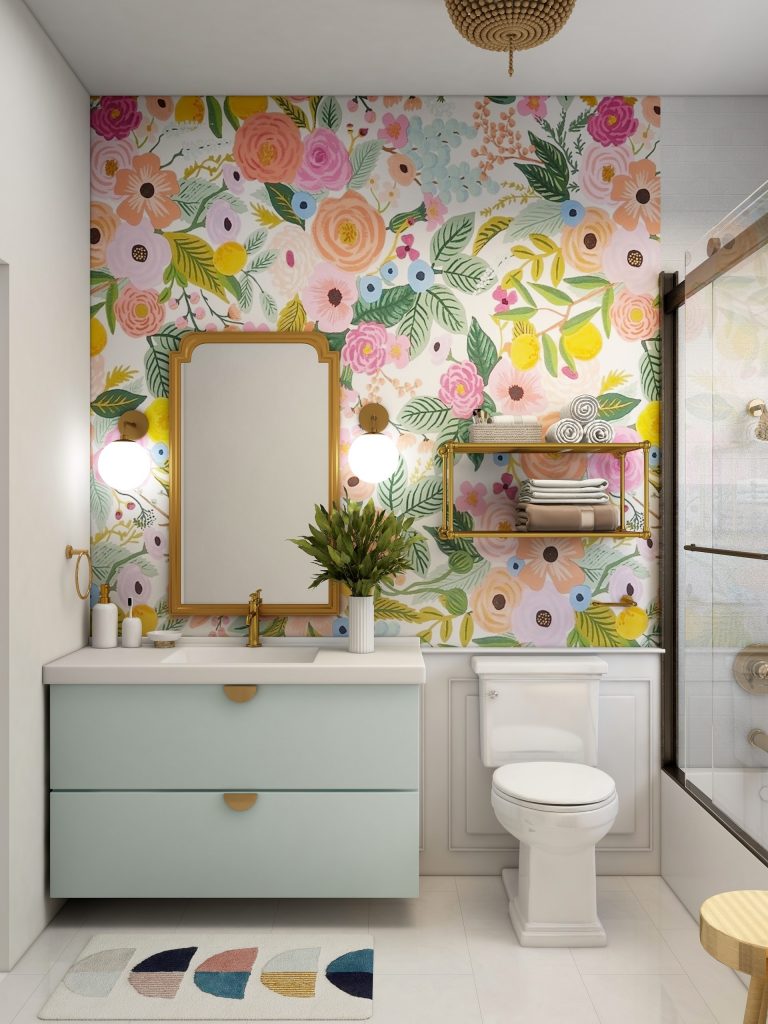 Bring in some color into your bathroom with a beautiful floral wallpaper accent wall.
Get Boho Vibes With A Brushstroke Wallpaper Design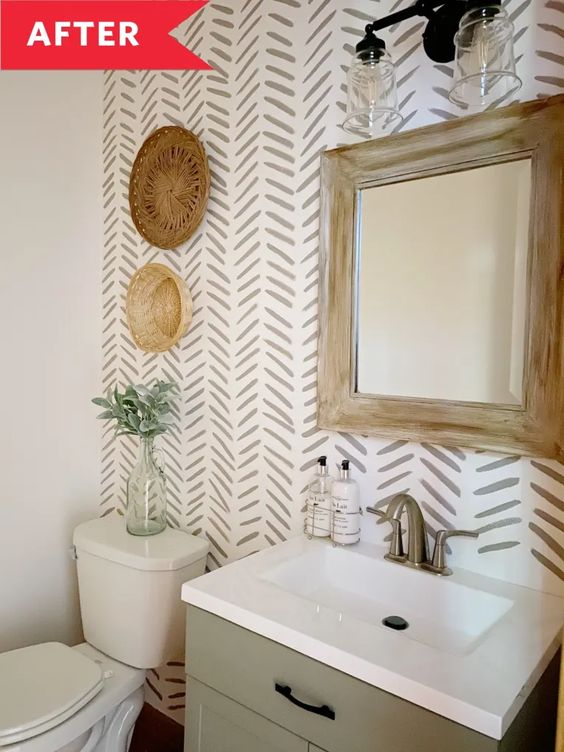 Credit: Rebecca Hatfield – Apartment Therapy
Complete your bohemian bathroom design with a freehanded brushstroke wallpaper feature wall. Get a similar herringbone wallpaper here at US Wall Decor.
Dark Accent Wall Ideas For Small Bathrooms
Brief paragraph about dark accent walls in a small space. link to all other dark paint in small space articles.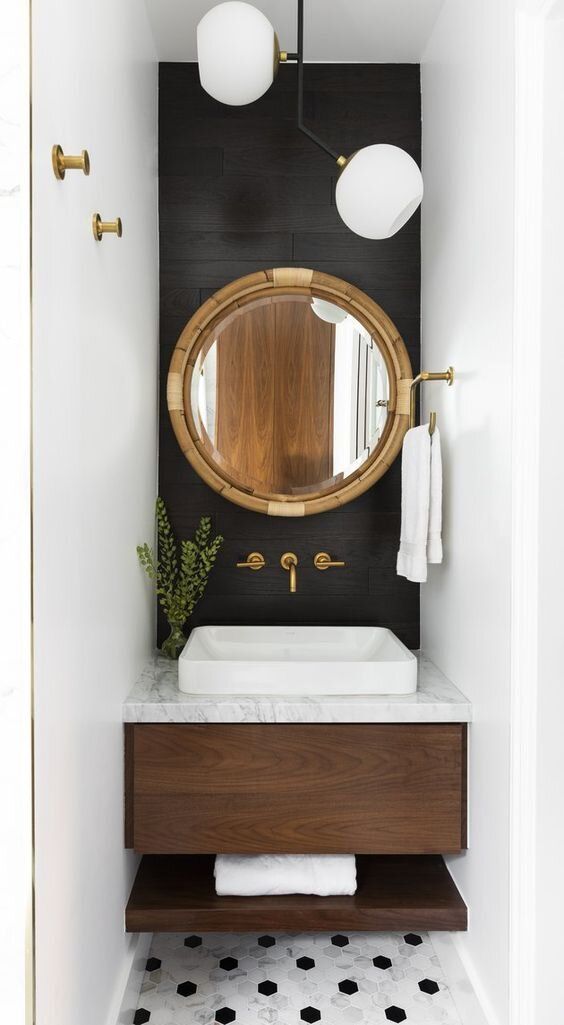 Pinterest
High contrast for a big impact! Pair a dark accent wall with stark white paint to let your focal point shine.
Dark Green Half Accent Wall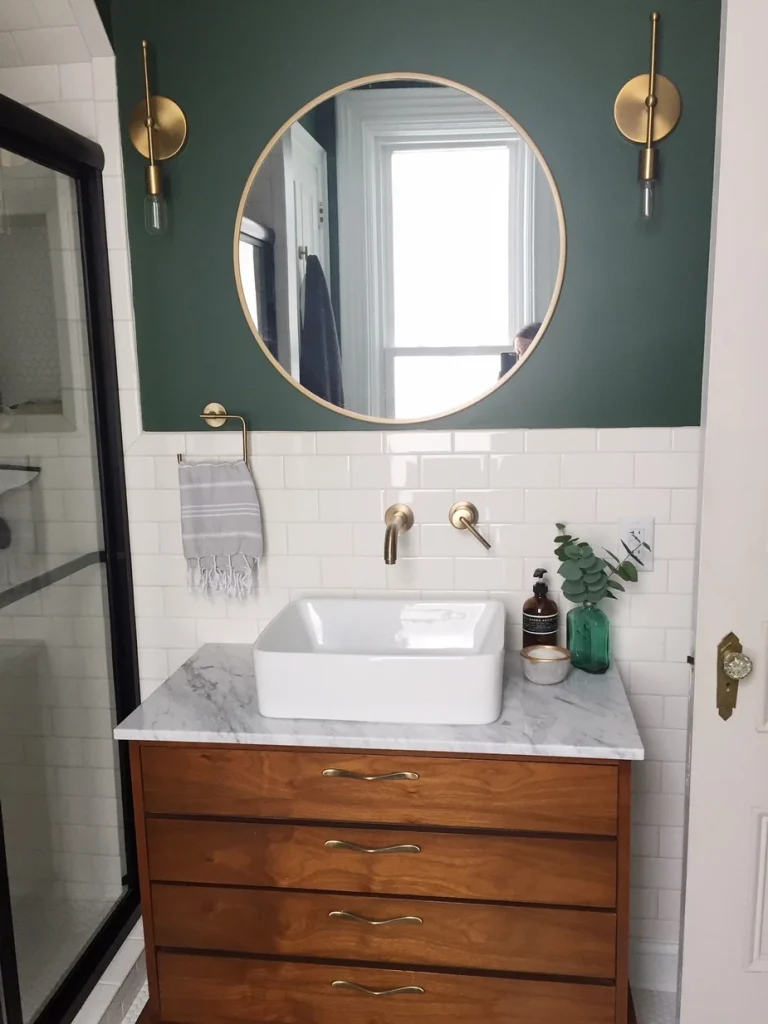 Try a half accent wall over your bathroom vanity. The good lighting fixtures and gold frame bathroom mirror work well to create a sophisticated and luxurious design. Gold bathroom fixtures and accessories never fail!
Deep Purple Accent Wall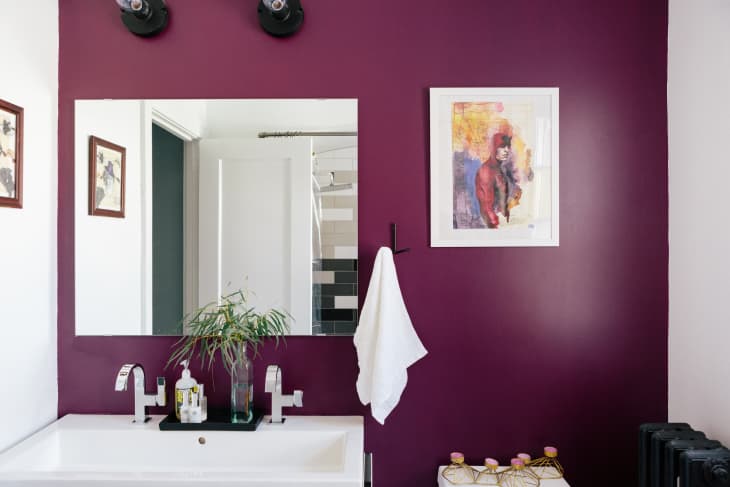 Pinterest
Don't stick to just black, blue, or green shades. Deep, rich jewel tones work well too.
Dark Blue-Grey Feature Wall In Small Bathroom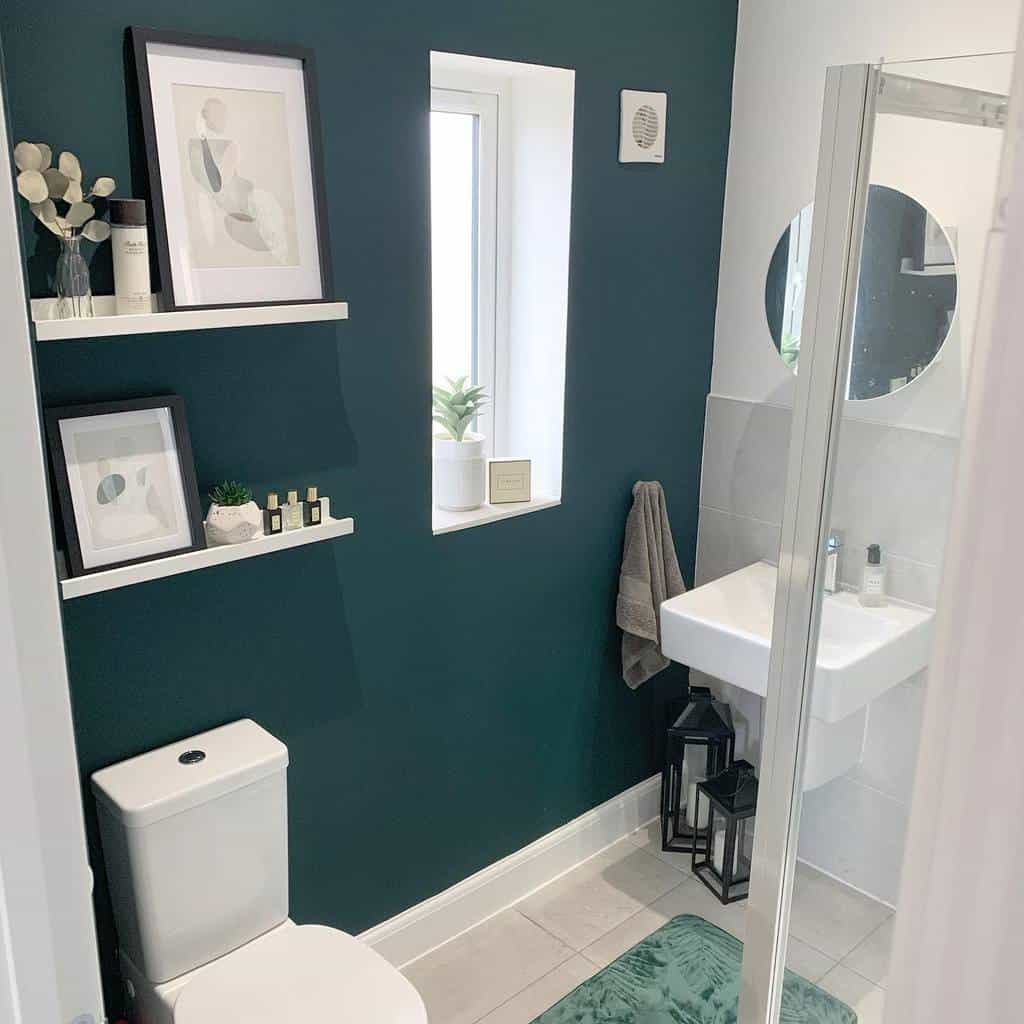 The light-colored shelves and decor accents seem to leap off the dark accent wall in this tiny bathroom.
Dark Olive Green Accent Wall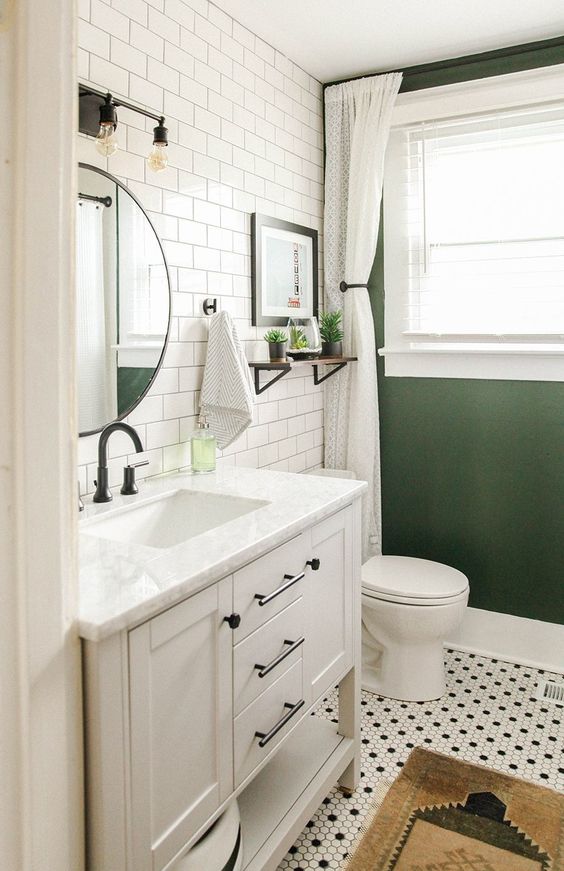 Pinterest
Make your bathroom window the focal point by adding a high contrast, dark feature wall.
Dark Blue Accent Wall In Small Bathroom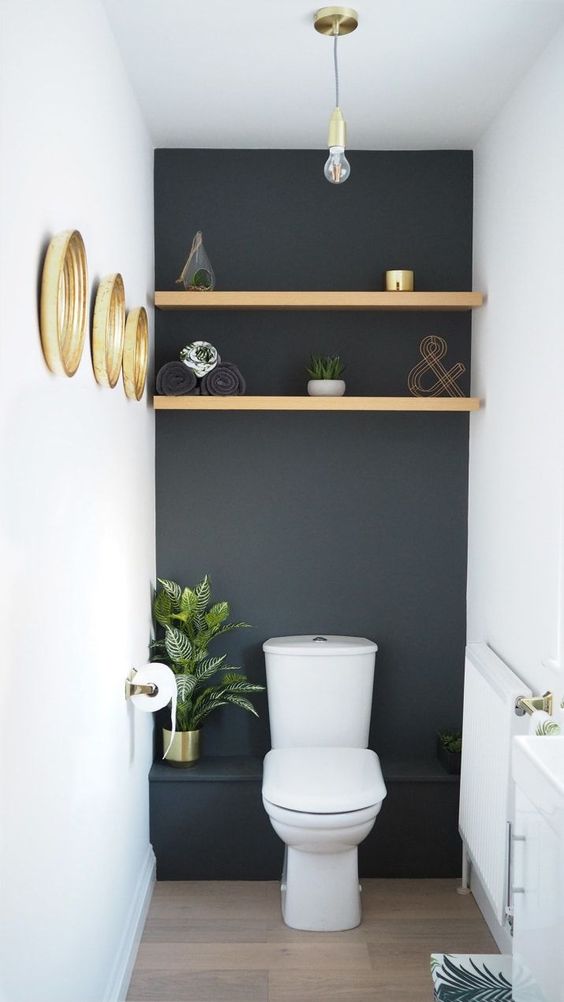 Simple but effective. If you just want a touch of color, add an accent wall behind your toilet. The wooden shelves and gold accessories add warmth to this space, making it feel so inviting.
More Small Bathroom Ideas:
Pin This For Later!