9 Best Types Of Furniture For Small Spaces.
It's no surprise that certain types of furniture work better in small spaces than others. But what exactly are they? That's what I wanted to talk about today – 9 best types of furniture for small spaces!
Small-space living is all about making the most of what you have. But sometimes it requires strategic efforts to create a comfortable home. Shopping for the right items can make all the difference. Luckily, there are more options on the market today to help make decorating small spaces easy and accessible.
Choosing furniture for smaller rooms means finding pieces that work harder for you without sacrificing valuable space or creating clutter. After doing some research, this is what I've found. Here are the 9 best types of furniture for small spaces.
*This page may contain affiliate links. If you purchase something through these links, I may receive a small commission. I only recommend products that I love and trust! **
PIN IT FOR LATER!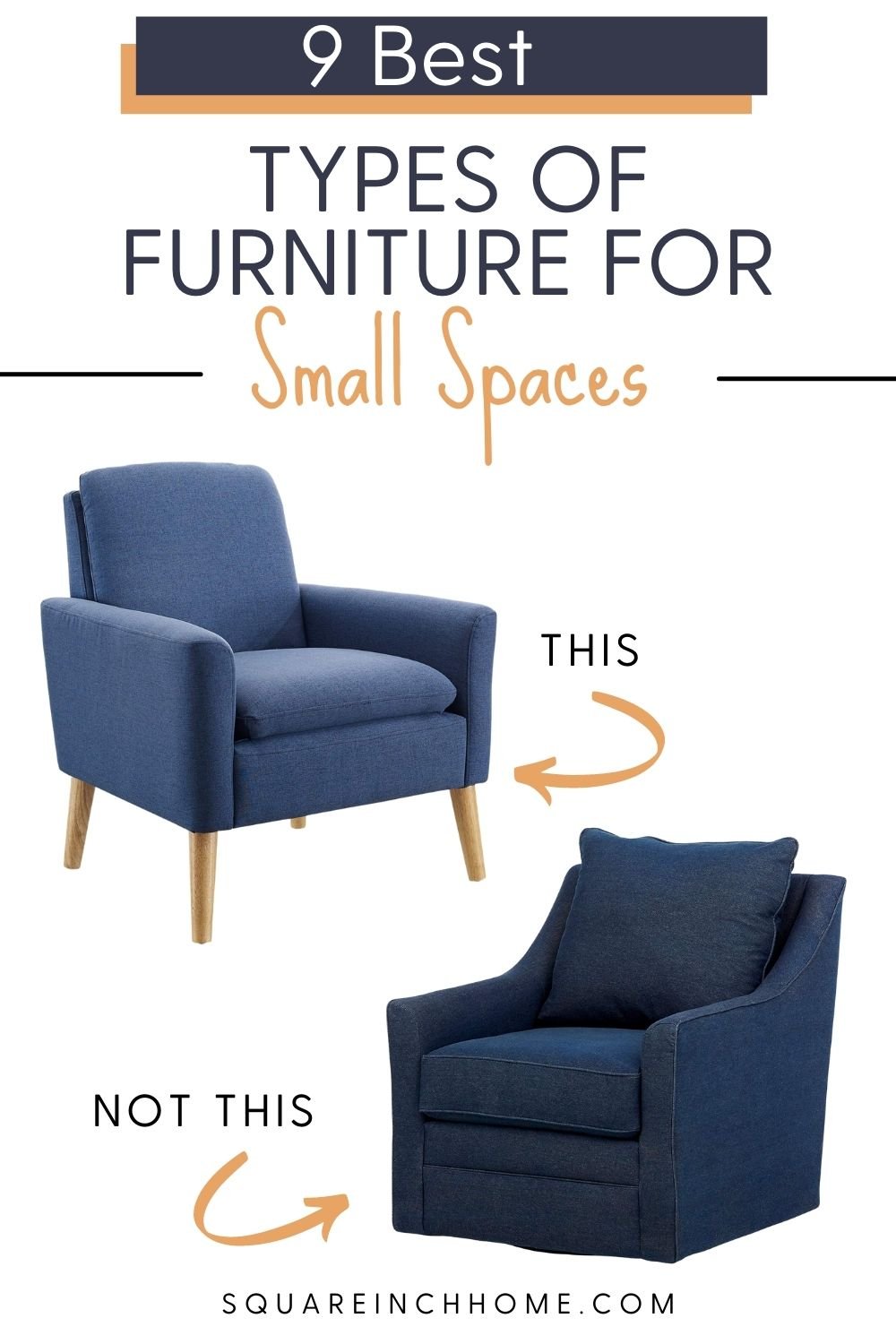 9 Best Types Of Furniture For Small Spaces!
Visually Lightweight Furniture.
You don't have to settle for 'dollhouse' furniture, but visual weight is important for creating extra visual space and avoiding that cluttered look. Choose cushioned furniture that is trim & compact. Avoid excessively bulky, cumbersome pieces.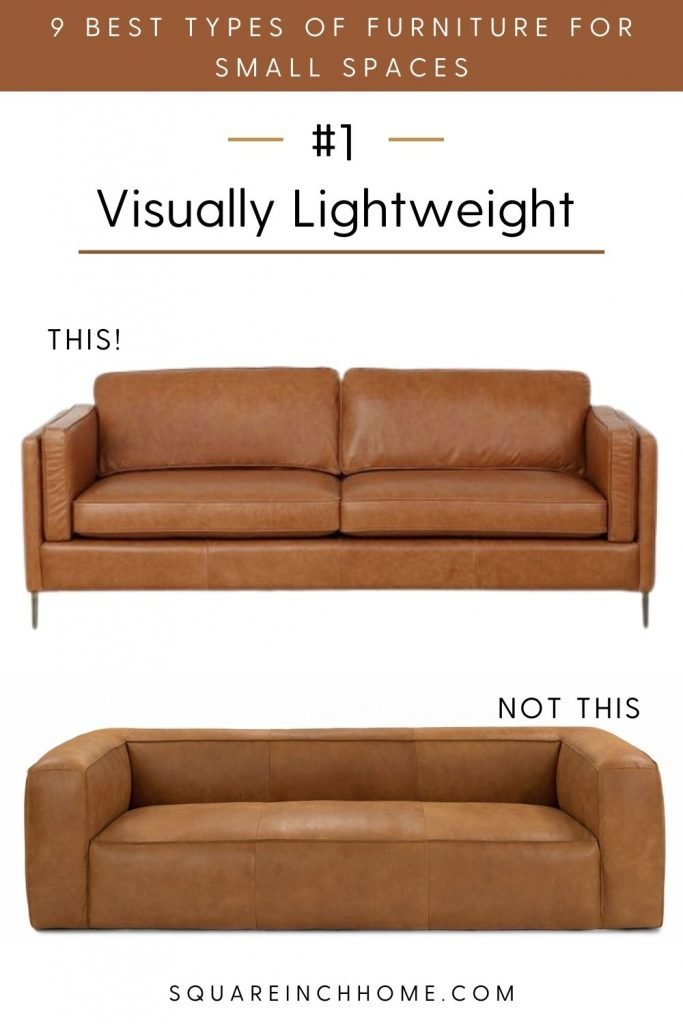 Source: Sofa #1 – Orielle Leather Sofa | Sofa # 2 – Graham Leather sofa
Leggy or Floating Furniture
Slim, leggy furniture doesn't obstruct views of the floor, so the space feels more open. Furniture with long legs often appears to float off the ground, creating the illusion of more space. This illusion helps to minimize visual clutter. I've found that Mid-Century Modern furniture work well to create this illusion. They're trim, visually lightweight, and slightly elevated, with long legs. These Leggy Sofas, for example, are perfect for small spaces!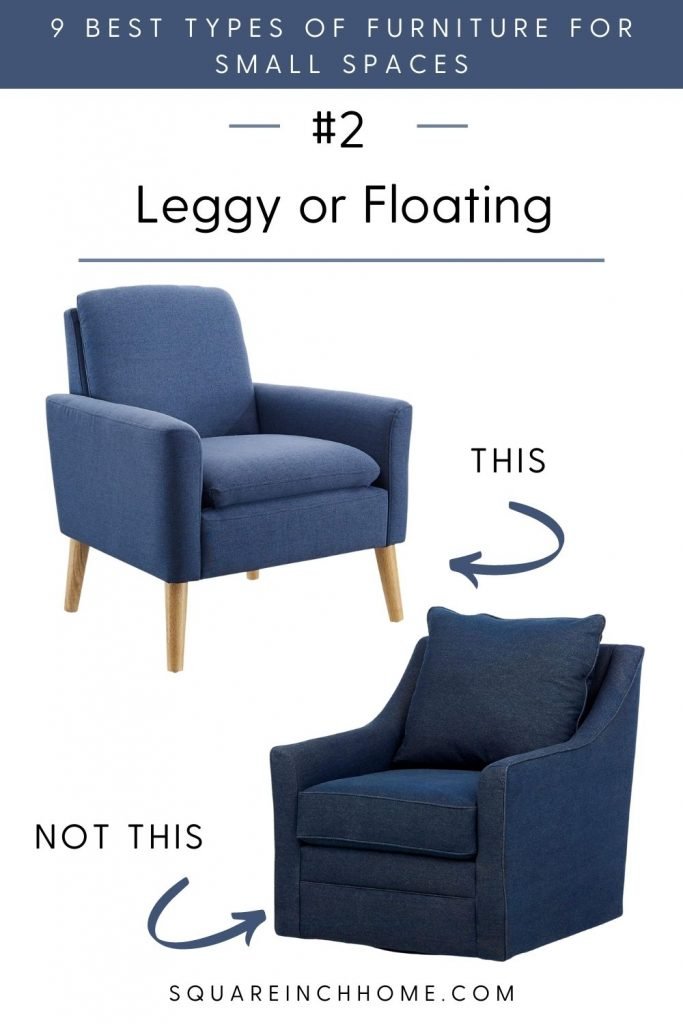 Transparent Furniture.
Clear furniture is a popular choice for small-space dwellers. They're modern, sleek, and create the illusion of a larger space. How? They don't obstruct the eyes, crowd the room, or create visual clutter. Clear furniture is what I like to call 'barely-there' furniture.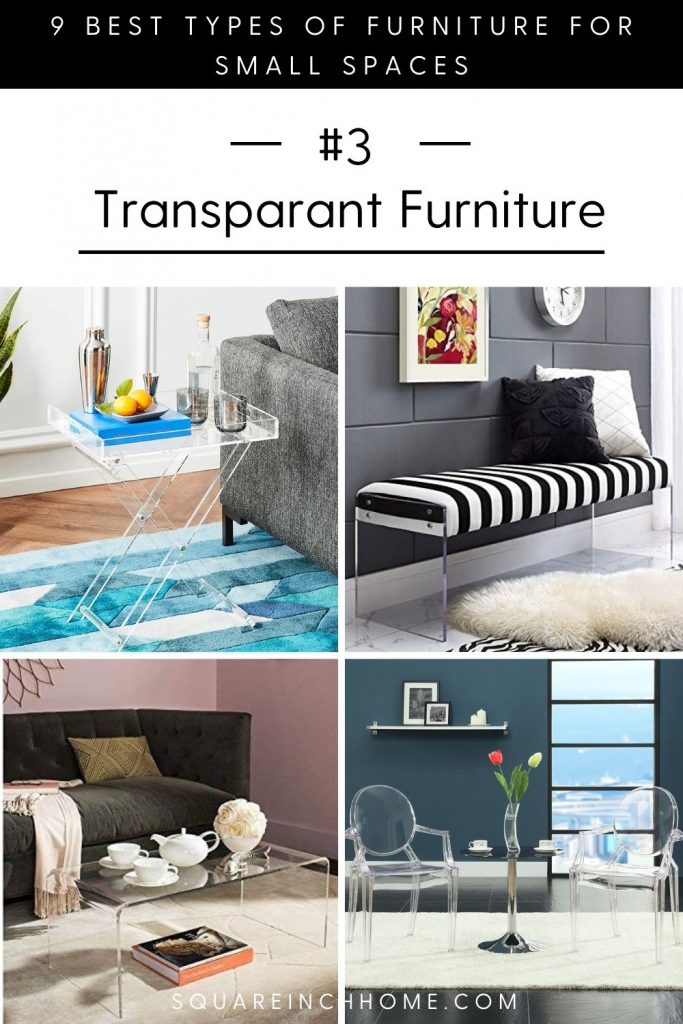 Shop These Pieces Here: Acrylic Folding Tray Table || Black & White Acrylic Bench || Acrylic Coffee Table || Acrylic Stacking Dining Room Arm Chair
Acrylic furniture is an affordable option for smaller rooms. Their see-through nature can make small spaces feel more open and inviting. Glass furniture is another option. But part of the appeal of acrylic furniture is that they are lighter, stronger, and less expensive than glass. Try acrylic chairs, acrylic coffee tables, nightstands, bookshelves, etc. to add a little drama to your home without overcrowding.
Expandable or Convertible Furniture  
Folding or transforming furniture offers multipurpose and space-saving functionality. These pieces provide the space you need, when you need it, and the option to 'put it away' when you don't. Luckily these types of furniture come in varied styles and pieces. Expanding dining tables, murphy beds and sleeper sofas are just a few popular transforming furniture pieces on the market.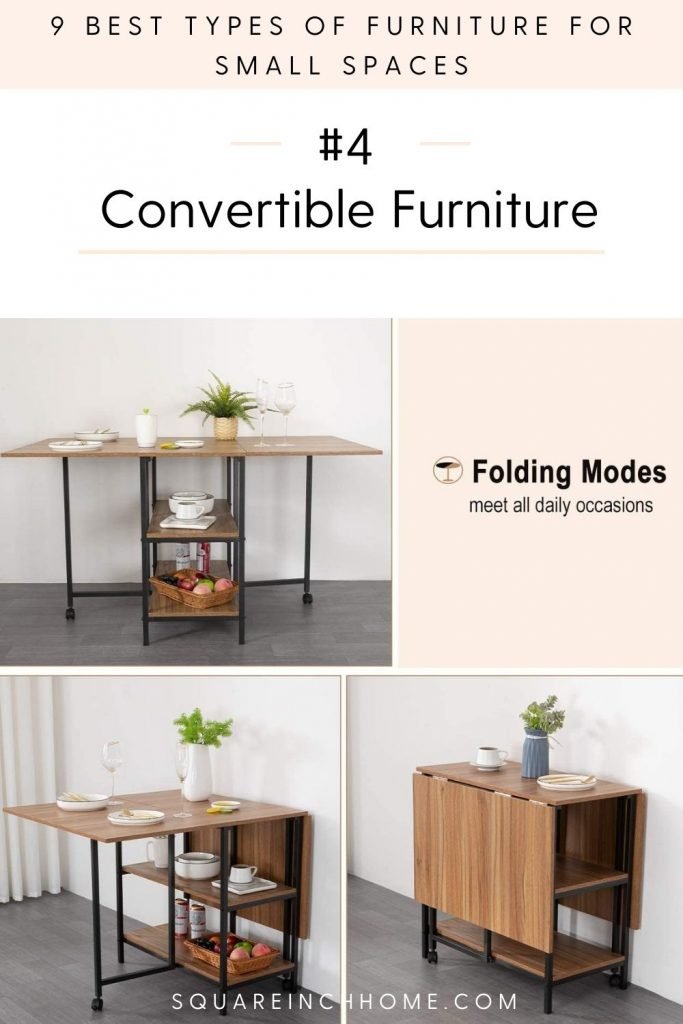 SHOP THIS TABLE: Here On Amazon: Multifunctional Dining Room Table with Extra Storage
Shop This Table Here on Amazon: White Wood Console-to-Dining Table
When shopping for furniture for small spaces, always look out for pieces that can be used in different ways. These are investment pieces that will work harder for you in the long run. See these Space-Saving Tables for ideas!
Rolling furniture
Pieces that can be easily moved from one room or area to another are pure gold. Wheeled kitchen carts, storage trolly carts, or a rolling bookshelf, for example, can all be used for multiple purposes in any room of your home. Multifunctionality and flexibility are essential for small space living.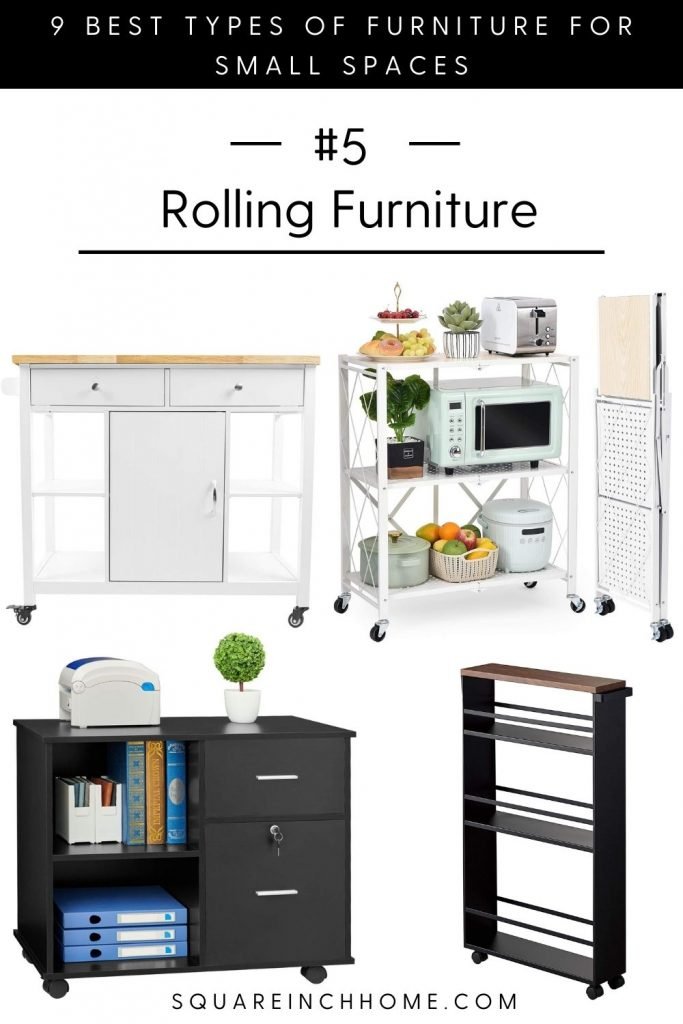 Shop These Pieces on Amazon: Rolling Kitchen Island Cart || Foldable Wheeled Storage Shelf || Rolling File Cabinet || Slim Rolling Storage Cart
Furniture With Extra Storge . 
Furniture pieces that help you squeeze in extra storage are also an investment. Beds with drawers underneath or a lift-top coffee table with storage or an all-in-one entryway storage unit will work harder for you in the long run. You'll get multiple functionalities without needing extra furniture. A great way to help reduce clutter and save money!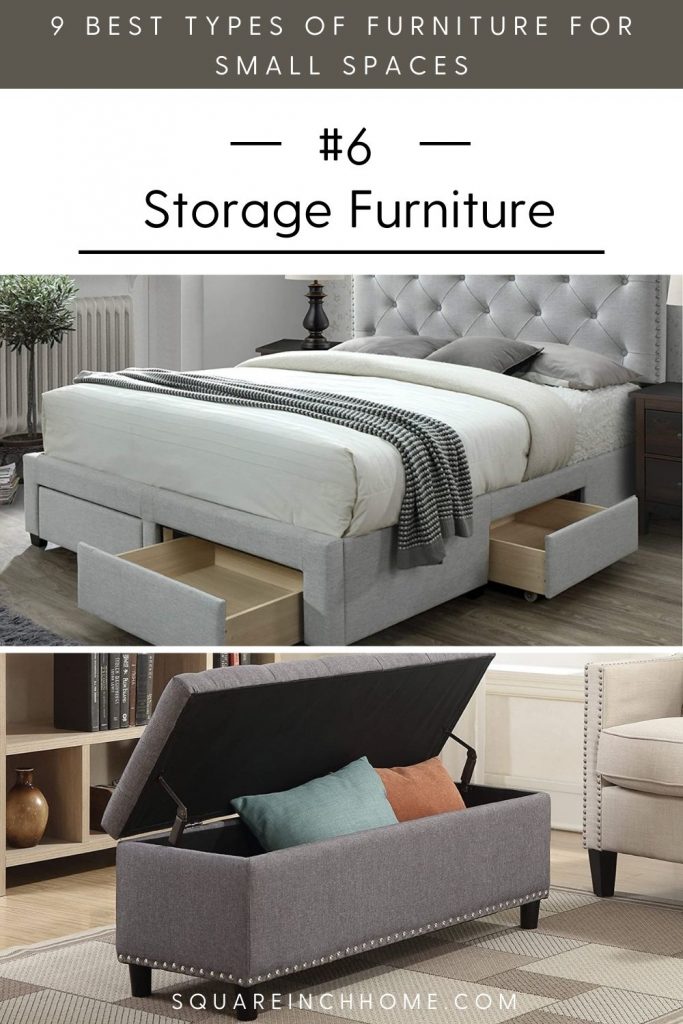 Shop These Pieces: Storage Bed (Available in Twin, Full, Queen & King) || Storage Ottoman (Available in other colors)
Corner Furniture
If you live in a small apartment or house you might have one or a few awkward corners. This is where corner furniture comes in. Corner furniture can help you save space as well as disguise those weirdly constructed corners in your home. I would opt for a corner storage shelf or cabinet if you want to squeeze more storage out of your space. Corner tv stands are also very popular. These pieces can add style and function to any room without overcrowding it.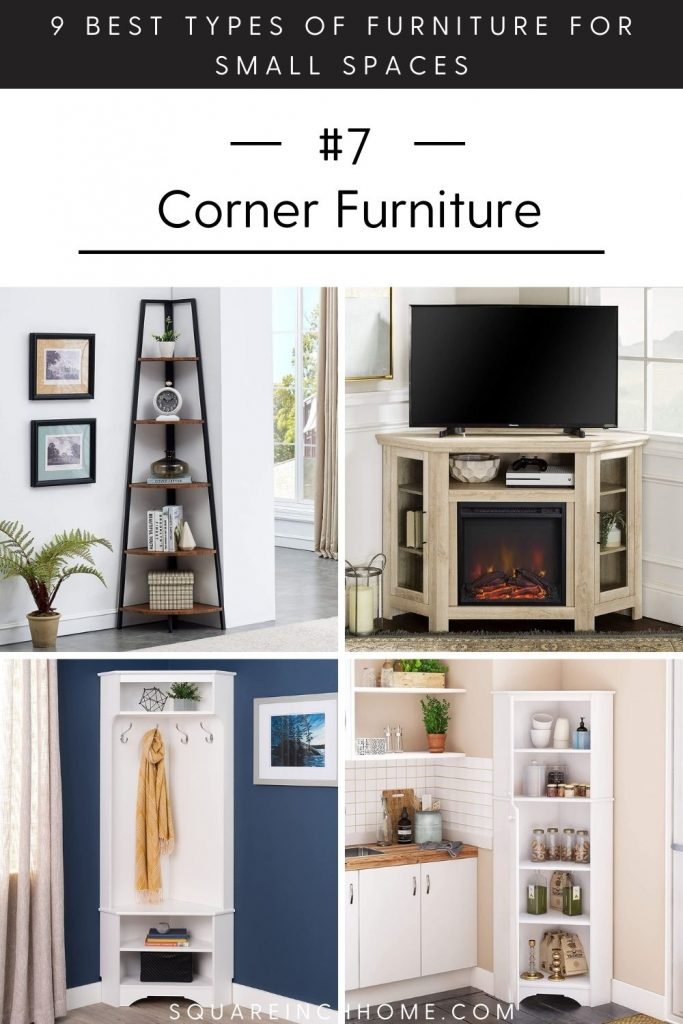 Shop These Pieces: Industrial Corner Shelf || Corner TV Stand || Corner Entryway Storage Unit || Corner Storage Cabinet ||
Wall-Mounted Furniture
If you've been reading about small space solutions you've probably learned by now that wall space is your best friend. wall space isn't reserved only for art and shelves. They can provide much-needed storage, space-saving benefits. Mount desks, bookcases, dining tables, and even beds on the wall to free up floor space.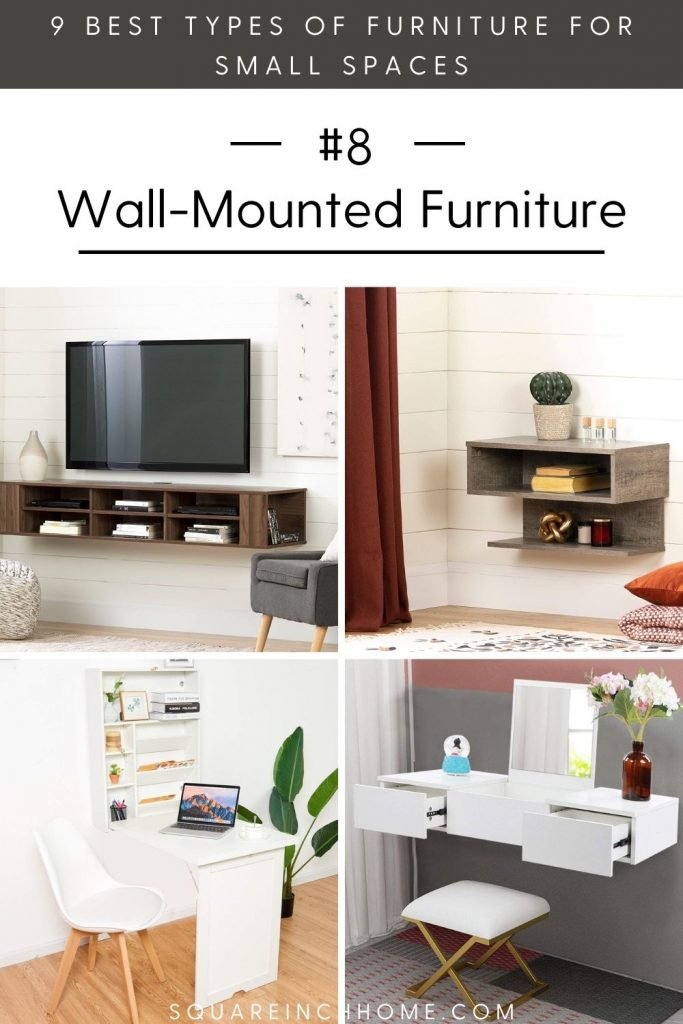 Mirrored Furniture
Mirrors not only create the illusion of more space but also reflect light. A strategically placed mirror can help bounce light around the room, making the space feel open and bright. Mirrored furniture can have the same effect. Just like transparent furniture, mirrored pieces often have that barely-there effect. "Reflective finishes don't create extra visual weight or mass for the eye to take in, which is key in smart small space design" — Apartment Therapy.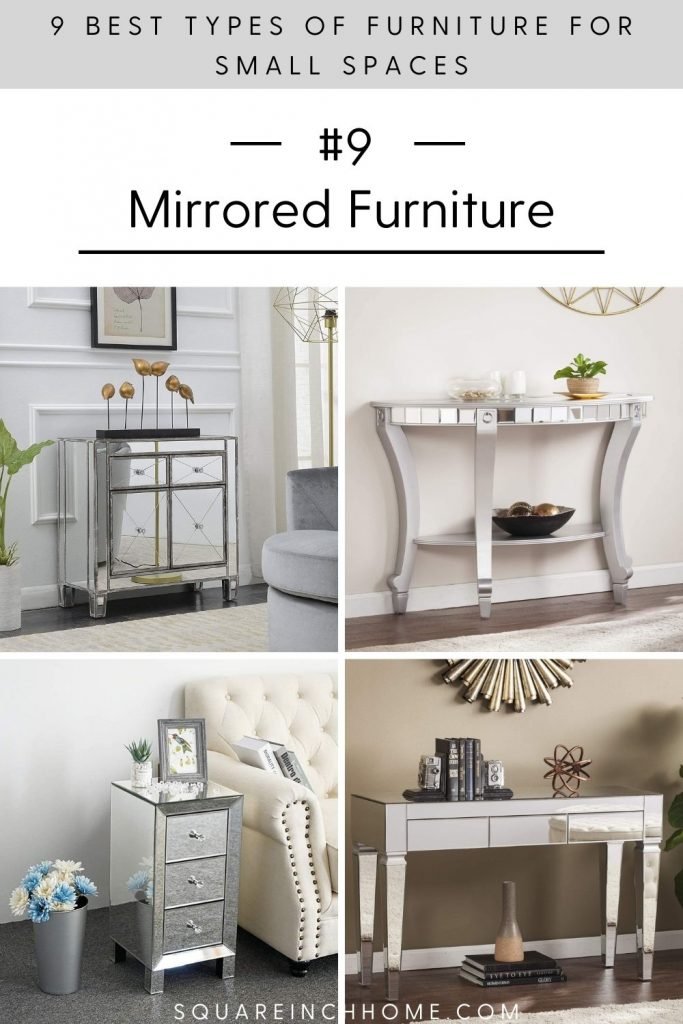 Shop These Pieces Here: Mirrored Cabinet || Mirrored Console Table || Mirrored End Table /Nightstand || Mirrored Desk/Console
Try a mirrored nightstand, a mirrored console table, or desk to maximize the light in your room. Mirrored furniture can always be counted on to add a sophisticated, luxurious look to any room.
There you have it! 9 best types of furniture for small spaces. The goal here was to illustrate a more strategic method for choosing furniture for small spaces. After all, the mission is to create a more comfortable and clutter-free home. I hope this helped to give you some ideas. Happy shopping!
You May Also Like:
Latest Posts:
---