10 Console-To-Dining Tables For Small Spaces & Big Entertaining Alike!
If you're looking for a multipurpose, space-saving (and space-making) table for your small home, A convertible console to dining table is a viable option. And this list is a great place to start!
Multifunctional furniture is like golden gems for small spaces. They offer versatility, functionality, and even style in one compact piece. An extendable dining table lets you make space for guests when you need it with the option to fold it away when you don't. It's the perfect table for small space dwellers who love to entertain!
Console tables that convert into dining tables offer extra space-saving benefits. Place it in your living room or kitchen for extra surface space. With a compact extendable console-to-dining table you can host all your dinner parties without cutting on your guest list. You can also use it as a desk or kitchen island!
BTW, for more dining table options for small spaces, check out this roundup of Modern & Stylish Extendable Dining Tables.
Ready to step up your small-space decor game?! Here are 10 console to dining tables to help you make space AND save space.
10 Space-Saving, Expandable Console Tables For Small Spaces!
*This page contains affiliate links. If you purchase something through these links, I may receive a small commission. See the full disclosure here. **
Kleberg White Convertible Console to Dining Table
Elevate your space with this farmhouse-style convertible console table from Overstock. Conveniently transforming from a small console table to a dining table it's the perfect addition for small spaces and big entertaining alike. An open design offers a clutter-free style with ample storage, while a rustic white finish adds a touch of southern charm.
Nathan James Drop Leaf Folding Console DiningTable
The Kalos Dining Table by Nathan James (from Amazon) is made from solid wood and is the perfect solution for small spaces. It can be folded for everyday use or opened to seat up to six people. This table is perfect for studio apartments, dorms or your kitchen. The walnut brown tabletop blends in with any color chair, and the X-shaped base adds stability and a modern style. See it here on Amazon.
Bryce Convertible Console
Enjoy the versatility of this handsome piece. The Bryce Convertible Console/sofa table from GrandinRoad features a fold-out top that caters to all your needs. Unfold it for extra dining space, a work area, or during game night! When you're guests are gone, just fold it back up and slide it behind your sofa to save space. The top is great for displaying plants, pictures, and other decor accessories, too!
Brushford White Convertible Console to Dining Table
The Brushford Convertible Console Dining Table unfolds to seat up to 4 guests (6 if you don't mind knocking elbows). This table is perfect for an open concept home and provides ample storage. It would make a great kitchen island too! This is a multifunctional piece worth the investment. Add it to your dining room, kitchen, or entryway for extra surface space. See it here at Overstock.
MiniMax Extendable Dining Table
If you love entertaining larger groups then this is the table for you! The MiniMax Extendable Table expands to six different sizes and seats up to 12 persons. Take it from a console table at only 17″ to a large dining table at 118″. That's a console, a desk, a breakfast table, and a dining table all in one piece! The MiniMax comes with five heavy-duty canvas bags that store the extra pieces (or leaflets) of the table. This multi-purpose table is perfect for apartments, condos, or anyone wanting flexibility and versatility at home. Get it here on Amazon.
Edmaire Convertible Dining Table and Office Desk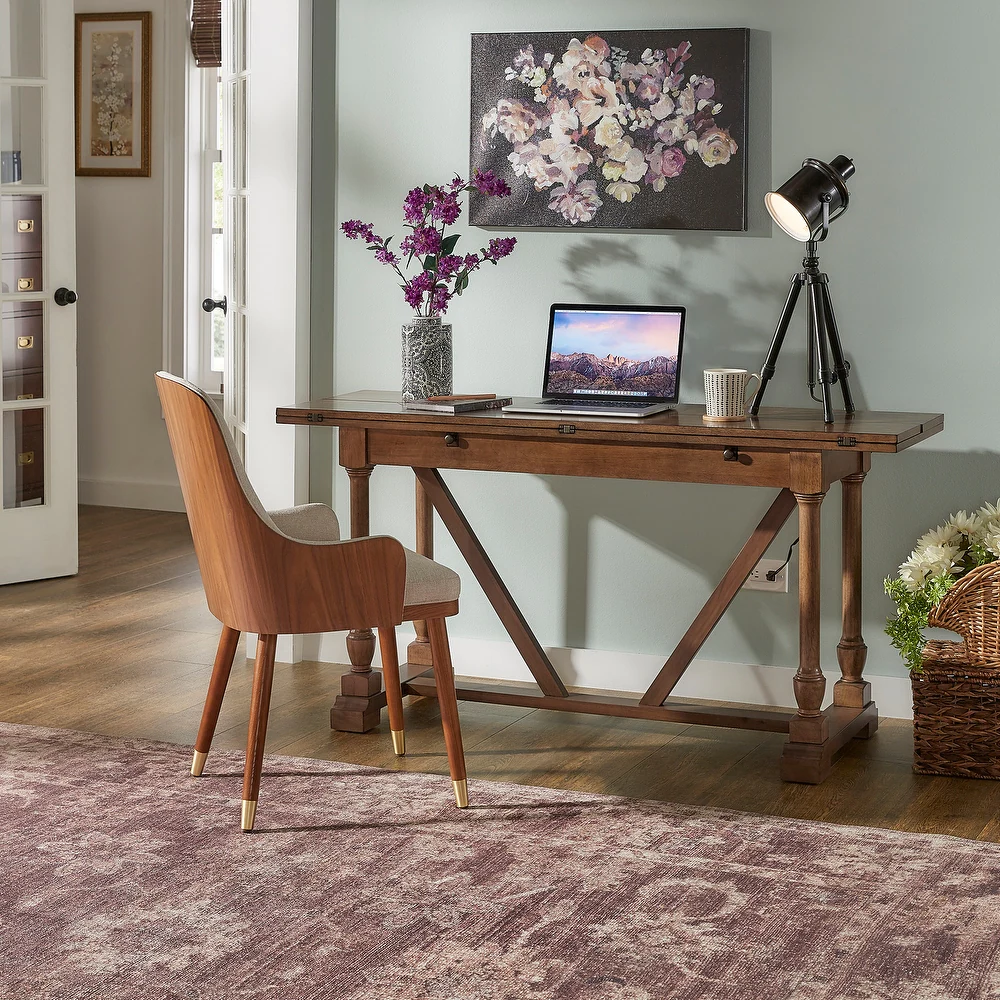 The Edmaire Convertible Console To Dining Table/Desk features a classic design with an edge of rustic charm. A tri-functional piece at best! Use it as an office desk, console table, and dining table with ease. The streamlined design complemented by quality materials will add a sophisticated appeal to any space and is sure to blend nicely with any decor. Get it Here at Overstock.
Rukulin Foldable Kitchen Table Dining Table
The Rukulin Foldable Dining Table (Amazon) is versatile, sturdy, and mobile! It seats up to six people when extended and the wheels lock to ensure stability. The wheeled feature makes this table easy to transport, store and move around. This one is probably the most space-saving option on the list. When folded down this table occupies only a sliver of space, making it perfect for tiny homes and apartments. It's also available in brown. See it Here On Amazon.
Cayson Convertible Console to Dining Table in Oak Saddle
Complete your dining space with the Cayson Convertible Console Table. It's a space saver that will blend in with your existing furniture and it features wine bottle storage, ample shelving, and a drawer for placemats, flatware, and other serving accessories. When you need to add a little extra seating during holidays or large family gatherings, just pull up the hinged top, and voila! You have extra table space. See it here at Overstock.
Home Furnishings Flip-Top Expanding Console to Dining Table
This farmhouse-style Flip-Top Expanding Table offers the flexibility of a casual dining table as well as a rustic desk or console table. With the sturdy crossbeam legs and pull-out wood supports, this table is perfect for any space. See it here on Amazon.
Somette Gramercy Weathered Grey Convertible Console Table
The Somette Weathered Grey Extendable Console Table is a great way to add a touch of sophistication, and style versatility to any room. This console is finished in Gramercy Weathered Grey with stair-step feet and a wonderfully curvy accent crossbar, making it the perfect addition to any space. See it here at Overstock.
Space is a premium for apartment dwellers and tiny homeowners. While it's impossible to have everything, there are ways to increase the function of a room without adding more furniture. One of the best ways to maximize your living space is to use furniture that serves more than one purpose. Convertible console tables are a perfect example of this type of furniture. They can be a dining table, a desk, or an accent table to display your decor. They can also provide extra storage space. All without taking up too much space in your home. This flexible piece of furniture will work harder for you in the long run and is definitely worth the investment.
You May Also Like:
---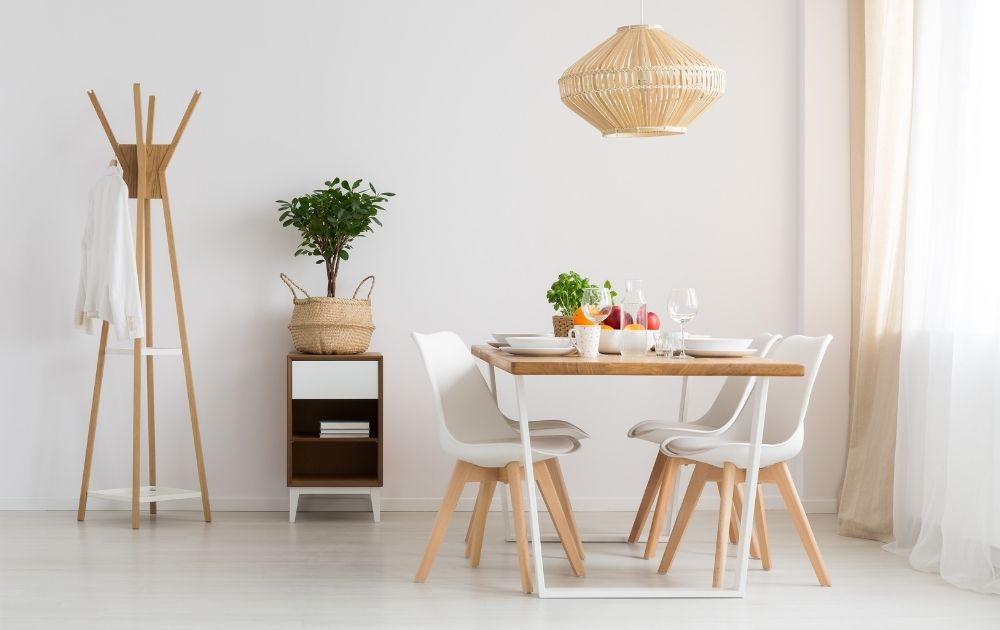 Related Article:
12 Expandable Dining Tables To Help You Make Space AND Save Space!
---
Want More Small-Space Furniture Ideas?
Pin This For Later!