Modern, Earth-Tone Bedroom Decor Inspo. Get The Look!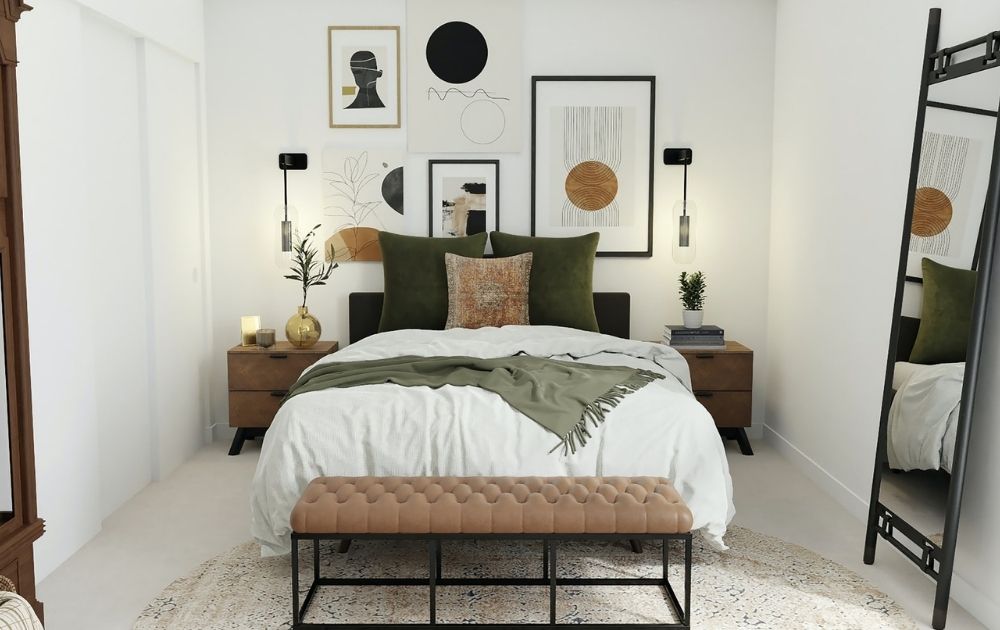 Image: SpaceJoy via Unsplash
If you want to create earthy bedroom decor, try adding some browns and greens to your color scheme. These soothing tones blend beautifully in this small bedroom for a modern and inspiring design. This room is small but looks so bright and open that you don't even notice the size. All the complementary accessories and furniture steal your attention away from the smallness of the room.
the artwork is simple yet striking with modern and abstract shapes. The large accent pillows and throw blanket make this space feel cozy and inviting. The bench at the foot of the bed adds an elegant and sophisticated look to the space. Everything in this room just works!
I loved this bedroom decor so much I wondered if I could recreate the look.
So I did!
After scouring the internet I found some amazing pieces to help you achieve this gorgeous earth-tone bedroom decor. If you're as obsessed with this space as I am you can steal the look below!
*This page contains affiliate links. If you purchase something via these links, I may receive a small commission at no extra cost to you. See the full disclosure here**
Pin This For Inspiration Later!
Shop This Earth-Tone Bedroom Decor!
You May Also Like: