Visual Clutter: 8 Ways To Avoid It In Small Spaces
Clutter, in general, is like kryptonite for small spaces. It's sneaky as hell. Building slowly, day by day until it turns into this massive eyesore in the room.
We all have that one chair, table, or corner that just gets heaped with stuff every day. This type of clutter is easy to deal with. You can identify it and the solution is to just put stuff away. Right?
Visual clutter, on the other hand, is insidious and an entirely different beast. It's not as obvious as regular clutter but it's just as annoying. Visual clutter can make a perfectly clean room feel a little…well, off. You can't always pinpoint the cause of that feeling but something just doesn't feel right with the room.
So here's how you can spot and eliminate visual clutter to create a calm and inviting home and improve its overall appeal.
**This page may contain affiliate links. If you purchase something through these links, I may receive a small commission. I only recommend products that I love and trust! **
8 Simple Ways To Eliminate Visual Clutter In Small Spaces.
1. Take It Easy With Patterns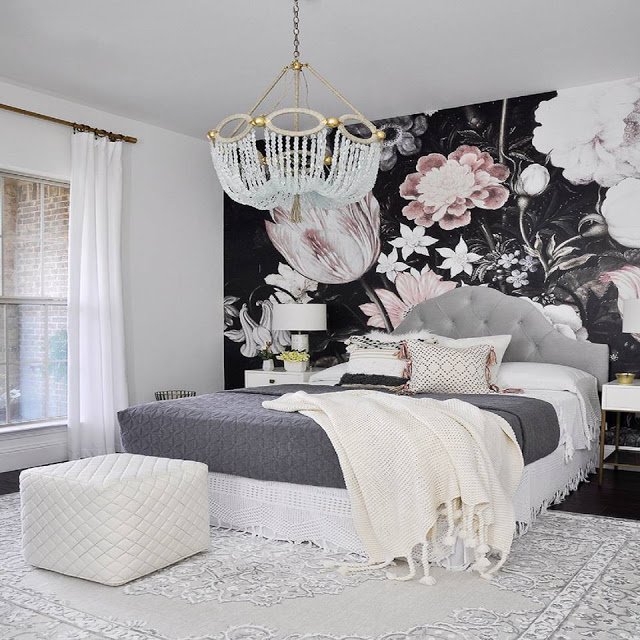 Loads of pattern in a small space can create visual clutter real quick! Avoid too many conflicting patterns throughout the room. Patterns draw attention, and if there are many conflicting designs, it becomes difficult to visually process all of them. This can be overwhelming, especially in smaller rooms.
To Avoid This:
Use at least three patterns in a room and vary the scale. One large, one medium, and one small; or one large and two different mediums for instance.
Try to use colors that are the same intensity. For instance, don't mix pastels with jewel tones. Different patterns can often work together if they're of the same hues.
Patterns don't have to be full of different colors. Tone-on-tone patterns can still give a room depth and character while remaining elegant.
Source: The Spruce
2. Use The Rule Of Three
There is a popular thought that things that are grouped in threes are inherently more appealing. The interior design world understands this all too well, and It's a useful principle for decorating with accessories. If you want to display a special collection of artifacts or decor accents, try to limit that collection to just 3 items. The rest can be stored away safely. You can always interchange these items whenever you like.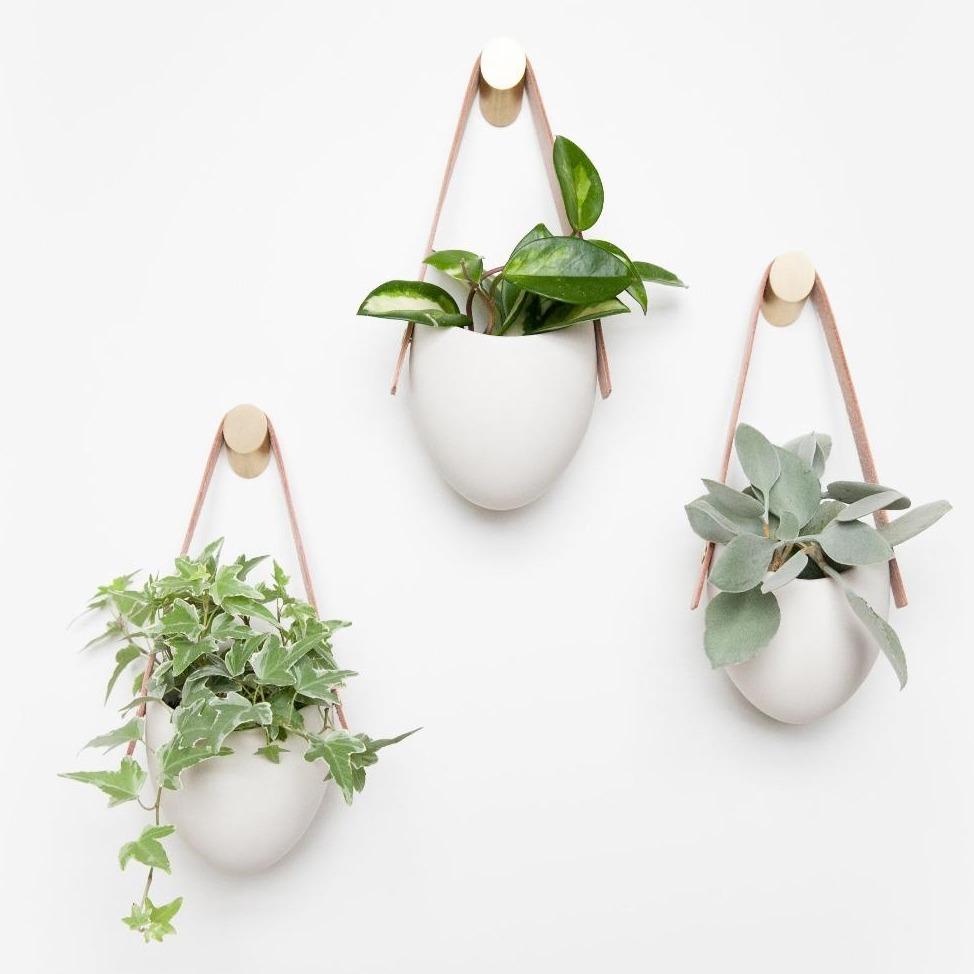 Sienna Planter with Leather Strap – Set of 3 ($138) from Winnoby
3. "A Place for Everything & Everything In Its Place"
Survey your room, right now. Take note of the things that always end up strewn about on the kitchen countertops, the coffee table, your desk and other places they really shouldn't be. Now designate a specific place for those things. Use trinket trays for little things like keys, wallets, spare change, and other smaller bits. Use remote organizers for all your controls and devices. Use decorative stylish, decorative storage solutions that add to your decor. These are perfect for hiding all the ugly bits.
Bamboo Charging Station Organizer with Extra Storage – From Amazon
PRO TIP: Put these storage items in the places where you normally chuck them. If you throw your bag on the floor as you enter the door, install a wall hanger near the door. This will make it easier to get into the habit of putting it away. The point is to designate a space (visible or hidden) for EVERYTHING!
4. Float Your Furniture
There's something about legless nightstands and floating shelves that really opens up a small room. Even raised furniture can significantly eliminate visual clutter. Use floating, wall-mounted surfaces wherever you can. Floating nightstands, shelves, and desks create the illusion of more space. You can even add extra storage underneath!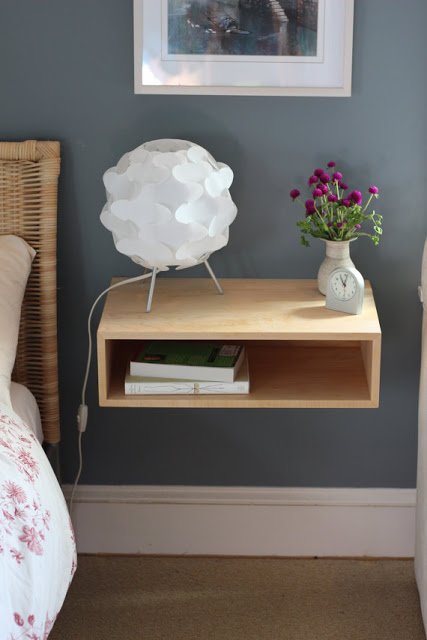 Solid Maple Floating Nightstand – From Amazon
5. Go For Leggy Chairs & Sofas
Spidery legged furniture may not sound appealing but they work perfectly in small spaces. Think Mid-Century Modern furniture. Accent chairs with slim, long legs occupy less visual space, thereby eliminating visual clutter. There's nothing blocking the eye from following its visual path. In a sense, you can easily 'see-through' the base of the chair. Use this rule of thumb when shopping for other types of furniture too. For small space sofa ideas checkout these 'Leggy' Sofas, Perfect For Small Living Rooms!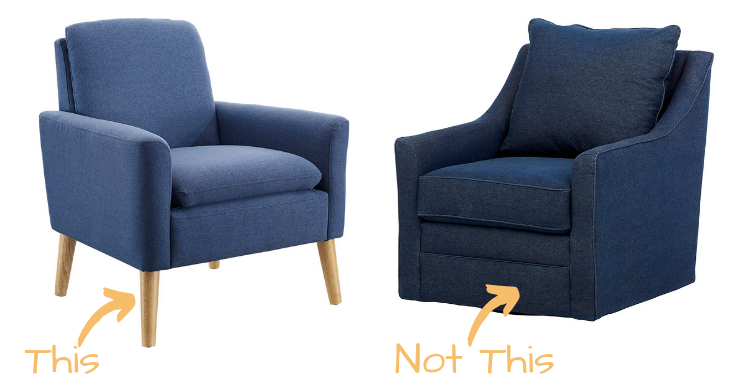 NOTE: Every piece of furniture in your home doesn't have to follow this rule. The second chair can work if you have other trim, 'leggy' furniture in the same room. It's about balance. Mix it up a bit to create visual interest. For more ideas on how to decorate small spaces, check out This Guide.
Amazon Has A Small Space Furniture Collection that's certainly worth looking at.
6. Spread Things Out
If your nightstand is crammed next to your dresser, that's crammed next to an accent chair, then you're certainly begging for the cluttered look. The more space between your furniture the less cluttered your space will look. I know, I know, space is limited in tiny rooms and you want to fit all of your stuff in there. But it doesn't have to be crammed in. Allow a couple of inches between items to create a nice flow within the room. Bear in mind, if you do have a lot of stuff in a very small room, you might need to let some things go, or move them to another room.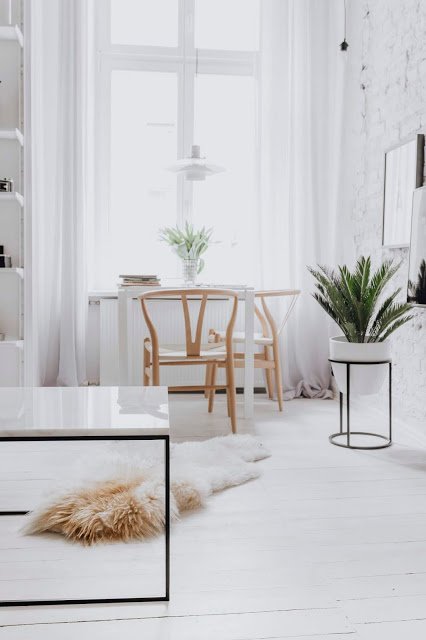 7. Use Matching Storage Containers.
Remove all your unnecessary bathroom items from your bathroom counter. These can go in your draws or cabinets. Only the items you use on a daily basis should be on the countertops. For these, use matching soap dispensers, lotion bottles, and other bathroom storage items to create a cohesive, stylish, and more importantly, uncluttered look.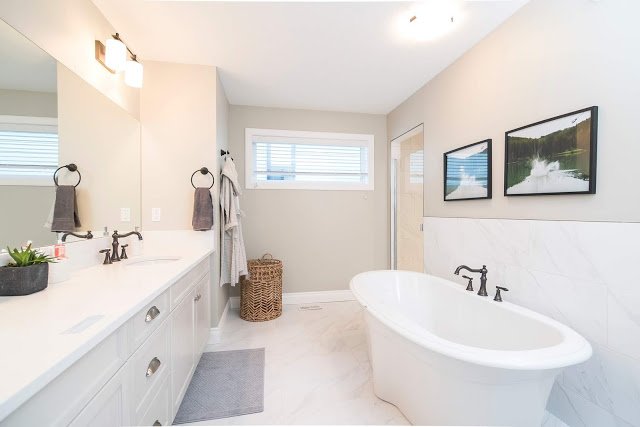 RELATED POST: 10 Clever Storage Ideas For Small Bathrooms
Repeat In The Kitchen
Pantry Spice rack lookin' all kinds of crazy? The different colors, shapes, and sizes of spice bottles and food packaging are the culprit. Ditch the branded containers they come in and go for matching clear spice jars instead. Many of these come with labels so you can keep things organized. You'll be surprised at the effect. This space-saving, Stackable container set from Amazon comes with the full works! Remember to Keep counters clear and store away and items you don't use daily.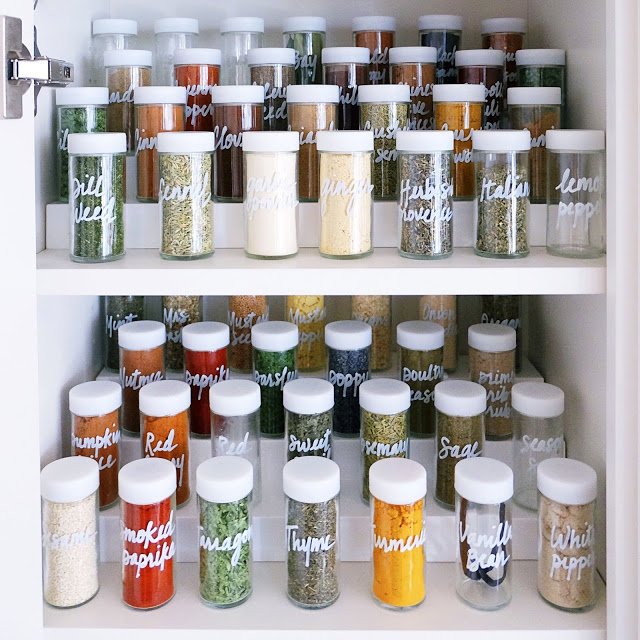 8. Make Your Furniture Multifunctional (So There's Less Of It)
Finally, double-duty furniture is a must for small spaces. Your small desk can be used beside your bed as a nightstand or a makeup vanity. That's three-for-one right there! That means you'll need one less nightstand and one less vanity for that room.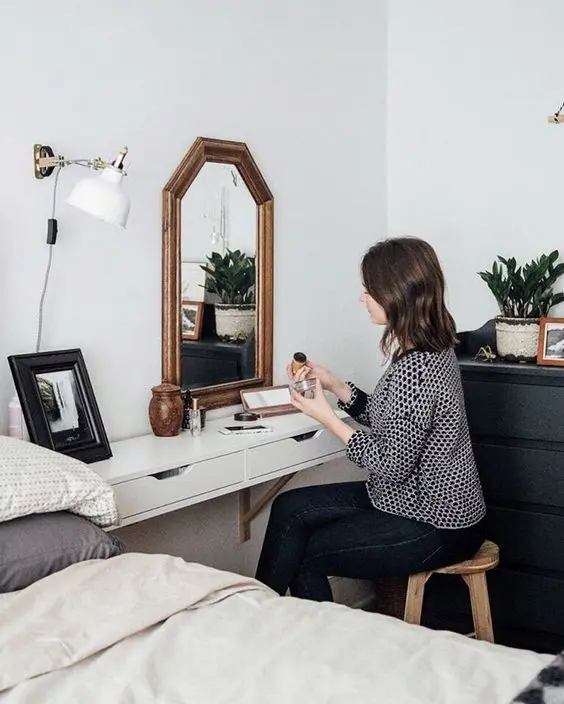 Survey your existing furniture items and figure out which of your pieces can be used in multiple ways. You'd be surprised at the possibilities. When shopping for small space furniture, think carefully about the function of that piece and if it can be used for other purposes.
If you're looking for small scale furniture these online stores are perfect for small spaces!
A More Permanent Solution To Clutter…
In the end, the only way to win the war against clutter is to simply have LESS stuff. It may not always be easy to get rid of some things, but the reality is that small living spaces will always demand a certain measure of minimalism. In this case, less is actually more. Less Stuff = More Space.
Happy De-cluttering!
You May Also Like:
11 Simple Truths About Decluttering.
8 Ways To Organize A Small Kitchen Without A Pantry
Stay Clutter-Free With These Beautiful Handwoven, Artisan Baskets
23 Decorative Wall Shelves For More Beautiful Storage
These Amazing Storage Finds Double As Decorative Pieces
20 Stunning Mirrors WIth Shelves & Hooks
PIN THIS FOR LATER!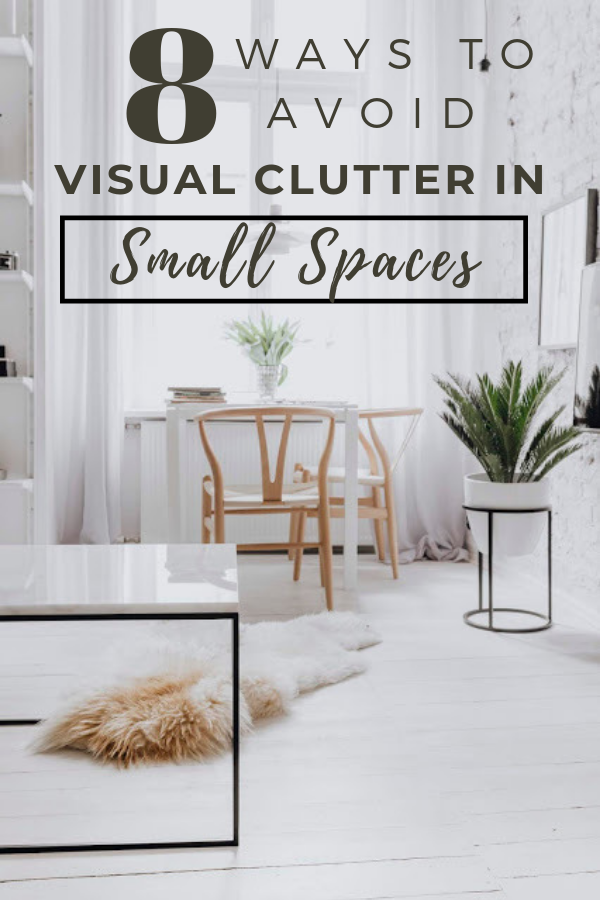 Creating a Cool and Calming Oasis: 4 Tips for a Relaxing Summer Home
Latest Posts: