Where To Buy Furniture For Small Spaces? (That's Not IKEA)
Whether you're downsizing or moving into your first apartment, finding the right-sized furniture can be difficult. Especially when you're not sure where to look. A simple google search "where to buy furniture for small spaces" can turn dark real quick What starts off as a fun online shopping day can turn into a treacherous hunt for the right piece. We've all been there.
So, to help narrow down your search, I rounded up some small-space-friendly furniture stores for you to bookmark. These retailers offer a wide variety of scaled furniture for small spaces. Some have an entire section dedicated to small spaces! Most of these stores have frequent and ongoing sales, so you're always sure to grab a good deal.
I included some Retailer Highlights for each store, which are just some interesting bits that stood out to me while browsing these sites. I was pleasantly surprised to find that some of these sites had an entire (hidden) section for small space furniture.
I love it when online retailers create a special place for small spaces!   
Okay, enough chit-chat. Check these out!
**This page may contain affiliate links. If you purchase something through these links, I may receive a small commission at no extra cost to you. See the full disclosure here.**
Where To Buy Furniture For Small Spaces?
Apt2B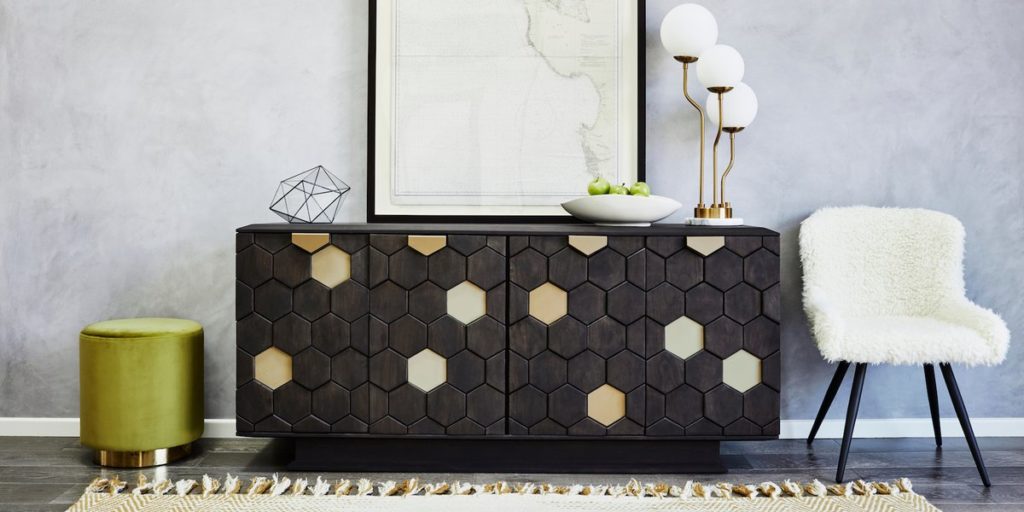 Preston Sideboard From Apt2B
When You're Finally Ready For 'Grown-Up' Furniture. #Adulting
Apt2B was designed with small spaces in mind. You won't have to sift through oversized options to find the right scale pieces. They're all the right size. Apt2B furniture style can be described as youthful yet mature. If you're ready to start #Adulting, then it's time to invest in grown-up furniture.
So if you're ready to ditch the futon and get a real sofa, this store has some beautiful options to help you get started. Plus, You get to customize many of their pieces. Choose your fabric, wood finish, and combination!
Pricing: QualityApartment Sofas start at around $1000
Highlights:
RELATED POSTS:
22 Small Entryway Storage Cabinets For Optimum Style & Storage.
12 Slim Console Tables For Hallways & Small Entryways
Floyd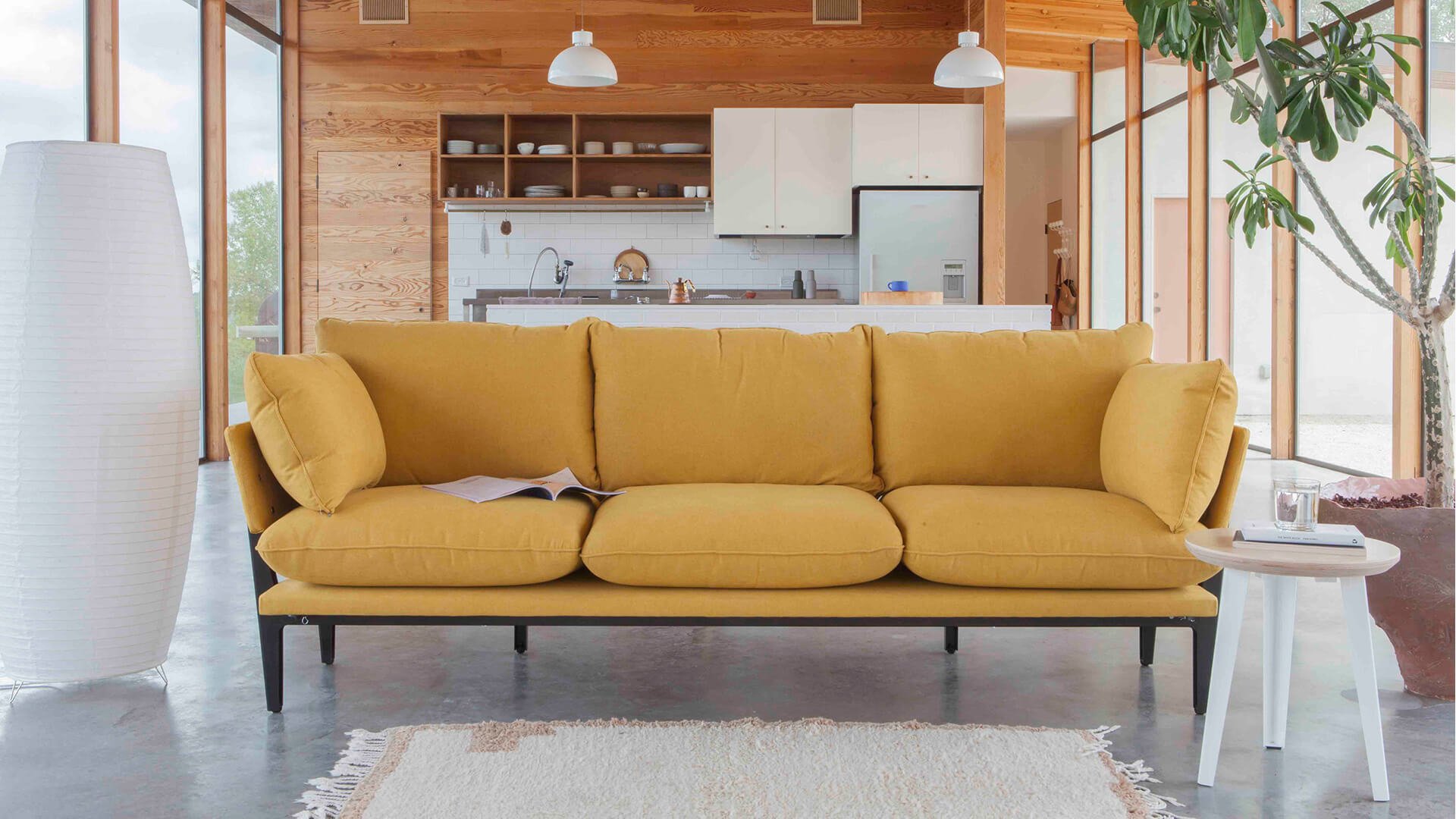 When You Want A Sofa That Lasts Longer Than You Do. "Furniture For Keeping" – Floyd
If you hate having to throw away old and dilapidated furniture with every move, then Floyd is the solution!
Floyd's story began with a disdain for disposable furniture and a mission to create sustainable, lasting pieces, designed to fit the way we live now. Their ethos: "Furniture should be made for the home, not the landfill. Made with materials that last."
It's "furniture for Keeping". Sounds good to me!
Floyd has a stunning portfolio of modern and modular pieces, made from beautiful birch and veneer wood. The design is sleek, trim and perfectly scaled. All the things you want when working with small spaces. Floyd's furniture is Simple Elegance at its best!
Discover:
The Sofa | The Bed | The Tables | The Shelving | Room Bundles
Pricing: Between $185 (Side Table) – $1,795 (Chaise Sofa)
Retailer Highlights
Modern, modular design that fits!
30-Day Returns
10 Year Warranty
---
---
Overstock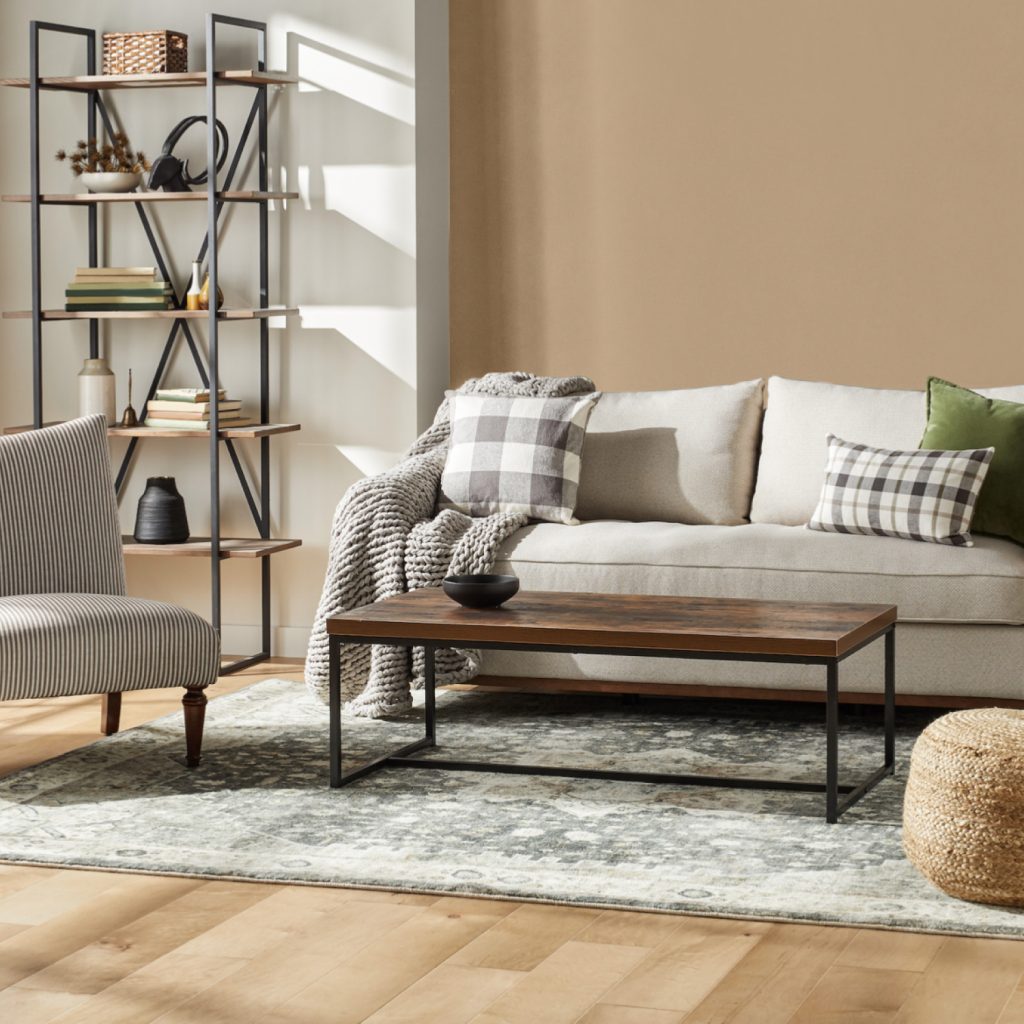 A Household Brand With A Dedicated Small-Space Section
Overstock is right up there with Amazon and Wayfair when it comes to furniture and decor. With frequent sales and thousands of beautiful furniture pieces to choose from, this retailer is a one-stop-shop. Plus their small-space section is filled with modern, stylish, and affordable options.
Pricing: There is something for every budget at Overstock. Small Space Sectional Sofas can start at around $600. Overstock runs sales and special promotions all year round so finding a good deal at any time is easy!
Highlights From Overstock
Smart Furniture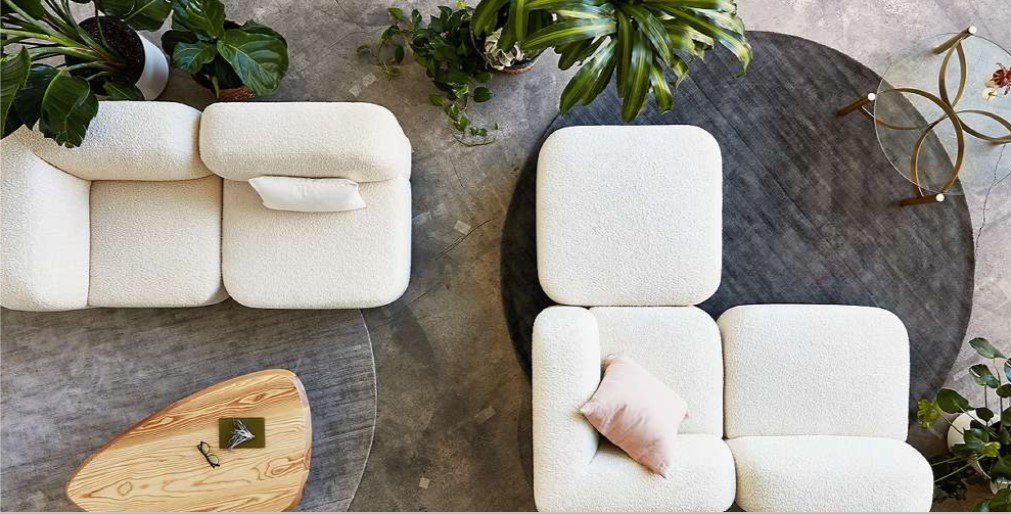 When Modern Furniture Is Your Thing!
Smart Furniture specializes in both residential and office furniture, with modular & modern designs. Some 180 brands can be found on their website including Herman Miller, Steelcase, Stressless, Knoll, Gus, Vitra, Blue Dot, and BDI. Smart Furniture offers free shipping on select brands.
Pricing: Storage beds start at $300
Highlights From Smart Furniture
Related Post:
24 Stylish Desks For Your Small Home Office
12 Expandable Dining Tables To Help You Make Space AND Save Space!
---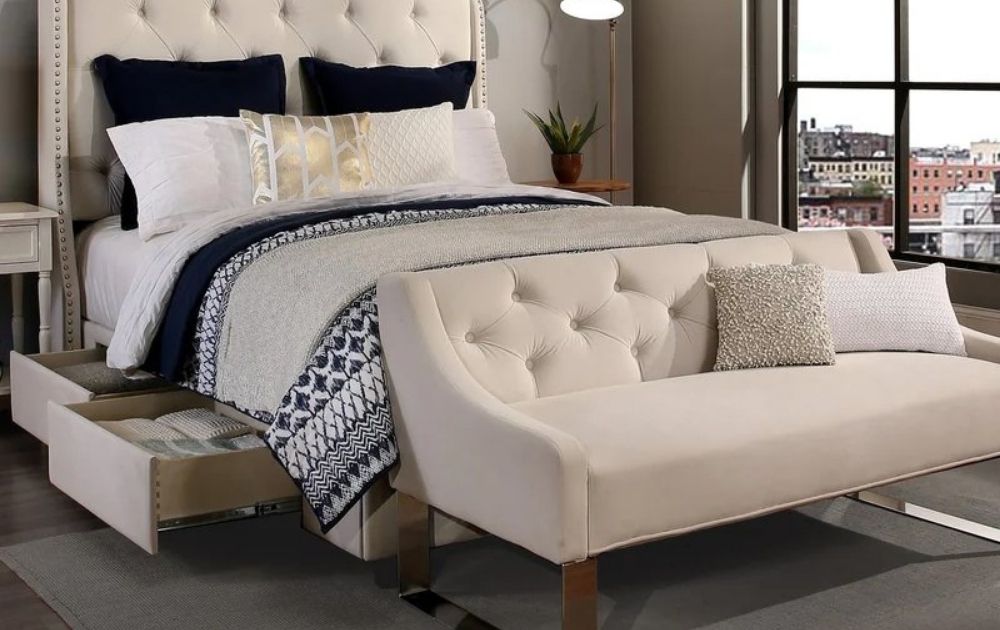 ---
Society 6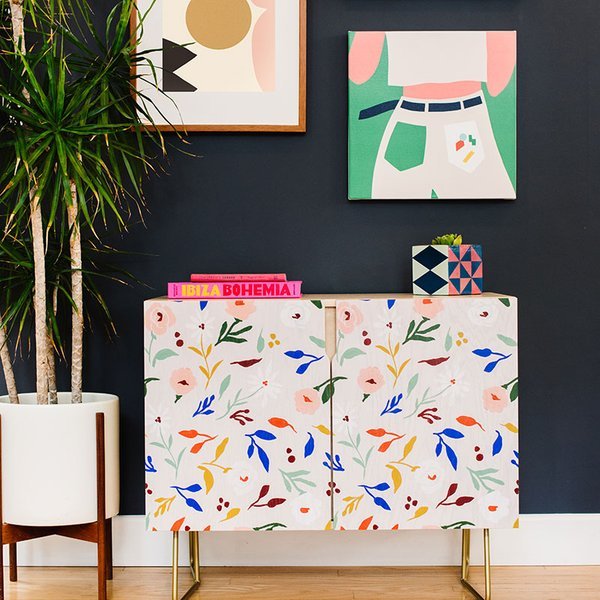 Shop This Credenza Here.
When You're Artsy (Or Like To Pretend That You Are…).
Not a usual furniture contender, I know. But Society6 launched its furniture collection back in 2019 and it's been a hit ever since. If you're looking for a unique, artsy statement piece at an affordable price, this is where to start.
Society6 offers small credenzas, end tables, bar stools, and benches, all designed by independent artists and perfectly scaled for small spaces. Whether you prefer minimalist style or maximalist interior design, Society6 has something for everyone.
Pricing: Range from $119 (Side Tables) to around $400 for (Credenzas)
Highlights:
Every purchase pays an independent artist or designer
Huge selection of art and design furniture pieces

Furniture pieces are perfectly scaled and visually lightweight

Your favorite artwork or design is available on multiple items.
---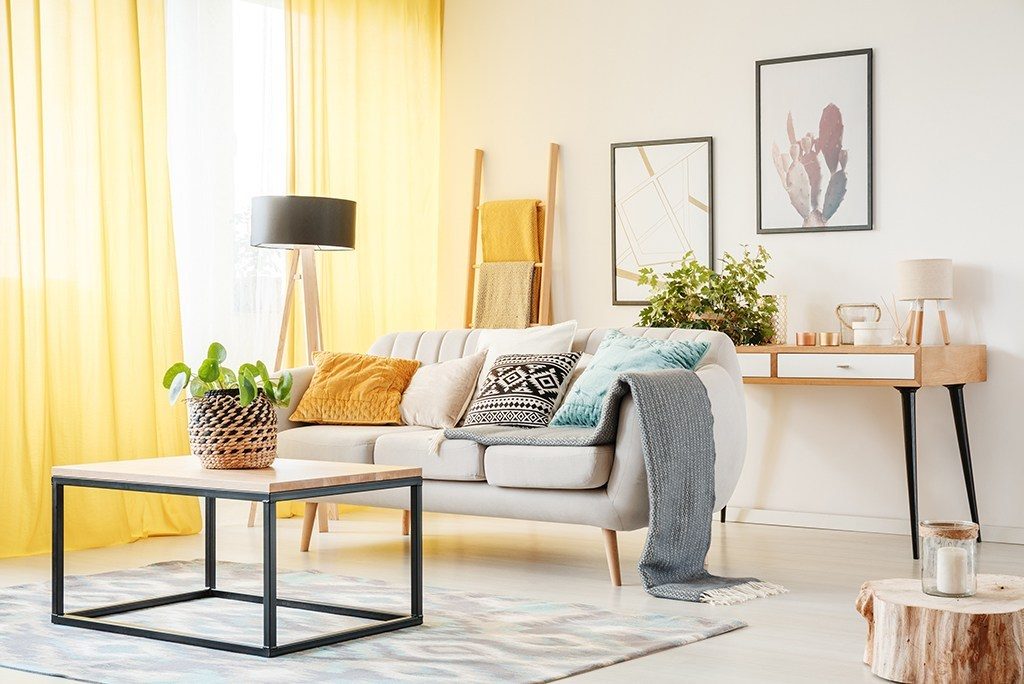 Related Post:
The Ultimate Guide!
---
Urban Outfitters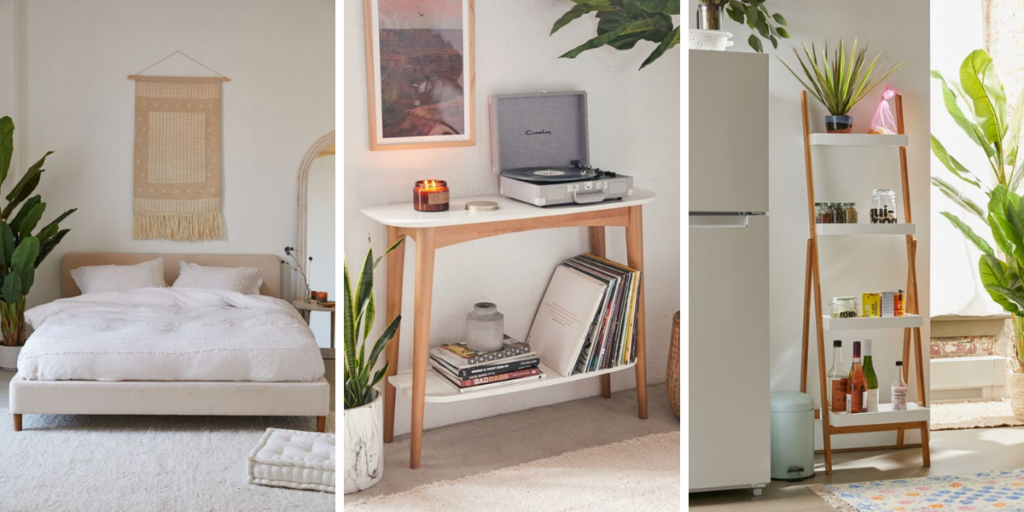 When You Realize That Simplicity Is STILL More Beautiful!
Urban Outfitters furniture can be described as trendy, effortlessly stunning and super affordable. Because furniture for small spaces should not be overcomplicated. If you love simplistic wooden furniture and rattan pieces, you'll love UO's new Huxley and Miko collections. They even have a section for Small Spaces.
Pricing: Beds as low as $499, Sofas as low as $399
Retailer Highlights
There you have it. A few worthy choices to consider when buying furniture for small spaces. This list is a great place to start your search and should stave off any choice overload and paralysis when shopping.
Don't forget to bookmark your favorite stores!
I'll continue to update this list as I discover new stores online. Until then,
Happy Shopping!
---
PIN THESE FOR LATER!