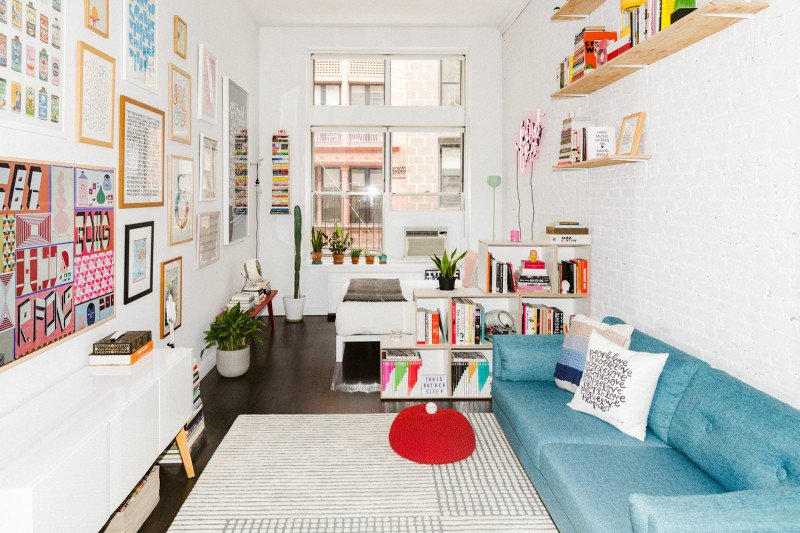 Source: Domino
Maximalism + Small Spaces = Chaos & Claustrophobia? Maybe…Or Maybe Not.
Trigger Warning: Minimalists, be warned. This page contains images of brightly colored rooms, copious amounts of pattern and…just…a lot of STUFF. If you find any of these things distressing, then I advise you to look away. Look away Now!…HeHe.
With that out of the way, let's talk about Maximalist Interior Design.
We know it involves filling your home with A LOT of stuff, but what is Maximalist Interior Design, really?
When you hear maximalist interior design you might think hoarder house, right? (…or maybe that's just me). But, as it turns out, maximalism far more interesting than that.
"Maximalist style was a reaction to the minimalist movement and has aspects and elements that are practically the polar opposite to minimalist components. White walls, minimally decorated walls, and quiet color palettes are a no-go for maximalism. When it comes to decor, the bigger, brighter, and busier the better."
Source: Deirdre Sullivan- Home Improvement & Interior Design Writer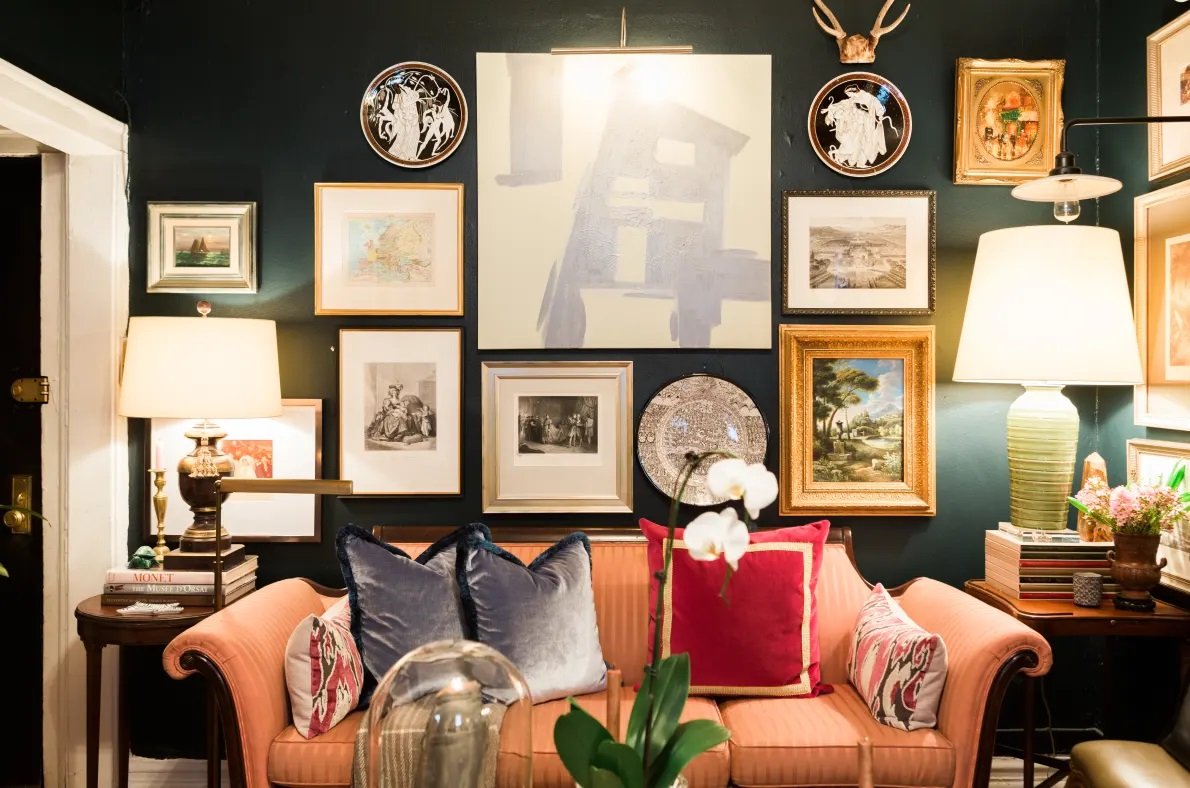 Source: Apartment Therapy
Maximalist style certainly follows a 'More Is More' philosophy when it comes to decor. This no-rules-necessary approach to decorating is the cornerstone of maximalism and an attractive quality to many designers.
Some Common Characteristics Of Maximalist Design
Think:
Busy walls – walls laden with photographs or art often times, from ceiling to floor
Bold colors and repetitive patterns
Multiple items like books, sculptures, plants, etc.
Eclectic furniture
Multiple, layered textures
Layered rugs
A mixture of interior design styles and
Often times it's literally all of the above combined…
More Than Just 'Stuff'
At first glance, you'd think that maximalism encourages hoarding (no one would blame us). But according to Sullivan, Maximalist interior design:
"promotes repetition, patterns, bold palettes, intricate graphic details, and one-of-a-kind possessions. Maximalism is a loud style composed of mixed patterns, excessive, but curated collections, and saturated colors… maximalism encourages utilizing your space in the boldest way possible."
Source: Deirdre Sullivan
Maximalism In Small Spaces
It may seem counterintuitive to add more stuff to an already small space, but maximalists just don't care. They've managed to squeeze almost all their prized possessions into their small homes effortlessly.
If you're a born maximalist downsizing to a smaller place, you should know that you don't have to sacrifice personal style for more visual space. In other words, you don't have to force minimalism just because you live in a smaller home. Maximalist Can Do Small Space Too!
These small spaces are bursting with personality, color and of course style. It's chic maximalism without the claustrophobia.
Delhi Maximalist Living Room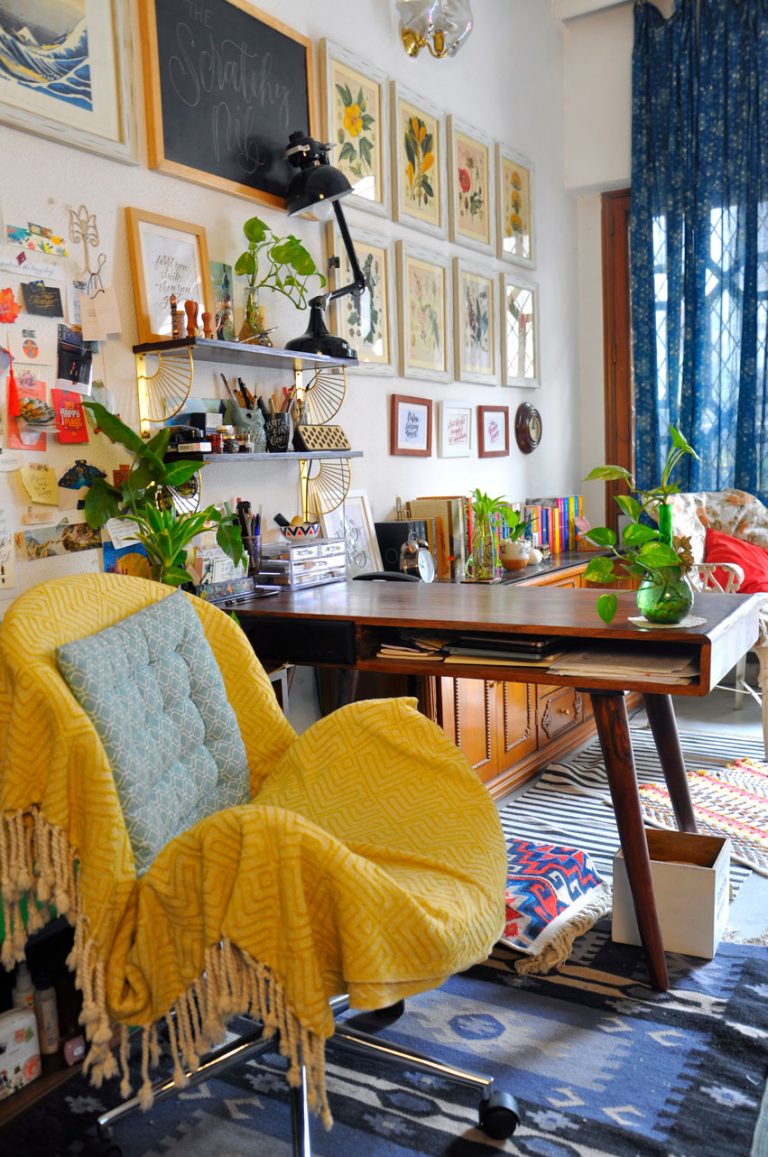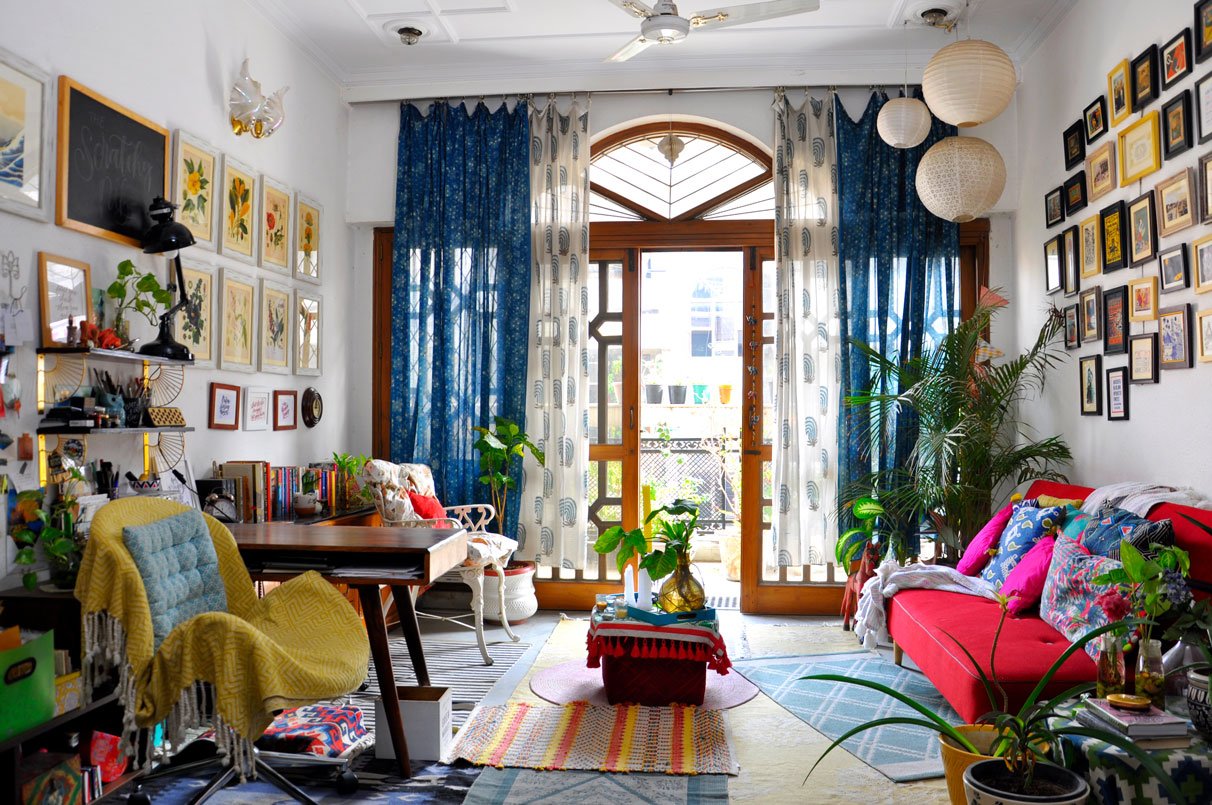 Photo by @palakmittal.
Source: UbanClap.com
This Delhi-based work studio-turned-livingroom gets maximalist decor right. There are tons of colors in this room, but they all come together beautifully. They all play their own part in the overall design. While this room certainly has a lot going on, it doesn't look or feel cluttered. It's just full of personality!
Tiny Home Maximalism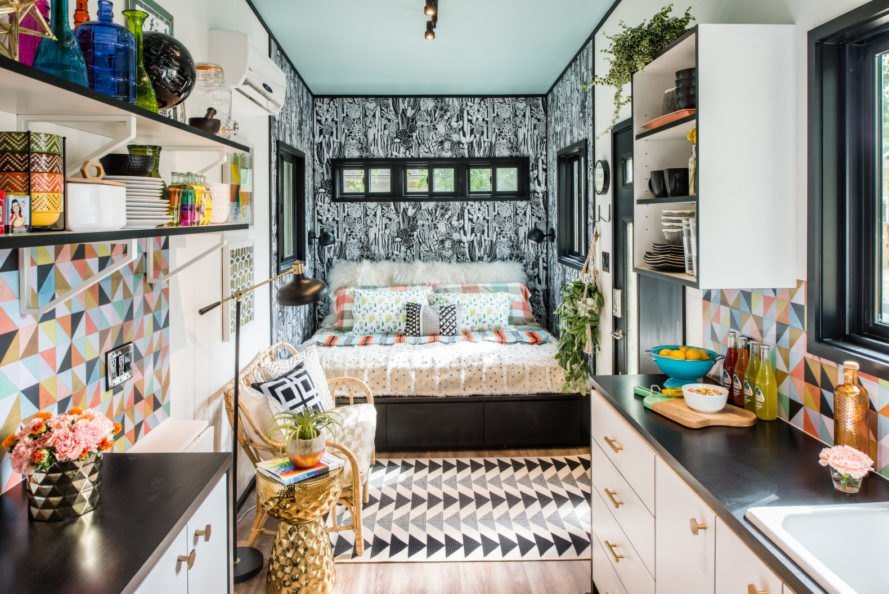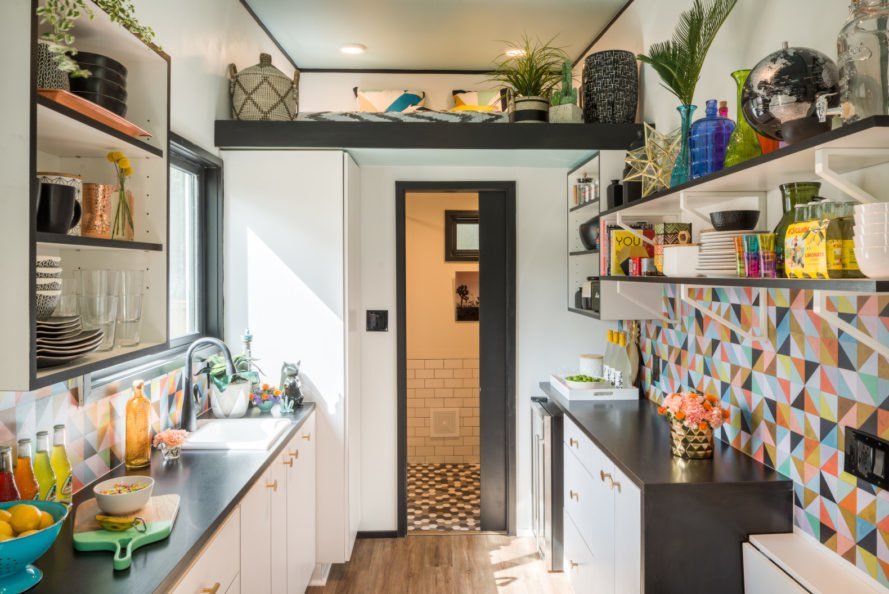 A Tiny House that's totally anti-minimalism. This maximalist tiny home features a colorful geometric kitchen backsplash and busy black and white bedroom wallpaper. More is certainly more for the owners of this home. This 190-square-foot tiny home has been featured on TeeHugger, Curbed, Apartment Therapy. Interiors were designed by the Galeana Group.
Random Note: Guys, I don't know about that bedroom… That bedroom wallpaper is giving me anxiety… what do you think?
Fuchsia Pink Small Space Maximalism

Photo by Colin Price Photography via Noz Design
This petite 8′ x 8′ living room is the definition of maximalism, with its fuchsia walls and kaleidoscope rug. Bold colors are put on show here to create a design-packed space for entertaining or relaxing. Again, notice how there is quite a lot happening in this space, but it still feels airy and bright. The mirror is strategically placed opposite the window to help bounce natural light around.
Boho Maximalist Decor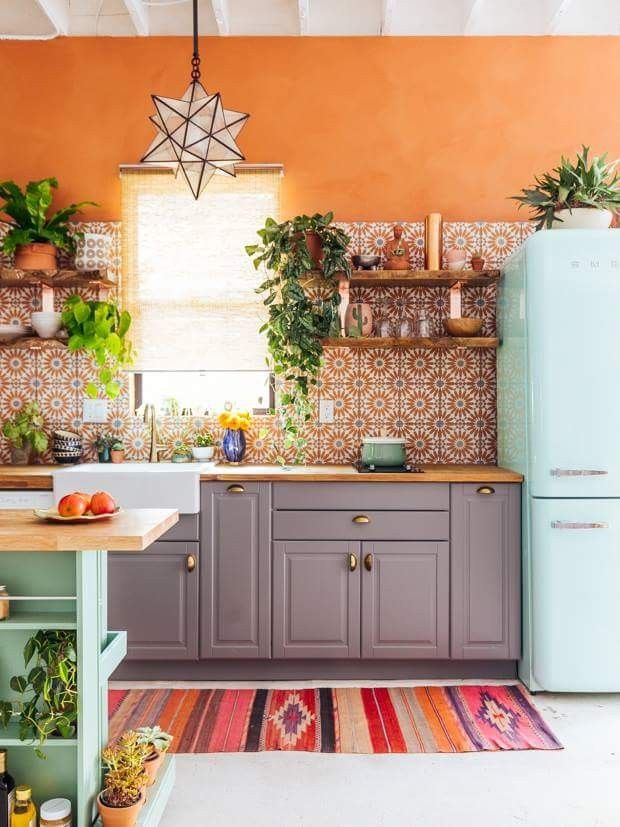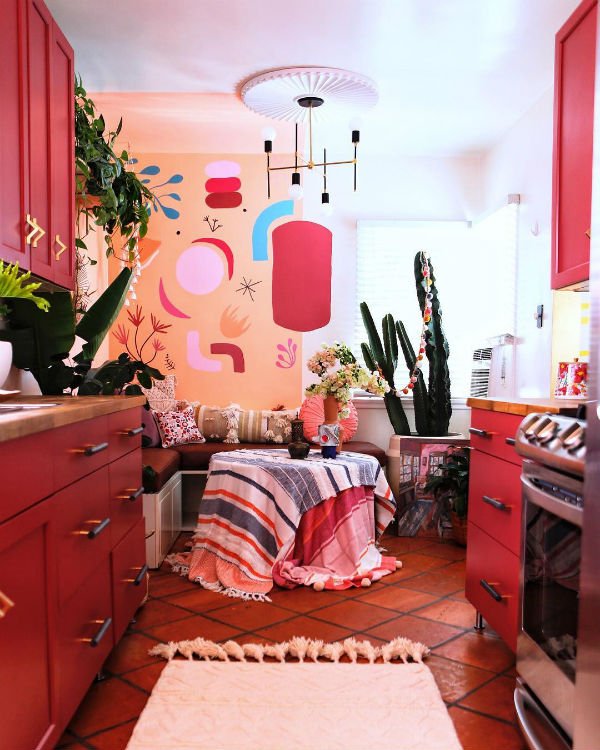 Bohemian style, in general, has a lot of similar characteristics to maximalist design. In fashion, it's multiple and layered jewelry (especially bracelets and necklaces) and busy, intricate patterns for clothing. This makes it an obvious choice for maximalist interior design. The same no-rules approach applies.
Breaking All Small Space Design Rules

This 5 bedroom London Victorian home was designed by Lily Sawyer. The plan for this home: Homely, eclectic, bold, cozy, maximalist, lived-in family home. The before and after pictures on her website show how this space took a huge leap from minimalist to maximalist design. Sawyer breaks all the small space rules by not only bringing more items into this space but by also incorporating dark walls and fixtures. Creating a bold eclectic style that's bursting with personality.
Biophilic Maximalism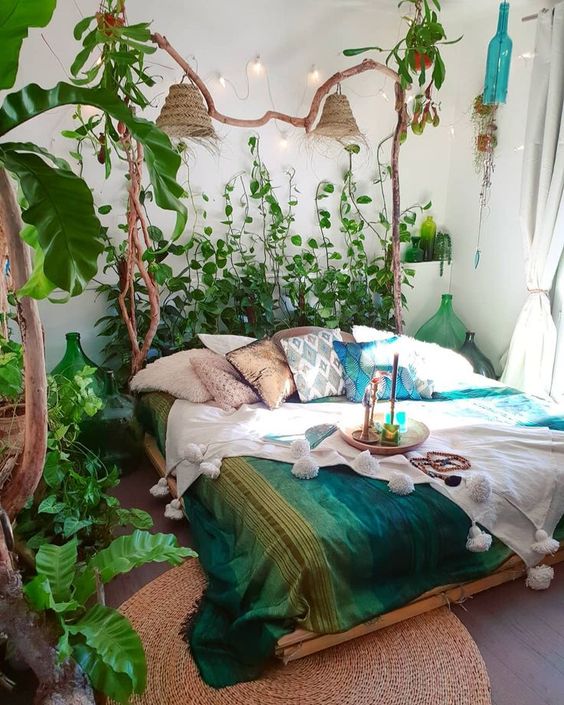 Source:@zebodeko on Instagram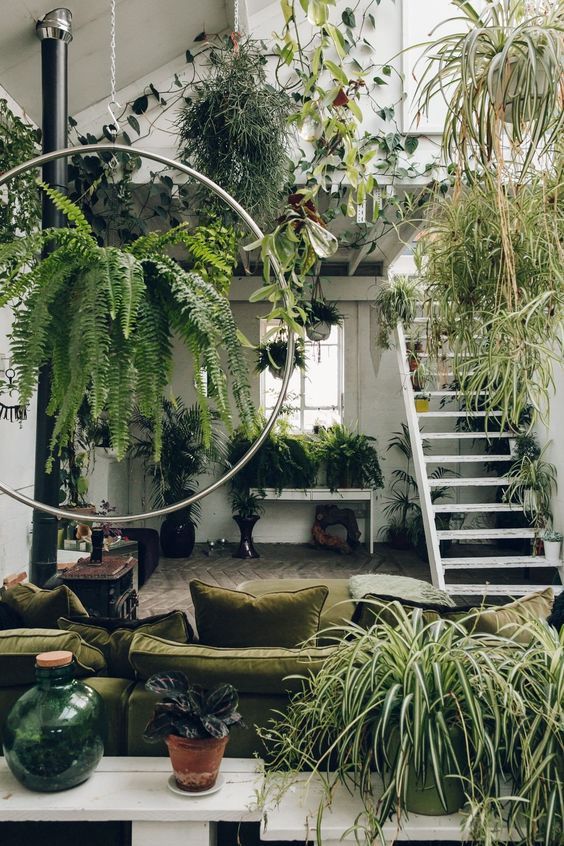 Exactly how many plants are considered too many? Sometimes maximalism involves more than just layered rugs and artwork. Sometimes it's all about plants. These rooms have certainly embraced Biophilic interior design with an abundance of greenery. It's like living in a greenhouse. Personally, if I were to become a maximalist, this is the route I'd take. I would opt to fill my home with plants, creating a beautiful indoor garden oasis. Oh! and books. Plants and books! Yup.
Related Posts: These Indoor Gardens Are Perfect For Small Spaces
Tips For Creating Maximalist Design In Small Spaces (Without The Chaos).
1. Be intentional and purposeful. Showcase a collection only of the things you love. Maximalism in small spaces is not about pulling out everything you own and stuffing it into your home. It's about curating a collection of things that define who you are or that tells a story. Choose open and interesting shelving to display your beloved collection.
2. Create an art wall that draws the eye up. If you're into art, designate a wall to display all of your favorite pieces. Do the same for photographs. Take art up to the ceiling to create the illusion of height in the room.
3. Add living things. Plants in maximalism design help to break up the space visually and are a great way to add diversity. It also helps the room feel a little less like an overstuffed museum. Be sure to add plants of all different sizes and shapes to create some dimension throughout the space.
Conclusion
It's safe to say that square footage (and the lack thereof) is irrelevant when it comes to maximalist design. Small space maximalism proves that small spaces are more versatile than many would think. This design style delivers boldness and personality. Done right, maximalism adds creative charm and intrigue to any space.
While I don't plan to become a maximalist any time soon, it's certainly fun to see how the other half lives. More than that, it's great to see more proof that small-space-living does not require sacrifices in individuality or personal style. Just because you've decided to downsize doesn't mean that you have to suddenly become a minimalist. It's all about creating a space you feel at home in.
You May Also Like:
PIN THIS FOR LATER!