These Indoor Garden Ideas Are Perfect For Small Apartments
Whether it's growing your own herbs and vegetables or an obsession with fresh flowers and succulents; we can all agree that plants are awesome.   They purify the air, help to lower stress and anxiety even help us sleep better (Forbes).
The problem small space apartment dwellers face is figuring out how to incorporate plants and indoor gardens into an already tight space. What works and what doesn't?
Below is a curated list of indoor garden ideas for small apartments. The list includes both practical and beautiful options and a few DIYs.
FYI: Check out these Easy, Low-Maintenance Indoor Plants for beginners!
**This page may contain affiliate links. If you purchase something through these links, I may receive a small commission. You will NOT pay more for products purchased through these links. I only recommend products that I love and trust! **
 Indoor Garden Ideas For Small Apartments
Room Divider Garden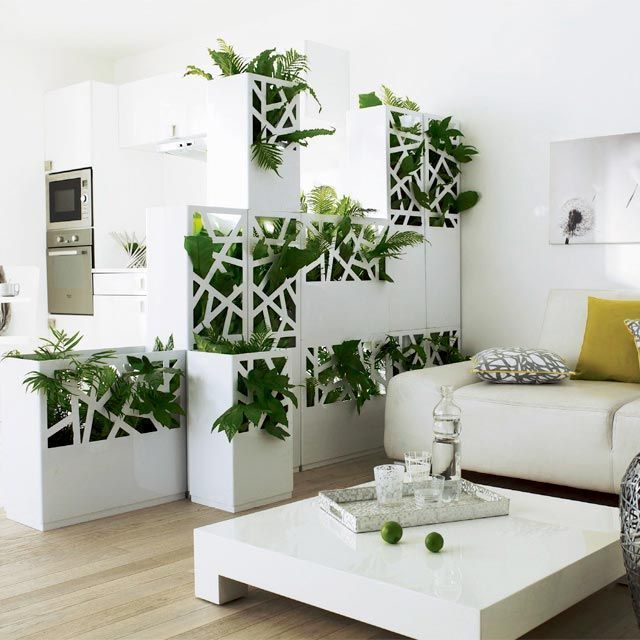 What better way to add some greenery to your studio than a garden room divider. That's 2-for-1 without sacrificing space!
Geometric Quatrilatiral  Wall Vase

Want to take a more minimalist approach to an indoor garden? Wall-mounted glass vases are an excellent choice for creating that stunning, minimal, Scandinavian look. They're transparent so they don't occupy much visual space. Perfect for keeping the room light and airy.
Succulent Chair Planter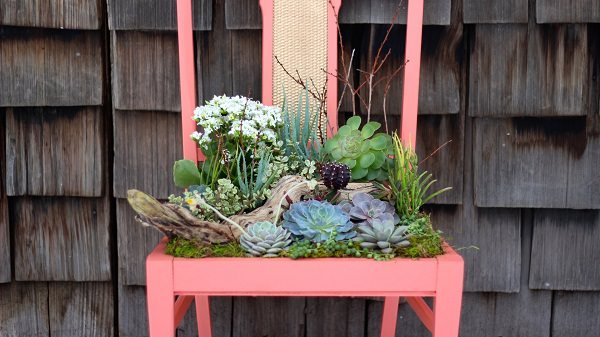 Recycle that old chair and turn it into a unique planter. Add some paint and al your favorite plants. The best part is that this garden occupies no more space than your dining chair would. DIY it here.
Wall Mounted Diamond Shaped Indoor Garden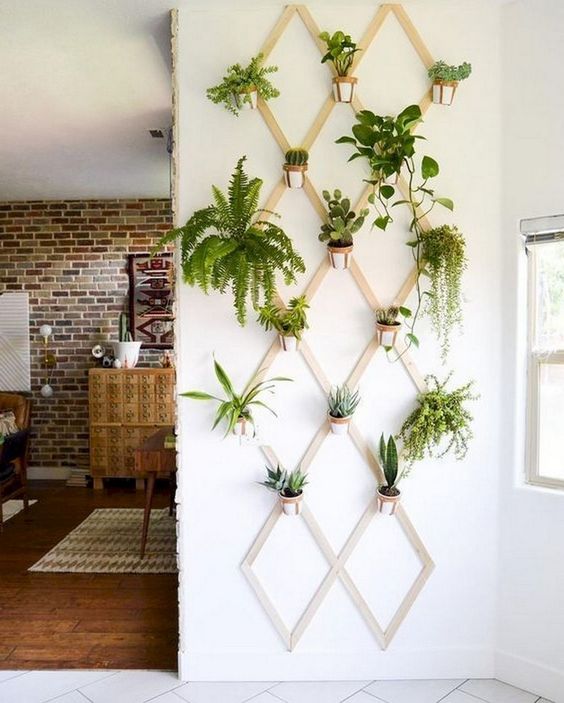 A list about indoor garden ideas for small apartments won't be complete without the popular wall-mounted garden. Add a geometric design to your wall garden with a few pieces of wood arranged in diamond patterns.
This stunning, minimalist wall mounted garden is perfect for hanging your favorite plants, flowers or even growing your own herbs & seasonings. Add this wall planter to your living room or kitchen.
Mason Jar Wall Herb Garden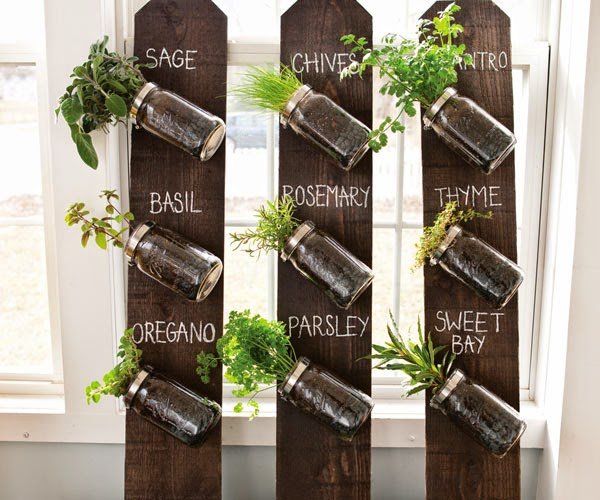 Every home cook needs a herb wall garden. They know that fresh organic herbs and spices make food taste better. Grow your favorite herbs at home in your kitchen with this easy DIY by Rebecca's Bird Gardens.
Utility Cart Garden
There are a million hacks you can try with these storage carts. Using it to create an indoor garden for small spaces is just one of them. Transform this space-saving storage cart into a mobile 3-shelf garden for your succulents, herbs or vegetables.
Skinny Indoor Planter Stand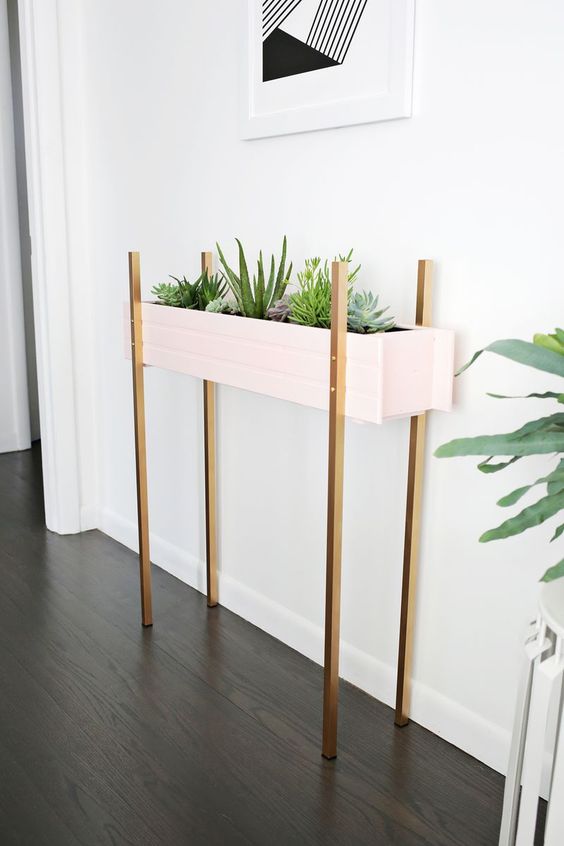 The perfect (and chicest) home for all your succulents to thrive. This DIY is not just easy, it's a quick too. The gold and pink add a beautiful feminine touch to this simple, space-saving planter and even acts as a great statement piece.
Not into DIYs? Get a lookalike plant box here at Fint Designs
Upcycled Dresser Draw Carden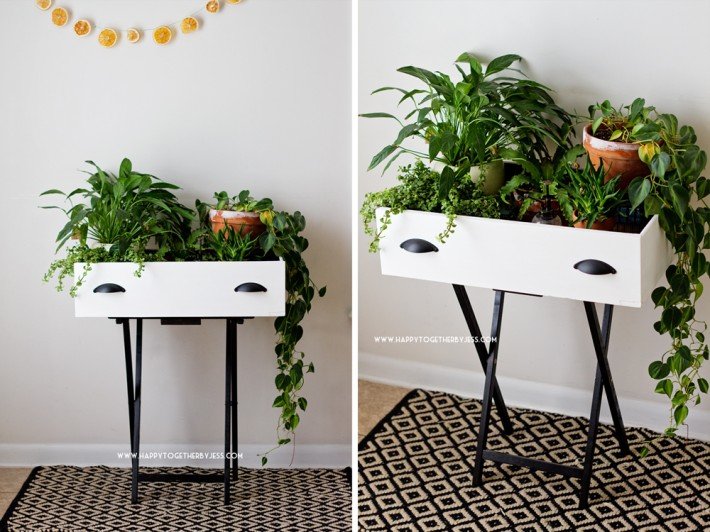 Re-purpose old drawers to create a neat indoor garden bed for your favorite plants. This DIY is incredibly easy. Grab an old drawer, some paint of your choice and a folding table.
Garden Room Divider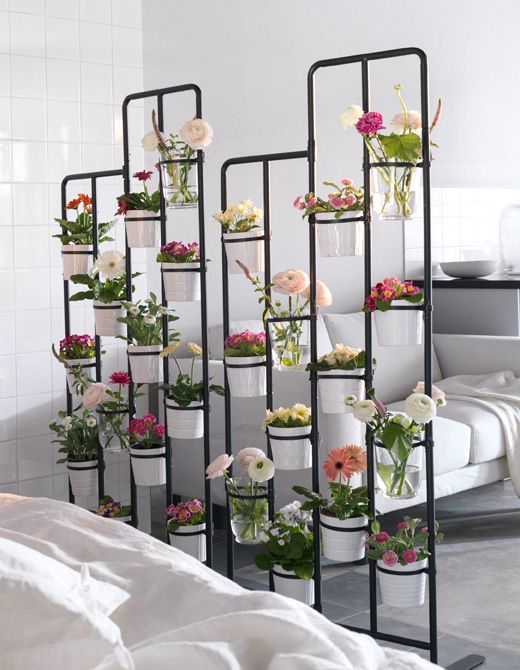 Plant Stand Divider on Amazon
Another garden divider for ya. This time with pretty flowers!  This planter Stand creates separation without blocking the view to the other half of the room. Therefore maintaining the visual flow throughout the entire apartment.
Test Tube Wall Garden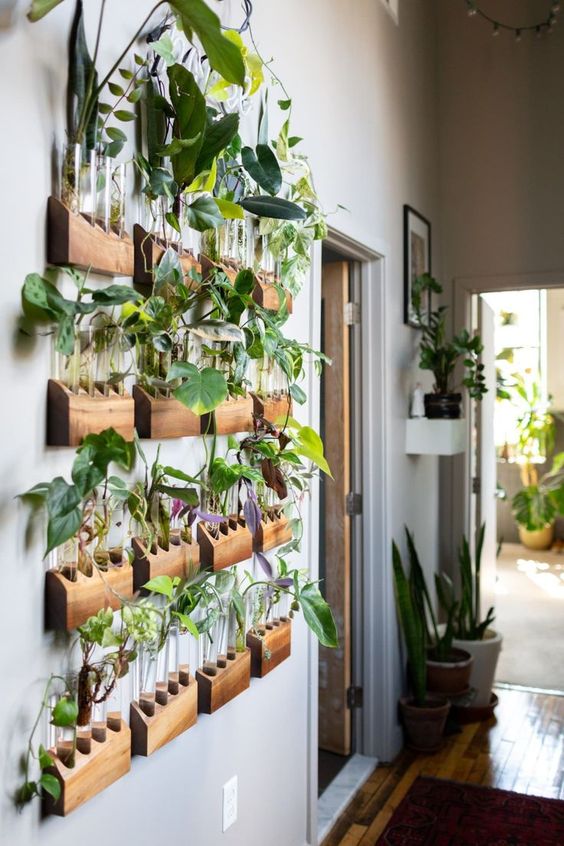 No science experiments here. Only luscious greenery. This wall garden was created by plant stylist, interior designer, artist, and "Plant Doctor" Hilton Carter. Carter's booksWild Interiors: Beautiful plants in beautiful spaces and his most recent publication Wild at Home: How to style and care for beautiful plants, aims at helping persons to make their home a healthier and more beautiful place with lush and exuberant plant displays. This Garden wall is exactly that!
Found some beautiful test tube planters here on Amazon 
Hanging Garden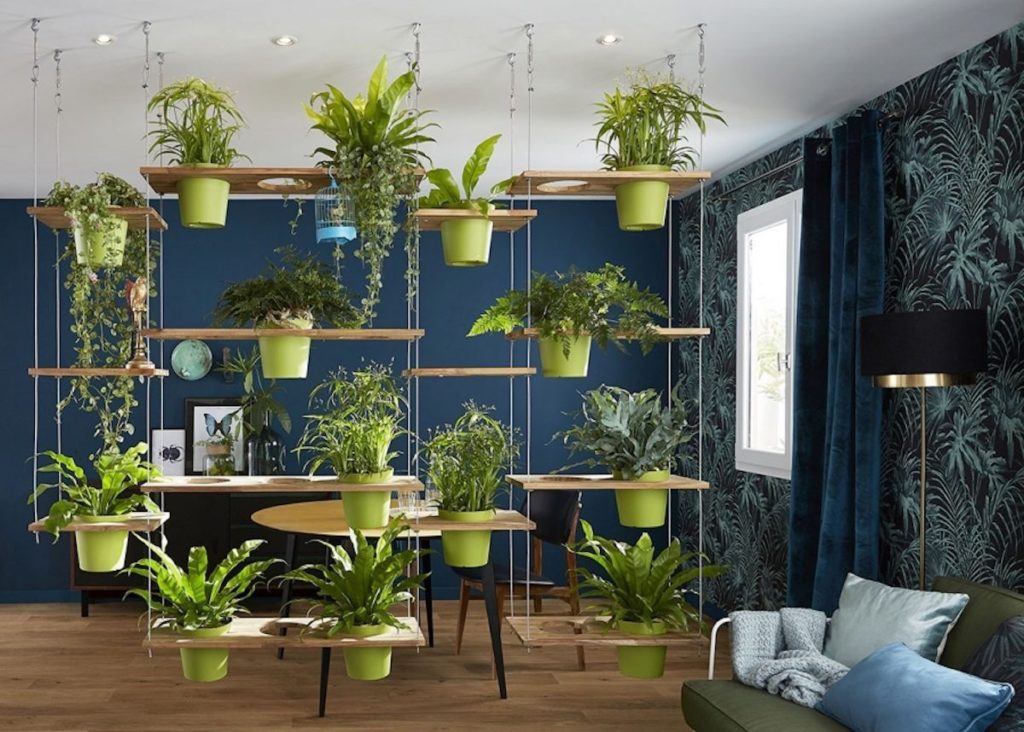 Hang plants from your ceiling to save on floor space. Another Idea for a garden divider.  The floating effect of this hanging garden adds interest to the room and even acts as a cool focal point.
Floralink Wall Vessel Garden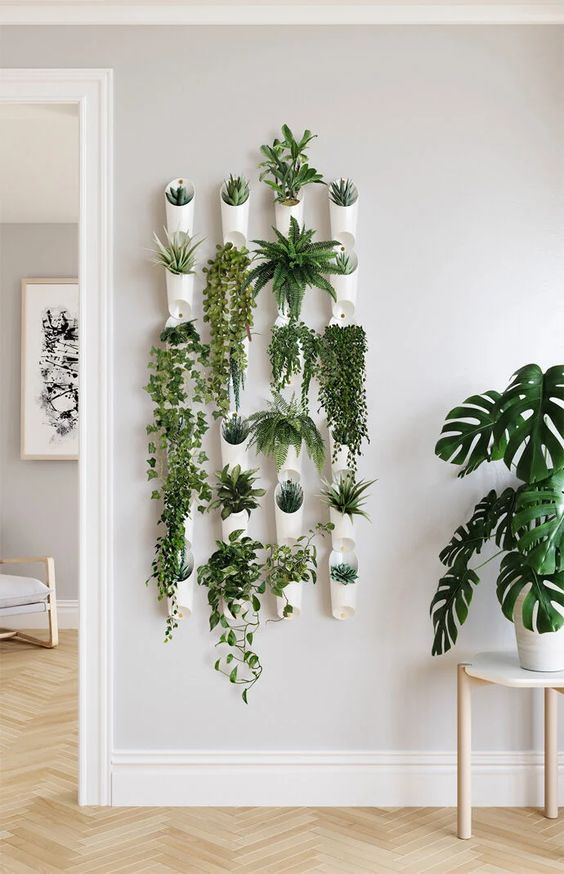 What's great about these wall vessels is that it can be used to store other things too. Mount them in the bathroom to store makeup brushes and eye pencils or toothbrushes. Hang them near your desk to store or pens and markers. These wall vessels are simply Decorative Storage!
Pegboard Garden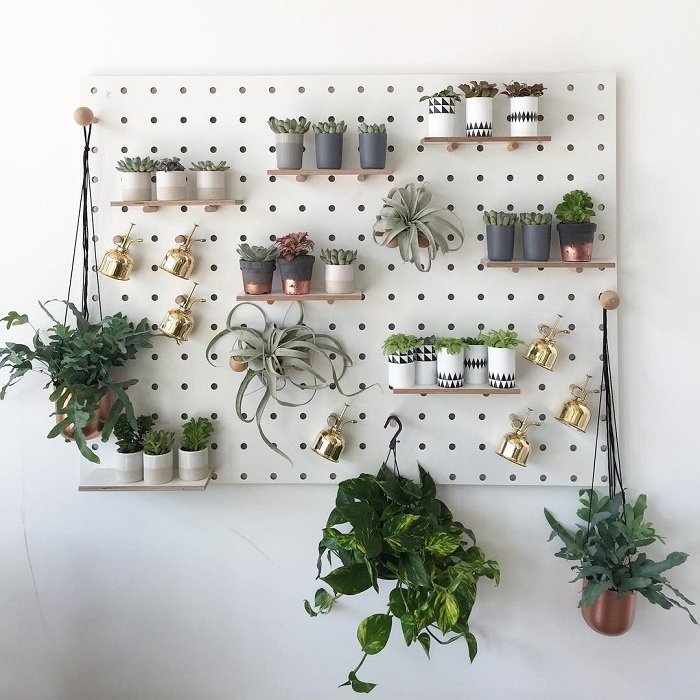 Pegboards are great for creating extra storage and for displaying decorative items. Use them to create a vertical garden by storing and hanging planters or growing vines.  These pegboards come in a variety of colors and sizes. The options are endless.
Modern Circular Wall Vase, Succulent Planter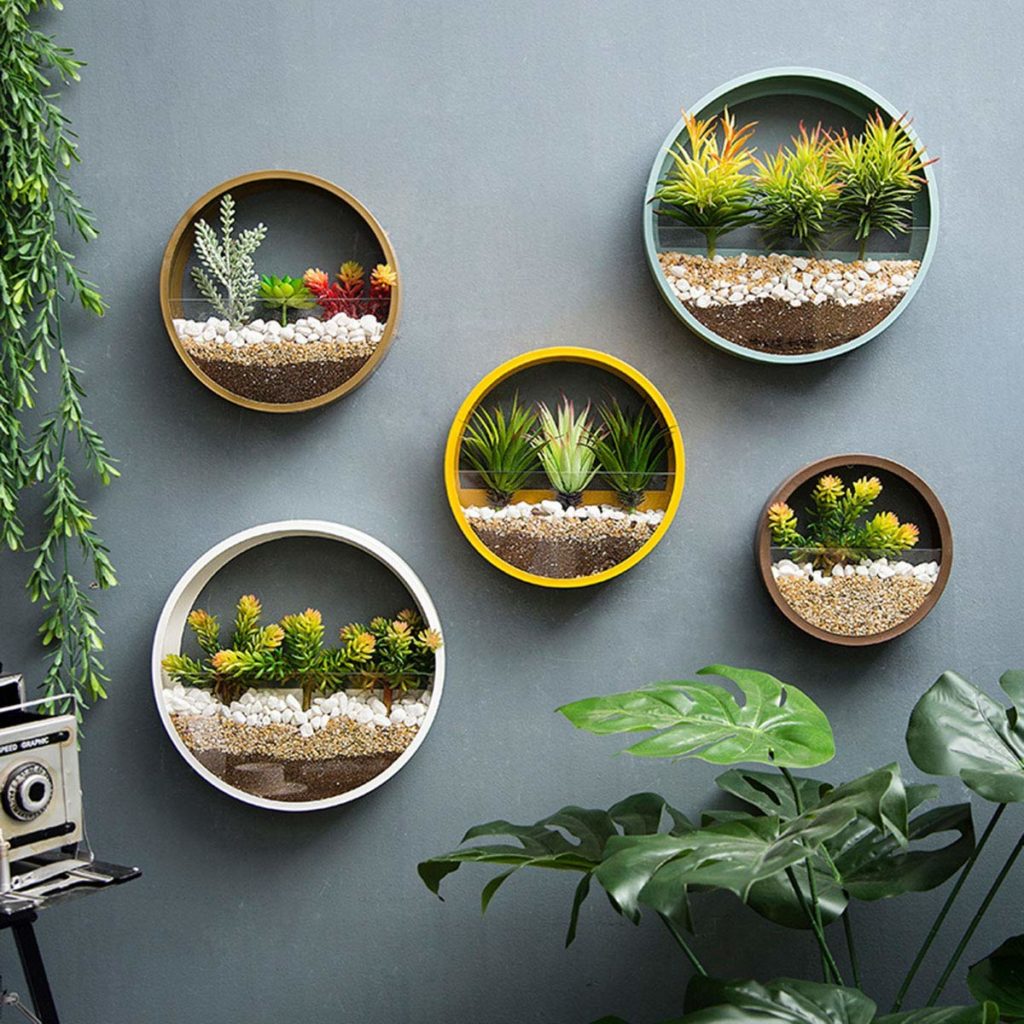 3-Pack Set On Amazon
These circular wall vase/planters are a sight to behold. The varying colors and sizes create interest and even makes a great accent wall. The view of the soil and stones adds such an organic and earthy feel to this space. It's just beautiful!
Click & Grow Smart Garden
If you want to go beyond just growing plants and start growing your own food then the Click & Grow Smart Gardens are a great option. They're foolproof and don't require a lot of care and attention. Perfect for amateur gardeners! And a godsend for apartment dwellers. They come in 3 sizes and options and retails between $99.95 – $599.95.
Click & Grow provides pre-seeded biodegradable plant pods with soil so you can easily get started on growing your favorite fruits, veggies, herbs, or plants.
Latest Posts: