These Are The Most Livable Tiny Homes I've Ever Seen.
Finding or building a truly livable tiny home is the ultimate goal when joining the Tiny Home community. While 'Livable' may look different to everyone, the key takeaway here is striking a balance between downsizing and living comfortably.
To many, living in a tiny house means forgoing some comfort and convenience. In exchange for a small mortgage (or no mortgage!) and freedom of movement, you give up space and material possessions. That's part of the deal, right?
While this trade-off is no hardship for some, others might miss certain benefits of a traditional home. Like standing space in your bedroom (those tight sleeping lofts are a BIG NO for me), or having enough space for an average-size stove.
Thankfully, tiny house builders have answered the call, designing small spaces that still manage to pack in features you'd find in regular-sized homes.
With the growth in luxury tiny houses, the slightly-larger tiny home trend is becoming more popular. These larger models are perfect for those who want to downsize without sacrificing comfort and convenience.
For me, a liveable tiny home means walking space in my bedroom, the space to use average-sized kitchen appliances, and some separation between living and sleeping spaces. That's it. Those are my non-negotiables if you will. All of this is possible even in a tiny home model.
FYI, If you're seriously considering buying or building a tiny home, making a list of your 'must-haves' is a great place to start.
Here are eight livable tiny homes that don't skimp on comfort, convenience, or style!
8 Spacious Tiny Homes You Can Actually Live In!
A Plant-Filled Tiny Home With An Upstairs Walkway & Guest Bedroom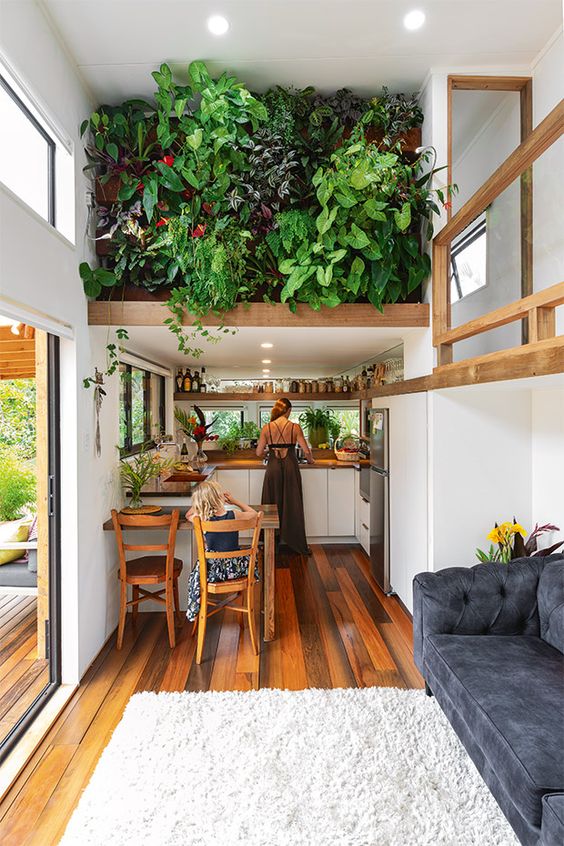 When I think about a livable tiny house Shaye Boddington's home is the goal! Shaye and her daughter live comfortably in this five-meter by 2.8-meter house in New Zealand. This tiny home features 3 separate bedrooms an upstairs walkway, a full-sized bathroom, and a cool outdoor bathtub and deck. And let's not ignore that gorgeous garden wall!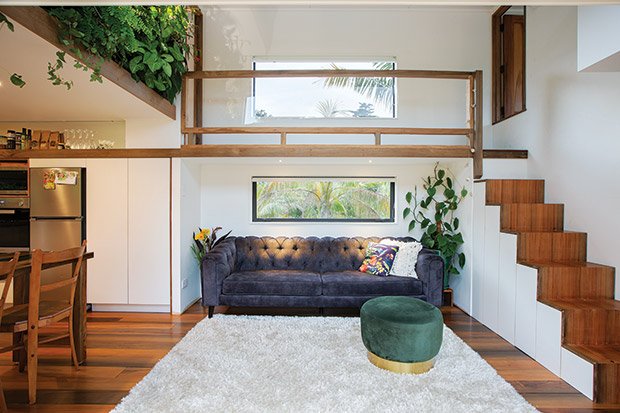 A walkway separating bedrooms is quite unusual for a tiny house. But this is what makes this home so… well, livable!
Shaye must walk up the stairs along the walkway and past the living wall to access her bedroom. "That journey makes the space feel a lot bigger," she says. Her daughter's room is to the right and there is an amazing bathroom and guest room towards the other end of the home. See the full tour below!
This is one of my absolute favorites and I'm stealing this layout when I'm ready to build my own! If you love this as much as I do you can get the building plans for this exact model (and more designs) on Shaye's website Shaye's Tiny Homes. There are other beautiful layouts to choose from, so be sure to check that out!
Get the full tour of this stunning tiny home here:
A Livable Tiny Boho Container Home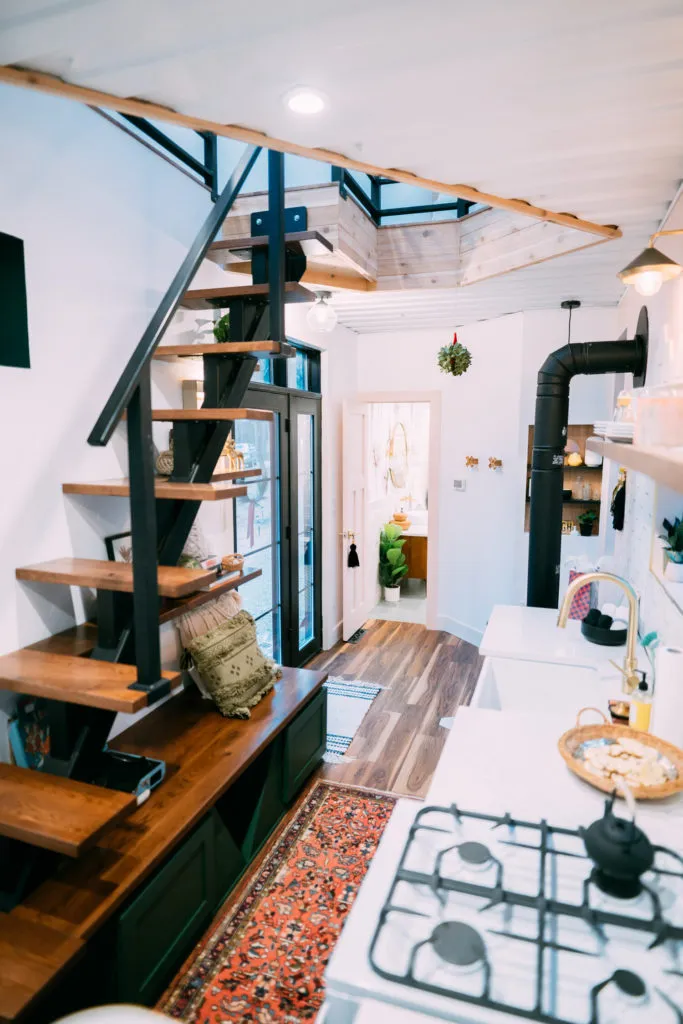 A smaller and totally extraordinary container house with a loft bedroom and a large aft deck. Decorated in boho style this Box Hop Container house has a stunning and luxurious bathroom with a claw foot tub. See the full tour here at Living In A Container.
A Luxury Cabin Style Tiny Home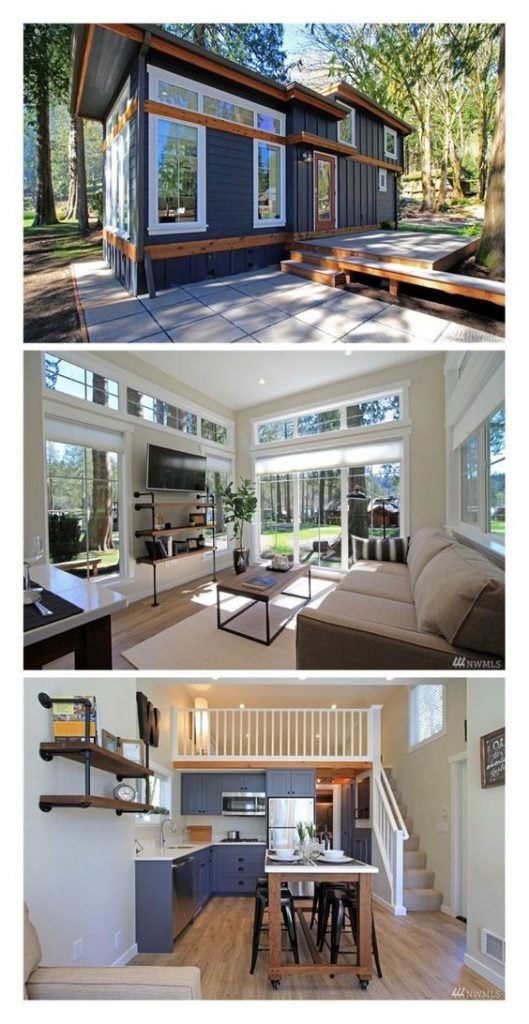 This tiny home is on the larger side and is undeniably stunning. It measures 399 sq ft and features a cabin-style exterior with a modern interior. Inside the home, you'll find a full kitchen large enough for full-sized appliances, a bedroom, a full bathroom, a living room, and a loft space.
Situated at Wildwood Cottages on Lake Whatcom in Washington, this home is part of a new luxury vacation resort. See the details here at Tiny House Town.
A Bright, Modern & Newly Renovated Trailer Home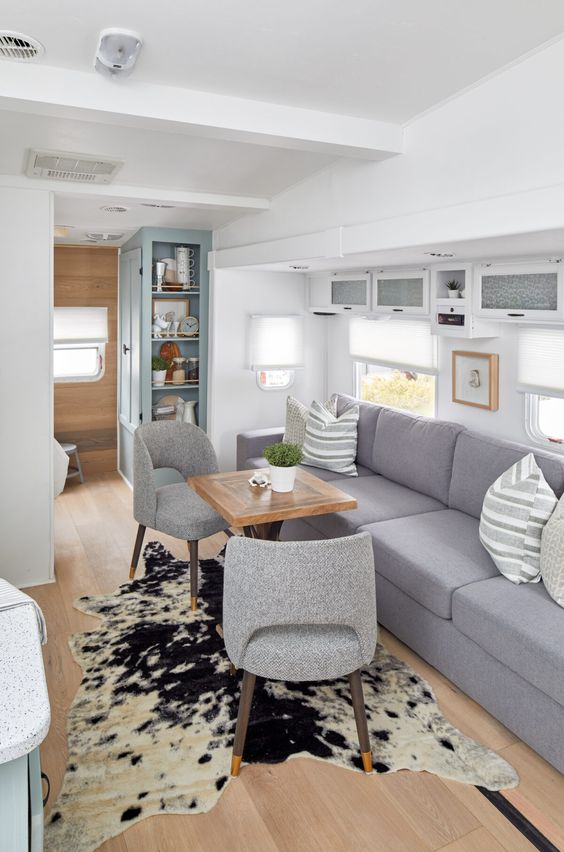 Celebrity designer Jo Alcorn gave this old, water-damaged fifth wheel a complete makeover. Transforming it into a bright, modern, and stylish home. This space feels so open and airy, it's easy to ignore the size. It's proof that with the right color scheme and layout, mobile homes can feel quite spacious. See the full home renovation here at Do It Yourself RV.
A Modern Tiny Cabin Home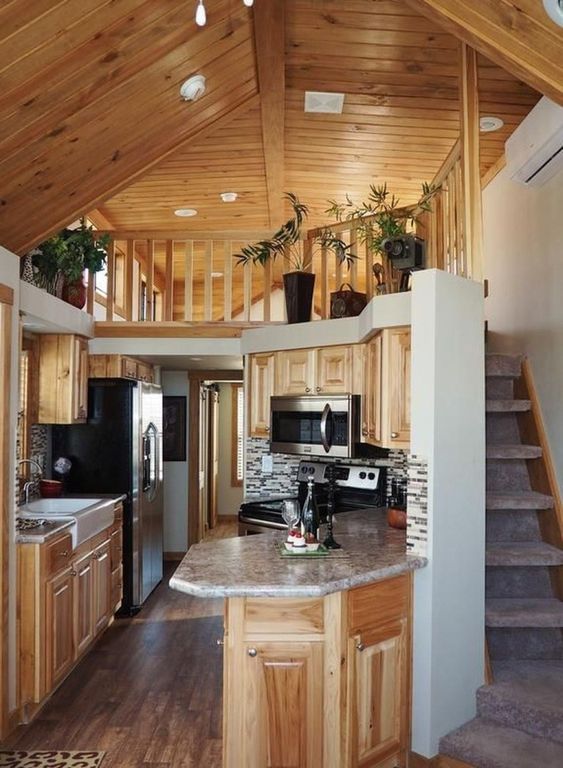 Image via Pinterest
This layout makes this tiny home feel like a full-sized house with ample kitchen counter space and storage, and average-sized appliances. The staircase leads to the bedroom loft with lots of walking space and high ceilings. Those wooden cabinets and wooden ceilings add so much warmth and coziness to this space. It's truly inviting. What's not to love?
Farmhouse-Style Tiny Home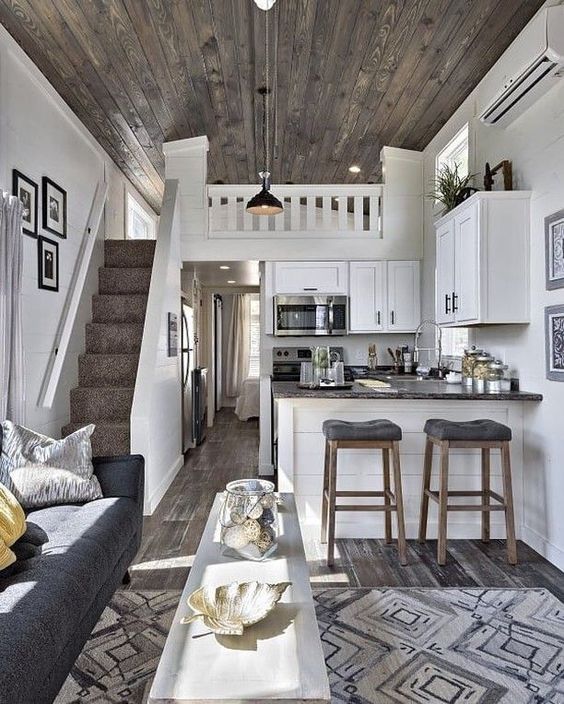 Image via Pinterest
This modern farmhouse-style tiny home features a loft bedroom and an additional bedroom at the back of the unit. The sizable kitchen and living area allow for easy cooking and entertaining.
Modern Tiny Home With Sky High Ceilings
Image via Pinterest
The trick to making a tiny home feel huge is high ceilings and lots… and lots of windows. This tiny homeowner certainly understood that. The beautiful wooden ceiling brings warmth to this space and all that natural light makes this home feel huge. This is a win for me!
A Minimalistic Tiny Home With Huge Impact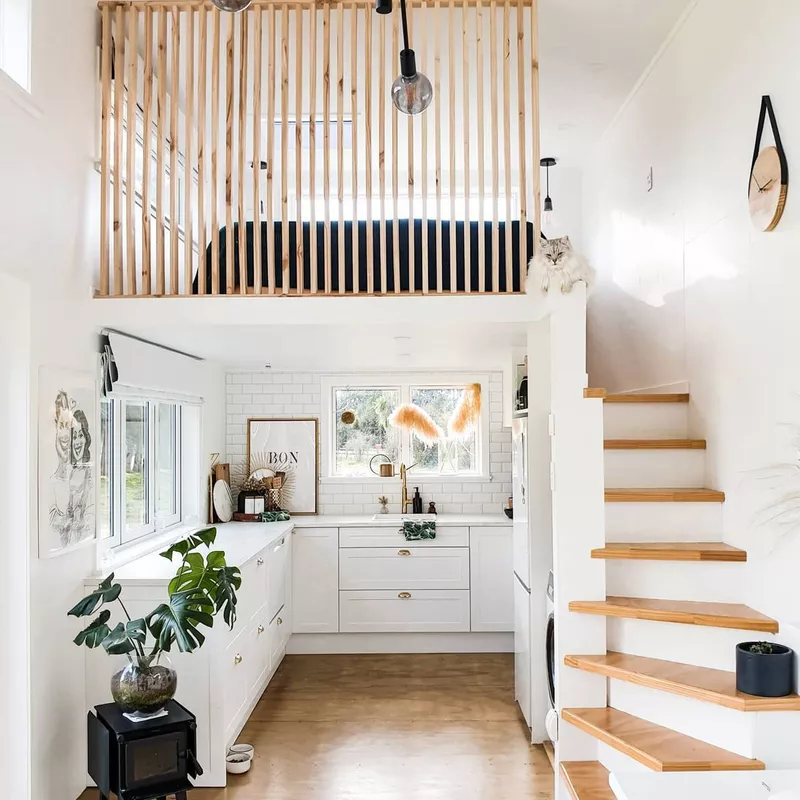 Another bright and airy gem. This tiny home from The Bradbury Project is a no-fuss, stunning space with all the essentials for comfortable day-to-day living. A simple design that's more beautiful than ever.
There you have it! 8 stunning livable tiny home designs that don't sacrifice comfort, convenience, or style. I hope you were inspired. I'm certainly taking design notes from these gems.
You May Also Like: