10 Bright & Airy Breakfast Nook Ideas For Small Spaces
One sure way to make a small space feel bigger is to make it bright and airy. Crisp white walls, lots of natural light are a fool-proof way to visually expand a small room. I've compiled 10 gorgeous bright and airy breakfast nook ideas for small spaces. These small breakfast nooks are packed with color, style, and a whole lot of sunlight. Plus they're super cozy!
If you're looking to redecorate your small breakfast nook and need some inspiration, take a look at these gems.
10 Stunning Breakfast Nook Ideas For Small Spaces!
Earthy, Modern Breakfast Nook
Source: mydomain
This nook features earthy tones and modern furniture. The bench in this nook is cradled between the walls making this space super cozy. The multipatterned pillows and rug add texture and interest to the room. Having my morning coffee in this room would be a joy.
Bright & Natural Breakfast Nook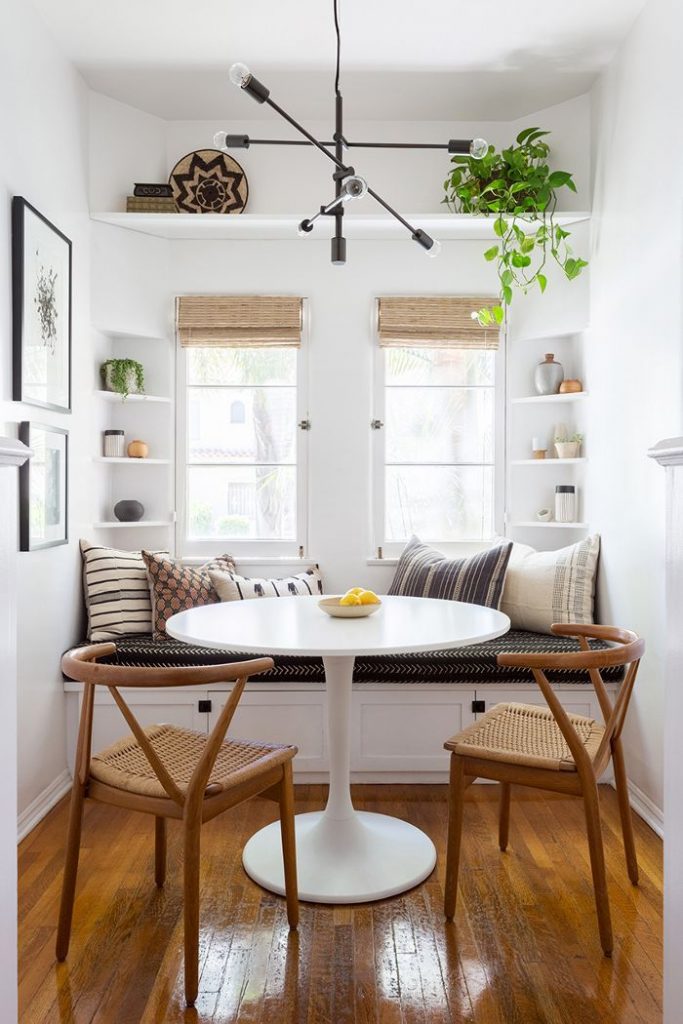 Katie Hodges
For all the boho-chic fans out there, this one's for us! This space features beautiful organic textured, muted tones and a lot of natural light streaming into the room. Plus loads of storage for accessories and plants. This nook is nothing short of stunning. What more can you ask for?
Modern California Breakfast Nook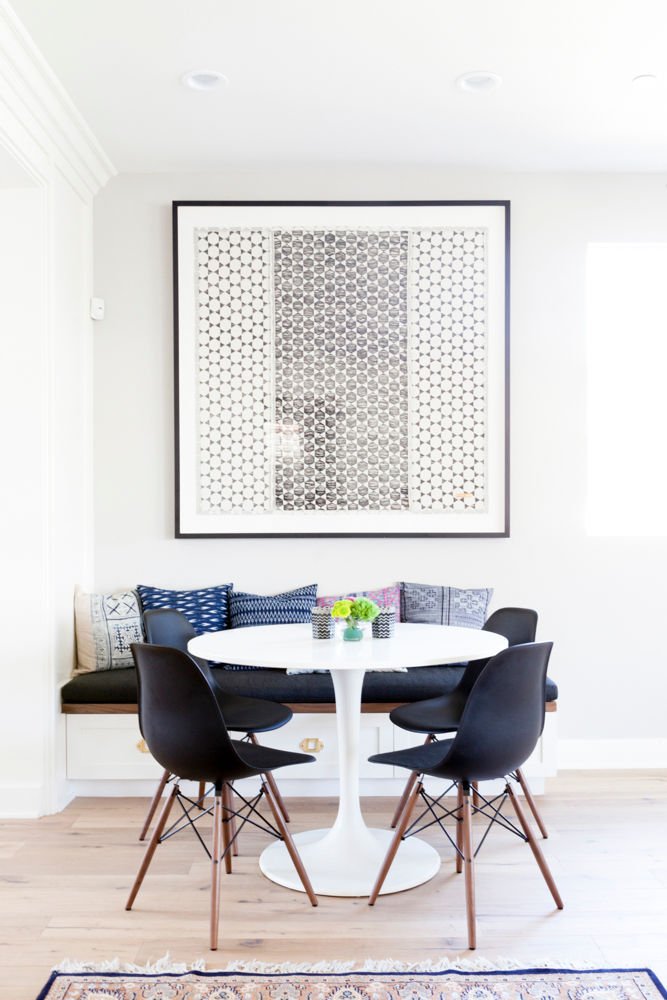 Source: Veneer Designs (photo: Amy Bartlam)
Cool tones for a cool space. That collection of indigo and mud cloth pillows lining the back of the bench is gorgeous, and the large artwork acts as a beautiful focal point. The round pedestal table fits nicely without being too obtrusive. I've always found that round tables in dining nooks are better for maximizing seating. I'd opt for just two dining chairs though.
Bold In Blue Tiny Breakfast Nook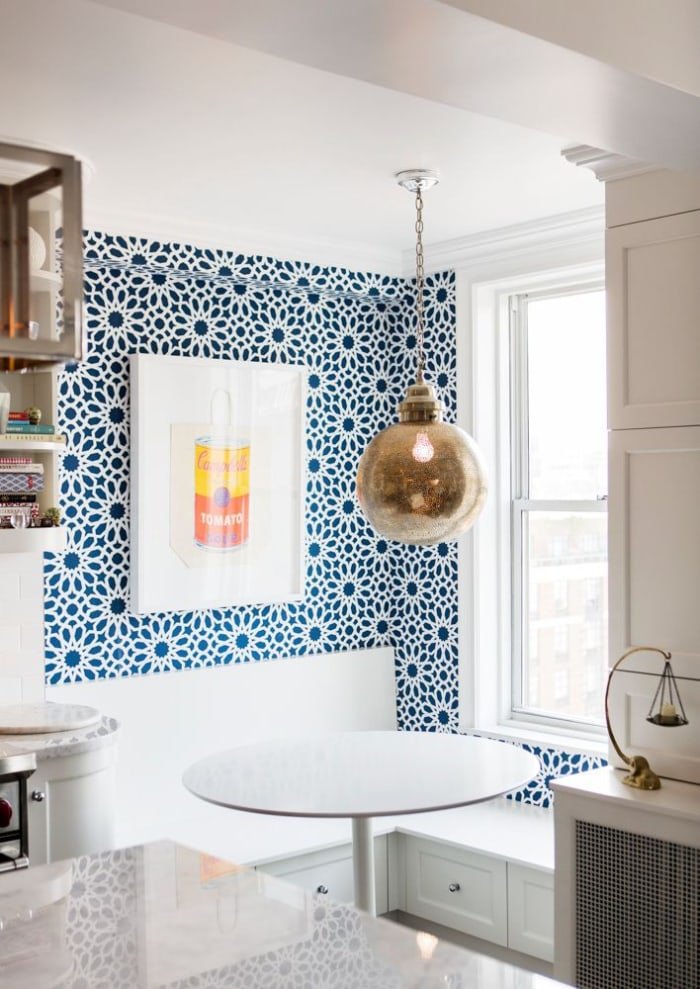 This tiny space must be the focal point of this kitchen. The blue and white floral wallpaper against the crisp white walls demands every bit of your attention. What a cozy space!
Natural Small Breakfast Nook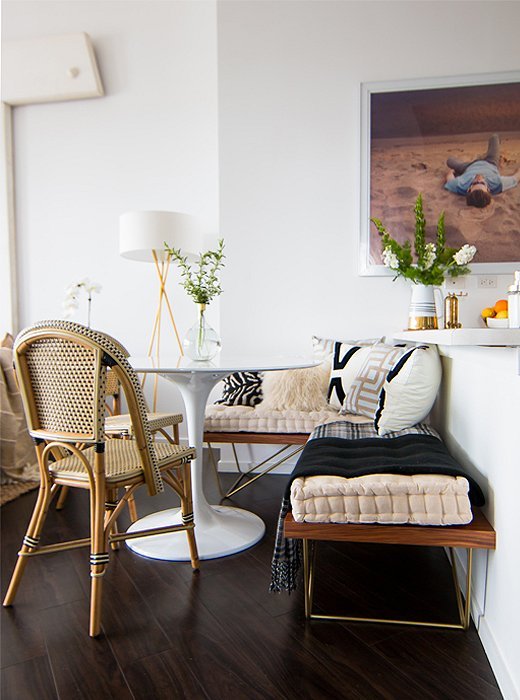 Photo by Julia Brenner via One Kings Lane
When the classic built-in seating in a breakfast nook isn't always an option (for all you renters out there), create the illusion of one with two long benches placed at a 90-degree angle. Add a small table and chairs and you've got yourself a cozy breakfast nook. If you're working with a really small spot, just one bench and a small table will do the trick.
Shabby Chic Breakfast Nook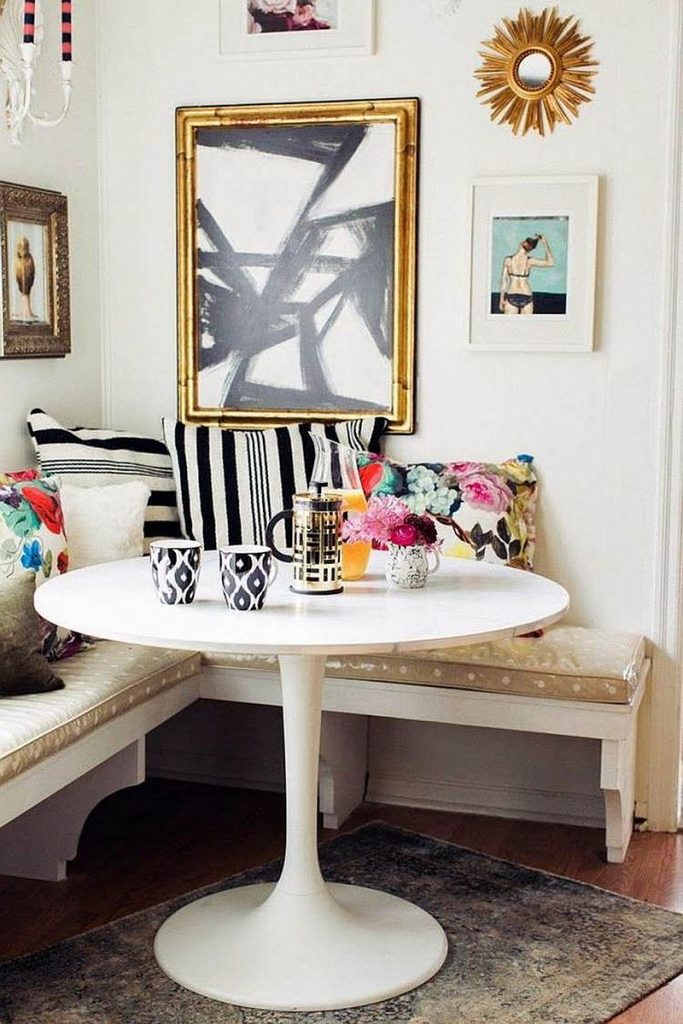 This breakfast nook is bursting the personality and style. The beautiful gold accents, pretty and bold florals and interesting art crates a beautiful eclectic design that makes it hard to look away.
Small Modern Luxe Breakfast Nook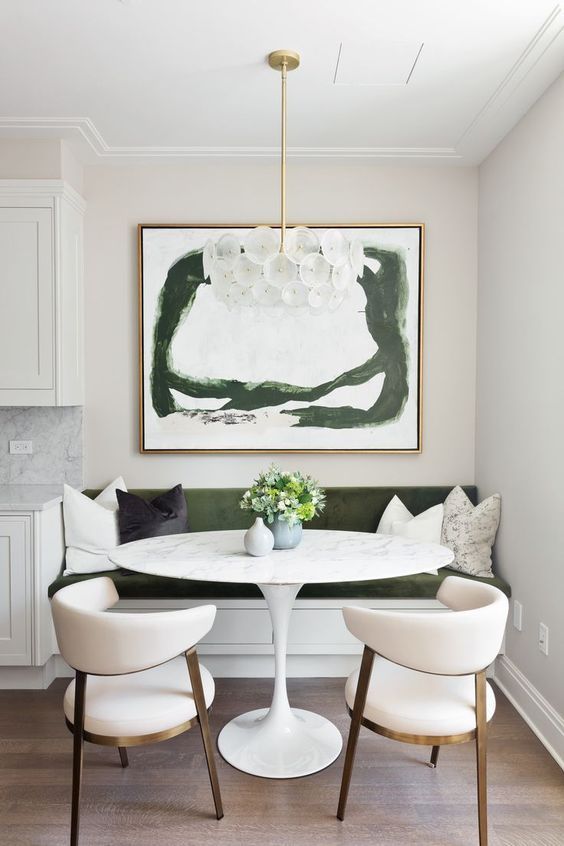 Marble and gold or bronze accents are a sure way to create a luxurious look. This manhattan breakfast nook does it well.
Luxe Chic Breakfast Nook With Natural Tones & Bold Floors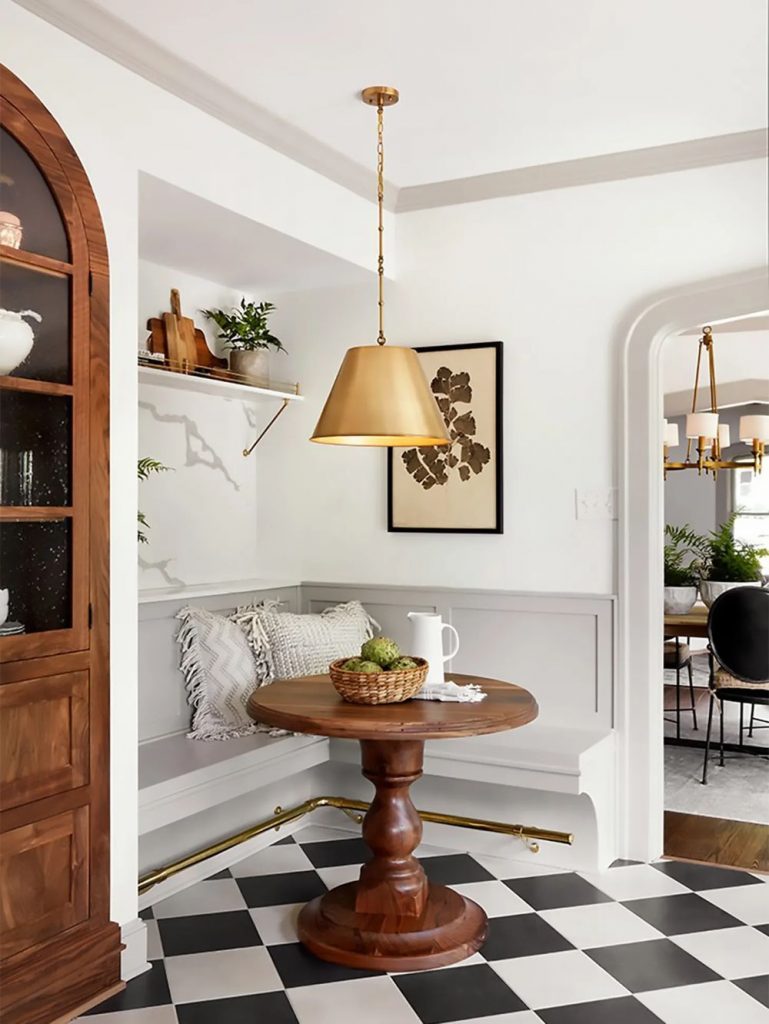 Bold Checkerd floors with warm and gold accents and furniture makes this space both luxurious and cozy.
Art Gallery Breakfast Nook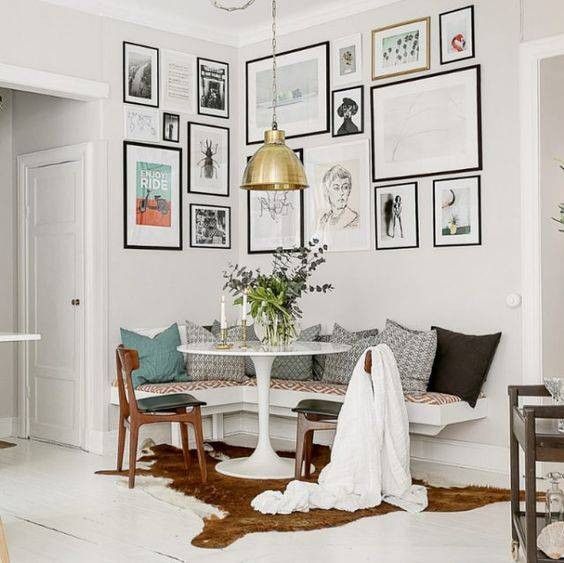 Wall art can instantly raise the aesthetic of any room. Adding a curated wall gallery to your breakfast nook creates a personal and visual experience while you're having your morning coffee.
Nature Art Gallery Breakfast Nook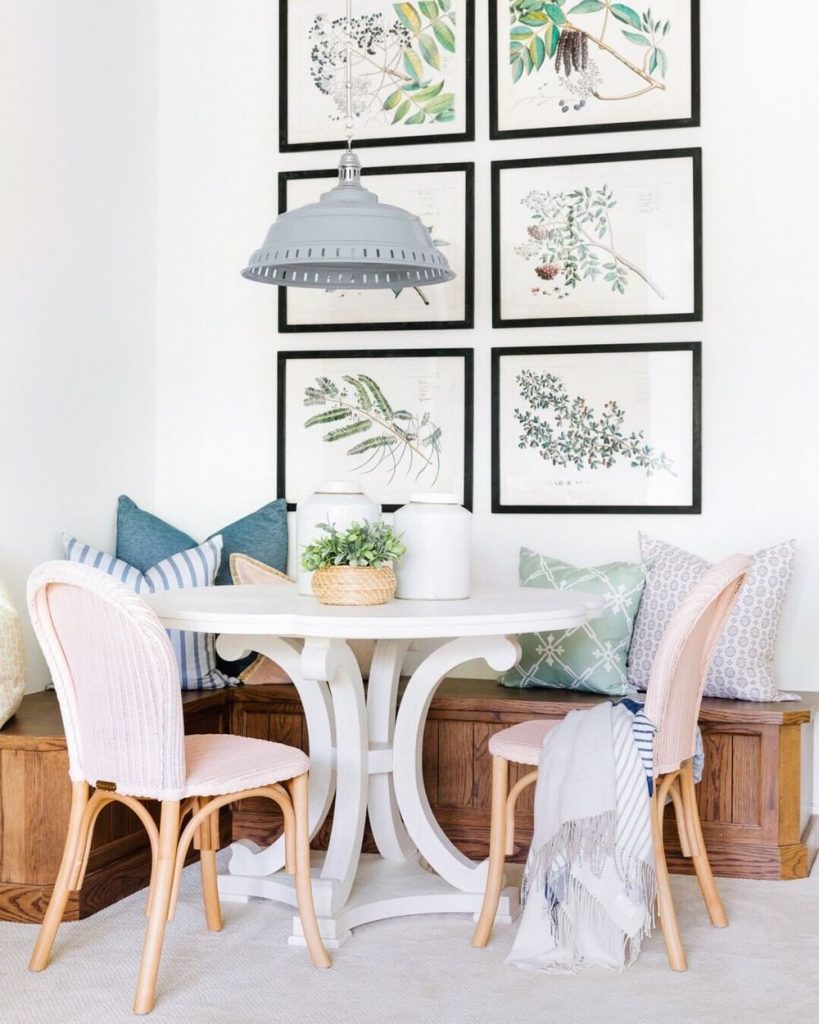 @briahammelinteriors
Just in time for spring! Add some leafy, nature inspired wall art to livene up you cozy breakfast nook.
I hope you were able to find some ideas or at least some inspiration. Don't let the size of your home deter you from creating a cozy breakfast nook. You can squeeze one in somewhere! If you don't have a built-in nook, try a small bench (with storage if you like) add a small table and a chair or two and you're done. Also, if you're short on natural light, use a large pendant light or even wall lights to brighten up the space. You can certainly achieve that bright and airy look with artificial lighting. See my other post on How To Use Lighting To Make A Small Room Feel Bigger for ideas!
Happy Decorating!
Pin This Post For Later!
Check Out The Latest Posts: