Mood Board Monday: Chic Industrial Style Entryway.
This Monday Mood Board is more of a 'Get The Look' piece. A while back I published a roundup of stylish entryway decor ideas for apartments, and I fell in love with one in particular. A gorgeously rustic, industrial-style entryway that I couldn't stop ogling. I wondered if I could recreate the look by scouring the internet for similar items. And luckily I succeeded!
I found almost identical items from this space. I also included some alternative options for a few decor pieces: I love having options. Here's what I found!
**This page may contain affiliate links. If you purchase something through these links, I may receive a small commission. You will NOT pay more for products purchased through these links. I only recommend products that I love and trust! **
The Inspiration: Chic Industrial-Style Entryway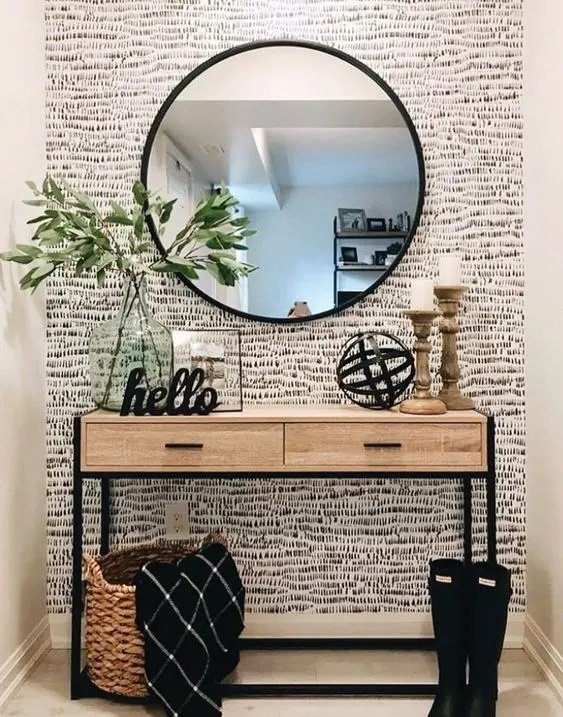 Source: Umbra
Pin This For Inspiration Later!
Industrial interior design is characterized by its emphasis on raw materials, like natural wood, metal, exposed brick, and piping. Industrial style decor, on the other hand, incorporates these raw materials but on a micro-level. Think rustic, natural wooden furniture, vintage or scuffed-up accessories, and metal accents. The style is laid back and lived in. If you love decorating with natural materials, Industrial decor might be worth a try.
This entryway has all the elements of industrial decor. From the carefree brushstroke wallpaper pattern to the wooden and metal console and the metal sphere sculpture. This look mixes natural textures and tones for a modern and striking finish. It's truly one of the most inspiring spaces I've included on this blog to date!
FYI, If you're looking for entryway storage solutions, you might like these
There's something for every style and budget in those roundups!
Get The Look!
I found these items on Amazon; a little home decor boutique called Winnoby, and Jaime Young Co. Winnoby is one of the many online gems I keep going back to. If you like that minimalist, chic, Scandinavian aesthetic, you should definitely check them out!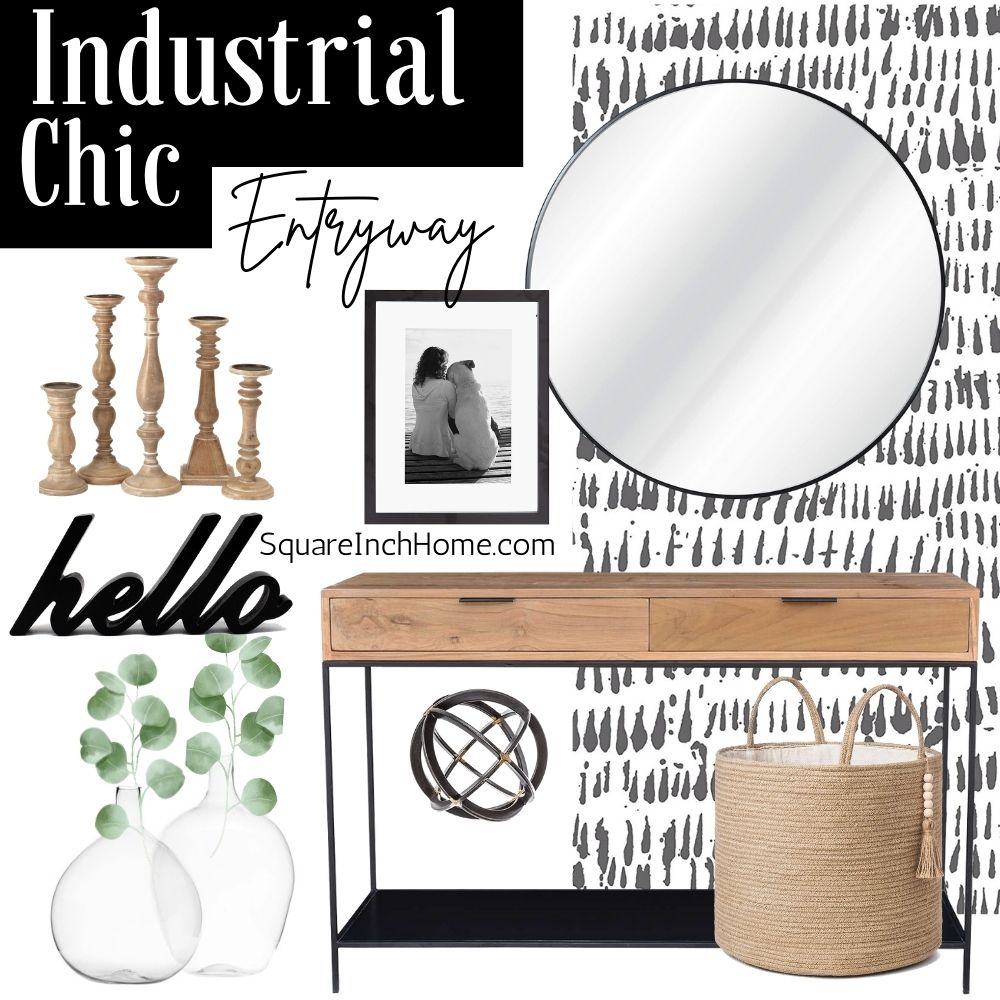 PIN IT FOR LATER!
PRODUCT LINKS BELOW!
The links below will take you to the individual product pages.
Black & White Brush Stroke Wallpaper || Industrial Style Console Table || Vintage Candle Stands || Decorative Sphere || "Hello" Wooden Table Sign || Glass Vase || Glass Picture Frame || Storage Basket
I had so much fun hunting for these items! You can recreate this look without breaking the bank. The accessories are really affordable on Amazon. The biggest splurge is the console table ($815): for good reason. It's stunning! I hope you enjoyed this "Get the look" Industrial Style Entryway mood board. Check out some alternative pieces below. FYI, check out these 18 Ways To Maximize Space In Your Small Entryway. Happy decorating!
Want More Options?
I don't know about you, but I love having options! Here are a few alternative pieces to recreate this look!
Industrial Style Console Table
Black & White Wallpaper
Wooden Word Table Sign
Related Articles
Want More Mood Boards?