Small Entryway Ideas: 18 Ways To Make The Most Of Your Small Space
Looking to create a small entryway in your apartment or tiny home? Maybe you're just trying to maximize space in your small foyer. Whatever the cause for your landing here, you're in for a treat. I've put together a quick list of small entryway ideas to help you make the most of the space!
The entryway is the first thing you and your guests see upon entering your home. It's the space where you typically drop your keys, coat, and other belongings when you come home, so it's a pretty important and convenient space.
Creating this area in a smaller home or tiny apartment may seem like a challenge at first. But with the right strategy and a little creativity, you'll be on your way to creating that stylish and functional entryway you've been dreaming of.
If you're working a tiny entryway here are a few things you can do to make the most of the space.
Small Entryway Ideas To Tackle Your Small Space!
**This page may contain affiliate links. If you purchase something through these links, I may receive a small commission at no extra cost to you. See full disclosure here.**
Small Entryway Tip # 1: First Decide What Your Entryway Essentials Are.
Do you just need a place to stash your keys and hang your coat? Or do you nee extra storage for shoes, mail, hats etc? Assess your entryway needs beforehand so you'll have some direction when designing and shopping.
Some common entryway necessities are:
Storage – for shoes, clothing, mail, and trinkets
Seating – Do you prefer a chair, a small stool, a storage bench or none of the above?
Decor accessories – What pretty things do you want to include in that space? A large mirror? a chic rug or maybe bold wallpaper?
You don't have a lot of space so remember to keep it simple. Especially where furniture is concerned.
Small Entryway Tip #2: Keep It Simple With Wall Hooks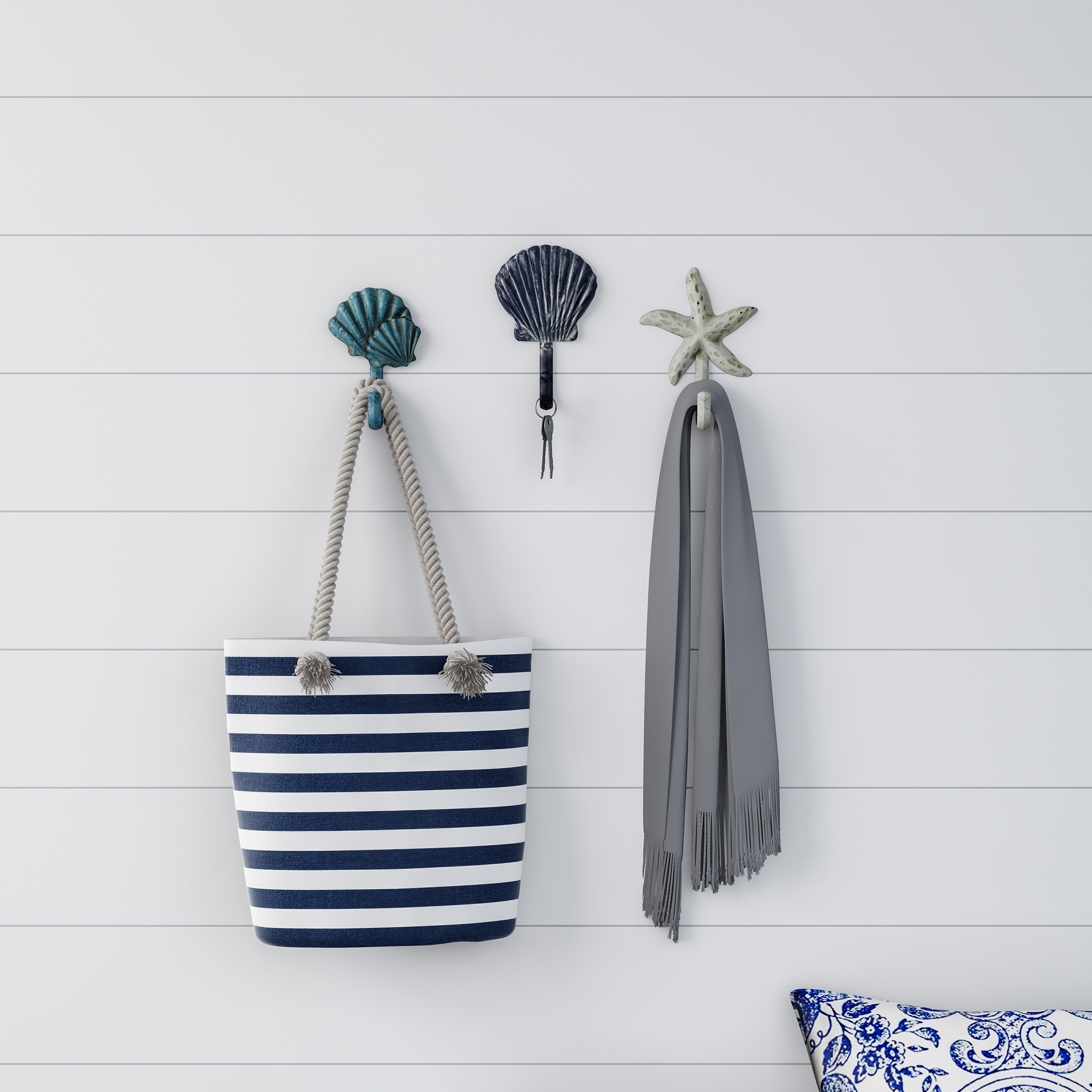 Take the brainwork out of your entryway design by mounting a few wall hooks to store your hat, coat, and keys when you walk in the door. You can then spruce up the space with decor, wallpaper, plants, or other decorative accents. Wall hooks offer a simplified storage solution for small entryways. Go for decorative, statement wall hooks to add a little pizzaz to your space.
But don't limit them to the walls only! Hooks can be attached to almost any surface like doors, and cabinets, and they come in a variety of sizes shapes and styles so choose one that will really elevate your decor.
Define The Space With A Rug
A rug is a great way to add color, texture and personality to any room. It can also define you entryway area giving it a space of its own. Runners are great for a long narrow entry hall. If you have a wider but still small foyer, a 3'x5' area rug would look great. For exceptionally tiny entryways, a simple doormat would suffice.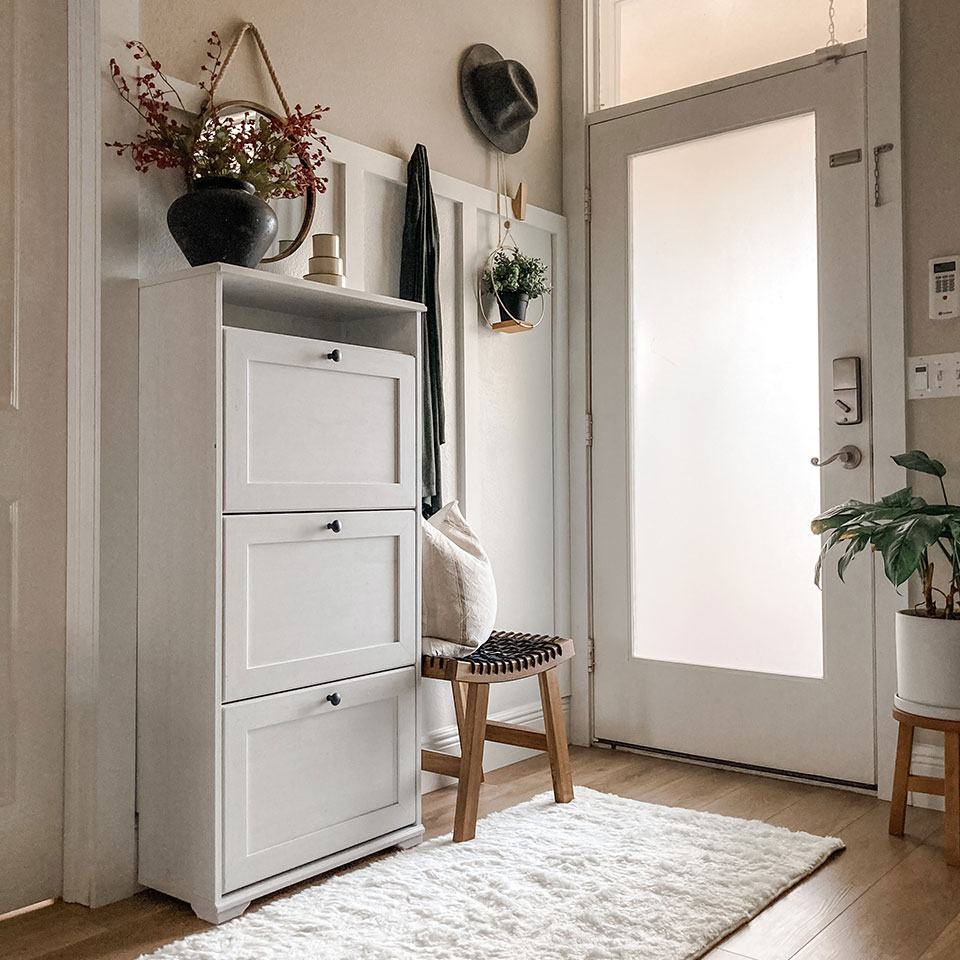 Machine-Washable Polar White Plush Rug from Ruggable / Photo by: @xomyhome
The type of rug you choose depends on your style, but I've always been an advocate for placing a machine-washable rug in this area. I don't know about you, but products that make cleaning easier are definitely worth my consideration! Ruggable has a ton of stylish machine-washable are rugs and doormats. Finding one that blends with your decor is easy! Lorena Canals is another retailer that offers beautiful washable rugs.
Opt For A Narrow Entryway Table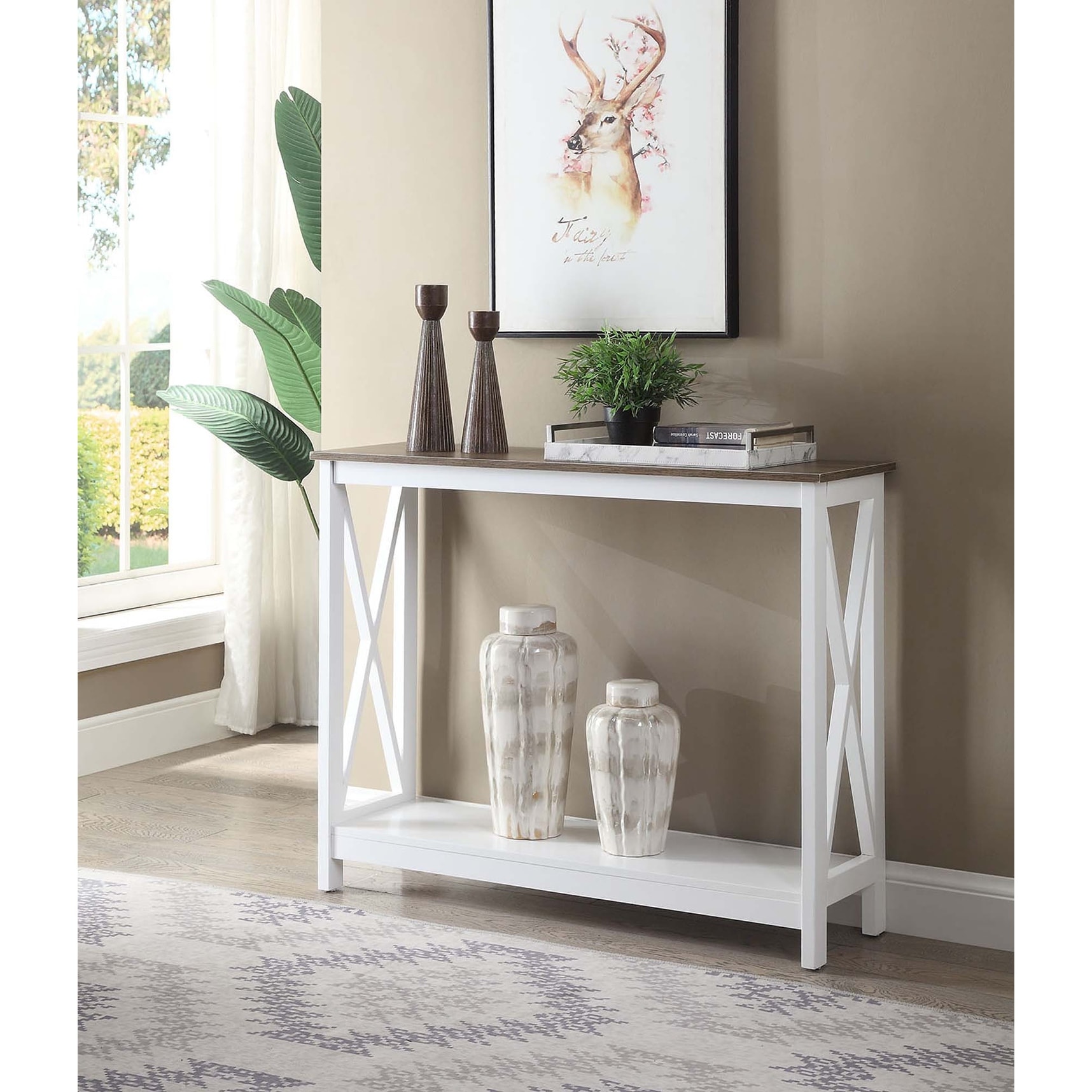 Copper Grove Console Table (Overstock)
Scaling furniture is one of the best ways to save space in a small entryway. A narrow entryway table will offer adequate surface space to store your mail and keys and many have storage space underneath for shoes, baskets etc. A narrow console table is typically around 11-15 inches deep, making them the perfect size for a tiny entryway. These come in a variety of styles, shapes, and materials. These small half-round entryway tables ( from Overstock) are so charming!
Don't Ignore Corner Space
Solid Wood Floating Corner Shelves (Set of 3) from Amazon.
When working with small spaces, every inch counts, even those underutilized corners. If you have a tiny apartment or home you can still have an entryway by using the corner near your door. Mount a few corner shelves for storage and add a wall hook or two. Go a step further with a small corner bench or even a corner hall tree (like this one) for all your entryway storage needs.
Let A Small Hall Tree Do The Work
Middlebrook Solid Wood Hall Tree with Drawer (from Overstock)
A hall tree is an easy-peasy (not to mention stylish!) entryway storage solution. One compact piece with multiple functions. Hall trees often come with a bench, hooks, and storage shelves or drawers. There are many narrow, scaled-down pieces that cater to smaller spaces. With a hall tree, you won't have to worry about drilling holes for hooks, buying a bench, or bringing in additional storage furniture.
Shop Small Hall Trees Below:
Store Shoes Vertically
Shop These Products on Amazon: 7-Tier Shoe Rack, Entryway Shoe Tower // 3 Drawers Shoe Storage Cabinet 
A list of small entryway ideas won't be complete without mentioning vertical shoe storage. Storing shoes vertically is another way to maximize space in a small entryway. To keep shoes off the floor employ a vertical shoe rack. A slim, tall, tiered rack will offer even more storage while saving space. A small entryway cabinet is another way to store shoes vertically while keeping them tucked away and out of sight. You can even mount floating shelves on your wall to store shoes. If you really want to save floor space in your entryway you have to get creative with storage.
Consider An Entryway Wall Organizer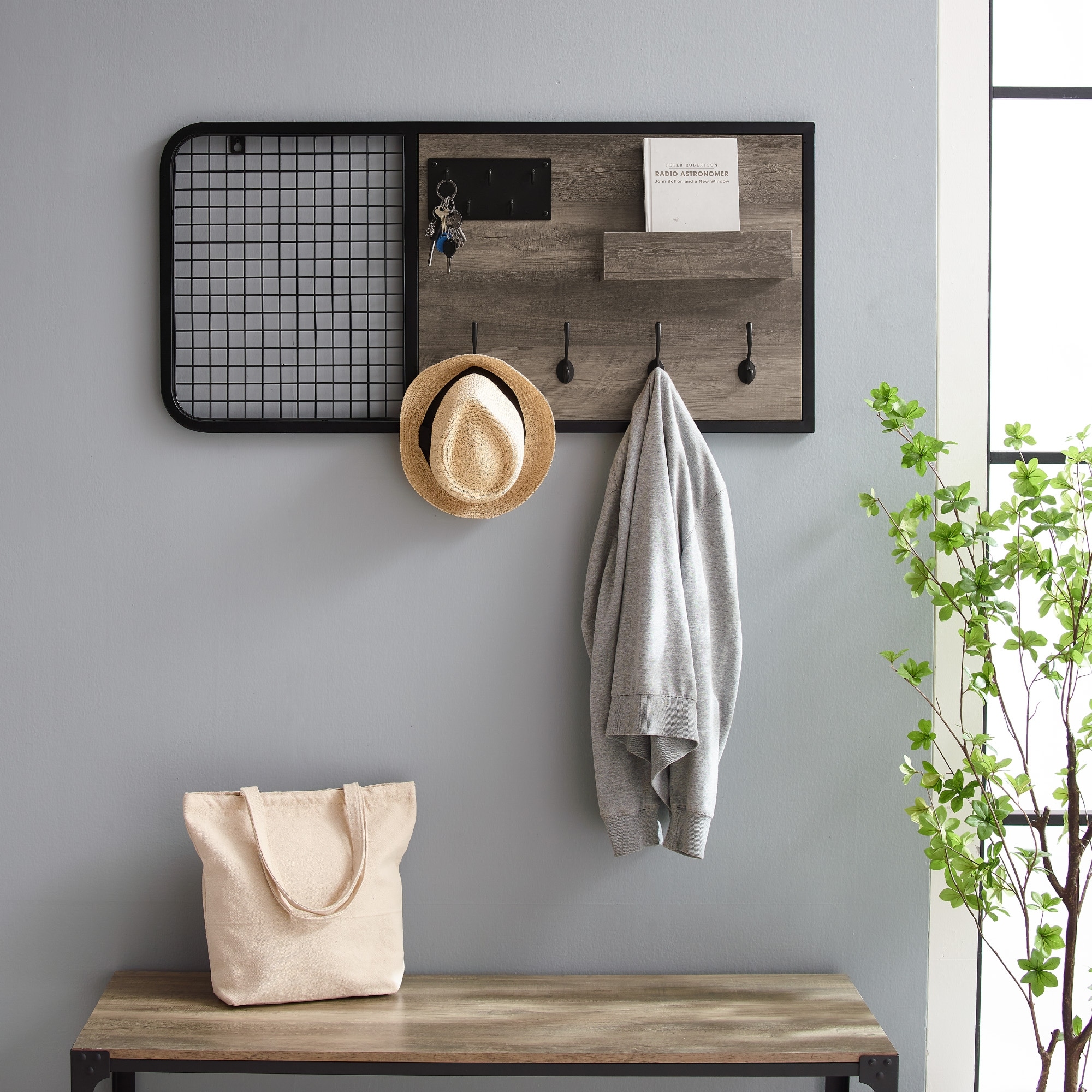 Mixed Material Wall Organizer from Overstock
For a simple, one-and-done entryway storage solution try an entryway wall organizer. These wall-mounted organizes offer multiple storage needs in one compact piece. They come with pockets, or shelves, for your mail and wallet and hooks for your coat and purses. Many of the even have a built-in mirror. It's the perfect multifunctional storage piece for small entryways! A wall organizer will eliminate clutter and may even enhance your decor.
Shop More Wall Organizers:
Try Color-Zoning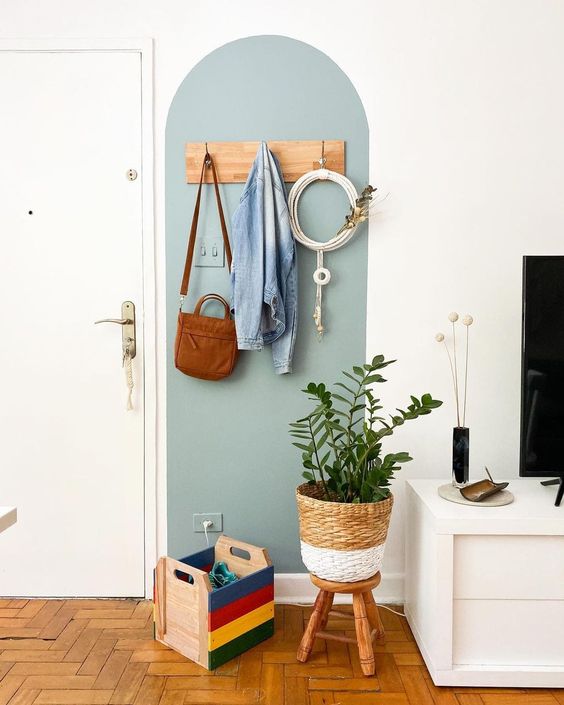 Images: Instagram / Diana Domesticated via Pinterest / Instagram
Color-zoning (or color blocking) is an interior design technique where blocks of color are used to define areas or 'zones' in a room. It allows you to visually carve out living spaces or 'rooms'. Color-zoning is a great option for studio apartments and open floor plans. If you want to learn more about this technique check out this article. Then see how this tiny studio uses color-zoning. If you're sold on the idea and need some inspiration I create a list of color-blocking ideas here. You'll find ideas for every room!
Try A Floating Console or Cabinet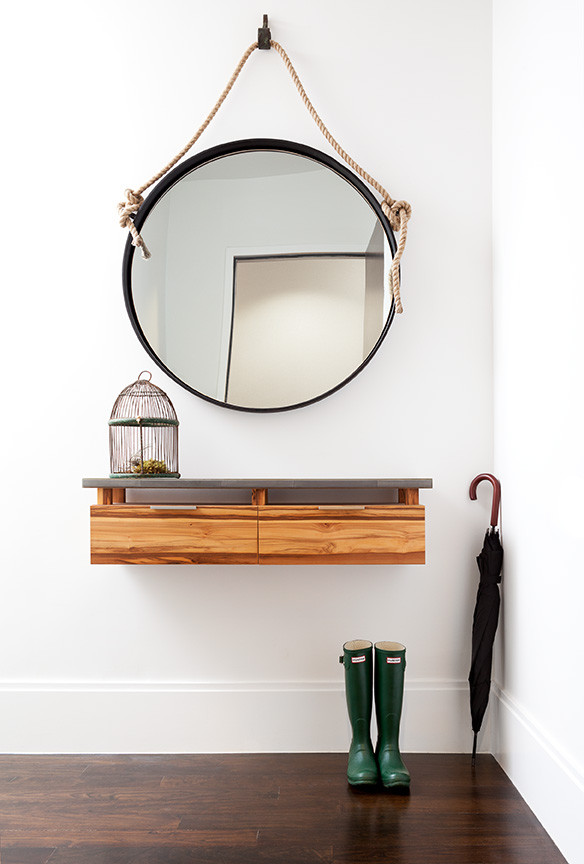 Image: Houzz
Floating consoles bring modern, sophisticated style to any space. These pieces can provide extra storage space without taking up floor space. A floating shelf with drawers like this one will work well for tighter spaces. Or maybe try a floating nightstand like this one from Amazon. Floating furniture creates the illusion of more space by removing visual obstacles (like legs and bulky bases), ensuring a clean uncluttered look to the space.
Consider A Mirror With A Shelf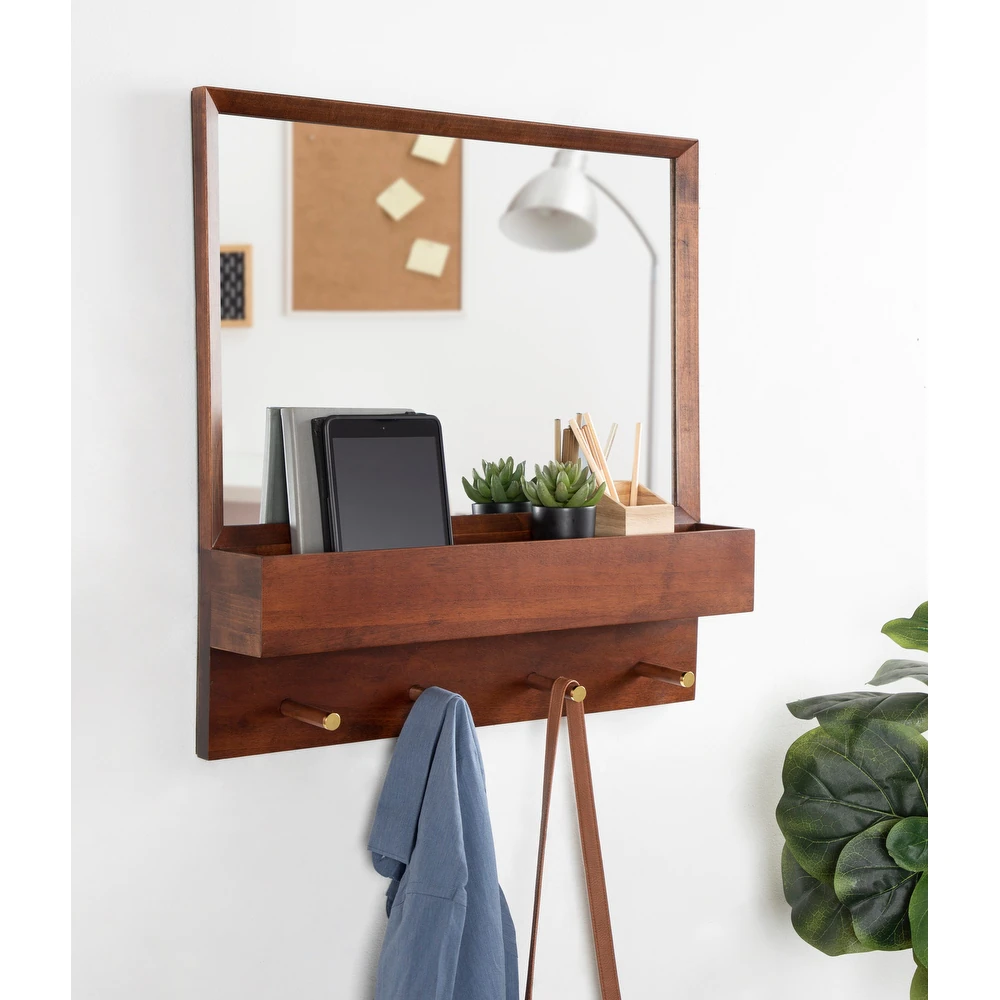 Shop This Mirror: Wall Mirror with Shelf and Pegs in Walnut Brown
A medium or large mirror will make your small space feel bigger and more open. But mirrors with built-in shelves will work harder to help you maximize your space. These come with storage pockets, shelves, and hooks to keep your entryway organized and clutter-free. It's another multifunctional piece worth considering for your small space. Check out my roundup of stylish mirrors with shelves and hooks in this article here. If you just need a floor mirror for your entryway I curated these stunning floor mirrors here.
Try A Small Cabinet For Hidden Storage
Shop The Cabinets: White Shoe Cabinet & Organizer // Lindesberg 28-inch Bookmatch Accent Cabinet // Rustic Mirrored Accent Cabinet
If you prefer hidden storage a small storage cabinet for your entry hall is the way to go. Tuck your shoes, extra handbags, hats, and scarves inside and out of sight. A storage cabinet will help you keep clutter at bay while adding style and function to the space. A small credenza will work just the same. Be sure to measure your space before purchasing one.
Spruce Up The Space With Wallpaper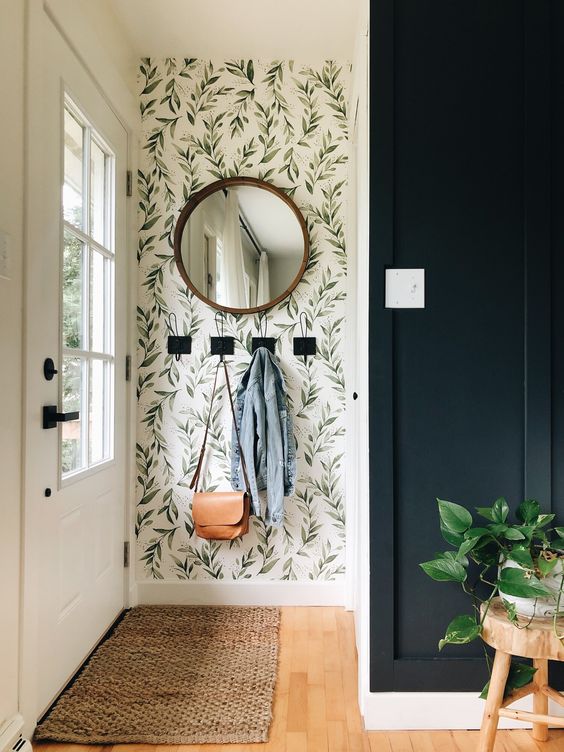 Image: Harbor & Pine – Via Pinterest
If you really want to elevate your small foyer adding beautiful wallpaper is the way to go. From geometrics to florals to textured prints and more, wallpaper is a great way to create a big impact and add color, especially in a small space. Check out the Best Wallpaper Patterns For Small Rooms to see what works.
Mount A Decorative Shelf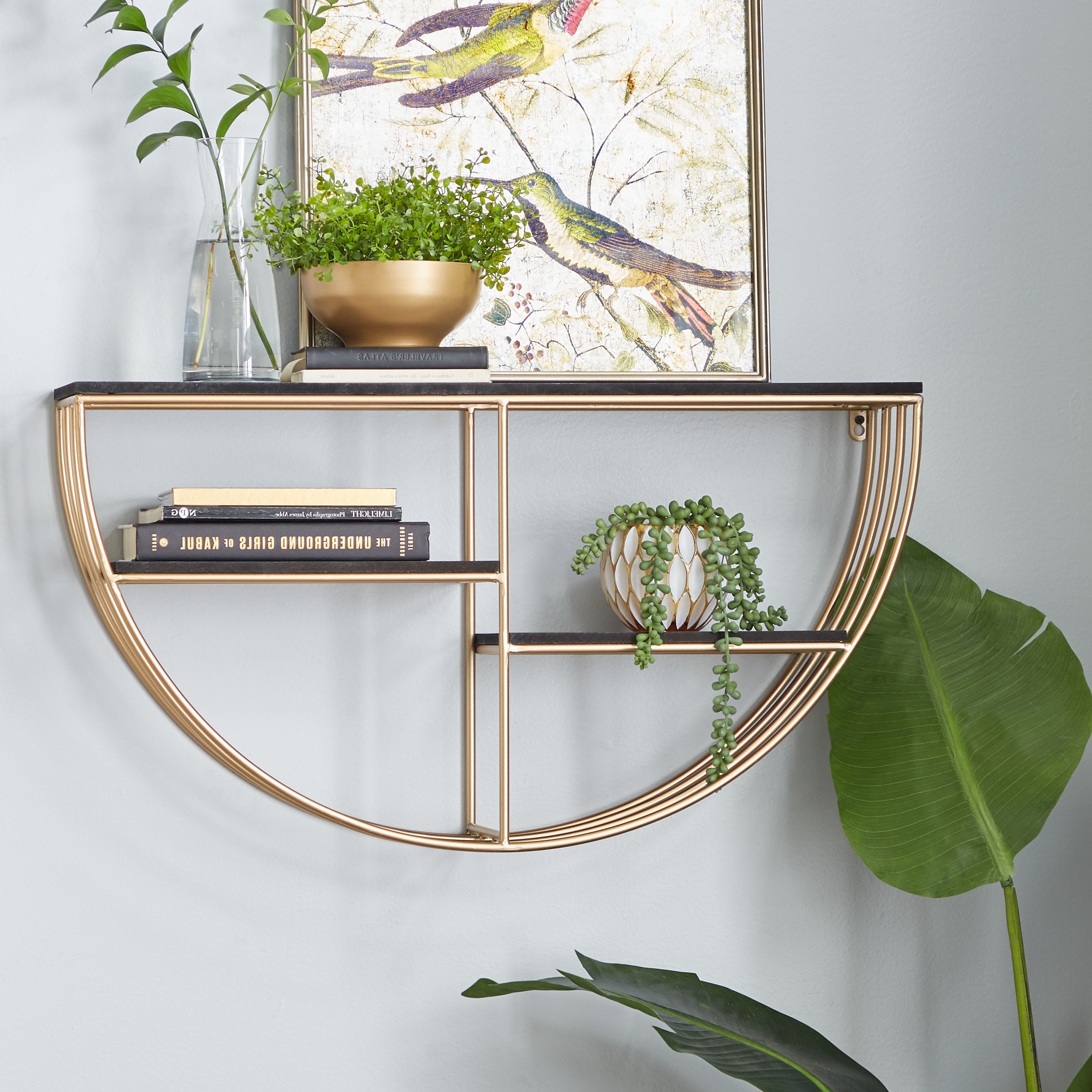 Shop This Ellison Antique Gold Metal Decorative Wall Shelf
Decorative wall shelves offer both style and function for your entryway. I've always been a fan of pretty storage. Mounting a unique shelf will not only add more storage but will also enhance your decor. These 23 Decorative Wall Shelves will offer more beautiful storage!
Add A Small Stool or Chair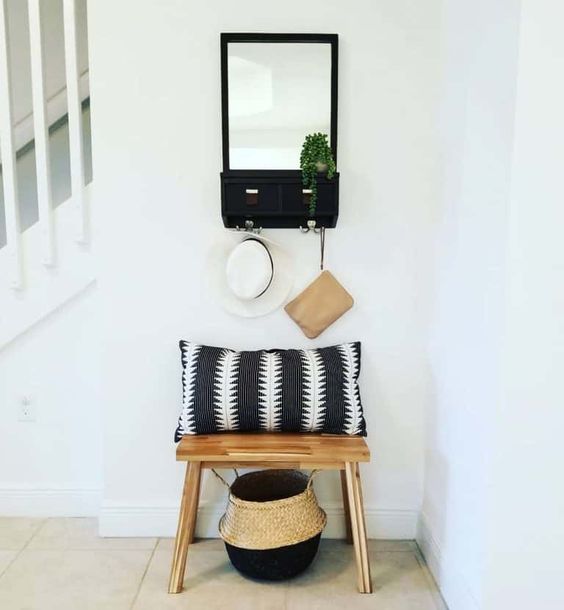 @the_olive_studio via Instagram
Keep entryway furniture simple with a small chair or stool or step up your game with a small storage bench. Whichever you choose, remember to select visually lightweight, clean-lined, and trim pieces so as to avoid that cluttered look.
Create a Catch-All for Storage

Leather Storage Trays
from:
FINT Designs

Scandinavian Ceramics Gold Leaves Plate
from:
FINT Designs
Decorative trays, small baskets, or bins will help keep clutter at bay and add texture to your space. Use them to store smaller items like keys, shades, your wallet, and other trinkets. A catchall spot provides a place where you can empty your pockets when you enter your home. If you don't have a table to rest them on, try a wall-mounted wire basket and use that instead.
Add Some Plants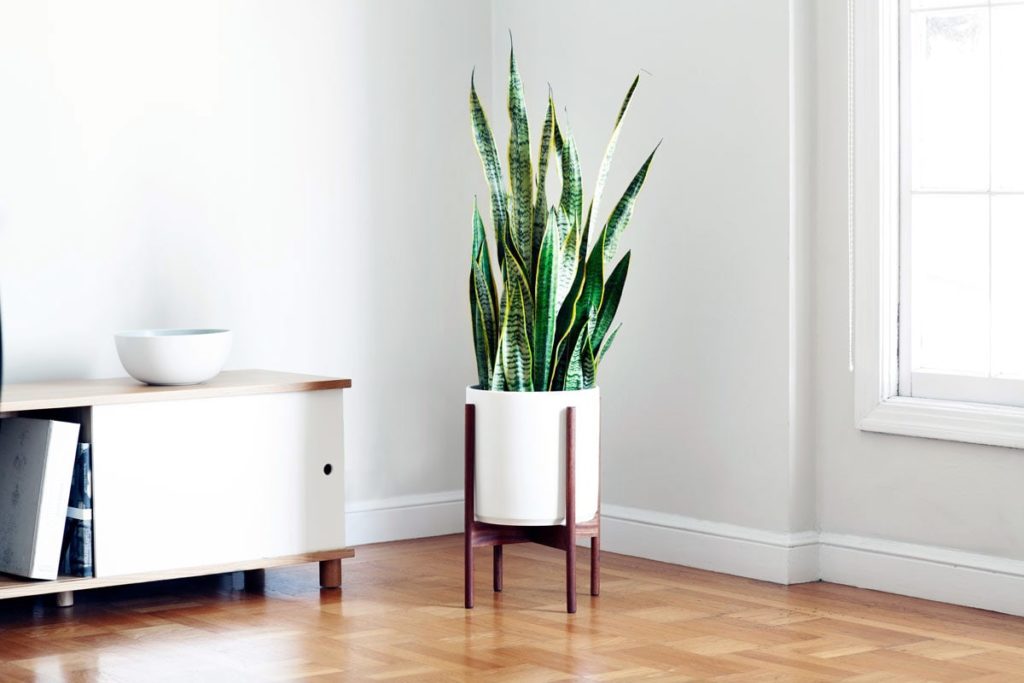 Plants won't make your space look bigger but they will certainly enhance the aesthetic. Whether it be real or fake, a nice pop of green will add life to the space. Choose from floor plants to small potted plants or even try wall planters for big impact. If you're going with real plants consider first the amount of natural light your entryway gets during the day. There are lots of low-light, indoor plant options like the Silver Satin or Cast Iron Plant. Both can take on a little neglect and grow in the shade. Bloomscape has a ton of beautiful, easy, low-maintenance plants for beginners.
Baskets Are Decorative Storage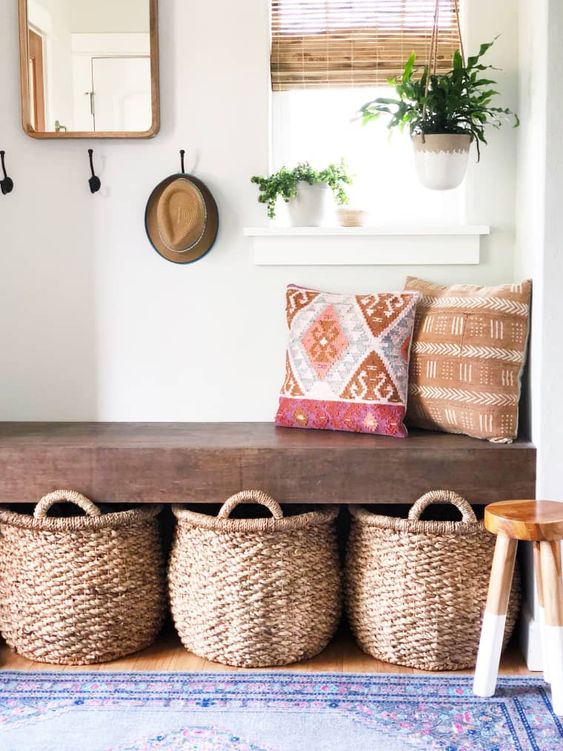 Image: Apartment Therapy via Pinterest.
Woven baskets will add texture, warmth, and a natural element to your design. They are notorious for home storage, and for good reason too. You can store anything in them and they look great! Incorporate storage baskets into your entry hall to store shoes, scarves, and other items. Slide them under your bench or get creative and mount them onto the wall. If you have kids, designate a basket for each of them. Use name labels to keep it cute and organized. You really can't go wrong with storage baskets.
There you have it. 18 small entryway ideas to help you make the most of your space. I hope you were inspired to try some of these ideas in your entryway design. Remember to keep it simple. You don't need too many furniture pieces and you don't need to fill your entire wall with storage or decor (remember, visual clutter is real). Stick to the essentials and create impact with accessories, wallpaper, throw pillows etc. Happy Decorating!
Want More Small Entryway Ideas?
Pin This For Later!