Small Balcony Ideas – How To Decorate A Small Balcony
Good balcony ideas start with a blank slate. I recently moved into a new apartment, that has a small balcony and I'll tell you right away that I spend a lot of time there. Decorating a small balcony can be a little tricky because of the space limitations but there is still so much you can do to make it beautiful, comfortable, and functional.
Truth is, you don't need a lot of space to create a cozy outdoor space. If you're not sure where to start here are some small balcony ideas to help you make the most of your space.
Easy Decor Ideas For Your Small Balcony
Keep It Cozy
To make your small balcony a cozy refuge you'll need soft furnishings, warm lighting, and soothing decor. Start by adding a rug. Not only will it bring warmth to the space, but it'll also provide a warm surface to rest your feet on.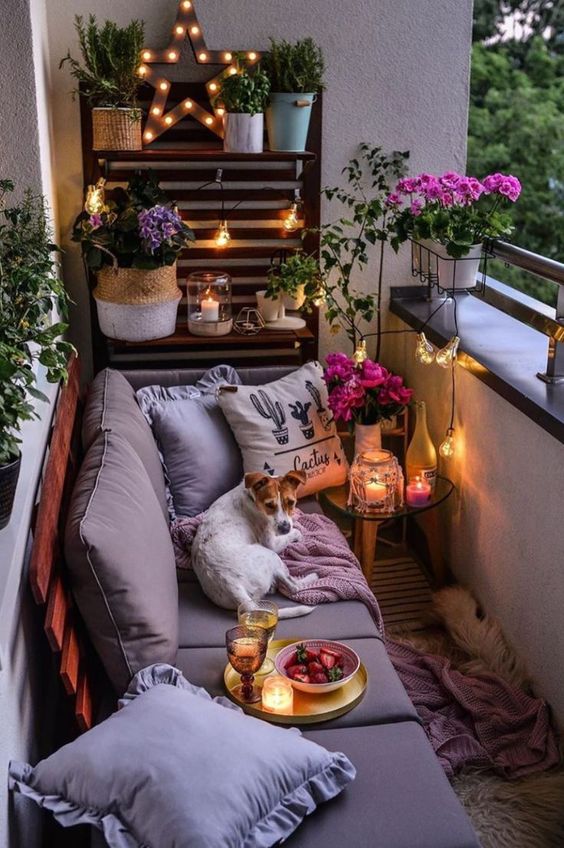 Add cushions to your seating—this could be a small bench, chairs or even built-in seating. No matter what you choose, this small detail will make your balcony feel like a whole new room in your home.
Add warm lighting—string lights, lanterns and candles do wonders for a small space at night.
Now add throws to complete the cozy scene for those chilly nights when you still want to enjoy the outdoors.
Finally, add a heater if there's room so that you can hang out on cooler evenings as well as during the warmer months.
Don't forget to sprinkle in some plants and flowers (real or faux) throughout. If you're really short on space, why not try hanging up a hammock instead? Nothing is cozier than being cocooned inside a soft hammock!
Choose Space-Saving Furniture Options
When decorating a small balcony, the first thing you want to do is rethink your furniture. You'll need to scale down and choose the right pieces. Check out these small balcony furniture ideas here.
Consider space-saving outdoor furniture like:
A compact bistro set for 2
A railing breakfast table and stools for outdoor dining.
A corner bench or small L-shaped outdoor sofa will add sufficient seating without taking up too much space.
Custom built-in furniture
or if you're really short on space try a hammock or a hanging chair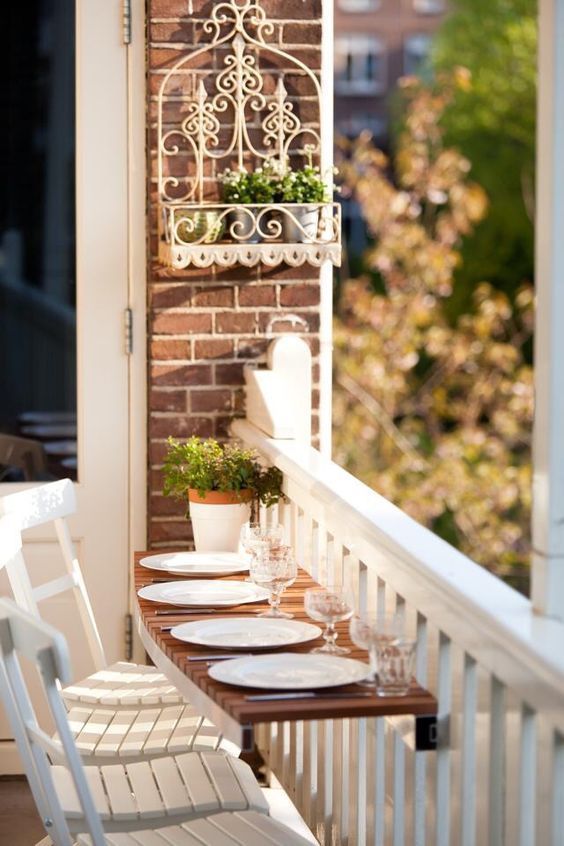 You don't have to spend a fortune on outdoor furniture though. Try repurposing old furniture into something more suitable for the space, like a small stool as a side table, or stacked wooden pallets with cushions on top for a more laid-back, boho seating area.
Shop Space-Saving Balcony Furniture:
Throw Decor On the Walls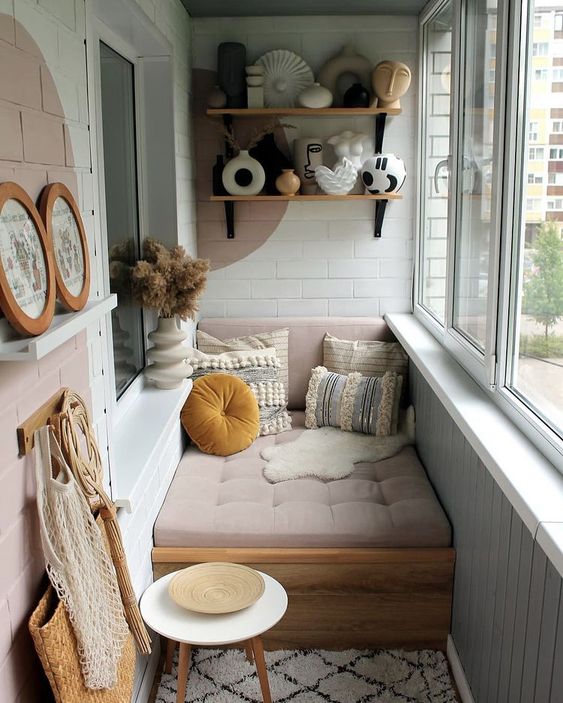 To save on floor space think vertically when it comes to decor. Add decorative accents lights and plants to the walls of your balcony to maximize space. Use vertical storage solutions like hanging shelves, pegboards, wall baskets, and hooks to make use of every inch of available space on your balcony. Choose pieces that complement your decor as well as your functional needs.
Keep The Color Palette Cohesive.
Colour theory is a complex subject, but one simple way to ensure that your scheme works is to choose a neutral base, such as white or grey (you can never go wrong with neutrals), and add color through accessories. The neutral base will help keep the scheme cohesive and provides an opportunity for you to incorporate vibrant colors into the space without making it look too cluttered.
When decorating an outdoor area, take advantage of nature. Opt-in for green plants and colorful flowers will add pops of color to the overall scheme.
Go Vertical With Plants
Displaying plants vertically will keep plants off the floor, but it can also serve as a beautiful focal point on your as shown below. Hanging planters are another easy way to add some foliage without taking up any precious floor space.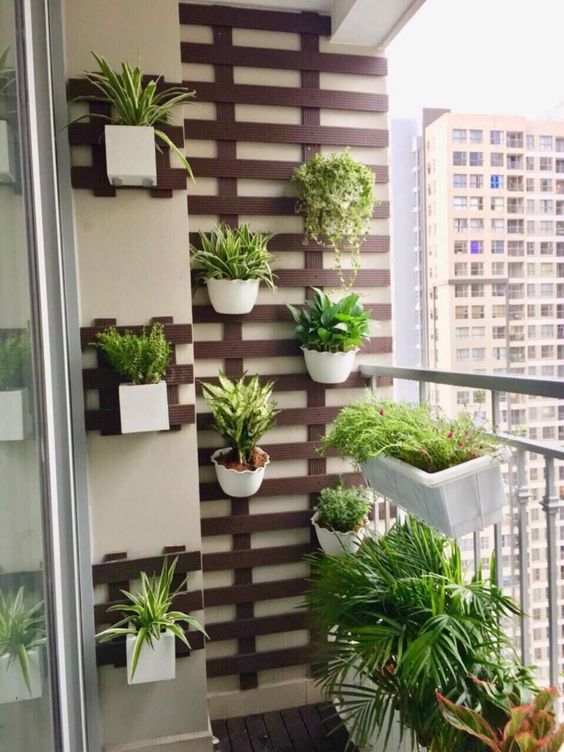 Don't forget about your balcony railing! Use railing planters (Overstock) to accessorize your balcony railing. This option not only saves space but also provides a measure of privacy! Get railing planters here at Overstock and here on Amazon.
Don't Forget About The Floor!
When decorating a balcony, It's all too easy to focus on furnishing your small balcony and ignore the flooring. But if you're going to make this tiny space as comfortable and stylish as possible, then you need to make sure that every inch counts.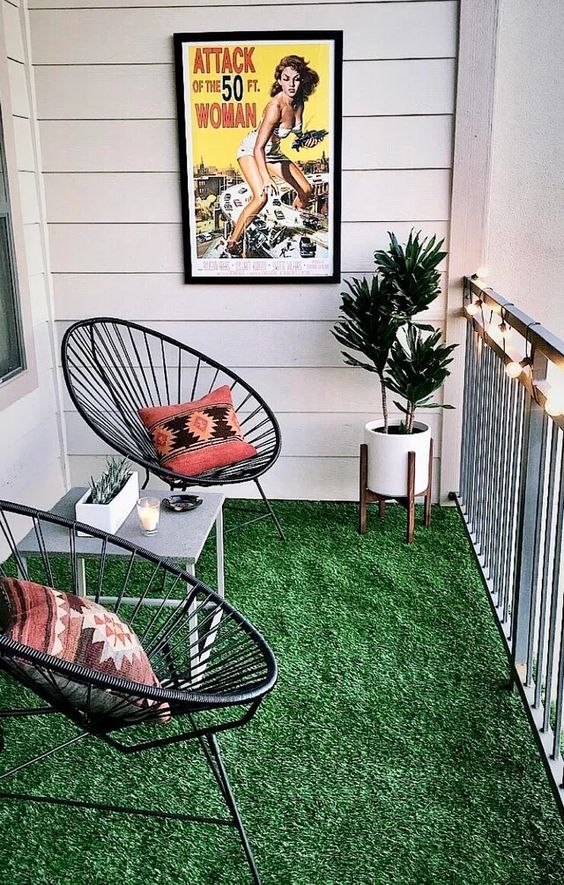 Images: Reddit / Fashion Bubbles
Upgrading your floors will have a huge impact on your space. If you're renting, don't worry—there are still plenty of ways you can give your balcony floors a new lease on life without having to replace or damage the existing flooring.
Here are some renter-friendly outdoor flooring options from Amazon:
Light It Up!
Little lights add a big boost of ambiance to a tiny space and are the one thing you should always have on your balcony. The best part? They don't need any electricity to work! You can go for battery-operated ones for fuss-free switching on.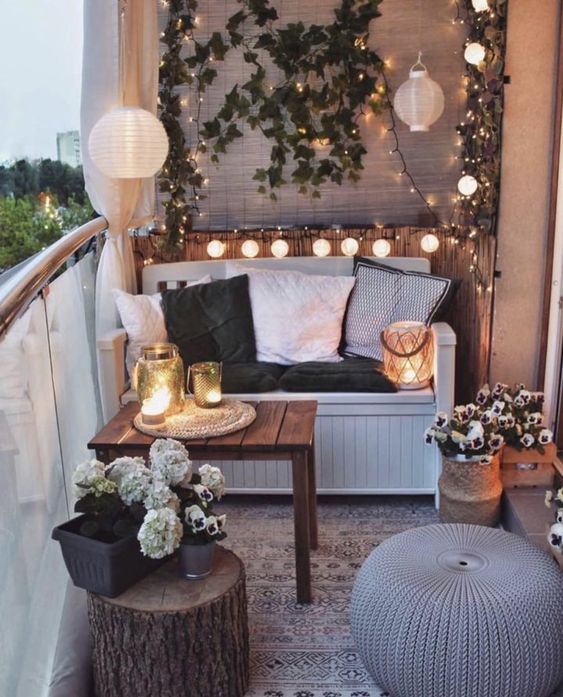 The outdoor lighting options are endless here:
Fairy light chains are super versatile and come in all sorts of colors;
Filament bulbs give off a retro glow;
Twinkling paper lanterns add a touch of romance;
Charcoal bowls with tea lights inside create puddles of warm light.
Whatever you choose, know that lighting is essential here so don't skip it!
Try a Hammock or A Hanging Chair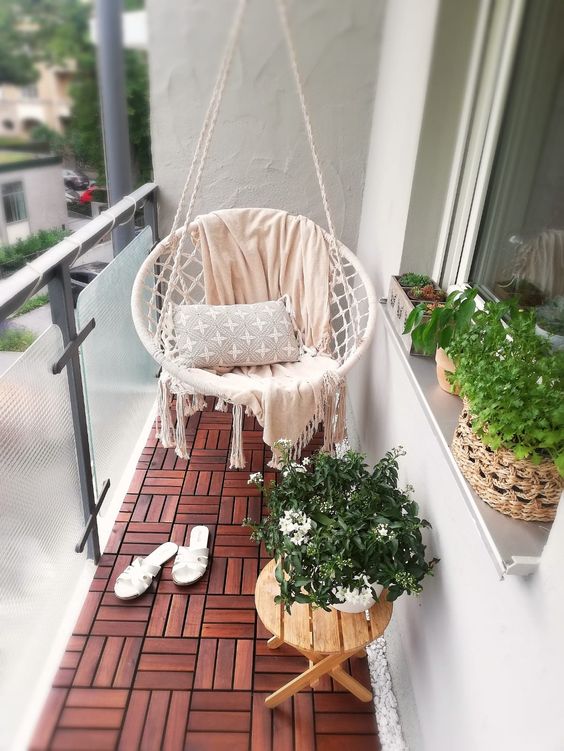 Hanging chairs not only creates more floor space but also adds a touch of whimsy and fun. You've got a few options here; an egg chair is perfect if you're looking for something that's both modern, cozy, and comfortable. Hammocks are great for relaxing for long periods while hanging swings are perfect for kids (and adults).
Create Some Privacy
Creating some privacy may be particularly useful if you want to use your balcony for multiple things such as relaxing and working. Add a screen, tall plants, curtains, or a trellis to your balcony to create a visual barrier for your space.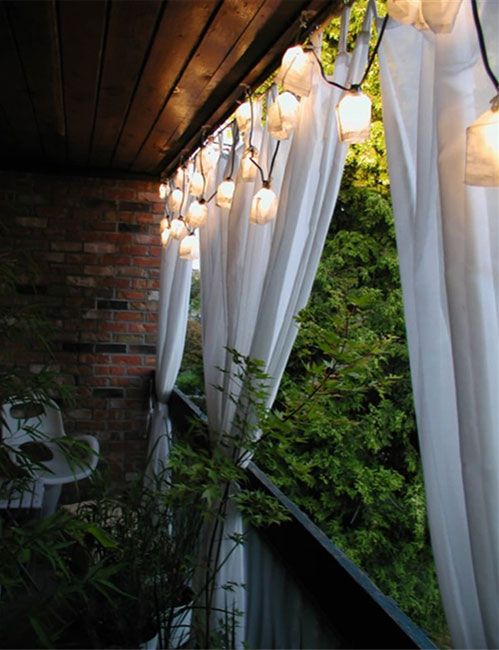 Images: Pinterest
Depending on the type you choose they can also protect your space from direct sunlight and of course, from peering eyes outside. A decorative and interesting divider will make the space feel unique, cozy, and more inviting. You can get really creative with this!
Choose A Half Patio Umbrella
Get this half patio umbrella here at Grandinroad
A patio umbrella is a great option for shading an outdoor space, but not every balcony or porch has enough space for a full-sized cantilever umbrella. A half patio umbrella (Overstock) is a perfect solution for small and narrow balconies. The canopy is attached to one side of the umbrella so it can be angled over your seating area, providing shade without taking up too much space.
Shop Half Patio Umbrellas Here:
The Takeaway…
Don't let your small balcony get you down, there are still plenty of ways to make it stylish, functional, and relaxing. Be smart with furniture selection (think trim, multifunctional, and space-saving pieces) and don't be afraid to DIY or repurpose seating and tables. Get creative! Experiment with colors, let your favorite decorative accents shine, and don't forget to keep it cozy.
Remember less is more when working with small balconies so edit your design often and keep only the things that make the space special. Do this and you'll be spending all of spring and summer lounging in your new outdoor oasis! I hope you enjoyed these small balcony ideas. Happy decorating!
More Outdoor Ideas For Small Spaces:
Pin This Post For Later!