Disclosure: The product selections on this page are curated by me. If you buy something through these links, I may earn an affiliate commission at NO extra cost to you. I only recommend products I genuinely love!
If you're looking for small balcony furniture ideas to spruce up your outdoor space, I've got some ideas for you! Finding outdoor patio furniture that fits can often be a struggle, especially when most balconies are pretty small and narrow.
The good news is there are plenty of ways to make the most of your space and plenty of options for compact furniture pieces. If you're not exactly sure what you need this list offers some ideas and stylish options.
Plus, at the end of this article, you'll find some decorating tips and balcony decor inspiration to help you get started!
Small Balcony Furniture Ideas!
Bistro Dining Sets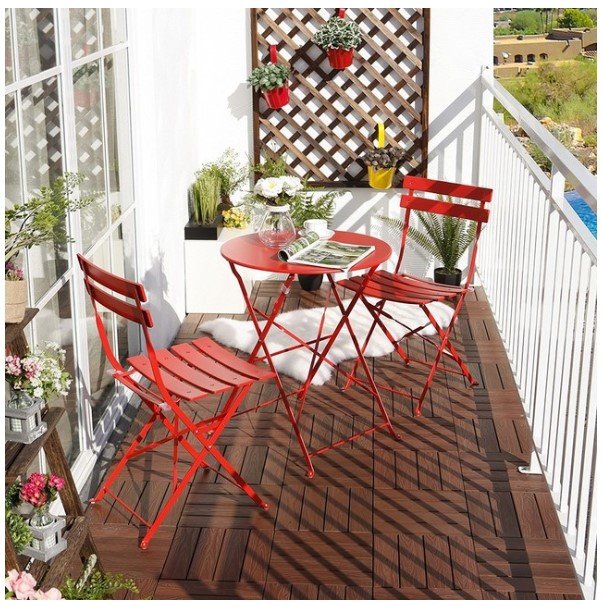 Get This Red Bistro Set Here On Amazon
This striking red bistro is the perfect way to add a pop of color to your balcony decor while saving valuable space. When not in use, this set can be folded and tucked away. Perfect for outdoors, and easy to store.
Where To Shop Small Bistro Sets? Found Some At GDF Studio | Amazon
Small Outdoor Bistro Set Picks:
Kelly Outdoor Iron Compact Bistro Set ($126.72)
Outdoor Wicker Bistro Set With Water Resistant Cushions ($168.88)
Finnish Outdoor Wicker Bistro Set ($168.88)
Matte Black Outdoor 3 Piece Bistro Set with Cushions ($211.46).
Balcony Half Tables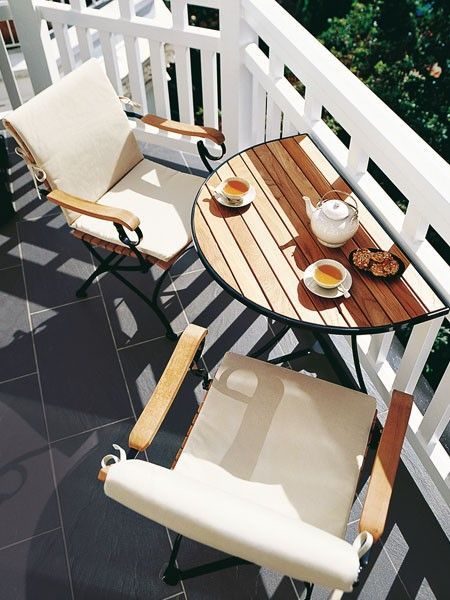 These tables nestle against the railing or wall and occupy very little floor space. Perfect for breakfast on the balcony. Also, try the mounted balcony table to save on floor space.
Balcony Table Picks:
Rustic Industrial Acacia Wood Half-Round Table with Metal Frame, Teak and Black ($103.02)
Outdoor 2 Seater Half-Round Wood and Wicker Bistro Set with Folding Table ($231.84)
Antique White Accent Table (Amazon)
Balcony Hanging Half Table (Amazon)
Found some more space-saving balcony tables here on Amazon
Balcony Bar Set
Image: Outdoor 3 Piece Acacia Wood Balcony Bar Set ($181.14)
A compact and easy to use set that you can attach to your balcony for maximum space-saving opportunities. When you just need a spot to have your coffee or breakfast outside, balcony bar sets is an easy and affordable solution. See more small balcony tables at GDF Studios & Amazon
Where to get them?
2-Piece Industrial Balcony Bar Table Set (Amazon)
Outdoor Rustic Industrial Acacia Wood Bar Table with Metal Hairpin Legs, Teak ($101.42)
Folding Mounted Balcony Table (Amazon)
Hanging, Folding Balcony Railing Bar Table (Amazon)
Multipurpose Drink Cooler Tables:
Outdoor Wine Cooler Bar Table (Amazon)
Garden MPG-PC01 Wooden Patio Cooler (Amazon)
Rattan Rolling Cooler Cart Outdoor, Portable Beverage Bar (Amazon)
2-Seater Outdoor Sofa / Loveseat
Laiah Outdoor Wooden Loveseat and Coffee Table Set ($406.00). Just want the loveseat? Get it here for $286
For small balconies, all you need is a loveseat and a place to rest that delicious glass of wine. Spruce up that drab balcony with a plush loveseat and sturdy coffee table. Get more Outdoor Loveseat ideas from GDF Studios.
Outdoor Loveseat Picks:
Outdoor 2-Seater Acacia Wood Sectional Loveseat Set with Cushions ($357)
3 Piece Poolside Bobbi Outdoor Bistro Set, (In multiple colors)
Montague Outdoor Wicker Loveseat and Coffee Table Set ($189.32)
Outdoor Acacia Wood Loveseat ($225.15)
Patio Chairs & Lounge Sets
IMAGE: Nola Outdoor Wooden Dining Chairs with Cushions (Set of 2) – $158.50
If you just need a chair or two to complete your balcony decor, then this natural outdoor chair set is a stylish option to consider. With solid acacia wood frames and plush outdoor cushions, this chair offers hours of conversation for you and your guest. See more outdoor chairs at GDF Studios | Amazon |
Outdoor Chair Picks:
Fonda Outdoor Iron Chairs, Set of 2 ($128.36) from GDF Studios
Mischa Indoor/Outdoor Accent Chair – Set Of 2 ($264) from Lulu & Georgia
2 Piece Patio Sectional Corner Sofa (See updated price on Amazon)
A Shelf for Plants Or Decor Accessories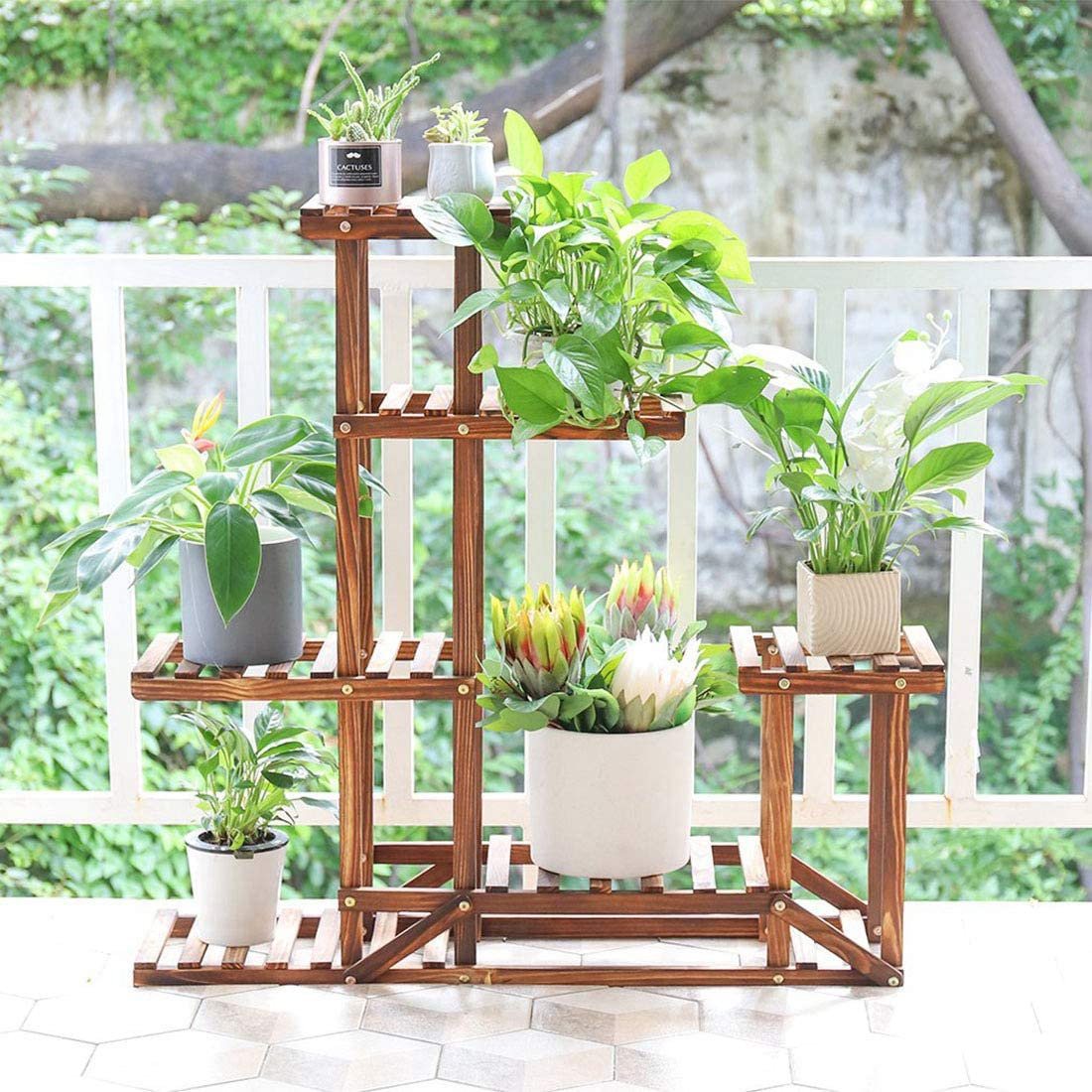 Get This Wooden Plant Stand Here On Amazon
Add some greenery to your outdoor oasis without sacrificing space. Outdoor shelves like these are perfect for storing plants, decor items, lights, etc. Maximize that vertical space with slim, tall shelves to house all your lush plants and flowers.
Outdoor Plant Shelf Picks:
Outdoor Industrial Firwood Corner Shelf ($127.51)
Modular Wall Garden System ($100)
Corner Outdoor Industrial Pipe Design 3-Tier Shelf ($121.83)
A Half Canopy Umbrella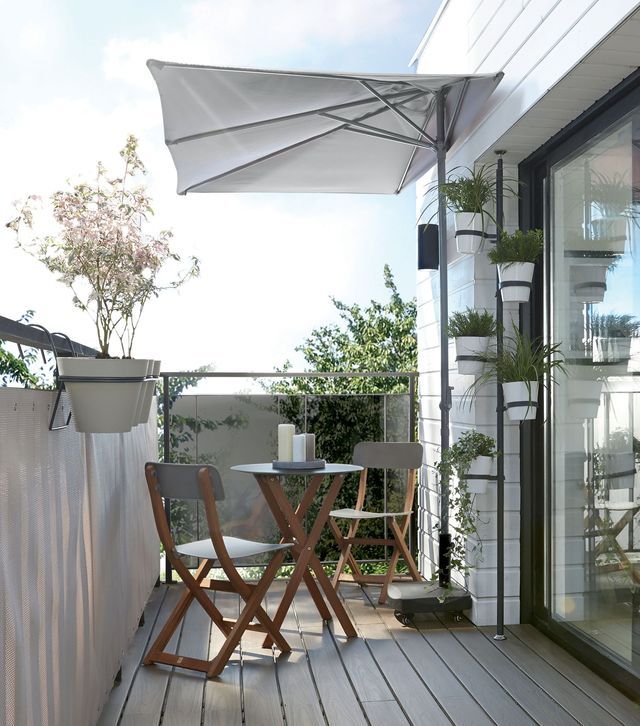 Traditional patio umbrellas can be too large and cumbersome for small balconies. These half-canopy, off-the-wall patio umbrellas are the perfect solution. Found an affordable Half Patio Garden Umbrella On Amazon.
They stand flush against a wall or vertical surface to provide cooling shade wherever you need it. They're mobile so you can move them around as much as needed.
If you're short on space, then try a Railing Umbrella Holder (Amazon) instead. Perfect for the tiniest of balconies, this nifty holder allows you to mount your umbrella onto your balcony railing to help block out those harsh rays.
Small Balcony BBQ Grill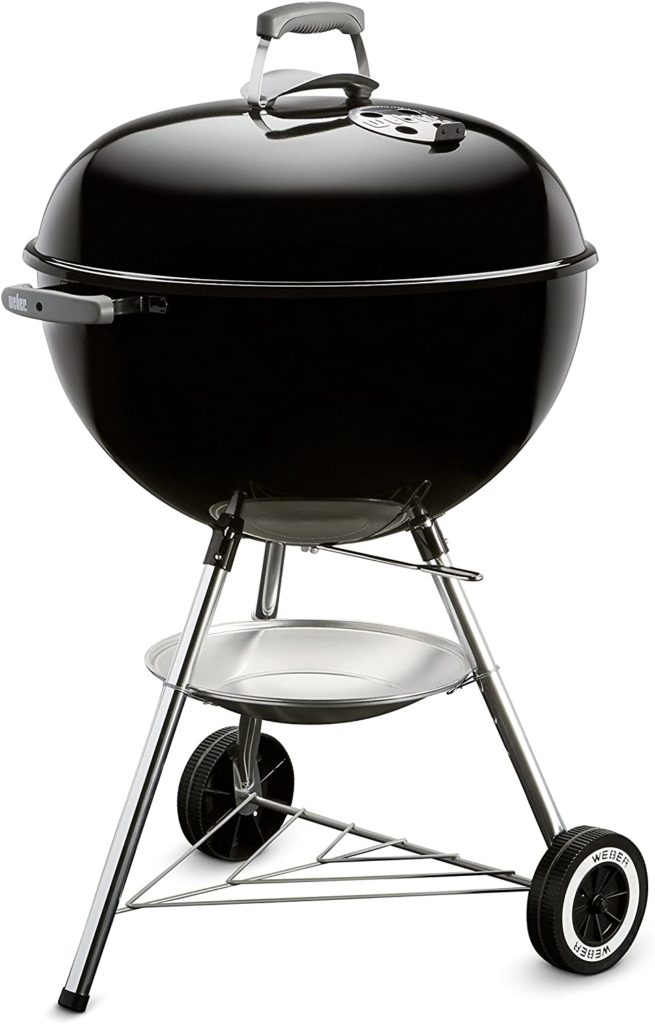 22 in. Original Kettle Charcoal Grill in Black (see updated price Amazon).
Summer is right around the corner, and it's safe to say that outdoor BBQs are going to look a lot different this year. But that doesn't mean you can't enjoy outdoor cooking. A small balcony grill that is safe and doesn't take up too much space is a great way to spend time outdoors and create a sense of normalcy this summer (the old normal).
Swing Chair
When you need something that's a little more playful and cozy, these egg swing chairs really deliver the goods! A charming accessory that provides incredible comfort and style to your outdoor space. The options are endless here so let your personality shine!
Temporary Floor Decking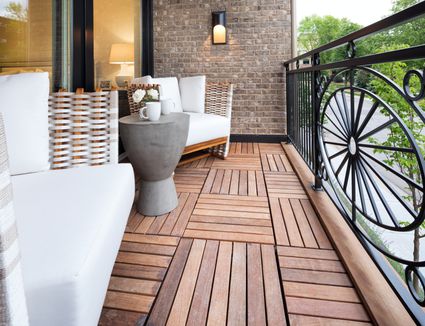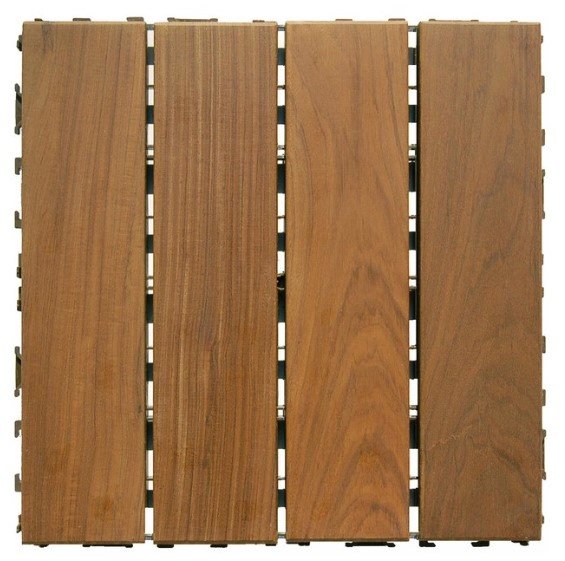 SHOP: Temporary Decking & Floor Tiles On (Amazon)
Technically not furniture but definitely worth mentioning. Most balconies are outfitted with unattractive concrete flooring. Which makes these temporary wood deck tiles so popular.
Add some warmth to your balcony with removable flooring. There are so many styles & color options out there it won't be hard to find a set that suits your style. They're super easy to install and you can style them in any pattern/combination you like.
Tips For Upgrading Your Small Balcony/Patio
1. Soften the space with rugs and pillows and throw to create a warm and inviting outdoor space. If your furniture is simple and neutral, this is the perfect opportunity to add some color and personality to your space.

2. Have fun decorating but be practical. Outdoor spaces are a joy to decorate but you have to be mindful that your furniture will be exposed to the elements. Choose furniture that can withstand the weather, and if it can't, then invest in a simple furniture cover (see some affordable options here).
Use a cart or mobile shelf for your decor so you can easily transport everything in and out, and make sure your rug is suitable for outdoor use (I found some modern Machine-Washable Outdoor Rugs from Ruggable).
3. Add some ambiance with lighting. String lights are a popular choice for outdoors—they create the perfect mood lighting, and can be draped and maneuvered wherever you need them.
If you lack outdoor outlets, many string lights are battery-operated and made specifically for outside use (see below for options). Another option is lanterns, so your candles stay safe from the elements.
Where To Get Outdoor Lighting?
Lumens Lighting & Living: Outdoor String Lights | More Outdoor Lighting Options
Amazon: Outdoor Lighting Options
Some Balcony Decor Inspiration!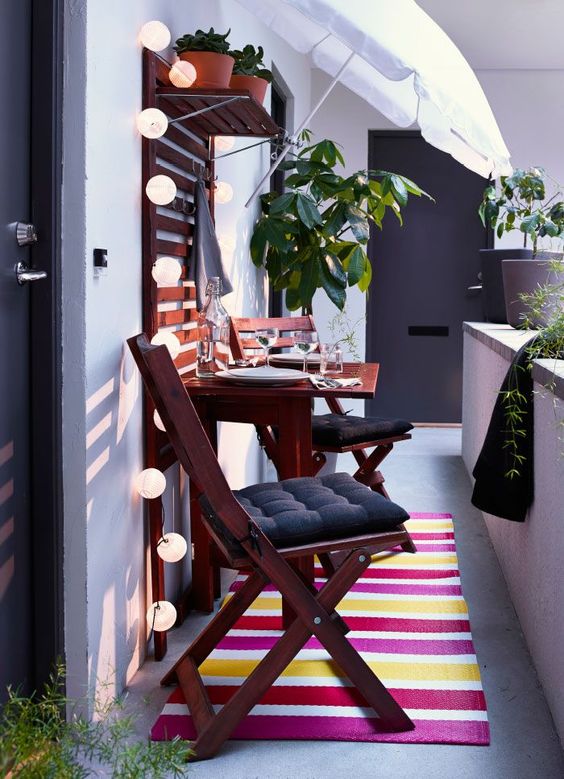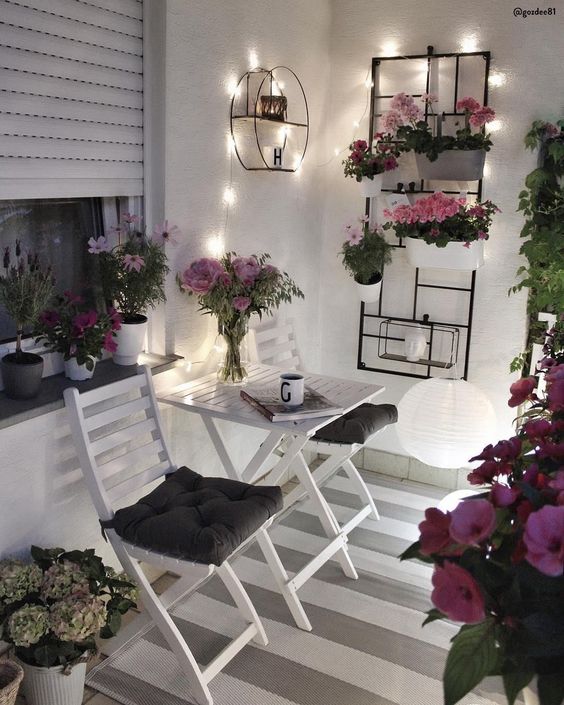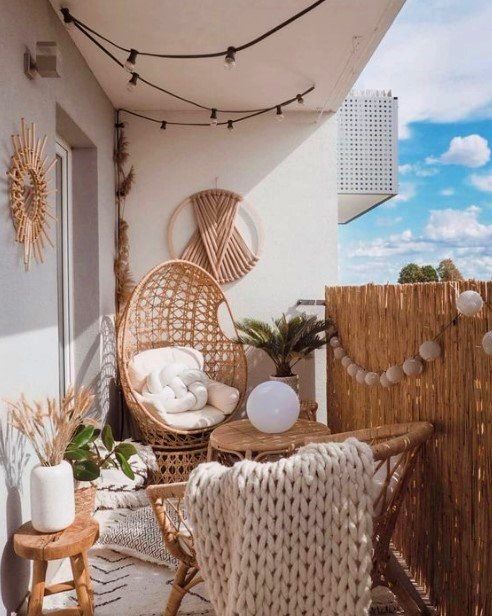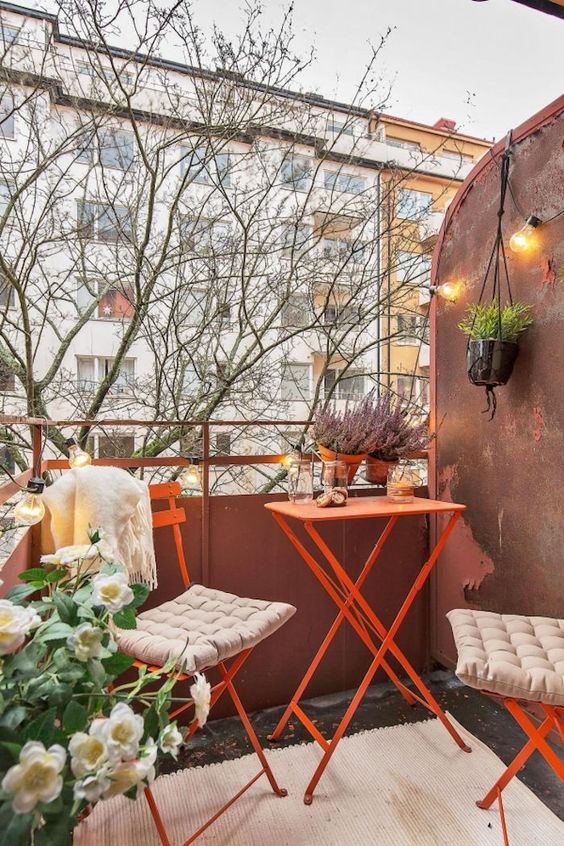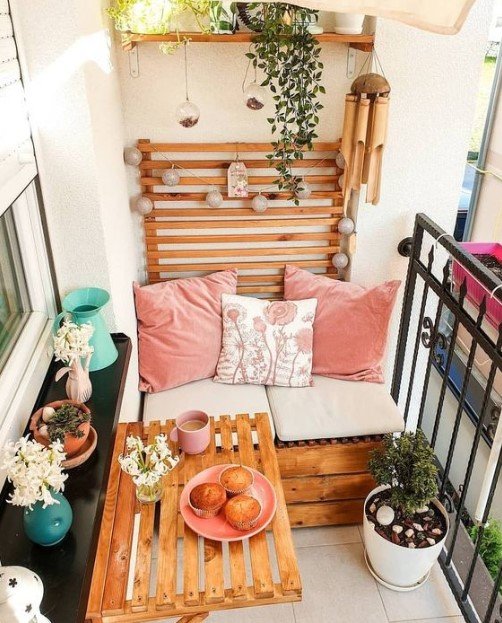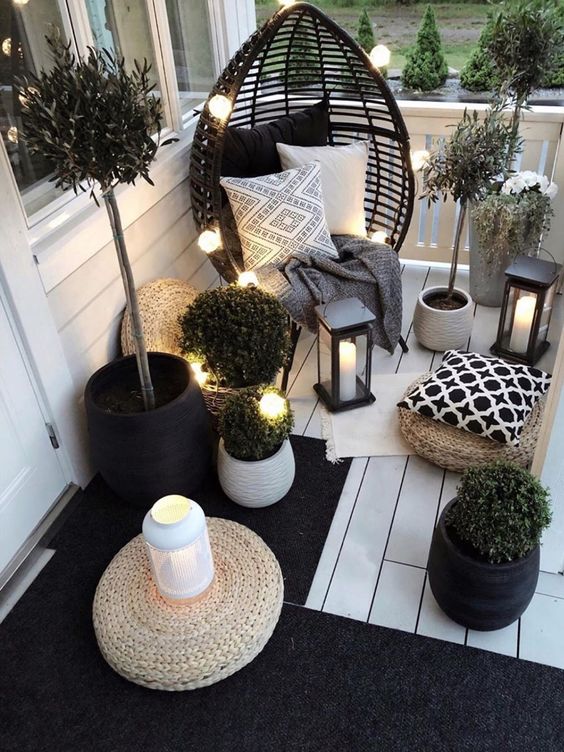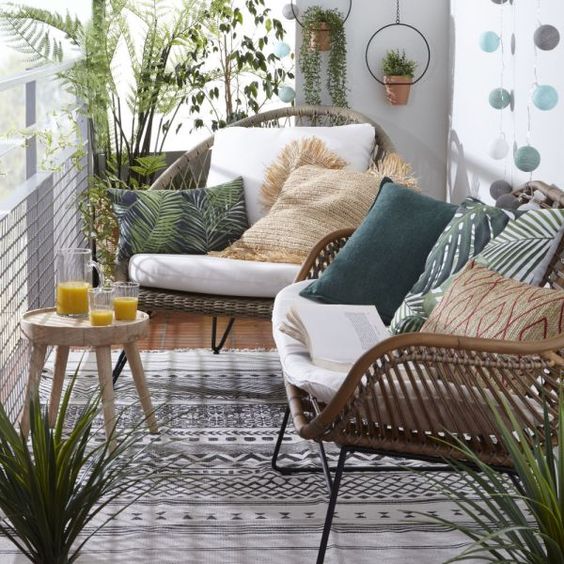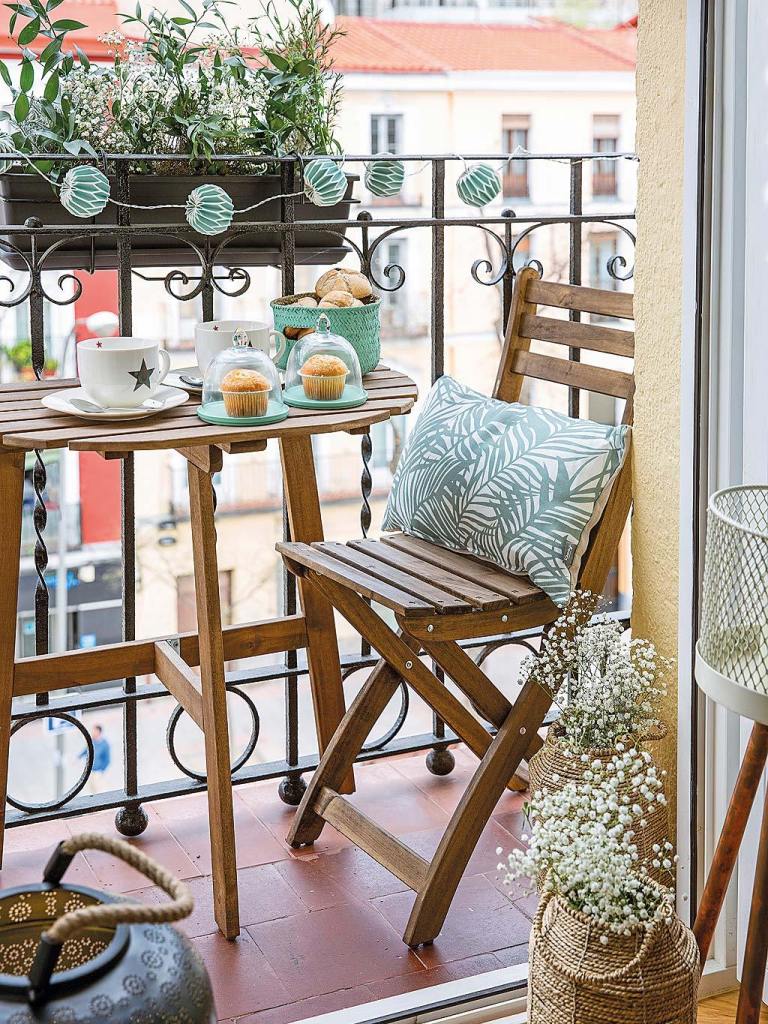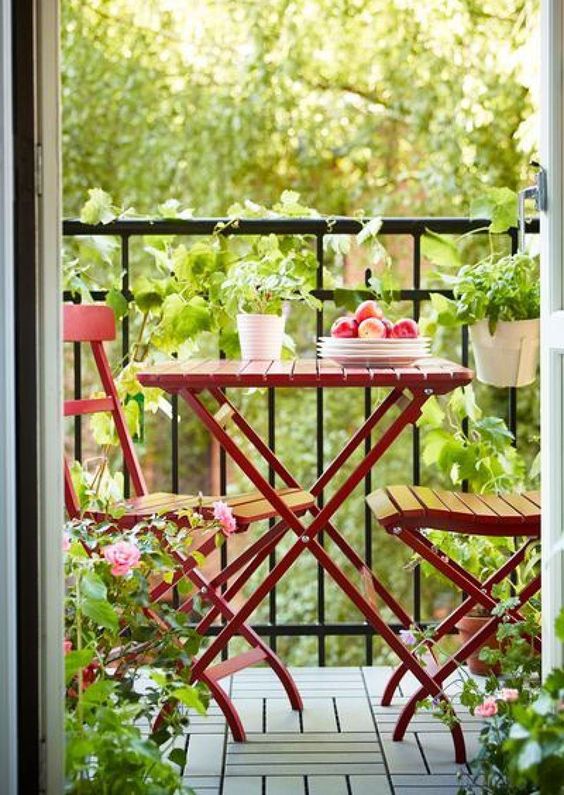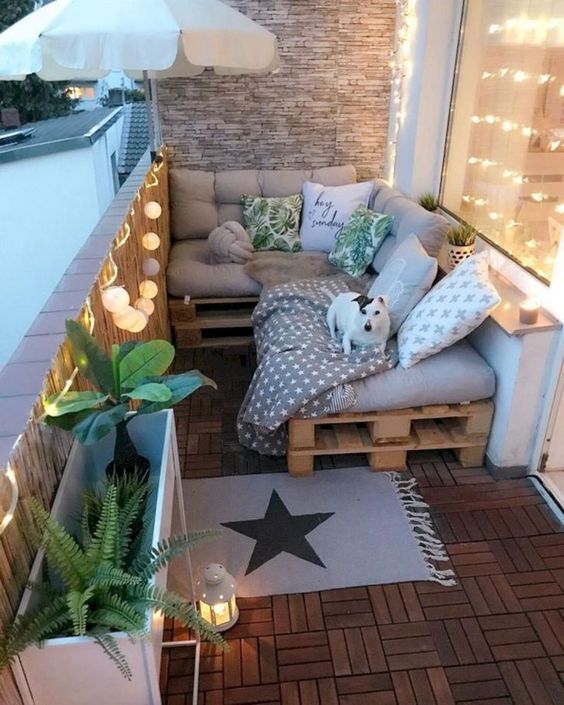 Sometimes all you need are a few wooden pallets and some plush cushions to create a cozy outdoor space. If you're on a budget just grab some free crates from your local hardware store, stack them up then get a few outdoor cushions (from Amazon), and voila! You just created a comfy, rustic outdoor lounge area.
What's great about these pallets is that you can paint or vanish them to get the look you want. It's an affordable and versatile option that's hard not to consider.
Conclusion
I hope this was helpful and I hope you're now inspired to create that beautiful outdoor oasis you've been dreaming of. Our outdoor space has never been more important than now. Make it a special place where you can relax and be at peace. And don't forget to have fun!
You May Also Like:
Don't Miss The Latest Posts!