10 Built-In Kitchen Table Ideas For Tight Spaces.
Thinking about creating a built-in table for your small kitchen? I've got 10 amazing ideas to get you inspired!
Every kitchen no matter how small or cramped should have a proper dining space. Even if it's just for just a cup of coffee or a quick dinner.
If you think your only option is a folding, wall-mounted table or a stool or two stools for your kitchen decor, think again. There are ways to add a small kitchen table and even a full-on dining table to even the slimmest of spaces.
I've put together some of my favorite built-in table ideas for small kitchens and apartments. This list includes built-in kitchen and dining table ideas that are compact, space-saving, and even multifunctional!
I'm not talking about the usual run-of-the-mill kitchen island with seating here. This is next-level small-space design that anyone can do! Yes. Even if you're absolute crap at DIY, you can create a built-in dining table for your small space!
This hack combines the kitchen area with the dining to maximize space and even create more storage. The appeal is the seamless integration of these tables and the versatility that they offer.
My goal here is to demonstrate how you can make the most of your tiny space and enjoy more meals in the comfort of your small kitchen. Now you can stop eating all your meals on the couch and even entertain a few friends now and then.
Take a look at how people have successfully hacked their small kitchen to create a functional and stylish dining space!
10 Inspiring Built-In Tables For Small Kitchens!
Stunning Built-In Dining Table / Room Divider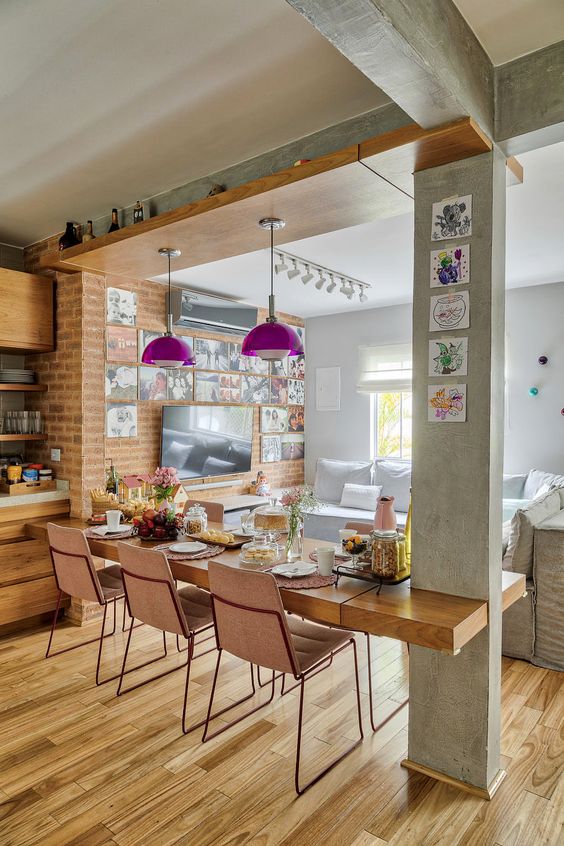 Casa De Valentina via Pinterest
This stunning built-in dining table maximizes space in this small kitchen while also acting as a room divider. The construction easily created a seamless dining space without disrupting the natural flow in the room. And also without occupying extra space. Pure genius!
Kitchen Table & Media Console In One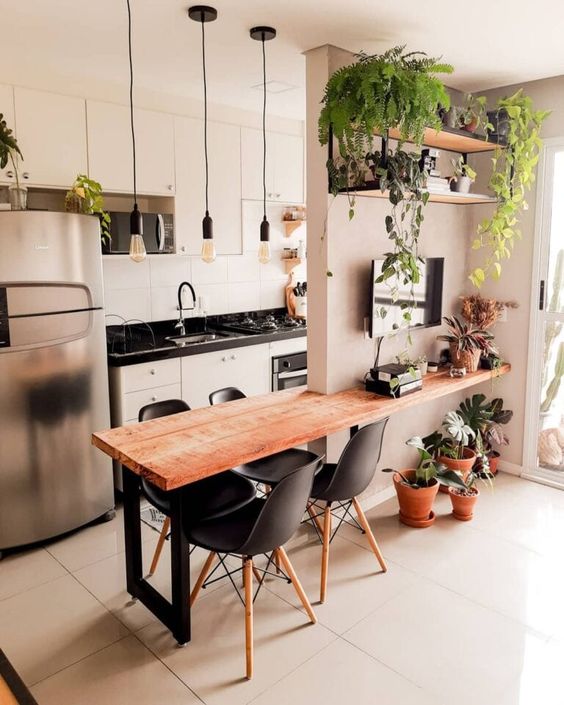 Source: Pinterest.
This built-in kitchen table wraps around the wall and extends into the living room area. This hack can also provide extra storage in the kitchen area. Such a clever use of space in this tiny apartment!
A Full-Fledged Built-In Dining Table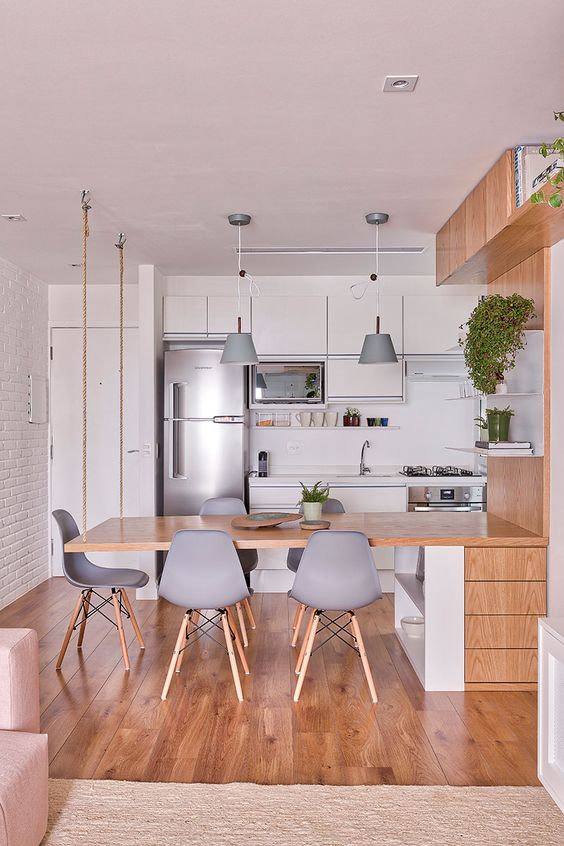 Casa De Valentina via Pinterest
This built-in kitchen table creates a fully functioning and stylish dining table in this small space. There's even storage underneath!
Built-In Kitchen Table Wraps Around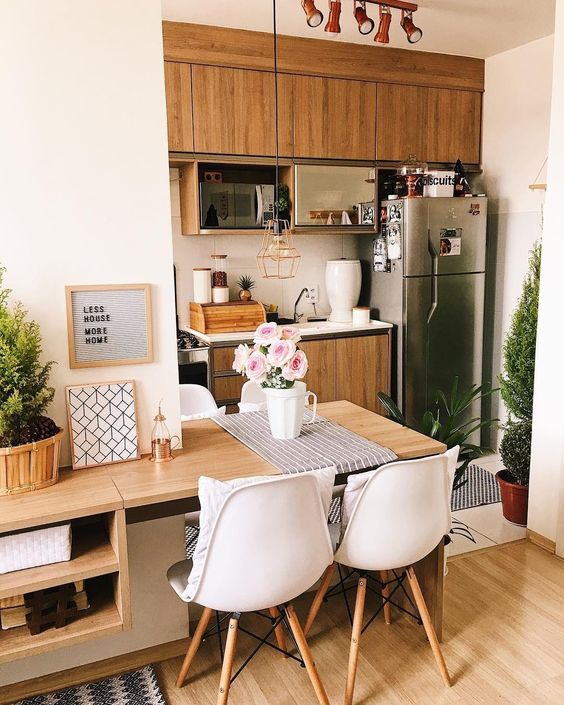 Source: Pinterest.
This built-in kitchen table hack extends into the living area to create extra storage space. Such a smart way to maximize space in a small apartment!
Kitchen Counter Dining Table Extension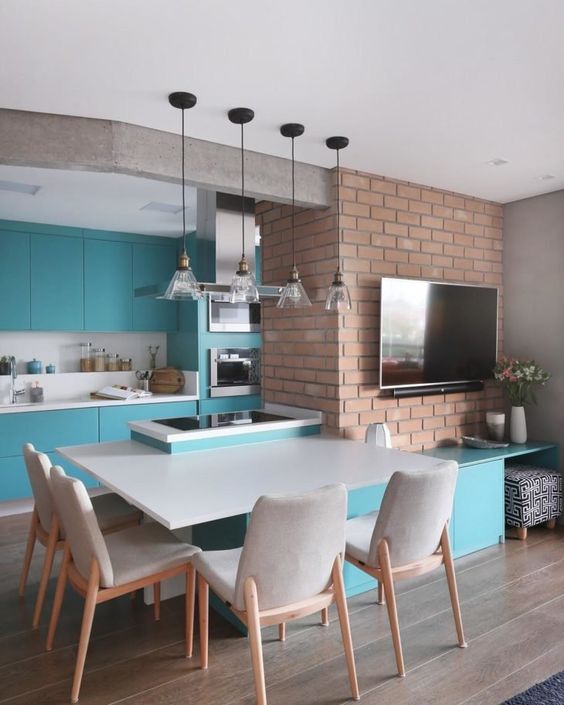 Quattrino Arquitetura via Pinterest
This table top is built into the kitchen counter to create a comfortable 4-seater dining & kitchen table.
Small Kitchen Table Integrated With Kitchen Island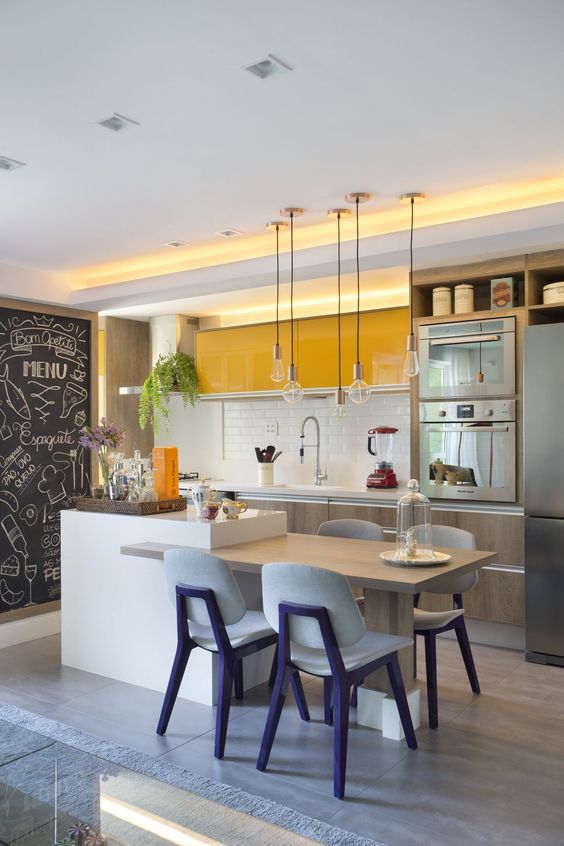 Pinterest
Not just for large luxurious kitchens. Small kitchens can have a kitchen island integrated with a dining table too! This kitchen island with a dining table extension is compact but seats 4 persons comfortably.
Tiny Apartment With Built-In Dining Space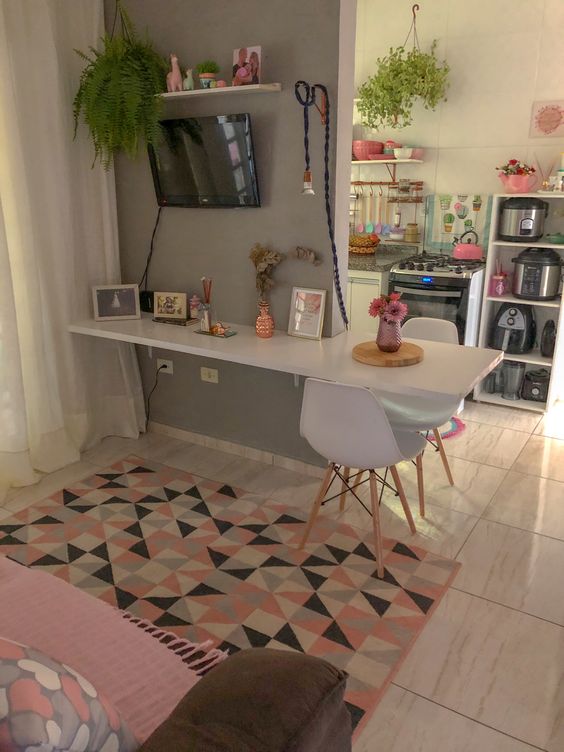 Pinterest
This proves that no space is too small for this amazing hack. This small apartment dweller scored a dining space and extra storage all in one simple piece of furniture – A built-in table!
Small Boho Kitchen With Built In Dining Table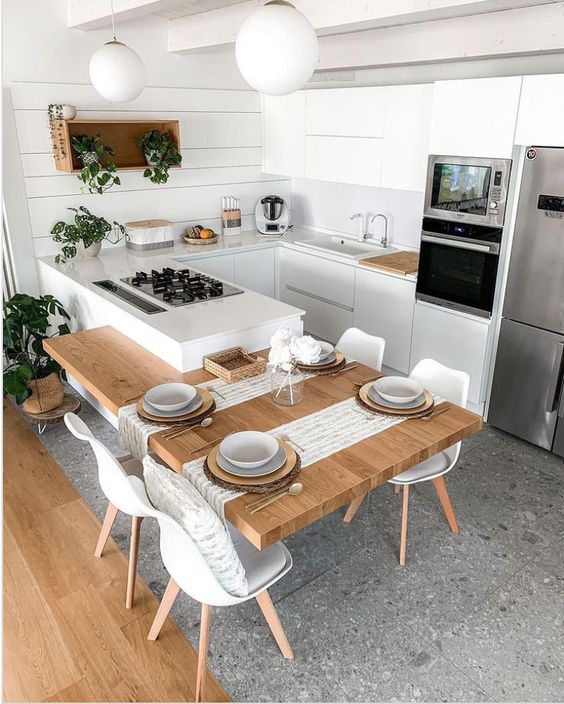 Pinterest
This small boho kitchen features a spacious dining/kitchen table that's functional, stylish, and space-saving.
DIY A Kitchen Island Dining Space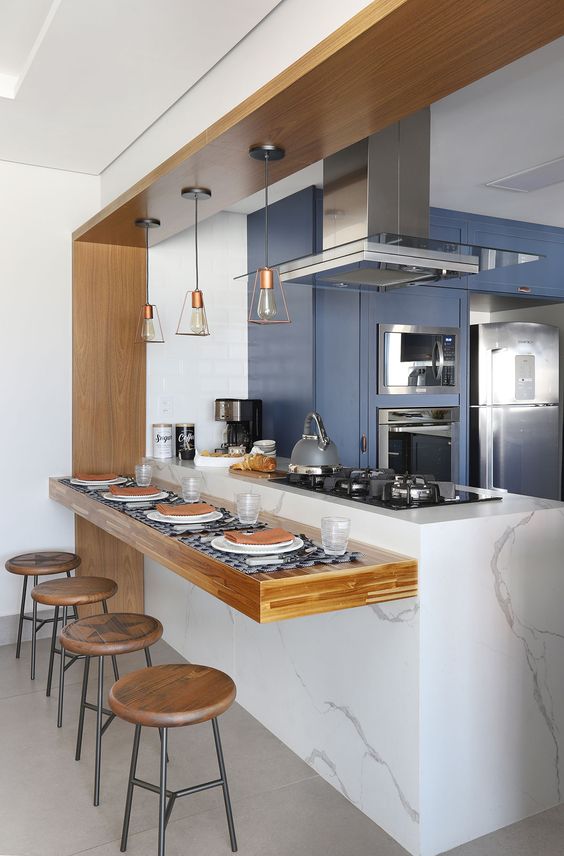 Casa De Valentina
This person hacked his kitchen island to create a dining area by simply mounting a wooden ledge onto the island. Such a clever use of the space.
Built-In Kitchen Table Wall Panel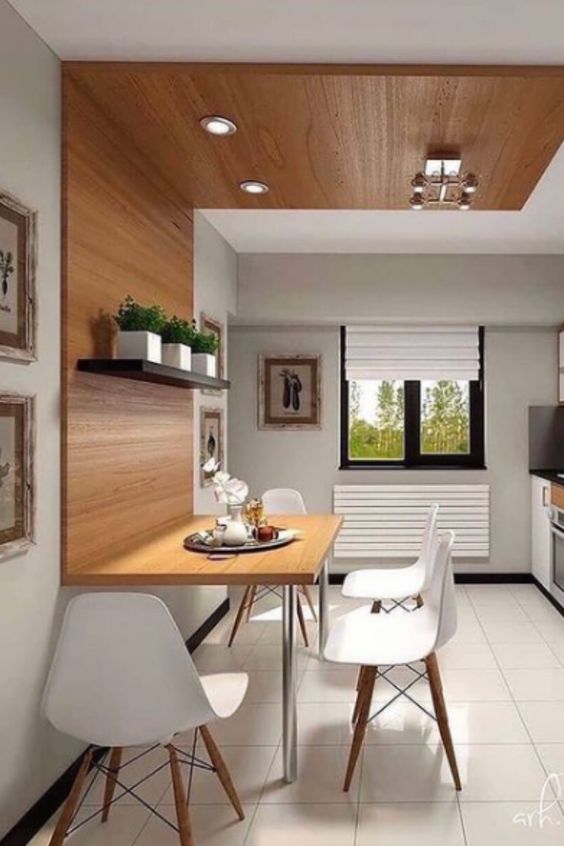 Pinterest
A wooden wall-to-ceiling panel was constructed to create a modern kitchen table in this tiny kitchen. The wooden panel extended to the ceiling creates a kind of zoning effect for the dining space. The design succeeded in visually carving out a 'separate' dining area in a small kitchen.
There you have it! 10 Inspiring built-in table ideas for small kitchens and apartments. Being creative is an absolute must when working with small kitchens and small spaces in general.
This table hack is an efficient use of space. It also proves that small homes can have some of the same luxuries as larger ones, just from a 'different angle'.
I don't know about you, but I'm so ready to try this in my apartment! I hope you were as inspired as I am. Happy Decorating!
More Small Kitchen Ideas:
Pin This Article For Inspiration Later!