20 Clever Ways To Use The Space Under The Stairs
If you're wondering what to do with the space under your stairs then you've landed in the right place. I compiled 22 insanely clever ways to utilize the space under the stairs.
When thinking of ways to use the small nook under your staircase some of the obvious choices might be storage. While adding storage under your stairs is a great idea there is sooo much more you can do with this small space. Like an small pantry, a minibar or even a play room. The options are endless!
So, if you're asking yourself 'what can I do with the space under my stairs?' This list will give you a ton of ideas! The hardest part is choosing one.
Let's put that space to work! Here are 20 creative ways to use the space under your stairs. You going to love these!
What To Do With The Empty Space Under The Stairs?
Under Stairs Mudroom / Entryway
If your staircase is positioned near your doorway using the space under your stairs as a mud room or entryway is a smart move. Mount hooks, install shelves and pull up a small stool under your your staircase to create a small entryway without sacrificing extra space in your home.
Under Stairs Pantry
No space for a pantry in your kitchen? No problem! Use that empty space under the stairs to create a kitchen pantry. If your staircase is close to your kitchen it would make sense to convert this space into food storage. You can construct a door to keep food items hidden or go for a more laid-back look with an open pantry. If you choose the latter, make sure to use matching storage containers and baskets and decorative storage to crate a cohesive and clean look.
Related Article:
Hidden Under Stairs Storage
Nothing beats hidden storage. Built-In and concealed storage spaces like these under stairs compartments above blend seamlessly with the rest of your home. It provides a place to stash your stuff out of sight without disrupting your decor.
Extend Your Kitchen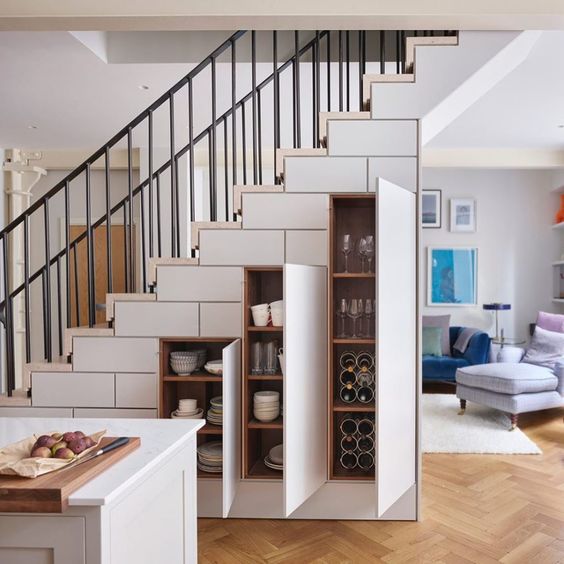 Kitchens can always use a little extra storage, no matter the size. If your staircase is in or near your kitchen why not use the space to expand your kitchen. Installing cabinets or shelves under your stairs for extra kitchen storage. Use this space to store extra dishes, small appliances, food items, and more. In the image above the staircase is positioned directly opposite the kitchen area, so it makes sense to utilize that space for additional kitchen storage.
Bike Storage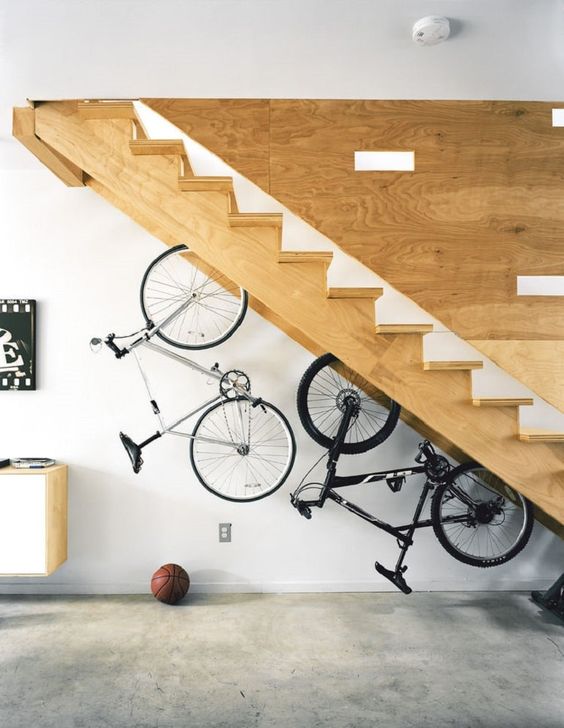 Source: Dwell via Pinterest
Small spaces often require a healthy measure of creativity when it comes to storage. If you own a bike and are not sure how to store it in your home, look toward your stairs. This clever understairs bike storage hack will save you a ton of space in the rest of your home.
Understairs Garden / Garden Wall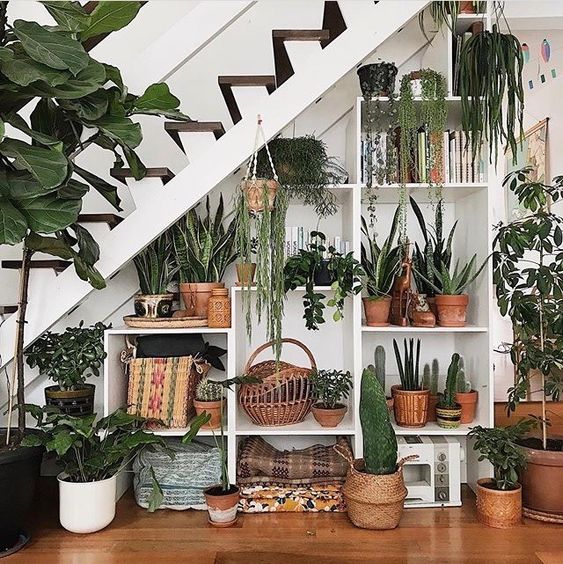 Source: Pinterest / @tribeandus / Instagram
For all the plant lovers out there, here's another spot you can add some greenery to. If you have several; low-light indoor plants, why not create a beautiful plant nook under your stairs. Put your plants on display by adding a few shelves and hooks for hanging plants as shown above. Turn that empty and awkward space into an indoor garden. This will also create a beautiful focal point in the room.
Display Your Decor Skills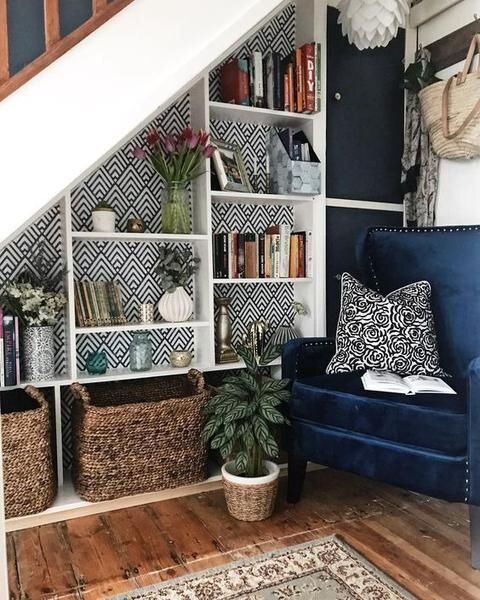 If you'd love a spot where you can show off your decorative accents, but you're short on space, then put that space under the stairs to work. This space above added shelving, wallpaper, baskets, and decor accessories to bring this space to life. Such a cozy and stylish space!
A Play Room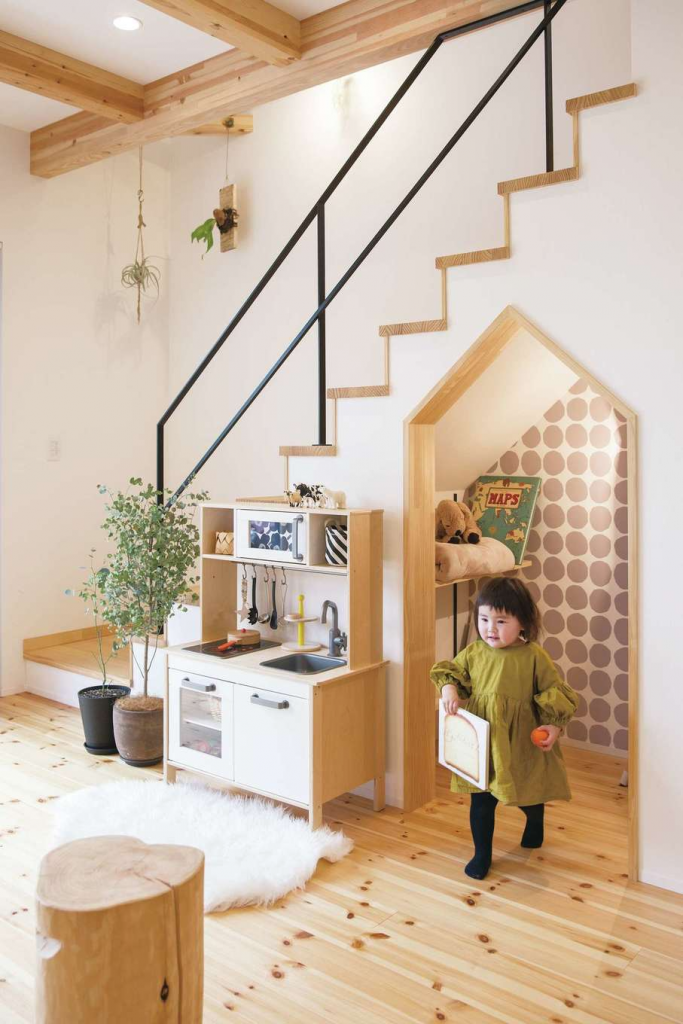 Create a small play space for your kids under the stairs. Your little ones will love having a space for themselves and you can even use this spot to store extra toys.
Book Storage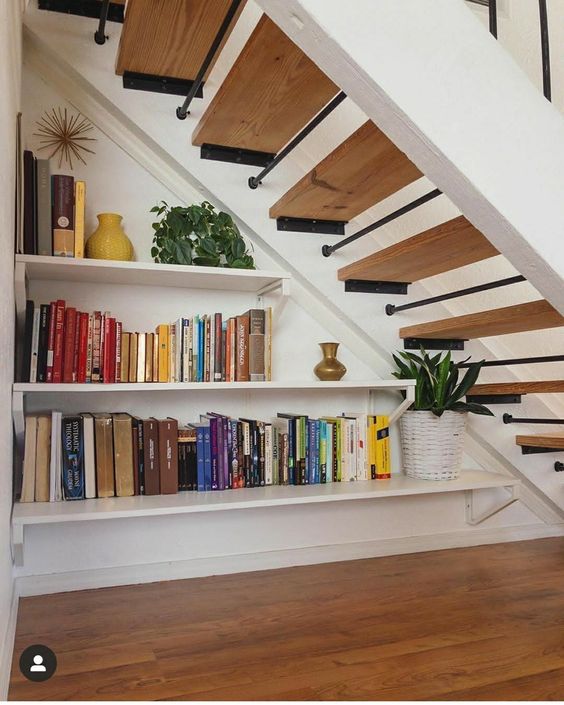 Source unknown Via Pinterest
Need extra space to store books or magazines? Look no further than your staircase. Add a few long shelves, add your books and a few decorative accents and you have yourself a stylish storage space.
Under-The-Stairs Library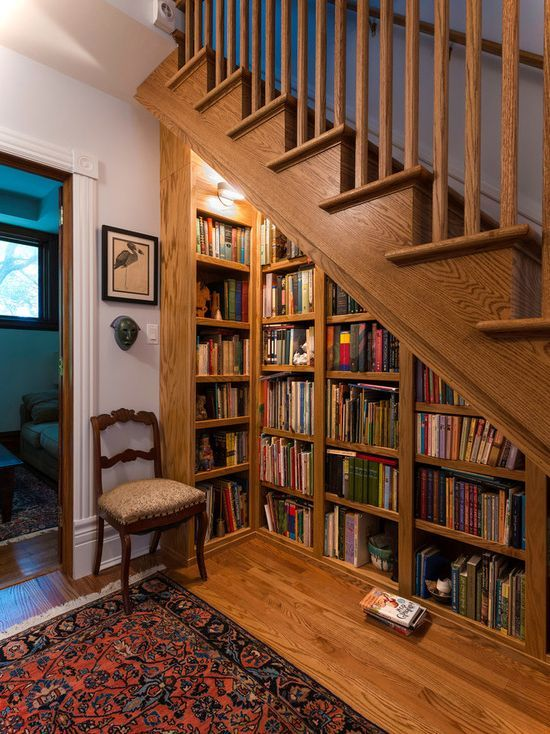 Pinterest
This is a booklover's dream right here. Use the space under your stairs to create a small, cozy library. Construct a custom bookcase or mount a few shelves to create a beautiful display of all your treasured books.
A Pet Room
Make a cozy home for your furry friend under the stairs. How cute is he?!
Store Firewood Under The Stairs
Store all your firewood out of the way by placing them under your stairs. This hack will certainly add a beautiful rustic element to your home design.
Entertainment Center
If your staircase is in your living room use the space to create a media center. Just place a console table under the stairs and then add your TV and other multimedia units to create a chill and cozy entertainment center. Add a few shelves to display your decor and you're done. Done right, this area will become the favorite chill spot for family and friends.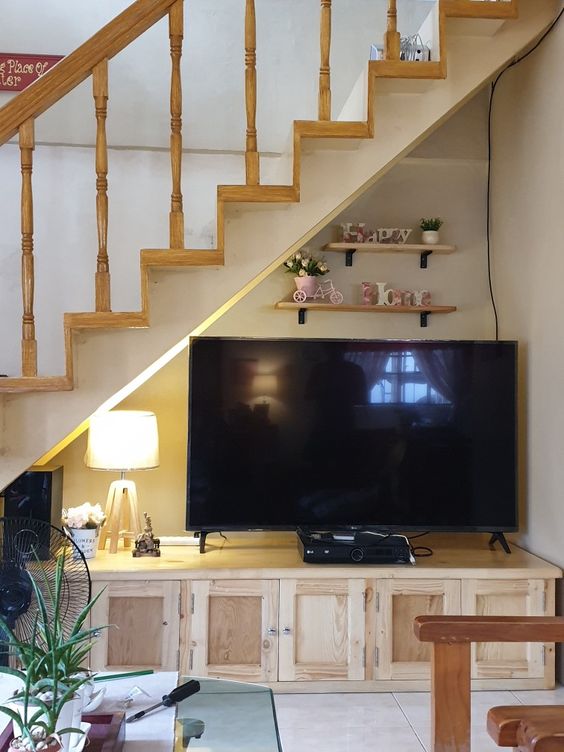 Pinterest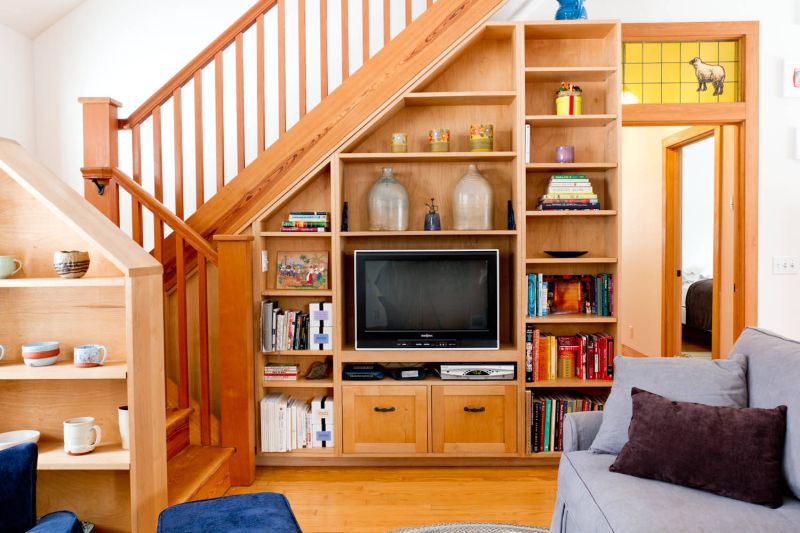 Hidden Laundry Space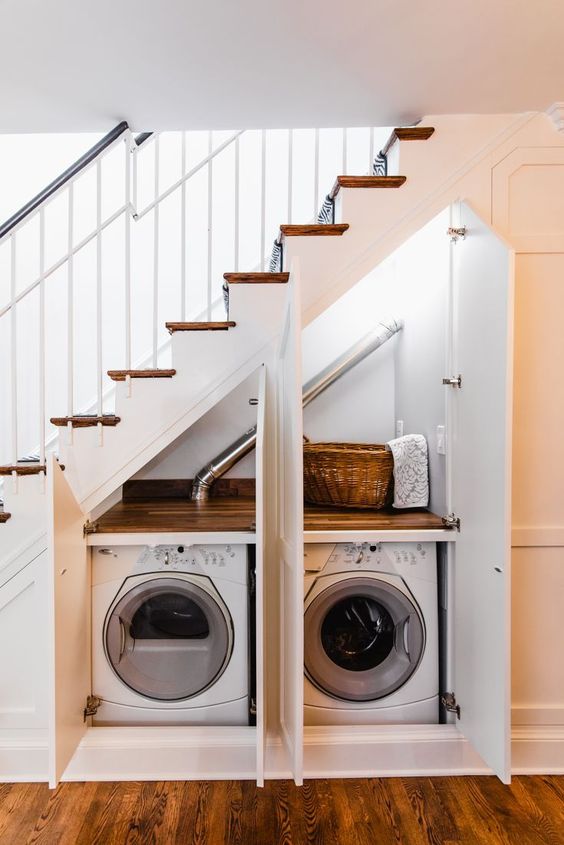 Don't need an entire room devoted to laundry? Then put your washer and dryer under the stairs. This understairs laundry is a custom build crafted by Brickhouse Kitchens and Baths with doors to conceal the machines when not in use. Such a great space-saving design! Now you can use that extra room for a home office or playroom.
A Cozy Reading Nook
Create a cozy reading nook under your stairs to binge your favorite novels. The built-in bookcase and seating with warm lighting make this space so inviting.
Under-The-Stairs-Wine Room
If you're a wine aficionado but you're short on space then you'll love this under stairs wine cellar.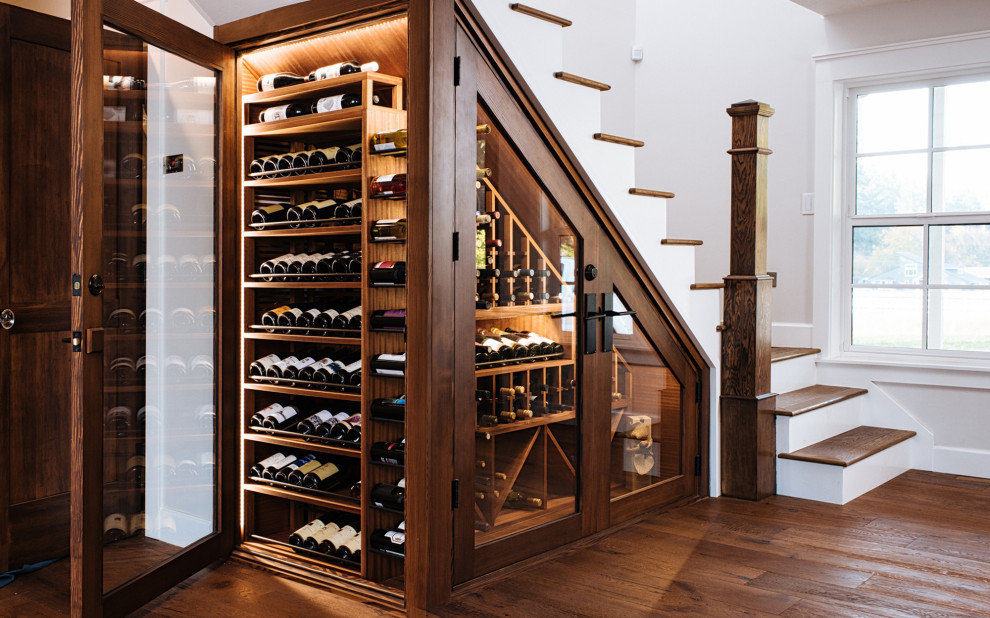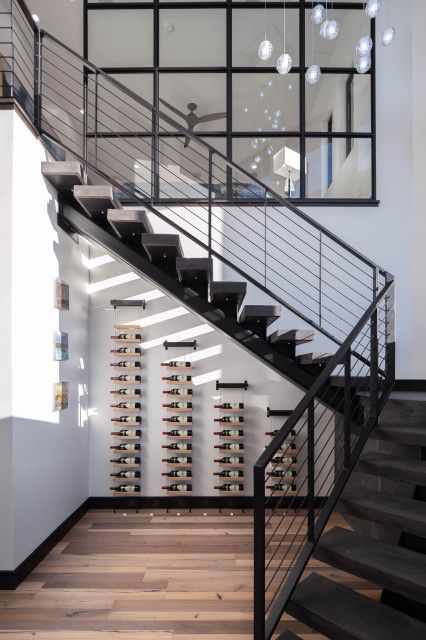 Don't have the budget for a full room construction? No problem! Create a wine wall under your stairs with multiple wine racks.
Create A Bar Under The Stairs
…Or create a full-fledged bar home bar. Use that wasted space under your stairs for mixing up cocktails during dinner parties. Bring in a small credenza cabinet, a wine rack, some floating shelves, and mood lighting to create the perfect home bar. Your guests are going to love this.
A Gallery Wall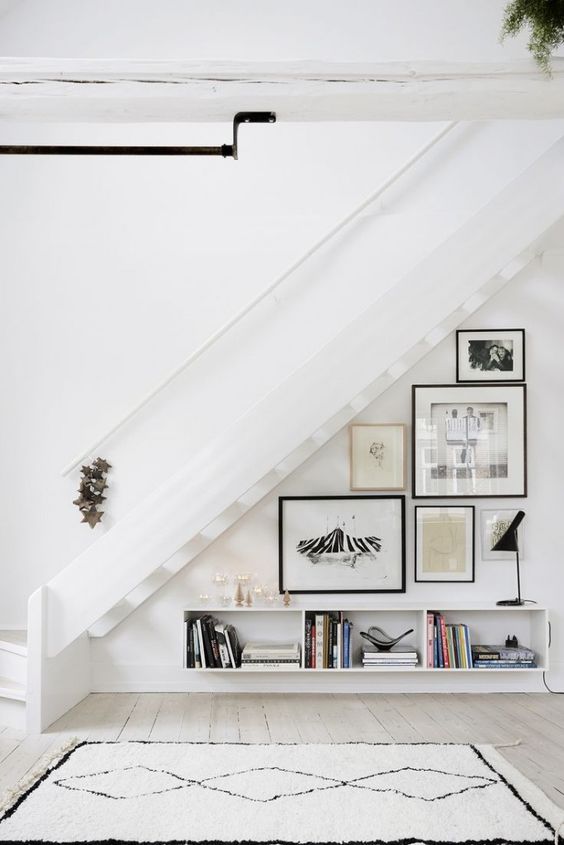 Via Yellows.dk/Elle Decoration
Spruce up the space under your space under the stairs with a gallery wall. Bring this empty space to life by showing off your favorite art or photography. It makes for a beautiful focal point too.
A Home Office Under The Stairs
Whether you work from home or just need a dedicated study space, carving out an office space under your stairs is a space-saving solution. Shelving, decorative storage and sufficient lighting can transform the space under your stairs into a functional and stylish workspace.
A Coffee Station
If you love drinking and making coffee consider creating a small coffee bar under the stairs. Just mount a few shelves, and bring in a small storage cabinet with a countertop for your coffee machine, mugs, and your favorite coffee gadgets.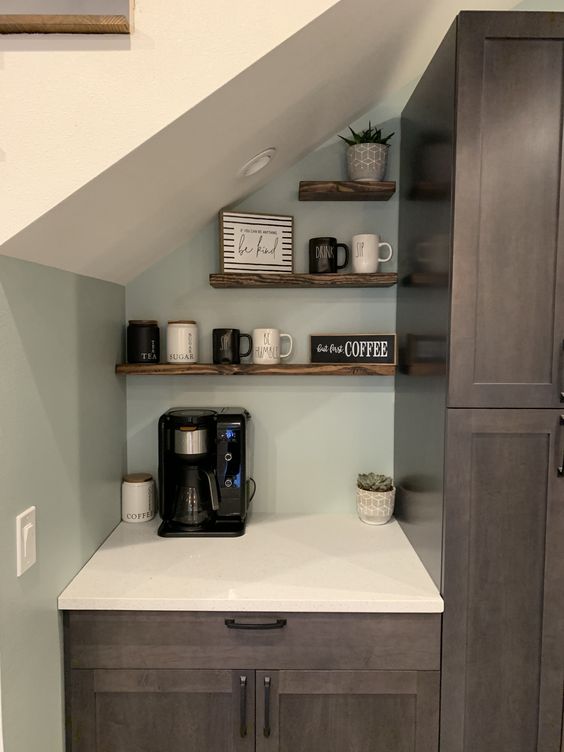 Related Articles: