Kitchen storage can be tricky when you're dealing with tiny kitchens. But the solutions and options are plentiful. You can never have too many storage ideas for small kitchens. With a little imagination and some nifty products, you'll be on your way to a clutter-free kitchen in no time. For more small kitchen ideas, these cool kitchen finds that will save you a ton of space.
1. Add Extra Shelving
You can use these to store paper towels, dish soap, and sponges, freeing up your counter space. This way your counters can be used for more important things like preparing food.

Over-the-sink shelves are great for storing your soaps and sponges and more. This adjustable kitchen shelf also adds extra storage for clean dishes. If you're looking for a place to store or drain your dishes without using vital counter space, then you need an over-the-sink dish drying rack instead. A multipurpose drying rack is great for drying dishes, fruits, vegetables, and fits nicely over your sink. When you're done using it, just store it away.
2. Use Wall Space To Hang Items Vertically
Try using metal bars and hooks to store pots and pans vertically. A tip is great for renters, stick some heavy-duty adhesive Command Hooks on a free wall, and use these to hang pots, colanders, and other bulky kitchen items.
3. Store Dishes & Spices On The Wall Too
Mountable storage racks are a great way to maximize counter space. These are available at your local home stores too. Mount racks, slip in a drip tray underneath, and enjoy your extra space.
Hanging Dish Drying Rack with Drain Board – Stainless Steel – On Amazon
4.Utilize Cabinet Doors
An over-cabinet hanging basket is perfect for storing cutting boards, cookbooks, trays or cleaning products. Just hang on your cabinet door and you've got extra (hidden) storage. Talk about using EVERY inch of your tiny kitchen.
If you want something a little more customizable, you can totally DIY this. Kelly from Imperfect Home Making shows you how to create a hanging cabinet pocket storage organizer using a plastic shoe organizer (remember those…Lol). See how quick and easy she does it Here. Use this for storing cleaning supplies or tools under your kitchen sink.
Image: Imperfect Home Making
5. Pegboard Kitchen Storage
Take a tip from Julia Child's iconic kitchen and add a pegboard to your kitchen. You can designate an entire wall or just a portion to create more storage space. Hand shelves, pots, and other kitchen utensils. You can even use pegboards to create a kitchen herb garden. These kitchen pegboard ideas will help you get started.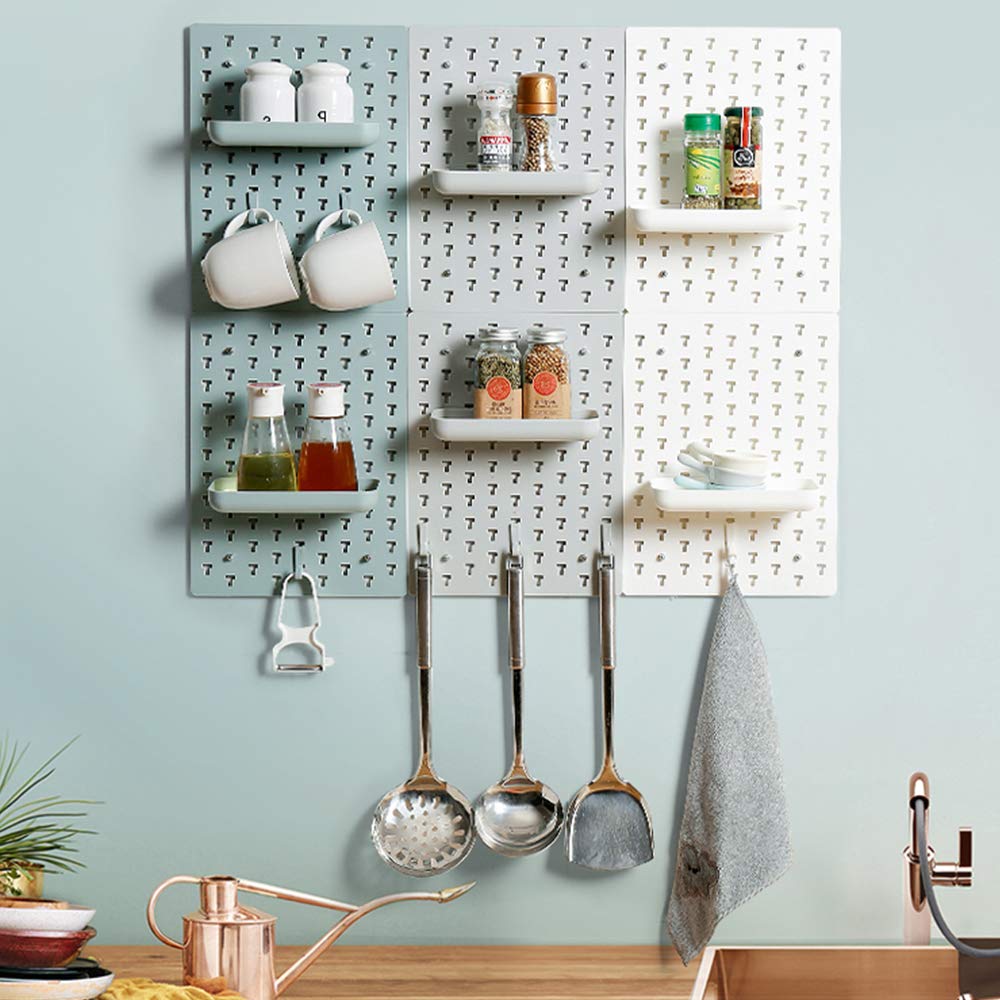 6. Magnetic Spice Containers
If you cook often, chances are you have a lot of spices and seasoning in your cabinets (more than just salt and black pepper…I hope). Save your cabinet space with magnetic spice containers that you can stick on the side of your refrigerator.
Are you beginning to see a trend here? It's all about utilizing that vertical space. Vertical space is GOLDEN in small kitchens.
If you have a lot more spices (too much to remember) try these magnetic spice tins with premade labels to keep track of all those yummy seasonings.
Don't want to use your fridge? Get a wall-mounted metal base instead. For a more aesthetically pleasing look, check out these Hexagon shaped magnetic jars with labels for displaying your spice collection. Using the metal base means you can store your seasonings anywhere you need them.
This chalkboard spice wall adds a neat, stylish, and modern look to this space. Using Magnetic & Chalkboard Paint, you can hang basically any metal storage or decorative item on this magnetic wall. Write labels or add drawings with chalk for an artistic finish.
7. Rolling Storage Carts.
This is one of the more popular storage ideas for small kitchens. If you have enough space, a kitchen cart or rolling island works great for creating extra surface and storage space. The best part about this is that you can move it wherever you need it. We all know the struggles of making dinner in a tiny kitchen. A Trolly/Storage Cart with a solid surface top can be used for meal prepping, storing utensils, storing your microwave or other bulky appliances, thereby freeing up what little counter and cabinet space you may have.
Image: Build Something
Depending on the size and style, these carts can be used as a dining space for your kitchen. This Kitchen Trolley Bar Cart comes with stools plus storage drawers making it multifunctional.
8. Don't Forget The Bare Sides Of Your Cabinets.
This is a great example of using every inch of space. For renters, of course, removable hooks work just as well here. Hang miscellaneous items, kitchen towels or regularly used items on the side of your cabinets to free up space in draws. Check out Far Above Rubies for more.
If you're looking for more storage ideas and space-saving solutions for small kitchens, these Space-Saving Kitchen Finds will save you a ton of space!
PIN THIS FOR LATER!