TREND ALERT: White & Wood Kitchen Storage & Accessories.
The best things in life are simple. And home décor is no exception!
If you're looking for the perfect kitchen accessories to complete your neutral kitchen decor, then boy do I have a roundup for you! These white & wood kitchen accessories add function and style to any kitchen no matter the size. The look is fresh, clean, and eternally Scandinavian!

I've been noticing a lot of white and wood interior design on Pinterest lately. Especially in kitchens and dining spaces. It dawned on me how timeless and classic this combination is. There's something about its simple aesthetic that draws me in every time.  

Many of us (renters) can't renovate our kitchens with beautiful oak countertops, and stark white cabinets. But we can certainly add in a few white and wooden elements to achieve a similar look. The result? A room that's the perfect mix of natural and elegant style! Be sure to check out these White & Wood Furniture & Accessories!
Below you'll find a curated collection of white and wood kitchen accessories. Since we're all about small spaces around here, I've included a ton of kitchen storage options. Because hey, we want our small kitchen to be pretty AND functional, right?
Check these out!
**This post may contain affiliate links. If you make a purchase through these links, I may receive a small commission. I only recommend products that I love and trust! You will NOT pay more for products purchased through these links. **
White & Wood Scandinavian Kitchen Accessories!
Space-Saving Kitchen Storage
LINKS
---
1. Under- Cabinet Shelf with Hooks | 2. Portable Storage Box | 3. Dish Storage Rack | 4. Three-Tiered Dessert Stand | 5. Tosca Storage Basket | 6. Magnetic Kitchen Rack | 7. Farmhouse Style Food Canisters | 8. Magnetic Hooks | 9. Dish Drainer Rack
WANT MORE LIKE THESE? Get more home storage & organization products from this line here at Yamakazi Home
White & Wood Kitchen Accessories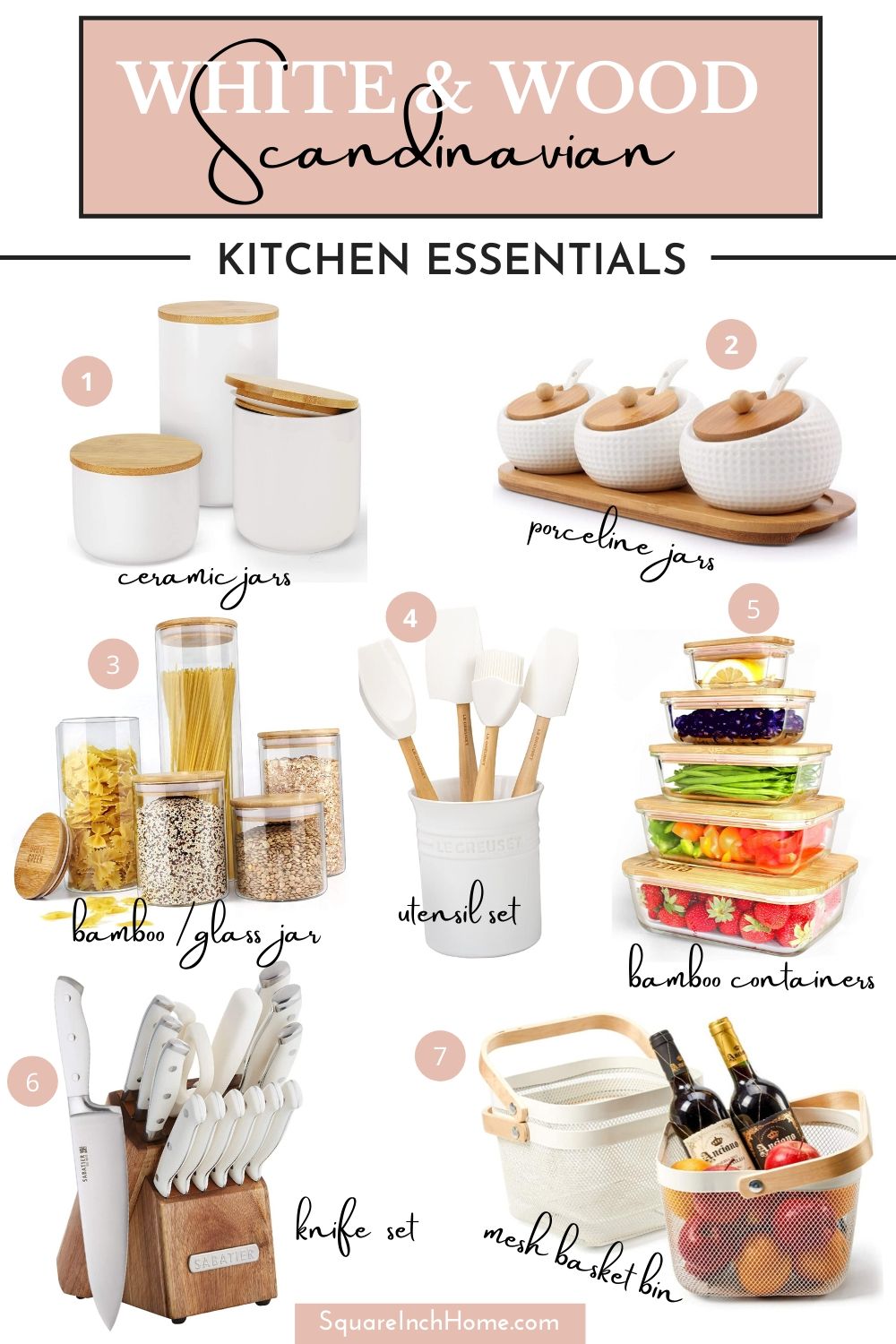 LINKS
---
Ceramic Food Storage Jar  | 2. Porcelain Condiment/ Jar Spice with Bamboo lids. | 3. Glass Jar Set with Bamboo Lids | 4. Le Creuset Utensil Set with Crock. | 5. Glass & Bamboo Food Storage Containers. | 6. Sabatier Forged Triple Rivet Knife Block Set. | 7. Mesh Steel Storage Organizer Basket Bin with Wood Handle
Don't Forget To Check Out These White & Natural Furniture & Accessories!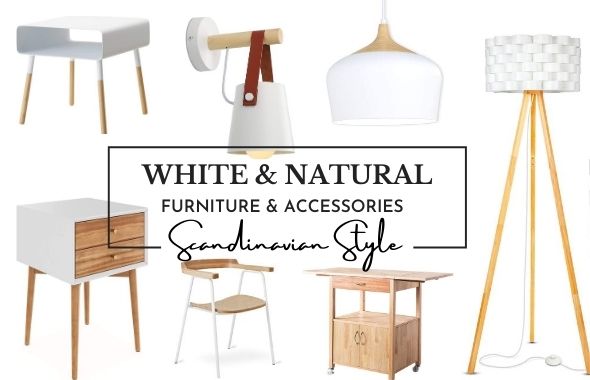 There you have it! Use these pieces to take your neutral decor to a whole new level. Sprinkle wooden elements throughout your entire home to create beautifully curated, space. What's great about wooden accessories is that they go with almost any decor pallet. So you can be sure that they'll continue to work hard for you. I hope you liked my picks.
Happy Decorating!
Want More Small Kitchen Solutions & Ideas?
---
Don't Miss The Latest Post!
Pin This For Later!