10 Clever Ways To Store Books In A Small Apartment
Finding space for all of your belongings in a small apartment is not easy. For bookworms, the struggle is even more real. But that stops today. Carving out space for your growing book collection will be easy with these book storage ideas. I promise!
If you're looking for ways to store your books it means you probably have a pretty impressive collection of books that you're not willing to give up. With the perfect book storage, you can continue growing your mini library without any problems.
This list will be useful if you're looking for book storage ideas that go beyond the standard bookcase. You'll find creative hacks for storing your books and discover sneaky storage spaces you may have overlooked.
Let's get inspired!
**This page may contain affiliate links. If you purchase something through these links, I may receive a small commission.  I only recommend products that I love and trust! **
10 Clever Book Storage Ideas For Small Apartments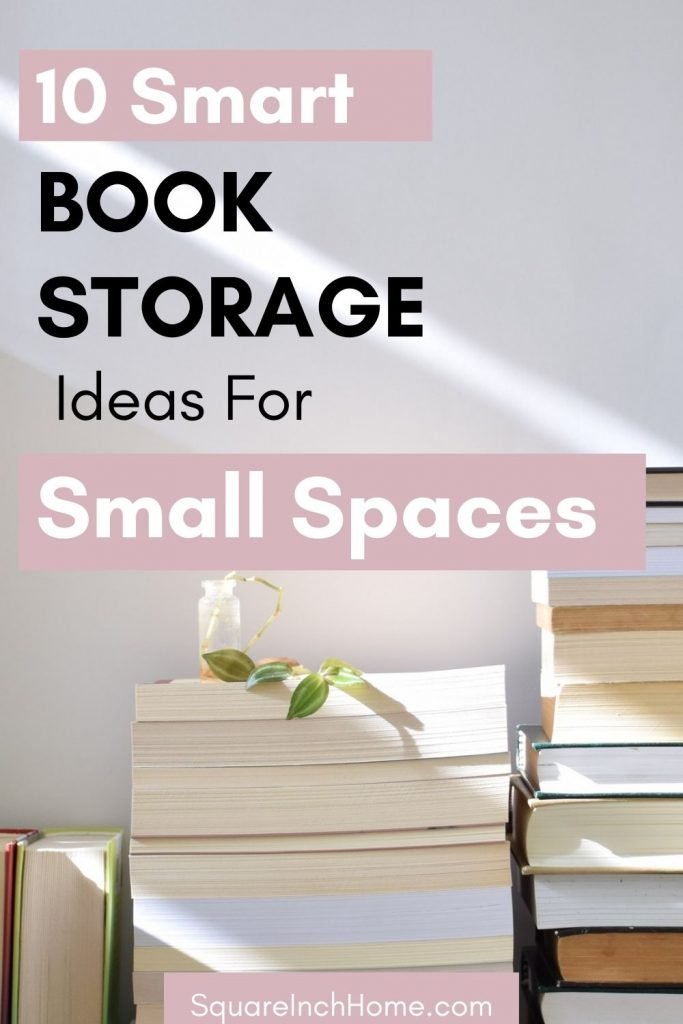 Pin This Post For Inspiration Later!
1. Hang a bookshelf under the ceiling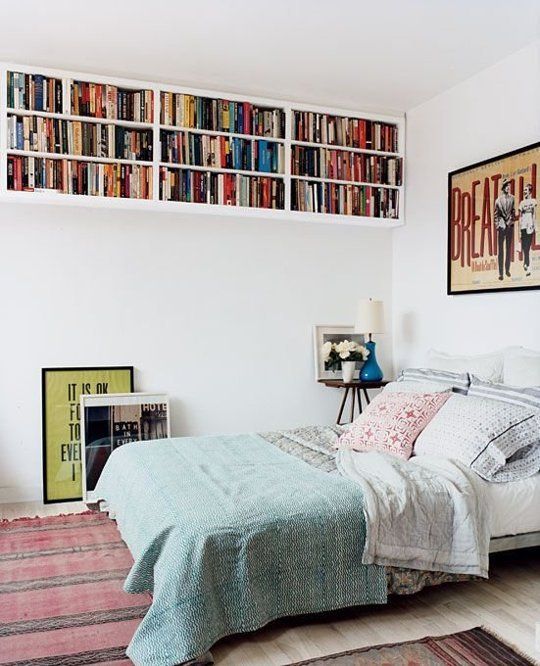 This is a great way to squeeze in more storage without sacrificing floor space. Hang bookshelves near the ceiling to save space in your small room. Sure, you might need a ladder every now and then, but at least you're avoiding clutter.
One of the main benefits of this hack is that it makes the ceiling look taller than it really is. Mounting this bookcase directly under the ceiling draws the eye upward, creating the illusion of height in the room. That's a win! Plus, it just looks pretty.
2. On your staircase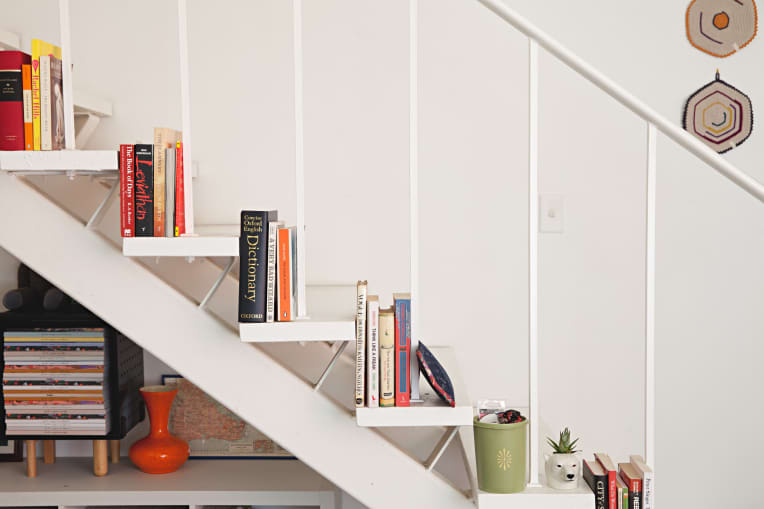 Showcase your favorite reads in a fun and creative way with this staircase storage hack. Add books along your staircase railing to create a beautiful book trail leading upstairs. Open staircases like these are often dead space anyway. Why not use it as storage? It even adds some color to the space.
3. In your hallway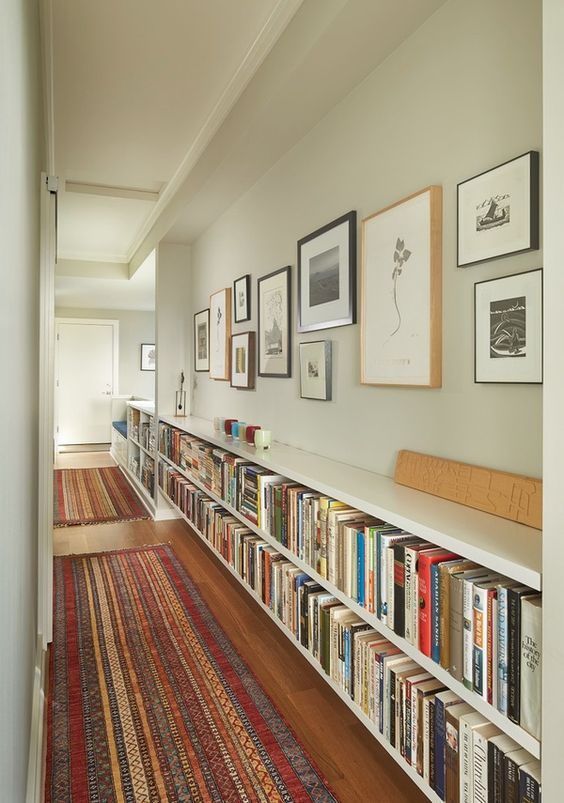 Historias De Casa || Pinterest
Hallways are often one of the most overlooked and underutilized spaces in the home. When working with smaller homes, ignoring this space is a huge mistake. Transform your hallway into a mini library by adding a few wall shelves. With this setup, browsing and organizing your books is easy.
Pro Tip: Use accent lighting to spotlight your beautiful collection.
4. DIY cube shelves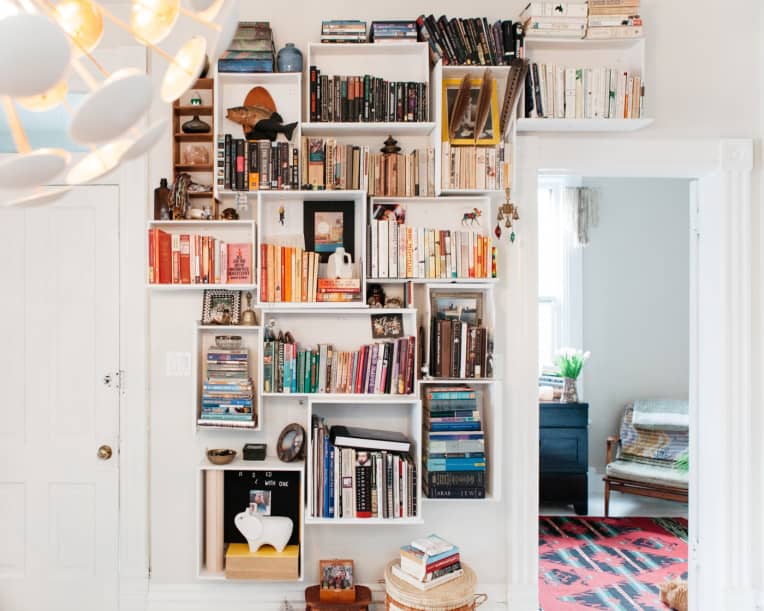 Credit: Brittany Purlee via Apartment Therapy || Pinterest
We can't have a list of book storage ideas without mentioning DIY storage. Make a statement with your books by creating a wall-mounted bookshelf feature wall. This is an easy and affordable option. Mount boxes or crates of different sizes and shapes onto your wall. Arrange them in a unique and interesting layout. Then add your books and other decor accents. Now you have yourself a beautiful focal point.
5. Under your bed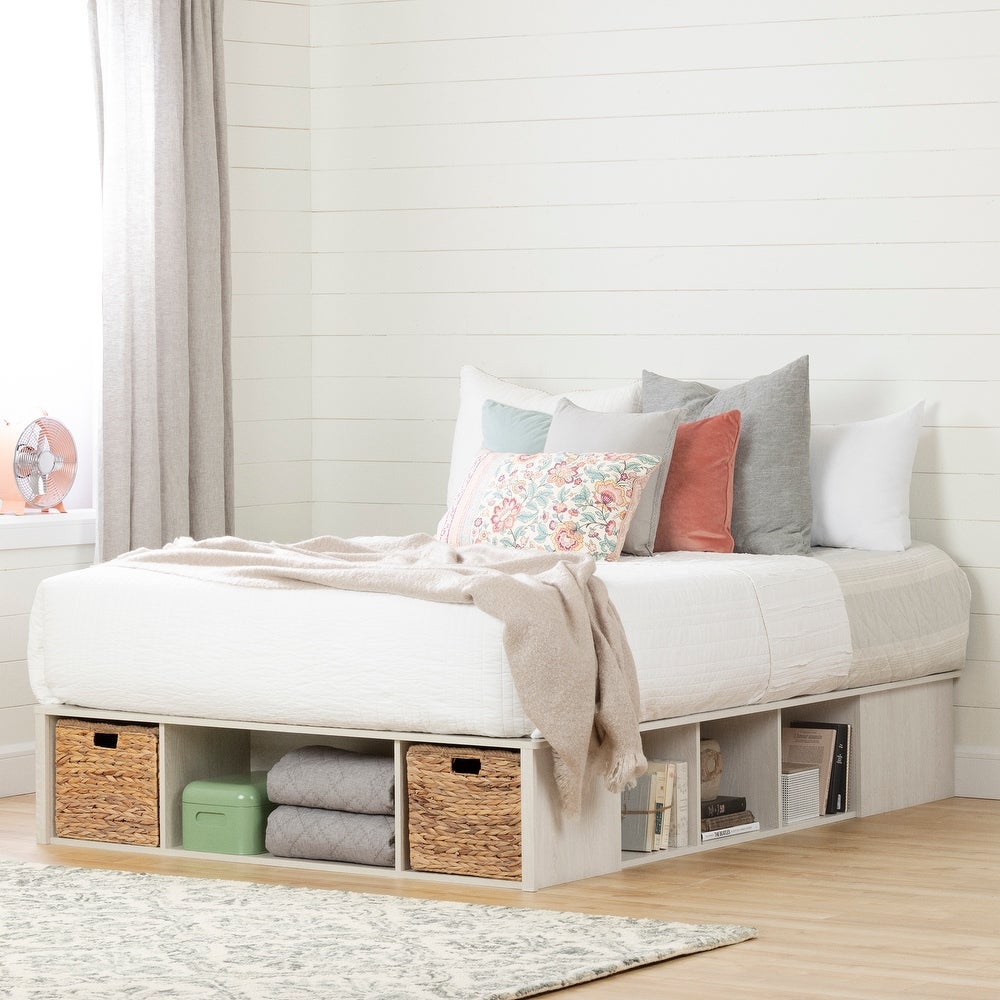 Get a storage bedframe on Amazon
If you prefer to store your books in your bedroom, under-bed storage is a good option. While this hack is easier with an actual storage bed, it's not necessary for this hack. Use baskets or storage boxes that can easily slide out from under your bed. I've seen amazing under-bed storage hacks using Ikea bookshelves. So get creative!
6. In Your Coat closet – Create a closet library!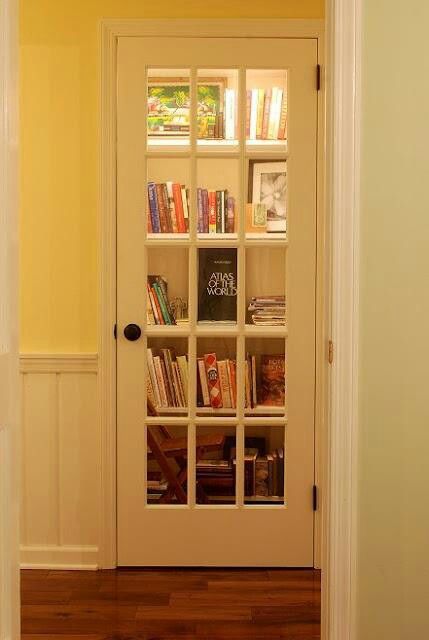 If your books mean more to you than coat storage then this is a clever option for you. Add a few shelves inside your coat closet to create a cozy home for your beloved books. If you have room, add a few decor accents for styling. This is officially my favorite book storage hack!
7. A Space-Saving Corner Bookcase