Mid-Century Modern Dining Room Inspiration
If you are looking for mid-century modern dining room decor ideas for your small space then you will want to consider this gorgeous dining room!
Decorating a small dining room in mid-century modern style is easier than you think. Stick to mid-century styled dining furniture and you're halfway there!
Mid-Century Style can be identified by several factors; clean lines, gentle organic curves, and a passion for different materials and shapes.
This style originated from the-1930s to mid-1960s and has evolved to be a modern and sought-after design style today.
More importantly, Mid Century Modern design is perfect for small spaces, mainly because of its emphasis on functionality and simplicity. Its dedication to small-scale, compact, and visually lightweight furniture makes this style ideal for smaller rooms.
I talk more about mid-century modern furniture and why it's perfect for small spaces here in this post!
What makes this style so distinctive is its classic, understated look, with minimal fuss. An uncluttered space is essential for achieving this look.
I found this gorgeous mid-century dining room decor below while browsing Overstock's Decor Ideas Section. I love everything about this space and I just had to share it with you guys! I included links to each product in this look -in case you want to steal it.
Pin This For Inspiration Later!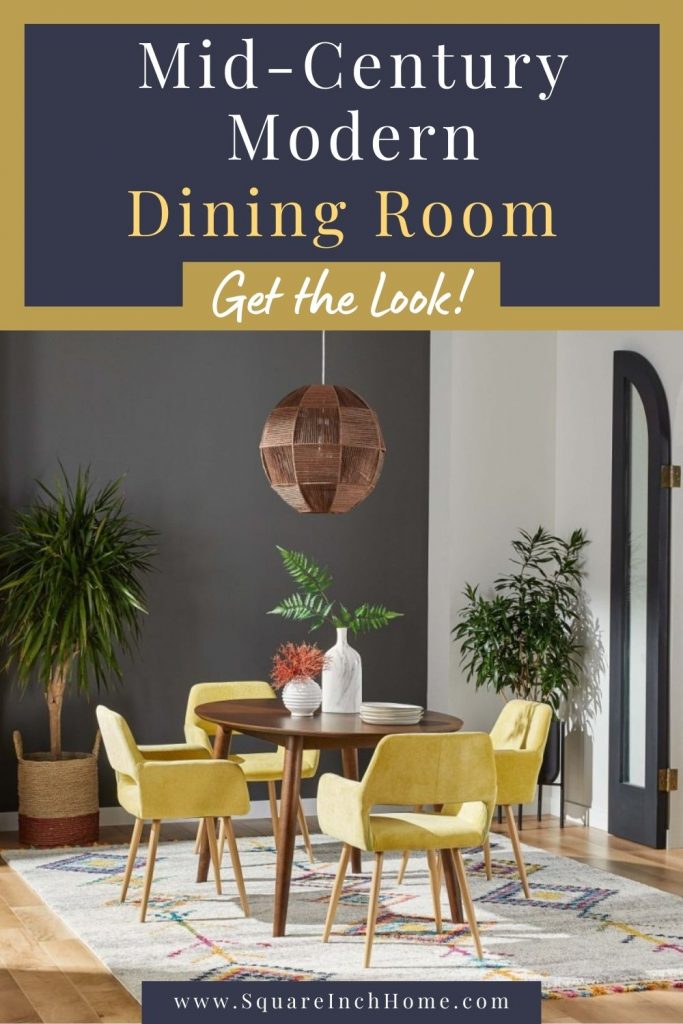 **This page contains affiliate links. If you purchase something through these links, I may receive a small commission at no extra cost to you. I only recommend products that I love and trust! **
Small Mid Century Modern Dining Room Inspiration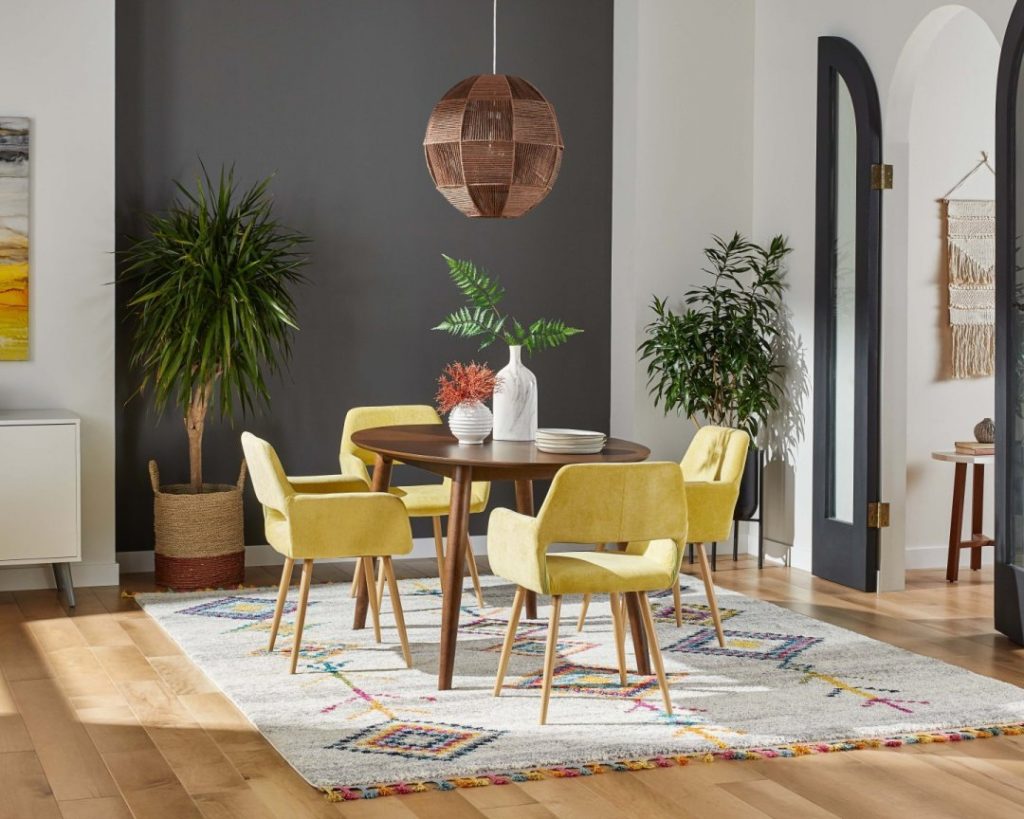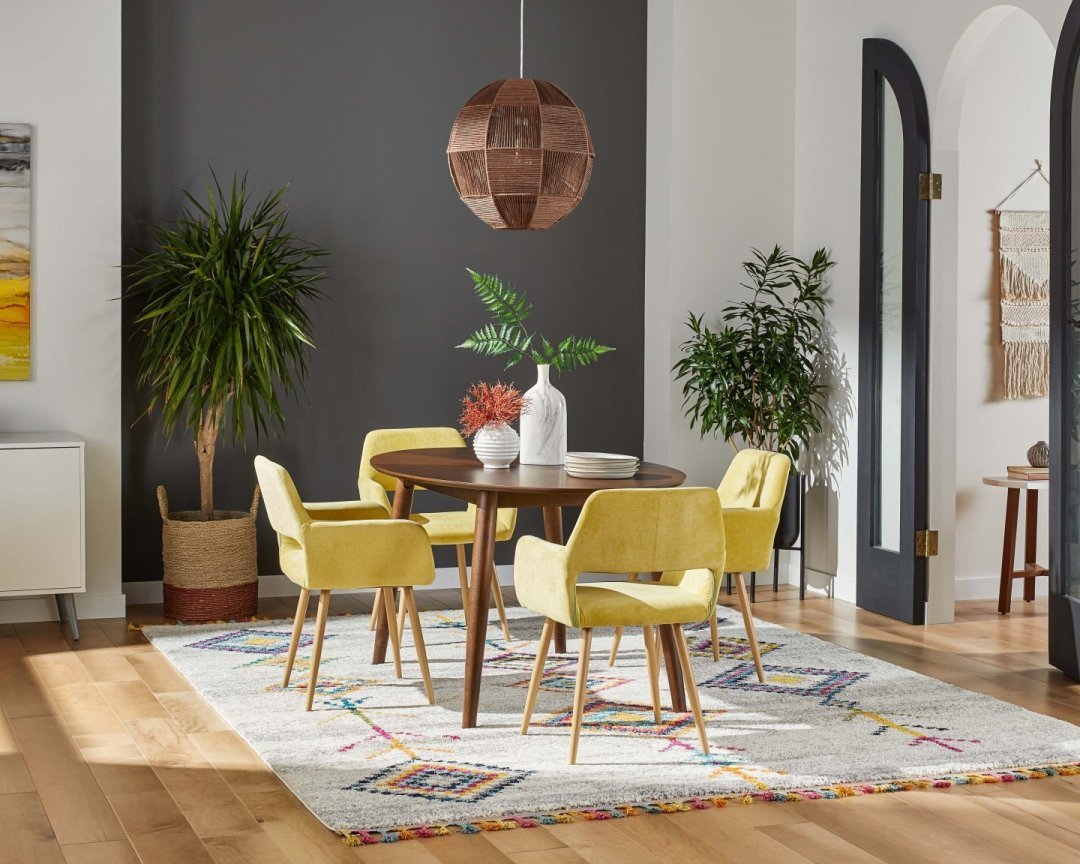 Source: Overstock
Shop These Items From Overstock Below:
Yellow Dining Chair (Set of 2) | Morrocan Area Rug | Dining Table | Ceiling Lamp | Basket Set | Ceramic Marble pattern Vase | Stoneware Modern Vase
Discover more shoppable Mid-Century dining rooms from Overstock's Style Section
NOTE: Overstock is constantly running sales and promotions. These prices are the original prices but you may get a couple of deals on these products.
If you want to add some color to your dining space this look is a sure way to do it. This dining room features mid-century furniture style and might even cross over into Boho style.
The eye-catching yellow dining chairs are sure to spark conversation while the colorful geometric Moroccan style rug adds a playful and textural element to the design.
Besides the chairs, the pendant light is my favorite piece here! Made with hemp ropes, this pendant lamp will add warmth and a natural look to any space.
The walnut dining table delivers a timeless and retro style and pairs nicely with the pendant lamp. I've always found that round and oval-shaped tables work well in small dining rooms. Visually, they seem to occupy less space than a rectangular table and cultivates a soft, elegant, and cozy aesthetic.
FYI, If you're looking for the best dining table for your small home or apartment, I compiled these stylish space-saving dining tables for small spaces.
While this room might be considered bold to some, it's also stunningly simple. It combines the right amount of color with must-have wooden and natural elements to create a beautiful, no-fuss, mid-century style.
This space makes entertaining that much more special. I know for sure my friends and family would love hanging out in this dining room!
I hope you were inspired. Check out more beautiful, shoppable decor ideas at Overstock Style. Get decor ideas for every room.
Happy Decorating!
Want More Mid-Century Modern Inspiration?
More Dining Room Inspiration
Don't Forget To Pin This For Inspiration Later!