Multifunctional Furniture: 7 Basic Pieces To Maximize Small Spaces
Looking for multifunctional furniture for small spaces? This list will highlight the basic pieces needed to help you make the most of your space.
Multifunctional furniture will work harder for you. Period! There are 7 basic multipurpose furniture pieces every small-space-dweller should consider if they want to maximize space and storage in their home.
Buying furniture that can have more than one function is going to make your space more livable, and less crowded. A single piece of furniture doing the work of two and even three eliminates the need for multiple pieces. That means more space and less money spent.
A small apartment or small room is a great place to experiment with these pieces. You'll find that you really don't need much to create a comfortable and functional living space. With just one or more of these pieces, you'll be able to maximize space and improve functionality in any room, no matter the size. Not to mention the potential savings. Multiple uses from one single purchase? Yes, Please!
Here are 7 multifunctional furniture ideas for small spaces. There's something for every room!
Space-Saving Multifunctional Furniture For Small Spaces
**This page contains affiliate links. If you purchase items through these links, I may receive a small commission. See full disclosure here.**
A Sleeper Sofa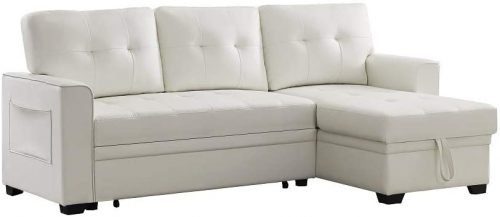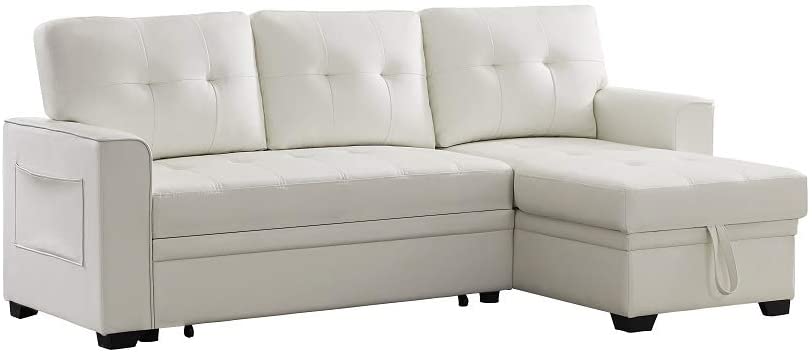 Sleeper sofas can transform your living room into a guest room in minutes. Sleeper sofas are available in many different sizes and designs. Try a small loveseat that converts into a full-sized bed or a slightly larger sectional sleeper sofa with a queen-sized bed. A reversible sectional lets you move the chaise to either side for flexible arrangements. Whichever you choose your overnight guests will thank you for it.
An Ottoman
An ottoman can serve as a footrest, a chaise, and even a coffee table. They're a great way to get more out of one piece of furniture. Ottomans are perfect for those of us who love to have seating options in our homes but don't have a lot of room to spare (or budget).
Storage ottomans will work even harder for you by providing extra (hidden) storage for blankets, shoes, books, toys or whatever you need to stash away and out of sight. Place in your entryway or at the foot of your bed to maximize storage.
Push a small ottoman in front of your sofa, add a tray on top, and voila! You have yourself a laidback coffee table or side table.
Coffee Table With Storage
A storage coffee table will help you keep your living room organized and clutter-free. Storage tables come in a variety of designs, materials, and storage options. So finding one is easy. Some multifunctional coffee tables go the extra mile to help you make the most of your small space.
Lift-top coffee tables are a modern take on the traditional storage coffee table. These tables transform into a desk with hidden storage underneath. Similarly, coffee tables that convert into dining tables are a great investment piece if you're serious about saving space.
BTW, if you're looking for a space-saving dining table, I compiled a list of stylish and affordable expandable dining tables that will help you make space AND save space! Check them out here.
Shop Storage Coffee Tables
Storage Bed
A storage bed a versatile piece of furniture that can serve as both a bed and a storage unit. It's one of the most effective ways to add extra storage to a small bedroom. Especially if that small bedroom doesn't have a closet. You can use it to store clothing, linens, shoes, books, and anything else you need to keep out of sight.
Storage beds can take many forms. Some have drawers or shelves underneath (or a combination of both) and some have storage at the foot of the bed. Lift-up bed frames have hidden storage compartments under the mattress, which is perfect for storing out-of-season clothing and other items you don't use every day. If you have a small bedroom, a storage bed will certainly help you stay organized.
Shop More Storage Beds
A Bookshelf or Bookcase
A bookshelf is great for storing books or displaying decor and art, but can also act as a room divider. Studio apartment dwellers know this all too well. They can be used to carve out an office space, a bedroom or a dining space. Use them anywhere you want to create separation. Add decor and other accents to your new room divider more aesthetic. Or fill the shelves with plants for a beautiful plant wall.
If you really want to level up and repurpose this piece of furniture the options are truly endless. I've seen people turn bookshelves into kitchen islands, coffee tables, headboards, and even doll houses. If you're a creative person, a bookshelf can be almost anything you want it to be.
A Small Kitchen Island Cart
Small kitchens could always use a little extra counter space. A small kitchen island cart can offer additional prep space and extra storage for dishes and small kitchen appliances. Some can even serve as a small breakfast table to enjoy a quick morning coffee. A mobile island cart can also be used in other areas of the home. They do well in home offices, garages, craft rooms, or anywhere you need extra counter space or storage.
For greater functionality grab one with wheels. This way you can use these carts in other rooms if necessary. These kitchen carts are available in small sizes so even the tiniest kitchens can have a stylish island cart.
Mirror with Shelf, Racks & Hooks
Adding a mirror with a shelf and/or hooks to your home is a smart way to add both style and function. In your entryway, you can use it to check your appearance, to hold your keys or sunglasses, or hang your coat. In the bathroom, a mirror with shelves is great for storing small items like toiletries, toothpaste, or jewelry.
There you have it! Basic multifunctional furniture for small spaces. Every item on this list is available in many different styles and designs, so finding one to suit your style and decor will be easy. When working with small spaces you would do well to consider at least one multipurpose piece for every room. Think carefully about how you use a particular space in your home, then employ these space-saving pieces to enhance its function. Doing this will make your home way more livable. Happy decorating!
More Space-Saving Furniture Ideas Small Spaces
Pin This Page For Later!