7 Ways to Divide A Studio Apartment
Small studio apartments often present certain design challenges. At the top of the list is the lack of room separation. While this may not be an issue for some people, for others, a one-room floor plan can often feel like living in a furniture store showroom (minus the vast space of course).
When your kitchen is your living room and your living room is your bedroom, some sort of separation is essential. Even if it's just visual separation.
If all this sounds good to you, let's explore some ways to divide a studio apartment.
7 Ways to Divide A Studio Apartment!
1. Create Zones With Rugs
Using multiple area rugs in an open floor plan allows you to create separate living spaces. Visually carve out a bedroom, living room, or dining space with different rugs. You can match two or more rugs or use different but complementary styles. I created another post on how to mix & match rugs in an open floor plan.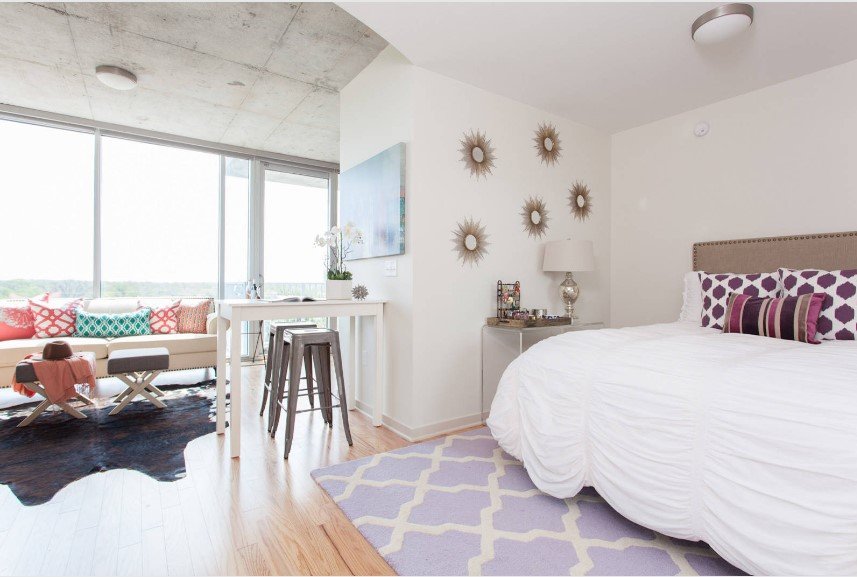 Rugs are a great way to divide a studio apartment without the need for physical, space-wasting barriers. They help to separate spaces while maintaining the visual flow throughout the room.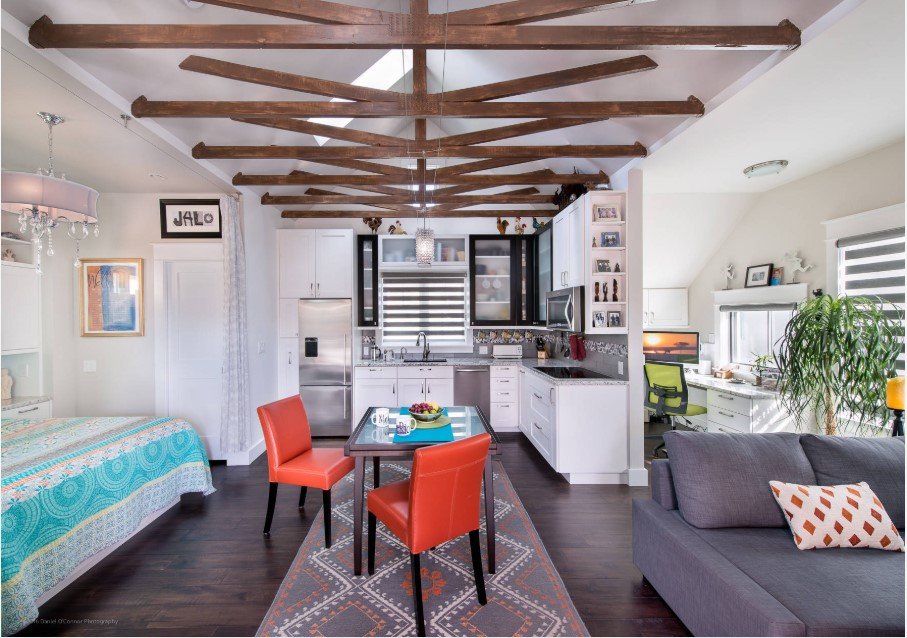 See more from this Cozy, Stylish 480 sqft Studio!
2. Divide & Color!
Color-Zoning is a fun and easy way to visually separate any space. This technique creates division without the need for more furniture like room dividers or other bulky barriers. With the use of paint or walllpaper you can create separate 'rooms' (or zones) in any space. Carve out an office space, a sleeping or dining space in your studio with this technique. I talk more about Color Zoning in This Post!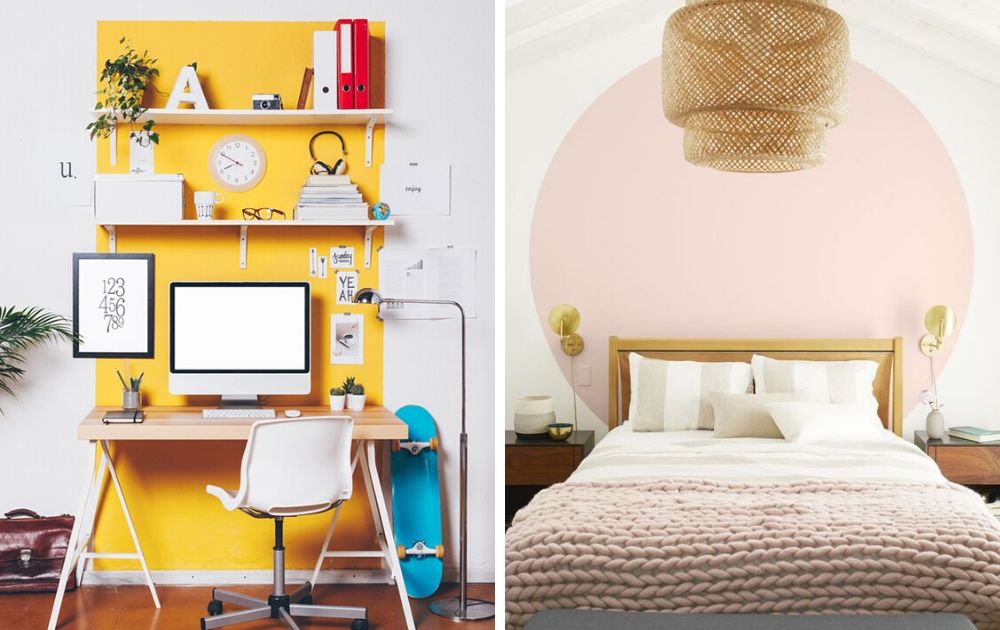 3. Bring In A Bookshelf
In any small apartment, the constant goal is to maximize that space. Multifunctional solutions are key to achieving that goal. If you can get more than one uses from a piece of furniture or decor item, it's practically gold!.
Large bookshelves are a popular way to separate an open floor plan. They succeed in dividing living areas and adding valuable storage space. Go for a tall to create the illusion of height in the room and for extra storage. It doesn't need to be excessively wide. If you're on a budget, smaller (yet tall) bookcases can work too!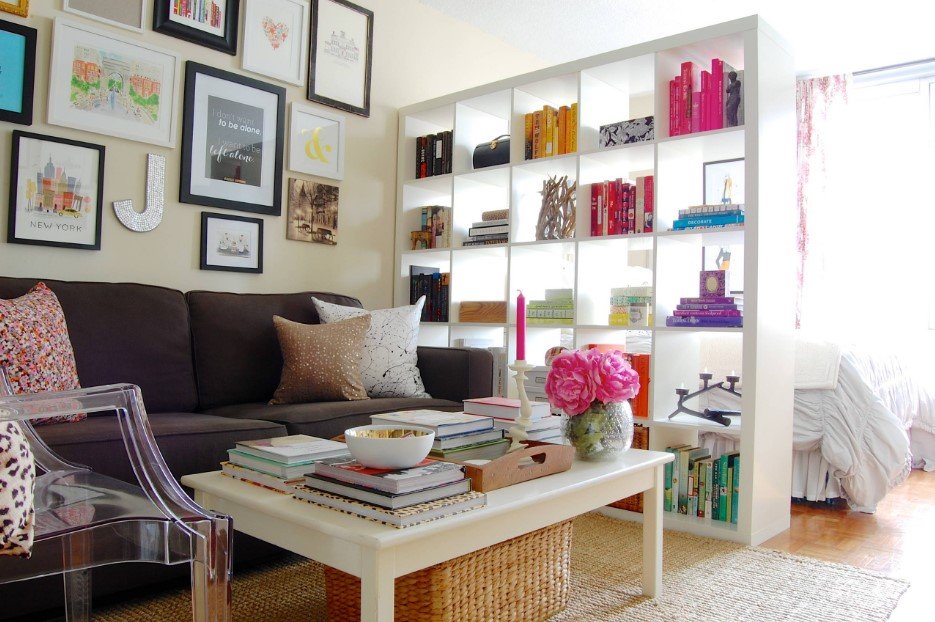 Photo by Corynne Pless – Discover family room design inspiration
4. Install Divider Screens
A space-saving solution to dividing a studio is a narrow, installed divider or built-in screen. These help to break up a room without completely blocking sightlines to the other areas. 'See-through' dividers work best! They provide adequate separation without that 'boxed in' feeling.
Photo by Allen+Killcoyne Architects – More bedroom ideas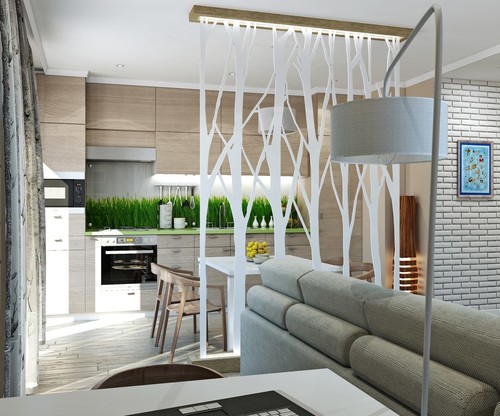 Photo by STYLE DESIGN – More kitchen photos
Photo by The Brooklyn Home Company – Search bedroom pictures
5. Hang Curtains
Curtains are a popular way to create "walls" in a studio. They're easy to install, goes well with any decor, and can bring a light and airy feel to the room or a dramatic effect with a bold color. Curtains also naturally absorb sound, reducing any echo sound in the room.
Photo by ZL Design – More living room ideas
Photo by Tobi Fairley Interior Design – Discover bedroom design inspiration
How To Get The Look:
Add a ceiling track (Amazon) or install ceiling curtain rod brackets, add a rod, and hang your favorite curtain.
For a simpler, no-drill option, try these adhesive ceiling hooks from Amazon. Then add a light-weight curtain rod (or string) and a stylish curtain.
For smaller areas, try using tension rods. Be sure to measure your space before purchasing these items.
6. Use Your Sofa.
If your goal is to separate your bedroom from your living room, try positioning your sofa at the foot of your bed. This is probably the easiest way to divide a studio apartment. The sofa will create an invisible 'line' between where your bedroom ends and where your living room begins.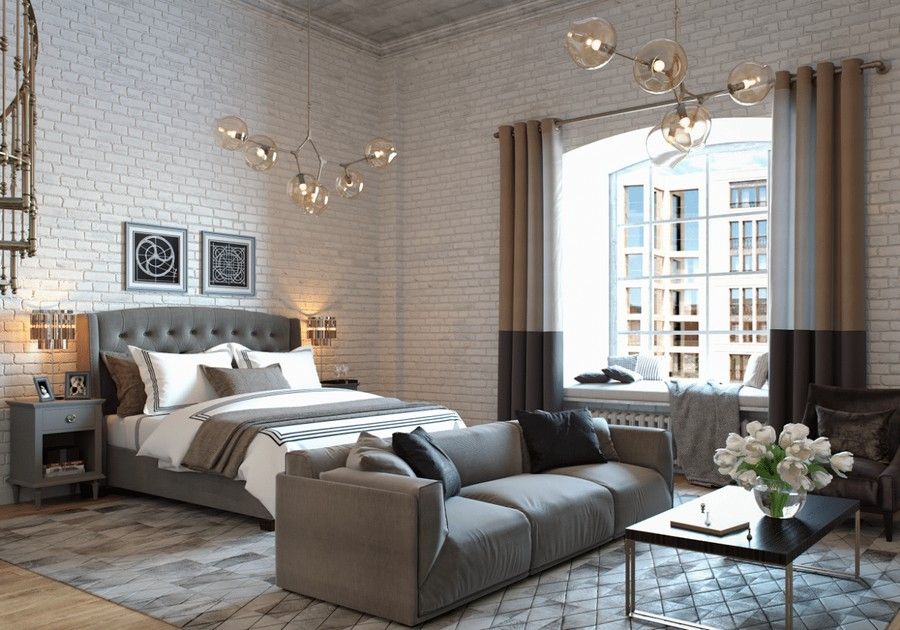 If you're looking for a new apartment sized sofa, these 'Leggy' Sofa Finds are perfect for small spaces! I also rounded up 5 Super Stylish Sleeper Sectionals for Small Living Rooms!
7. Folding Screen
Create a room within a room and extra privacy with a stylish folding screen divider. They're not only space-saving, but they can add beautiful charm to your decor. Divider screens are easy to move around, so you can place it anywhere you need a little separation or privacy.
Photo by Deborah French Designs – Search dining room design ideas
Photo by Key Residential – Discover bathroom design inspiration
There you have it! 7 Ways To Divide A Studio Apartment. I hope you able to find some inspiration. Happy decorating!
Want More Small Space Decor Ideas?
Don't Miss The Latest Posts!
PIN THIS FOR LATER!