10 Tips For Creating A Functional Workspace In A Small Apartment.
If you haven't set up an official home office yet, now is the time to get it done! It's a new year, and a fresh opportunity to get your home and work life in order.
For all my small space dwellers out there that are still struggling to set up a productive workspace at home, I have a couple of tips for you to get started. In this post, I'll share 10 tips for creating a functional home office in a one-bedroom apartment. Plus some ideas to get you inspired.
**This page may contain affiliate links. If you purchase something through these links, I may receive a small commission. You will NOT pay more for products purchased through these links. I only recommend products that I love and trust! **
Tips For Creating A Functional Workspace In A Small Apartment
1. Choose The Right Space
Whether it's your living room, your bedroom, or part of your kitchen, choosing a space that's comfortable is vital for productivity.
Carving out an office in a small space can seem challenging but with a little ingenuity, you'd be surprised with what you can come up with.
You can create a cozy office nook in that weird corner of your living room, use an available closet or part of your closet to make a "cloffice", go back to back with your sofa or utilize the end of your hallway. Get creative and make sure the space is conducive to working and sitting for long periods.
Here are a few ideas for setting up an office space: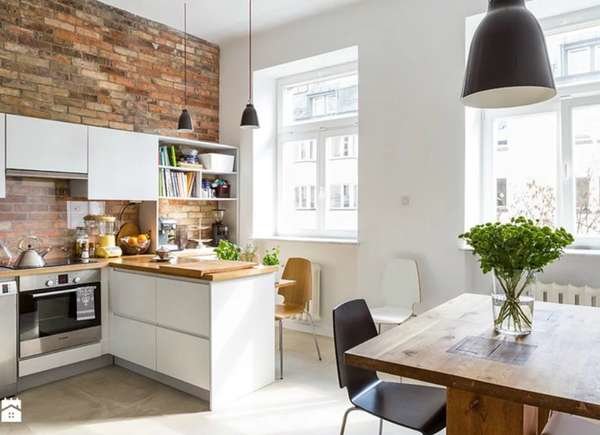 If you're working at home with your partner, discuss who gets the living room and who gets the bedroom. I think it's always a good idea for couples to have separate workspaces. It helps to minimize distractions and you won't annoy each other.
However, If you're stuck working in the same room, try to carve out specific corners that are yours alone. Noise-canceling headphones are great for when one of you needs to do a conference call.
2. Define That Space
Take your office space to another level by defining or cordoning off that space.
A creative way to do this is color-zoning or color-blocking. Color-zoning is used to create visual separation in a room by creating zones. This technique allows you to divide your space without physical or bulky barriers.
Color-zoning is perfect for studio apartments and open floor plans. It also serves as a beautiful focal point in the room.
Here are some ideas:
Use paint, temporary wallpaper, wall hangings, or even rugs to separate your work area from the rest of your living space. I personally love this technique because it adds a striking and decorative element to the room. You can be as bold or as minimal as you like!
3. Go Vertical With Storage
Throw everything on the walls, if you can. Shelves, File organizers, lamps, everything. Vertical space is king when dealing with small spaces.
Store your office supplies above your desk, but don't overcrowd the wall. You can't be productive in a cluttered space. Add daily-use items to the lower half of the wall (closer to your desk) and place other items above. This will free up desk space and keep things organized.
Some Ideas:
Get The Pegboard Organizer Above Here On Amazon
Pro Tip: To minimize excessive drilling into your walls, hang a pegboard or wire wall grill (like the one above) and add shelves or pockets to that instead of mounting multiple items onto your wall.
For optimum space-saving benefits, try a wall-mounted desk system or a floating desk. This reduces visual clutter and gives you more floor space for things like filing cabinets, or a printing station.
4. Choose A Multifunctional Desk
If you don't want to deal with mounting multiple shelves in your apartment, getting a desk with built-in shelves and storage is the way to go. It's one compact piece that delivers the storage you need for one price. Plus it's easy to move when you want to change your room layout.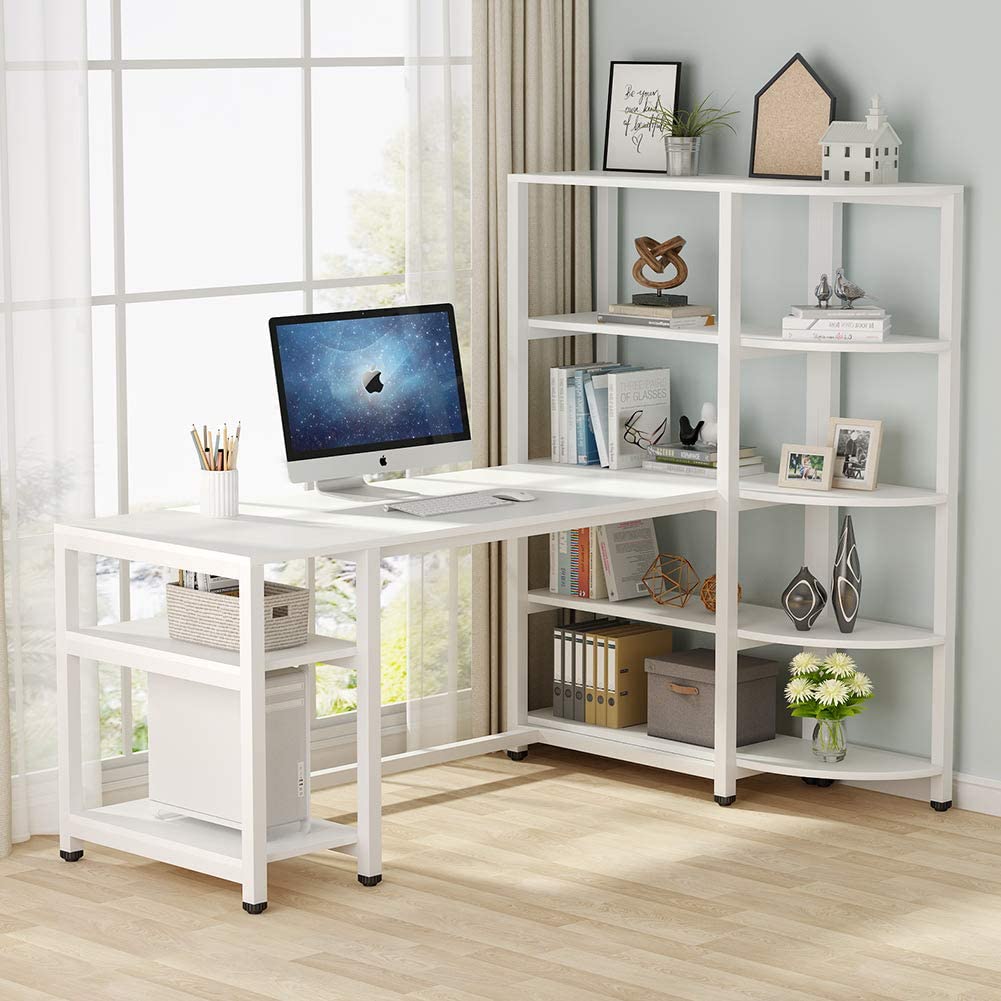 Shop This Desk Here On Amazon!
On the other hand, If you don't need that much storage but still require a couple of drawers for stationery and other items, then these neat, stylish pieces are a great option. I rounded up 24 Modern Desks For Small Spaces if you want more options!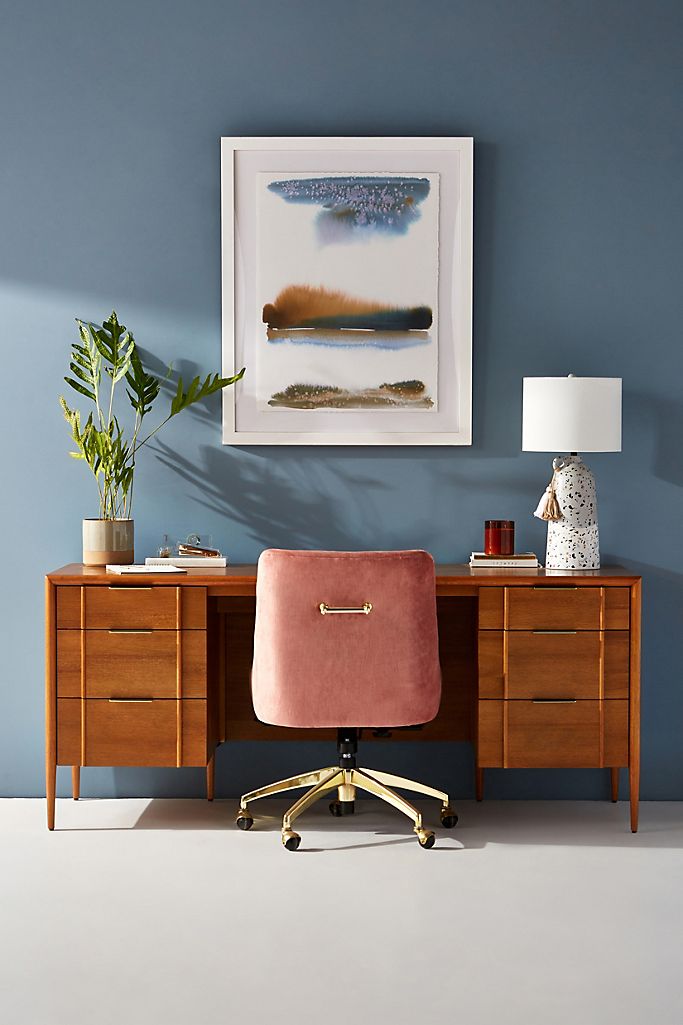 Shop this desk here on Anthropologie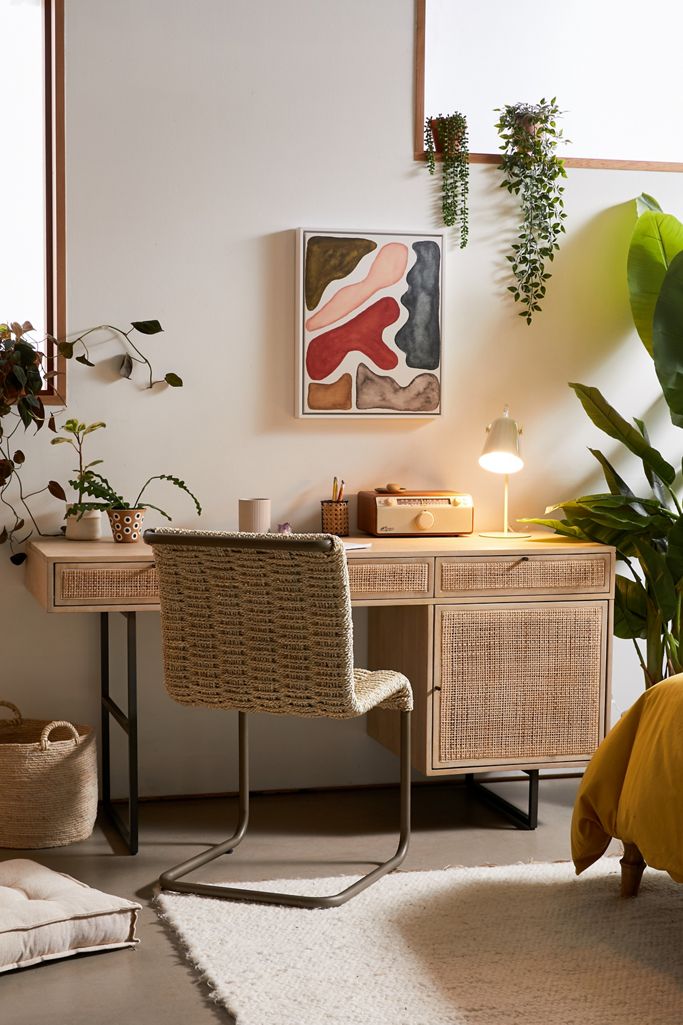 Get it at Urban Outfitters
Related:


5. Ergonimics Are A Priority
It goes without saying, get a good desk chair with maximum support, but keep it trim. Avoid bulky chairs that take up valuable space, or intrude upon walkways and traffic areas when not in use.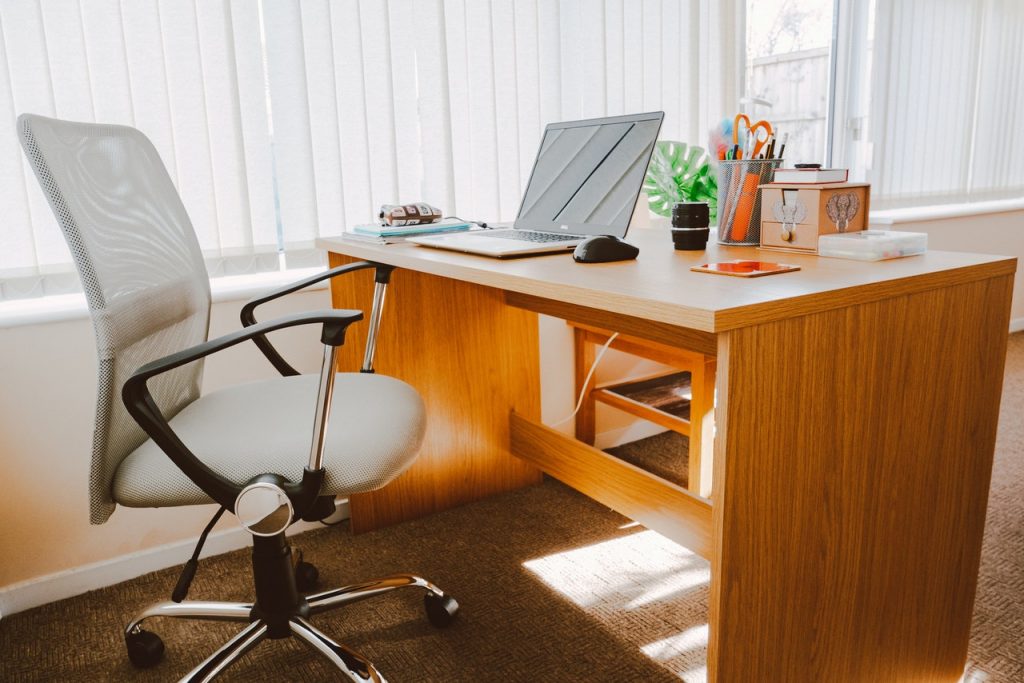 Here are a few other items that will instantly increase the ergonomics of your work setup, curated from Amazon.
RELATED:


6.Go Cordless
Loose cords strewn across the floor or bundled up on your desk is a recipe for clutter and chaos. If your workspace is chaotic your productivity suffers. Try cordless office products for your setup. A cordless keyboard, mouse, a wireless printer, etc will help you stay clutter-free. You'll thank yourself for it later!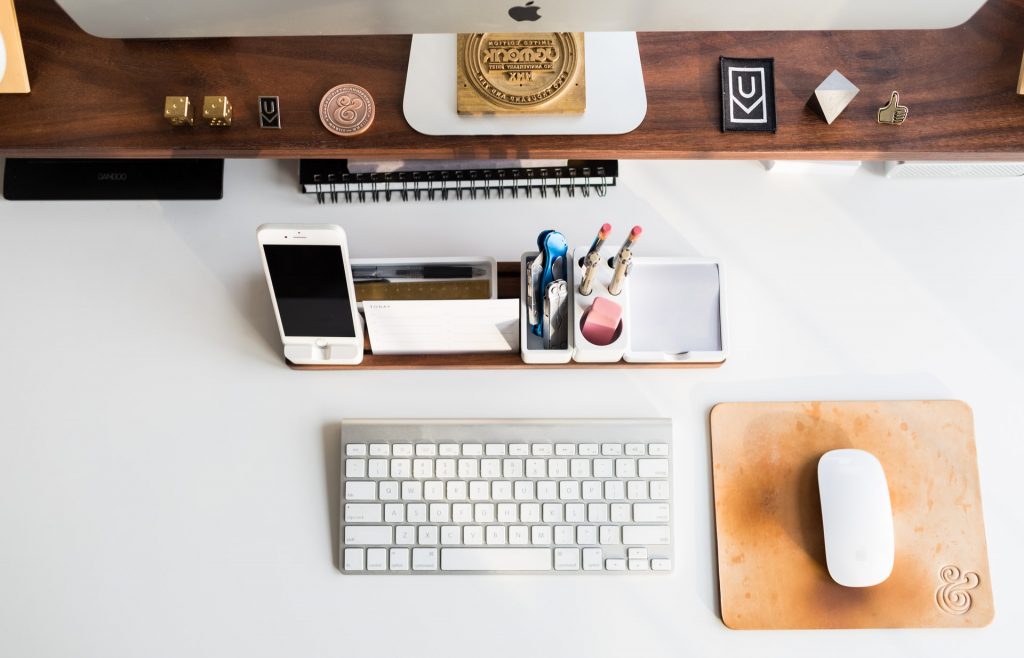 7. Create A Printing Station
If you have to print documents regularly for work, then you might want to think about setting up a printing station.
I know, I know. You live in a tiny apartment and you barely have room for a desk much less a separate printing station. But there are dozens of small and compact printer tables to help you achieve this.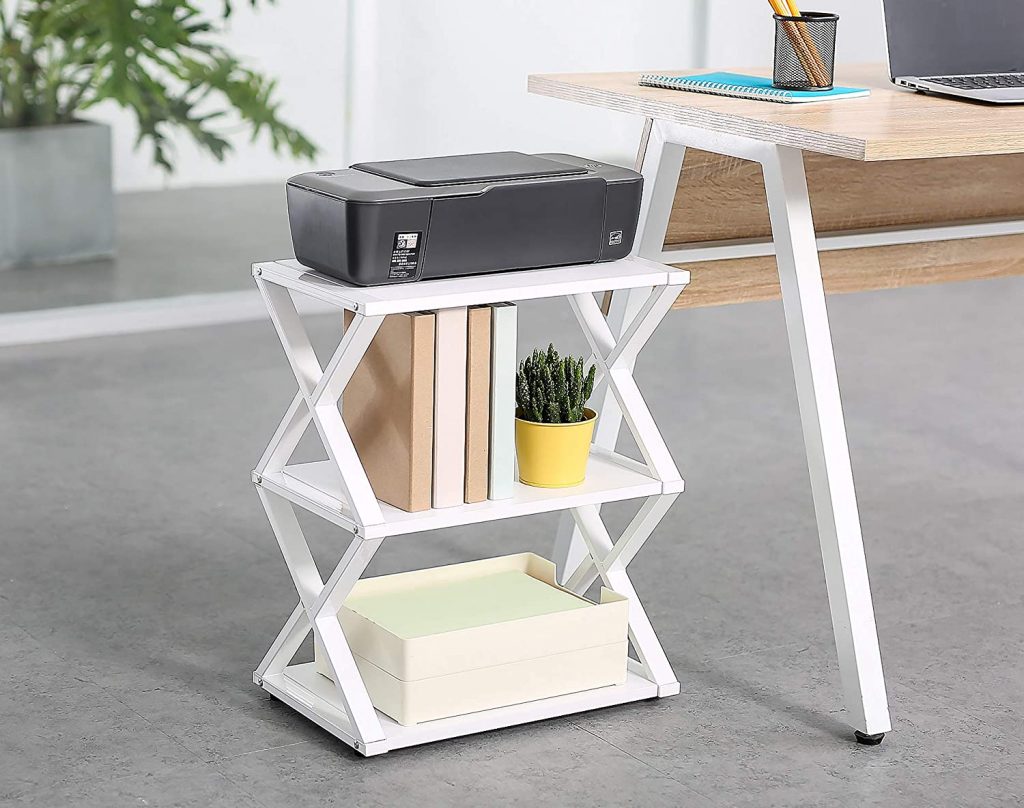 Get this printer stand Here On Amazon
If you prefer to keep your printer on your desk, get a printer desk stand to maximize space. These stands allow you to store your printer and printing supplies vertically without sacrificing desk space.
I found these on Amazon:
8. Don't Skimp On Decor
Your workspace can be both functional and beautiful! I don't care what the productivity gurus say, you don't have to sacrifice decor in order to create a productive workspace. This is your home and your office is now part of your home. So make it as beautiful as you want to!
Hang your favorite art, photos, and other things that energize and inspire you. Use decorative storage to keep things organized.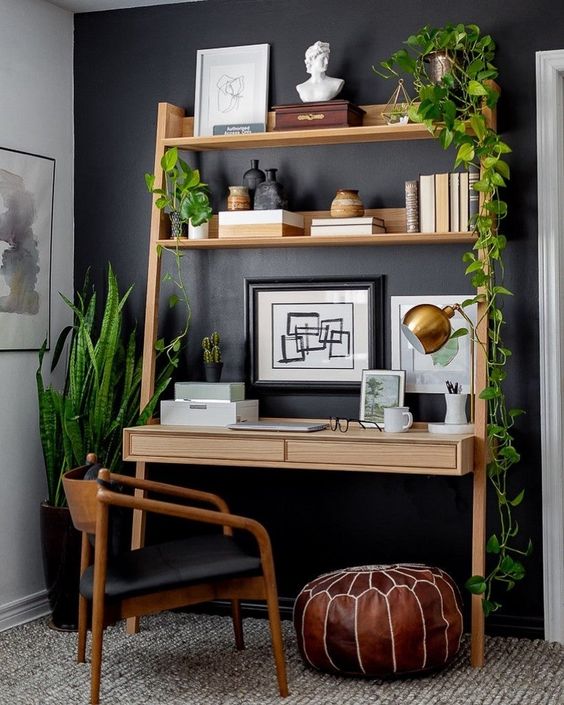 If you're not sure what kind of decor you're going for yet, start with plants! Plants will instantly raise the aesthetic of your space. More importantly, plants improve the air quality in the room, so it's a win-win. The pothos trailing plant (like the one above) is perfect for decorating shelves, while a smaller potted plant would be great for your desk.
Bloomscape has a wide variety of easy, low-maintenance indoor plants that are perfect for apartments. They offer indoor plant collections (3 plants per collection) for around $65. It's an affordable way to get started with plants. Plus, they have a ton of resources & guides for newbie plant parents!
9. Find A Good Spot For Video Calls
if you're like me and you hate using those weird virtual backgrounds for video calls, you might want to figure out another alternative. The easiest option is to set up your desk where your back is against the wall. But if you prefer to face the wall while you work there are other options.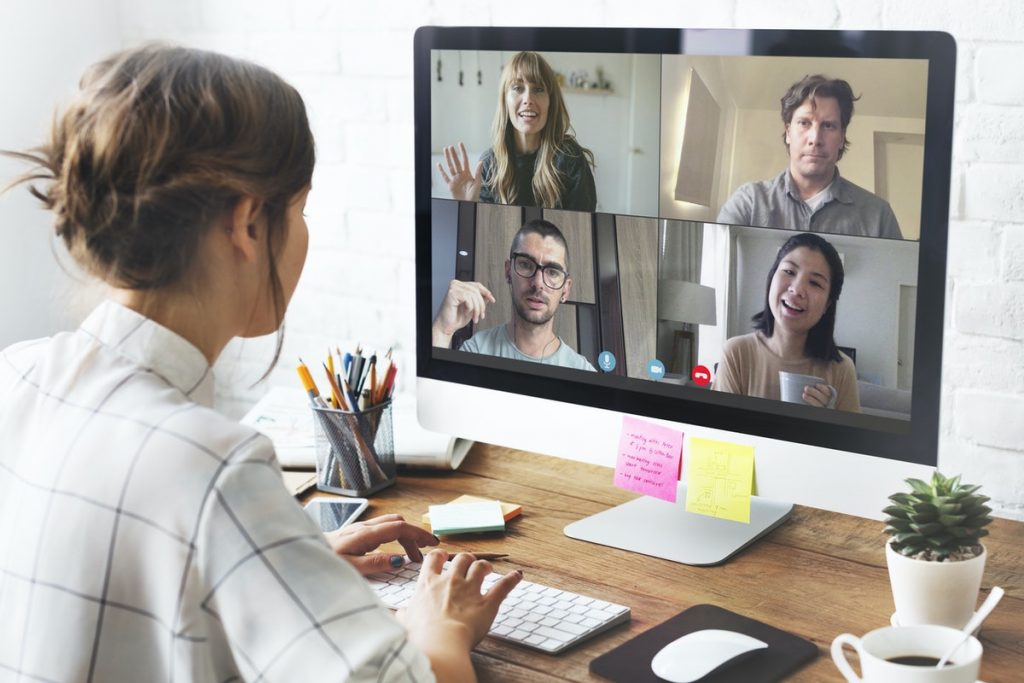 Get a simple privacy screen or room divider. One that's light-weight and retractable, so it's easy to set up and put away. I found some affordable options:
10. Maintain That Homey Vibe
Your office is now part of your bedroom/living room, and while you may want to keep these spaces separate, in reality, they are not. Maintain that homey feel by cleaning up your workspace at the end of the day. If you're lounging on your bed at night and there's a stack of papers on your desk in the corner, it can be really hard to relax and unwind.
Get into the habit of clearing your desk when you're done working. Close your laptop, put away all papers, calculators, and other work materials. This will help you to 'switch off' at the end of the workday and maintain the general aesthetic in the room (This is why I think hidden storage is so, so important for small spaces).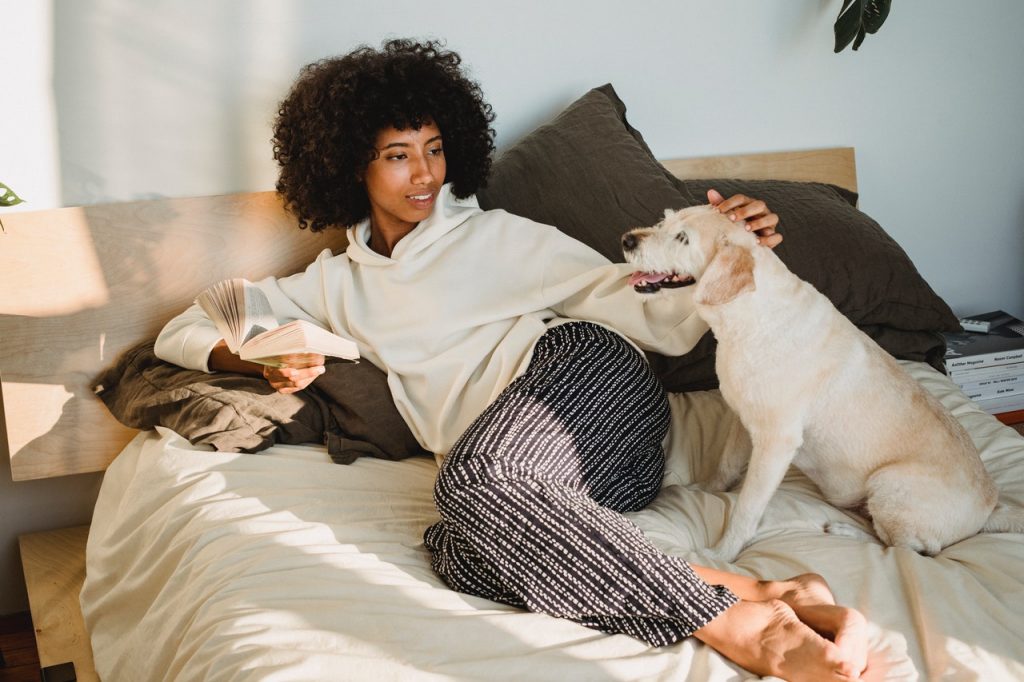 PIN IT FOR LATER!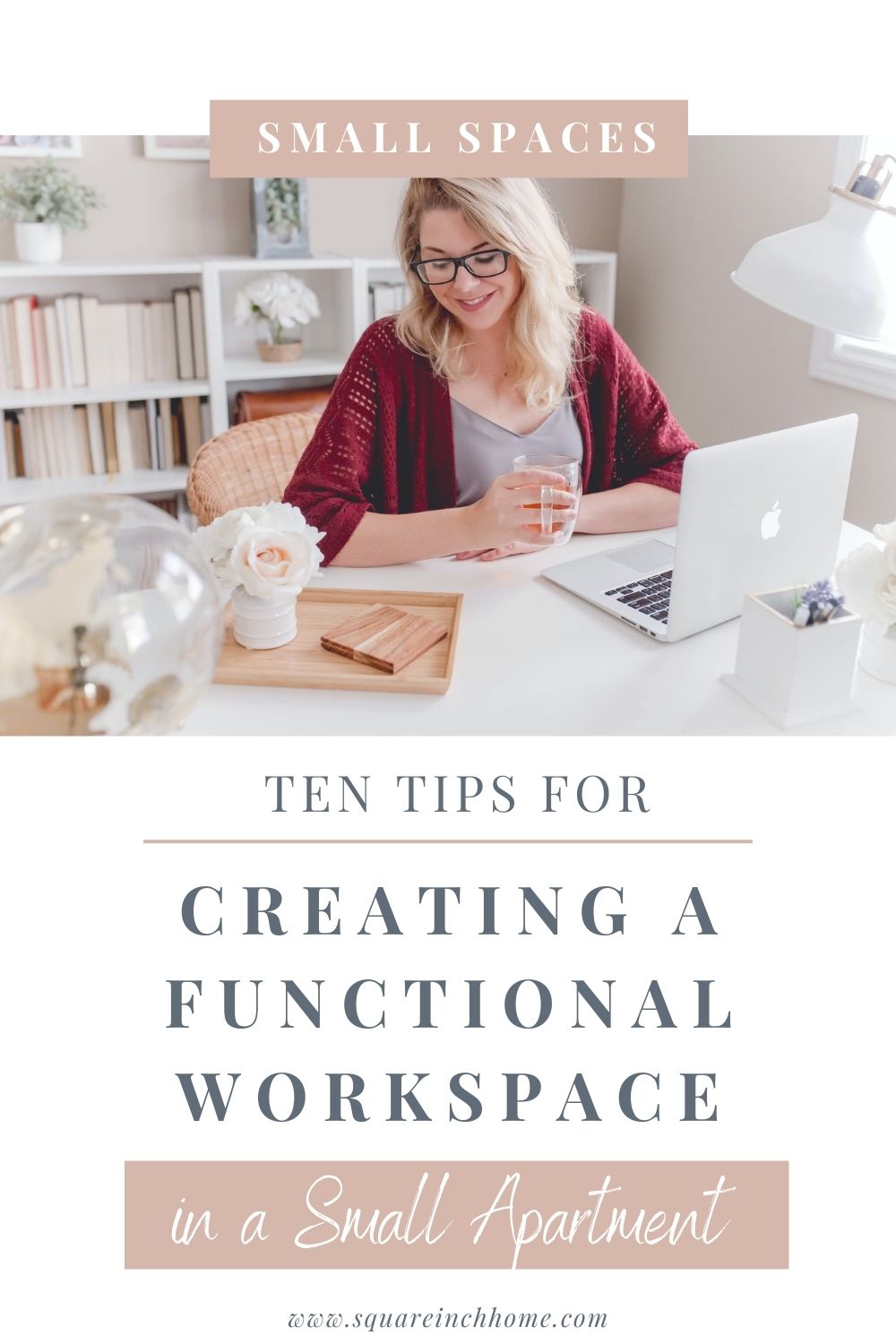 Latest Posts: