Design Your Space With Print On Demand Home Products
When you hear the words "print-on-demand", you often think of things like t-shirts, coffee mugs, and iPhone cases. Right? Well, nowadays there's a whole lot more you can get printed on-demand. Like home decor accessories, dinnerware,  and even Furniture.
Customized and personalized products are extremely popular, now more than ever. And for good reason too. You get to create something that reflects your personality and style. Something that you KNOW you're going to love.  
Wouldn't it be fun to print your art or creative designs on a pouf or an accent pillow?  Or how about adding that family photograph to a throw blanket or a wall clock?
I've come across so many pretty patterns on Pinterest and have often thought "This would go perfectly in my living room" or  "I need that design on a throw pillow… ASAP!"
Enter ZAZZLE!
*This page may contain affiliate links. If you purchase something through these links, I may receive a small commission. I only recommend products that I love and trust! **
Custom Home Decor Accessories From ZAZZLE!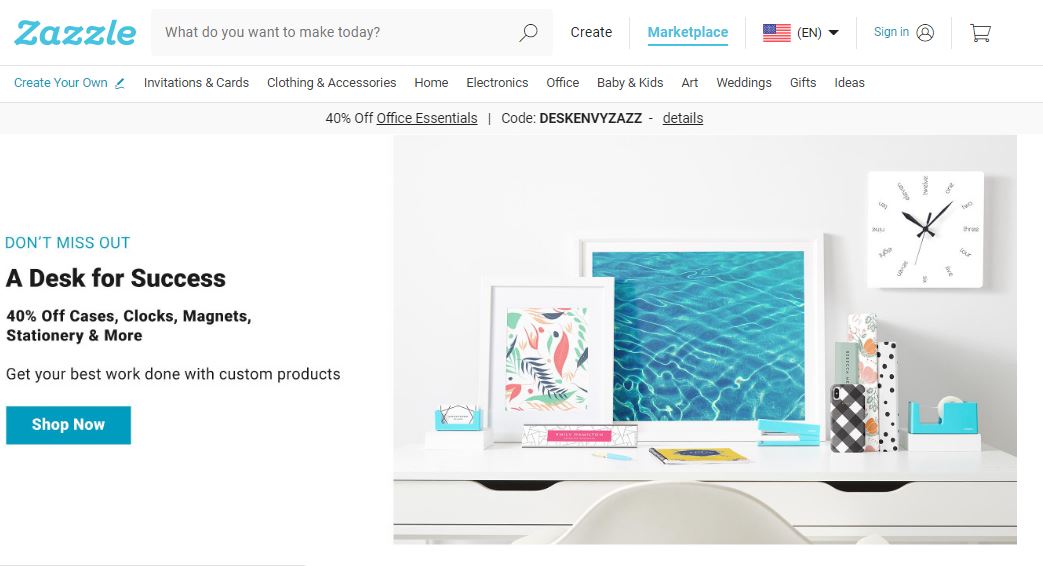 Zazzle makes all of this possible. While it's mostly known for personalized greeting cards, wedding invitations, and iPhone Cases, they actually have a wide variety of customizable home products. Way more than any other online Print-On-Demand service out there at the moment.   
Using Zazzle's print-on-demand service is a fast and affordable way to customize your home. From Poufs to Lighting, to Kitchenware and Table Runners and so much more. All with the ability to be personalized and customized the way YOU want it. Zazzle makes custom products accessible, and fun to design!
No Design Skills Needed.
Their designer interface is easy to use and fast. You can customize existing designs created by other designers or create your own from scratch. Just upload your image, or design, adjust the way you want it and hit "Done!". Pay for your new, designed-by-you product, wait a few days for shipping and enjoy. It's that simple! Zazzle has a ton of design elements, fonts, and colors to help you create something truly unique for yourself or as a gift.
Transfer Designs To Other Products
 This Is Where The Magic Happens! Color coordinate your decor by transferring designs to other home products.  If you love that floral accent pillow and want matching coasters, you can transfer that design. Just scroll down the product page until you see the "Transfer This Design" Section. There you'll see all the products you can transfer the design to. This feature allows you to truly customize and coordinate your decor accessories.
So What Decor Products Can You Customize On Zazzle?
A whole lot! But here are a few noteworthy items.
Custom Poufs
Create Your Own Poufs: Round Pouf  |  Cube Pouf
Shop These Poufs: Aztec Geometric Pouf  |  Modern Pink & Gray Arrow Pouf

Add extra seating to your small living room or bedroom with a custom printed pouf. Use pattern images, text, and even photographs. There are no limits to what you can create with these.
Custom Accent Pillows
Throw pillows are an easy way to spruce up your decor. Why not create one yourself. If you're changing your decor's color scheme, use Zazzle to get a matching accent pillow.  Add a pretty pattern image, a photo collage, or funny text in a style or color that fits perfectly with your new color palette.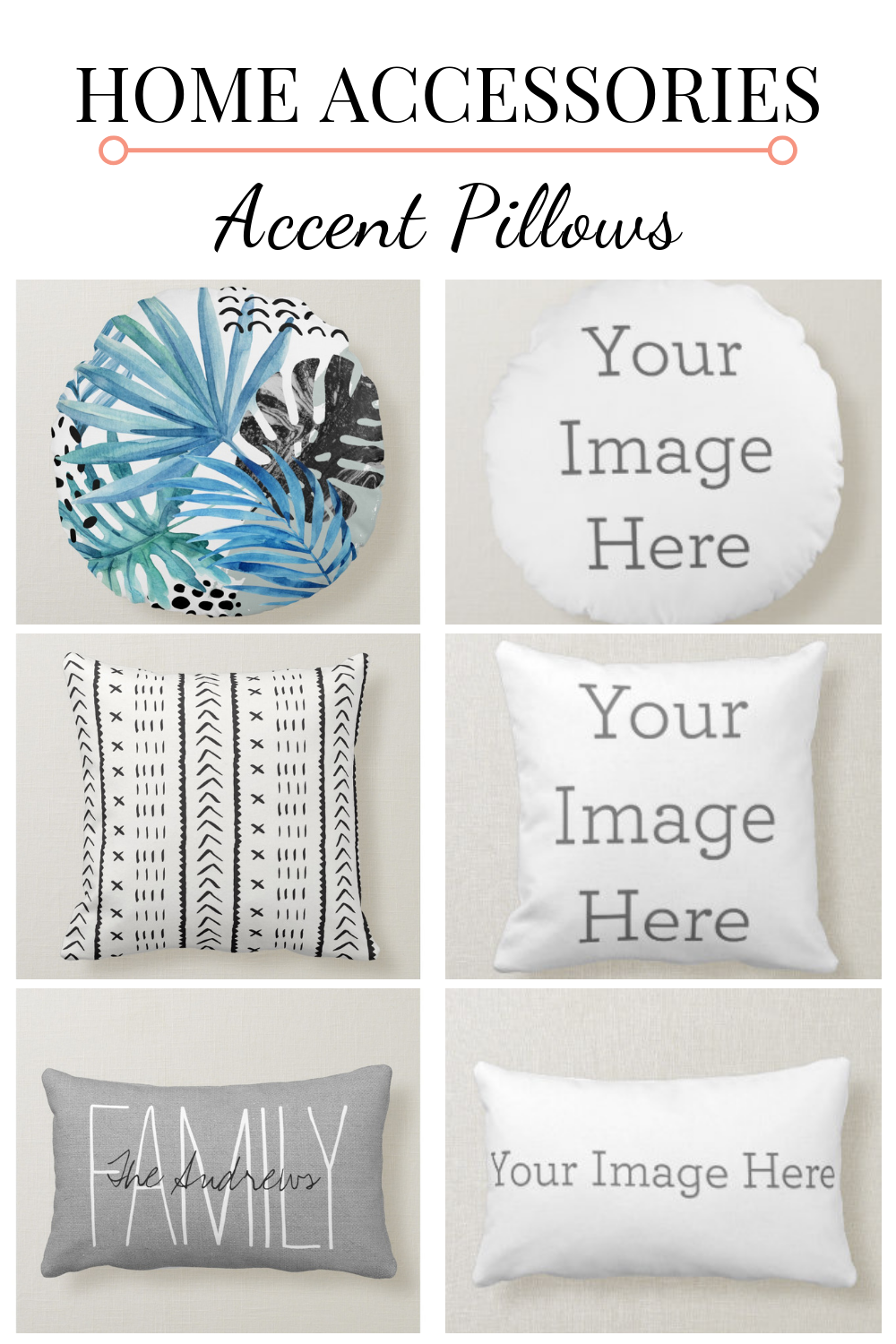 Shop These Pillows: Blue Tropical Round Pillow  |  Black & White Boho Print Throw Pillow  |    Rustic Family Name Lumbar Pillow
Create Your Own Pillows Here: On Zazzle
Custom Lampshades


Shop These Custom Lamps: 1 |  2 | 3 | 4 | 5 | 6 | 7


Start designing your own: Table, Pendant & Tripod Lamps
This is where you can really transform your space. Get print on demand, custom lighting to spruce up your decor. A customized lamp can do wonders for a room since lamps are often a great statement piece. Accent your space by creating something beautiful that matches your decor. Choose between a standard Table Lamp, Tripod Table Lamps, and Pendant Lamps. If you just want a custom lampshade select "lamp Shade Only" option under the "Style" section on the product page.
Custom Plates, Bowls, Coffee Mugs & Other Dinnerware

Shop These Dinnerwares Here: | 1 | 2 | 3 | 4 | 5 | 6
Style open shelves like a BOSS with custom-designed, color-coordinated dinnerware.  Open shelves work great for small kitchens and are quite popular. But they must be beautifully curated to avoid looking cluttered. Design your own or choose styles from the marketplace. Customize plates, bowls, mugs, serving trays and even cake stands.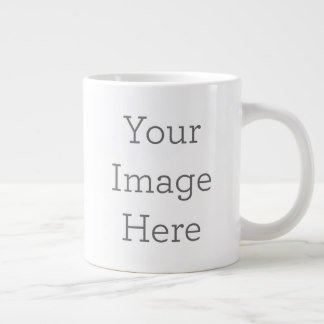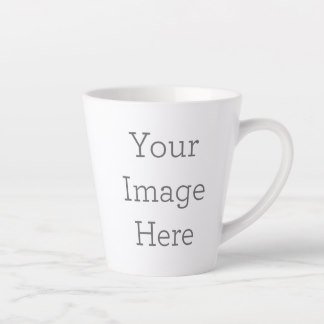 Create your own: Plates | Bowls | Coffee Mugs | Latte Mugs
Custom Printed Serving Trays & Trinket Trays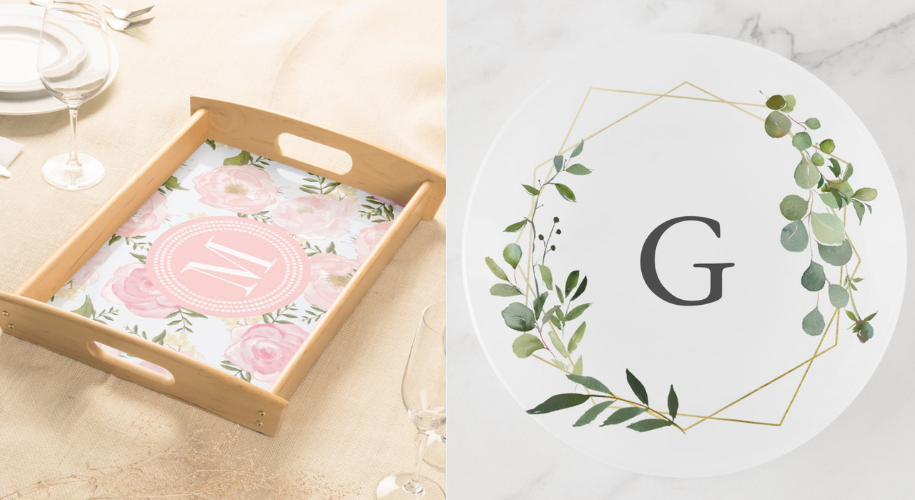 Custom Pink Vintage Floral Serving Tray | Personalized Eucalyptus Trinket Tray
Create your Own: Serving Trays | Trinket Trays
Serving trays are great for entertaining and storing items. In small spaces, they can be placed on top of your living room ottoman to create a cool, laid back coffee table Give them a personal touch by adding a stylish pattern, your name or a photo.  Trinket trays are great for storing those small everyday bits that tend to get lost. keys, loose change, earrings, whatever it is. Let it work for you in other ways by turning it into a decorative piece. Something that reflects your personality and matches your room's decor. 
See More Stylish Serving Trays  & Trinket Tray Designs on Zazzle
Custom Table Linens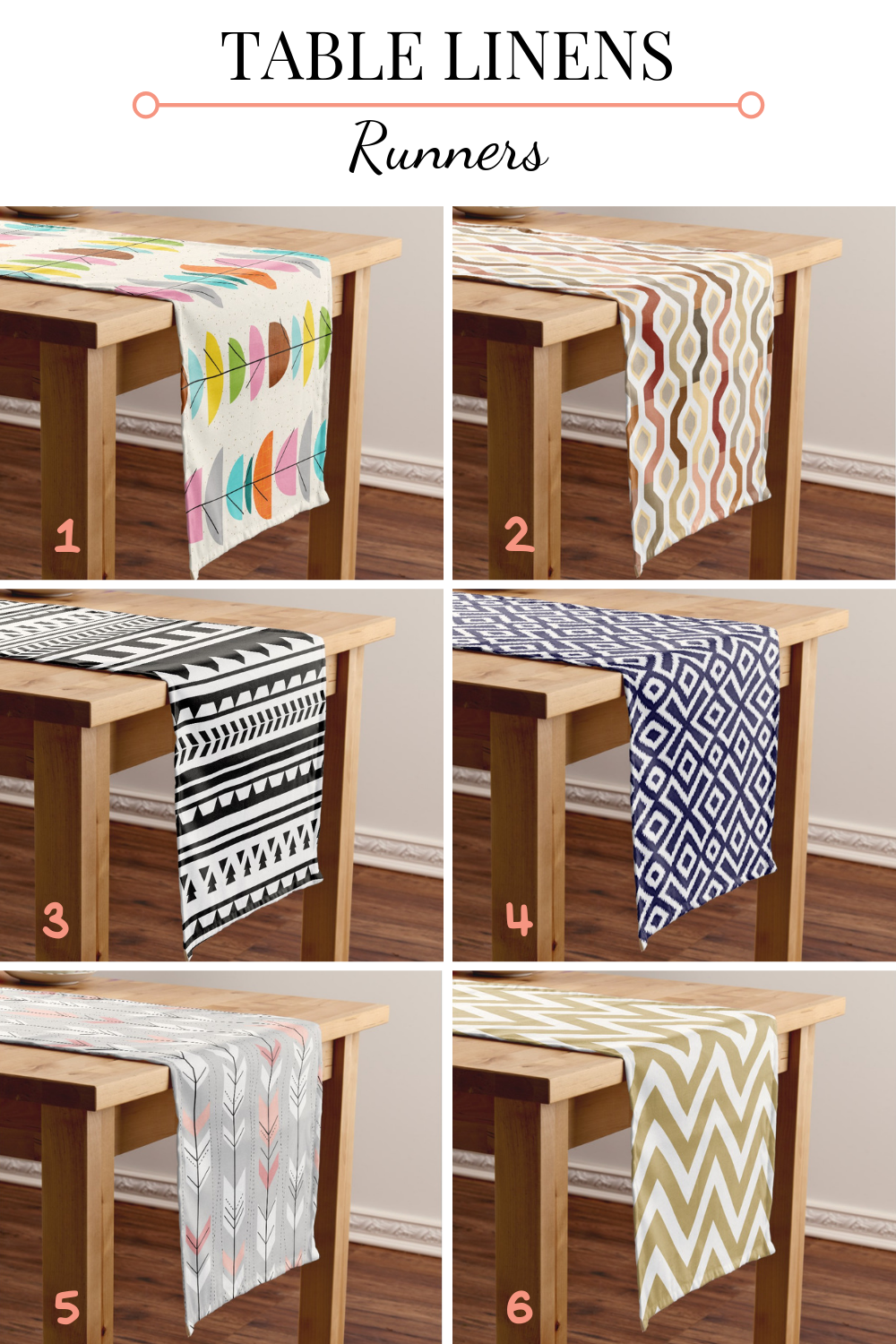 Shop These Custom Print Table Runners: 1 | 2 | 3 | 4 | 5 | 6 
I love table runners. I always prefer them over table cloths for home dining tables. Create a stylish table runner for your dining table decor with these custom linens. 
Create Your Own Custom Table Linens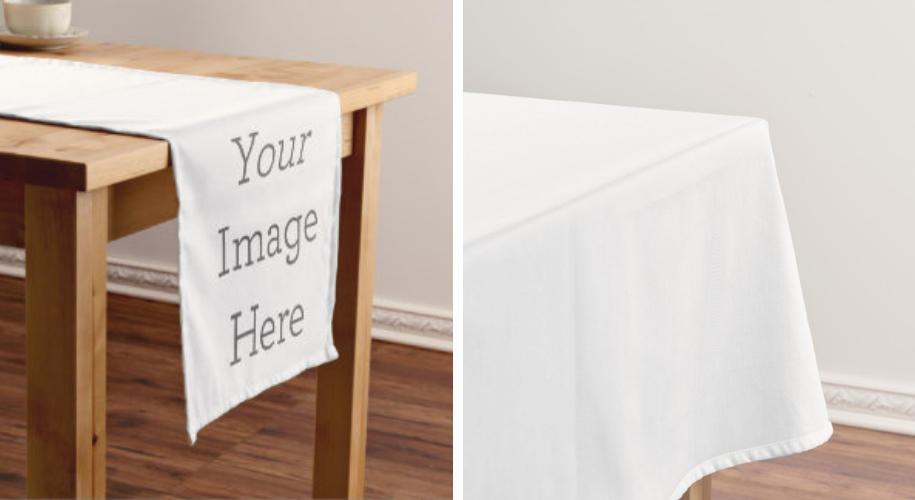 There's so much space to create with Zazzle's print on demand home products. Tap into your creative side and make beautiful things you'll cherish. Add interesting elements to your decor with your unique creations. And remember to have fun!
You May Also Like:
PIN THIS FOR LATER!