Ways To Incorporate Natural Wood In Your Interior Decor 
Looking to spice up the interior of your home but aren't sure where to start? Ideally, you want a comfortable interior that also serves as a peaceful and stylish space. A gorgeous and effective way to inject life and warmth into your interior decor is to utilize natural wood. The organic appeal of natural wood promotes tranquility and calm. More and more people are incorporating natural wood elements when designing and building their homes. For many, the versatility and beauty of Earth's natural resources make it a popular choice for interior design. It can also help increase the homes value and desire if you plan to sell your home.  It's no surprise that wood is well known for providing feelings of warmth to individuals everywhere. Here's how you can include natural wood when crafting your interior space: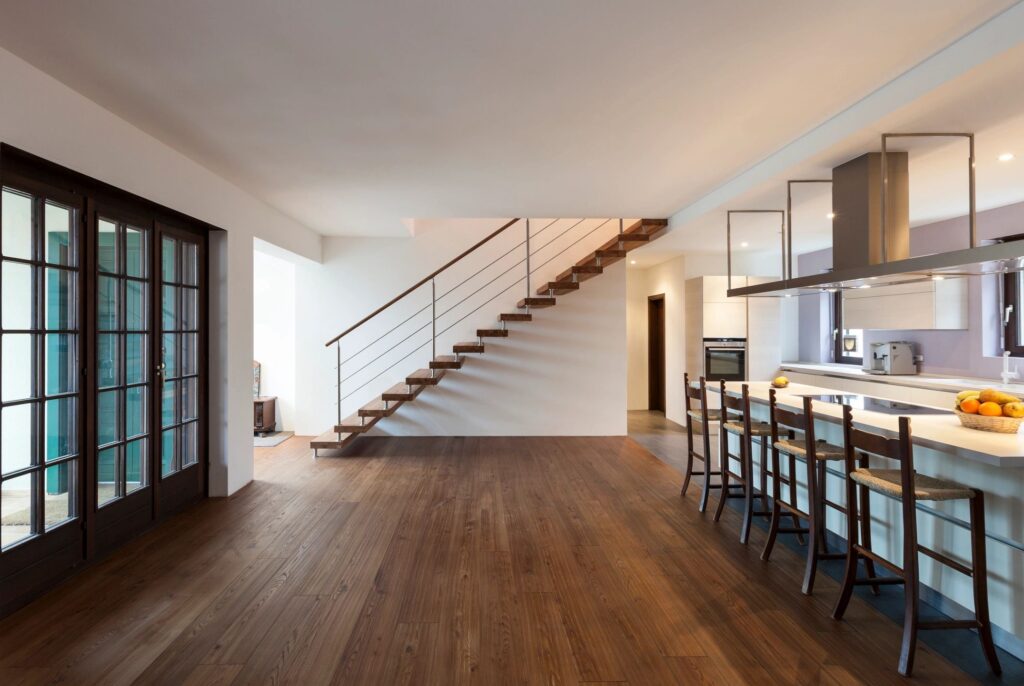 Flooring 
There's nothing classier and more sophisticated than hardwood floors. You can find a wide variety of wood, styles, and prices when considering wood floors. When looking for the right flooring, you should shop by wood type and determine which look will suit your decor best.  There are numerous choices to settle on, such as:
Maple

Red oak 

White oak

Walnut 

Cherry

Hickory
Learning more about the different types of wood can help you determine what kind you would like for your floors. Find out which ones are long-lasting, scratch-resistant, and so on. Knowing more about the different species can help narrow down the wide selection. Keep in mind that some woods are more expensive than others, so you'll also want to consider your budget.  We suggest choosing a darker wood species to give your interior a cozier feeling. Darker woods will hide stains better than other options, as well. Lighter woods are great if you have small spaces because they'll make a room look bigger and airier.
Windows & Doors
When designing the windows and doors of your home, wood is considered one of the most eco-friendly options, and it provides a rustic and traditional look to your home when used as window and door trim. We suggest using wooden double-glazed window frames as they're available at various affordable prices, and you can stain or paint them whatever color you desire.  One of the first things people notice about a house is the front door. Having a handcrafted wooden door will say a lot about your home. A popular choice for many home interiors is the barn door design. Barn doors are perfect for basements, bar rooms, bathrooms, and kitchens. Solid wood doors are ideal if you're looking for a rustic interior. 
Kitchen 
Kitchens can be full of life and classy when designed with wooden cabinets, counters, islands, and more. Adding wooden elements to your kitchen will make it pop compared to other rooms in your home, especially if your living room and kitchen are connected. Separate the two spaces with two different design schemes.  More homeowners are starting to see the impact of a two-toned room. Your choice of wood species can complement marble or quartz countertops, stainless steel kitchen appliances, and your paint color scheme/accent colors. 
Kitchen Accessories 
The floors, cabinets, or countertops don't need to be the only things made from wood. You can tie in your wood design by adding wooden kitchen accessories, such as bowls and chopping boards, and wooden utensils, like spoons, salad servers, and more. 
Furniture 
Incorporating wooden furniture into your home is almost endless, as you can include it in every room. Decorate the living room with a wooden coffee table, side tables, or chairs. Get yourself a wooden dining room table for intimate family dinners or wooden bar stools for the bar room area. You can even add wooden bed frames or dressers in the bedrooms if you want to go for a cottage-like aesthetic.  Using a mix of wood finishes, such as distressed wood or driftwood, will provide an array of different looks and styles.  There's no end to the interior designs you can get when working with various wood types. We hope these ideas have sparked your creativity. Remember to choose wisely and be mindful of your budget. In the end, you'll have a beautiful interior that everyone will be talking about.