Small studio apartments often present certain design challenges. At the top of the list is the lack of room separation. While this may not be an issue for some people, for others, a one-room floor plan can often feel like living in a furniture store showroom (minus the vast space of course).
When your kitchen is your living room and your living room is your bedroom, some sort of separation is a must. Even if it's just visual separation.
If all this sounds good to you, let's explore some ways to divide a studio apartment.
1.Rugs
Using several area rugs in a common space adds interest and separation. You can match two or more rugs or use different but complementary styles. Rugs are a great way to divide a studio apartment without blocking the view to other parts of the room. They separate spaces while maintaining the visual flow throughout the room.
Photo by BARRETT STUDIO architects – Search kitchen pictures
2. Double duty room dividers
In any small space, your goal is to maximize that space. The more practical a solution is, the better.  This means that if you can get more than one uses from it, it's practically gold. Set bookshelves perpendicular to a wall to divide living areas and add valuable storage space. Go for a tall and stylish bookshelf. Bookshelves don't have to touch the ceiling, but for the sake of illusion and the extra storage space, go tall.
3. Hanging Or Installed Divider Screens
For a more compact approach to dividing space, a standing divider or built-in screen will help to break up a room without completely blocking sightlines to the other parts of the room. It's a great way to provide separation without feeling boxed in.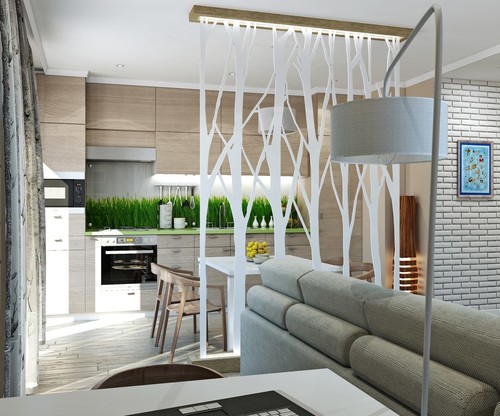 4. Curtains
Curtains are a popular way to create "walls" in a studio. They're easy to install, goes well with any decor and can bring a light and airy feel to the room or a dramatic effect with a bold color.
Curtains also naturally absorb sound, reducing any echo sound in the room. Add a ceiling track or install ceiling rods and hang your favorite curtain.
For a simpler, less expensive/no -drill option, stick heavy-duty, reusable adhesive hooks on the ceiling, add thin curtain wire with hooks at the ends (or use a long sturdy piece of string) then hang your favorite lightweight curtains. For smaller areas, try using tension rods. Be sure to measure your space before purchasing these items.
5. Use your couch.
If your goal is to separate your bedroom from your living room try positioning your couch at the foot of your bed. This is probably the easiest way to divide a studio apartment. The coach will simply draw a line between where your bedroom ends and where your living room begins.
6. Folding Screen
Create a room within a room and extra privacy with a stylish folding screen divider. There are countless folding screens on the market to match any decor. They're a great space-savvy solution, they add an interesting focal point to your decor and are not fixed, so you can move it anywhere you wish to create separation.
PIN THIS FOR LATER!