Charming 500 Sq Ft, New York Studio Apartment is BIG on Style & Function!
Cheban Interiors really shows you how to make 500 sq ft work. This tiny, charming 500 sq ft studio apartment has BIG style with its grey, blush and gold palette that brings this space to LIFE!
The Challenge
A fashionista downsizes for a better location without sacrificing style and function. Downsizing from a one-bedroom apartment to a studio in a more desirable building and neighborhood meant this New Jersey renter would lose storage and a wall between her bedroom and living areas. She turned to interior designer Marina Cheban, who found ways to accommodate her client's extensive wardrobe while keeping the space stylish. Take a look!
Charming 500 Sq Ft Studio Apartment Decor
Photo By Cheban Interiors via Houzz
Get This Look: White Sofa | Entertainment/Storage Unit | Gold Metal Accent Table | Silver Metal Accent Table  | Letter Wall Art | Black & White Area Rug | 
The Execution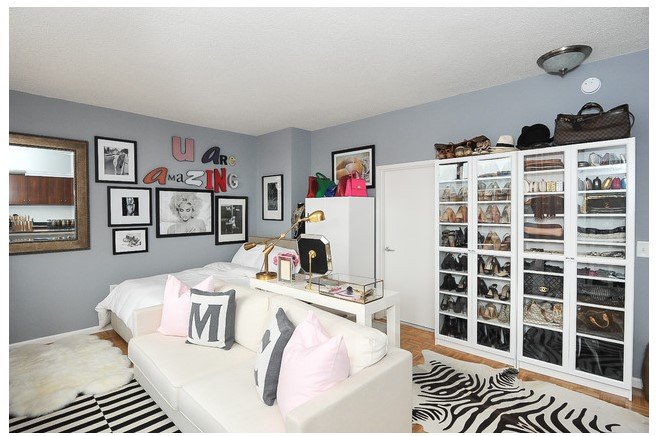 One challenge was to find room for the client's clothes and shoes. Her previous apartment had a walk-in closet, and in a place before that, the client had a spare bedroom to turn into a closet.
One solution was a new bed with a mattress on a frame that lifts up to provide storage underneath. This offered a place to store off-season clothes. Cheban customized one of the existing closets so that it could store the client's tops and bottoms, while a new wardrobe holds her dresses.
---
RELATED POSTS
---
Then came where to put the shoes and bags. According to Cheban, while they had the wall space horizontally, the room lacked depth. Therefore another wardrobe would have projected too far into the room, making the space feel cramped and disrupting circulation.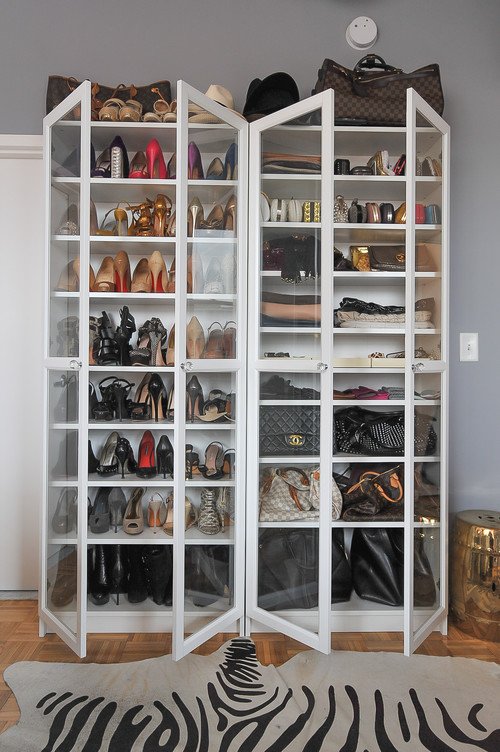 Get The Look:  White Storage Cabinet With Glass Door -(Home Depot)
Instead, Cheban found these customizable bookcase "Who knew women's shoes are the same depth as books?" she says. The units are shallow, so they don't jut out too far into the apartment, and the shelves can be adjusted to any height. Glass-front doors open up the space while showcasing the collection.
The cabinets are mounted to the wall so that they won't topple. "It makes it look more spacious," Cheban says of the cabinets in the studio. "Every single one of my girlfriends now has this system."
---
You May Also Like:
---
The client wanted the space to still feel like a cozy home and to have separate spaces to not feel as though she was sleeping in the kitchen.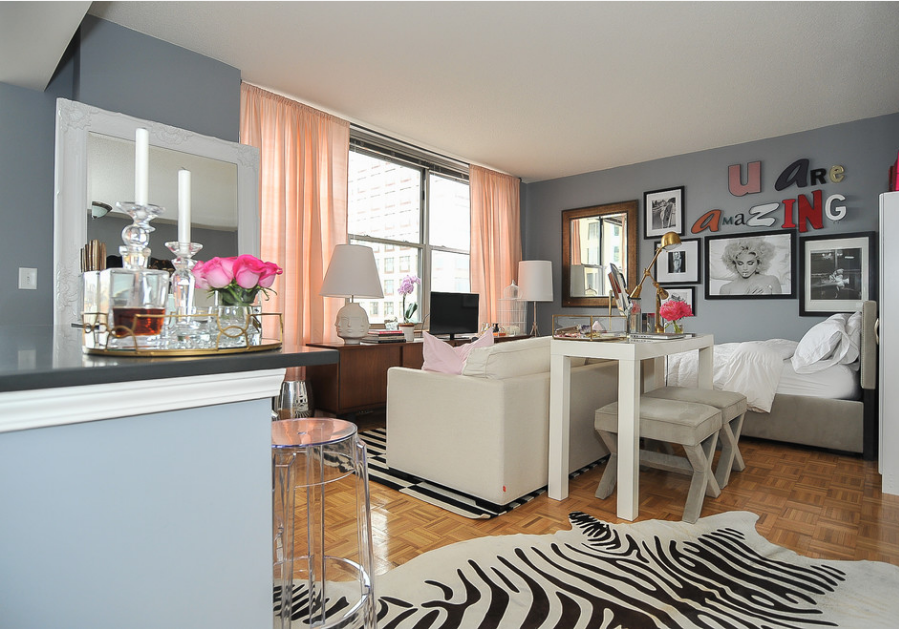 Get The Look: Faux Zebra Rug
To address this concern, Cheban designed the sleeping area to be as far away from the kitchen as possible — carving out a living room in the middle of the space. The sofa was the largest piece, so it was situated first with everything else revolving around the sofa fitting. The sofa and credenza interrupt the space, making the sleeping area and eating area feel more distinct.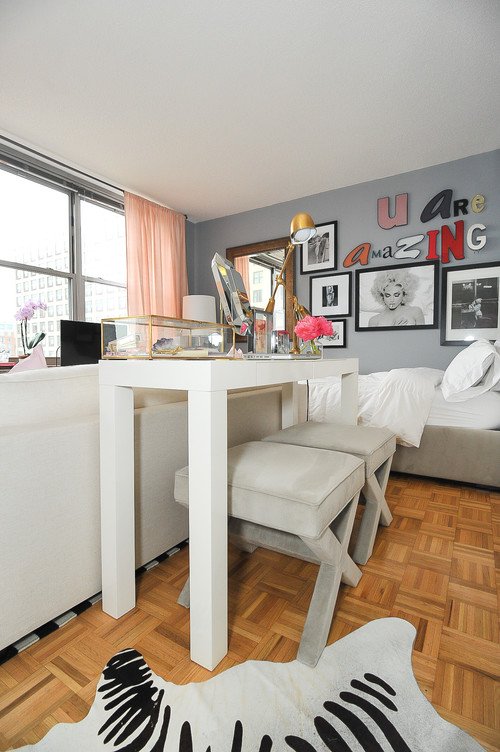 Get The Look:  Console Table | Bench |Alternative Ivory Bench
Cheban accessorized with blush-pink curtains and hot-pink design details. "Since this may be her last 'single' home, she wanted it to be really girly and dainty," Cheban says. Inexpensive throw pillows dress up the neutral sofa, and some of the more expensive items, like a Jonathan Adler lamp and Kartell bar stools, can be brought to another space.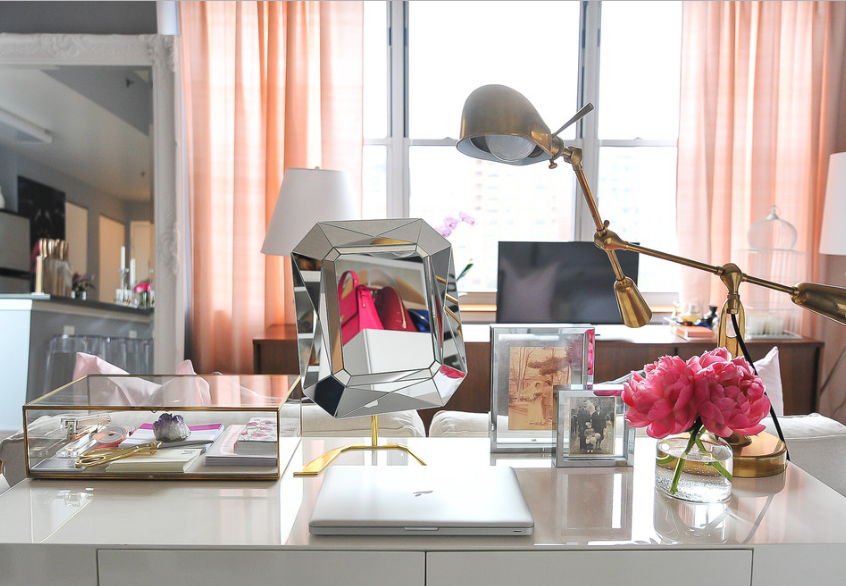 Get This Look – Gold Shadow Box | Gold Desk Lamp | Mirrored Picture Frames
Other pieces in the apartment balance style with function, including the desk area behind the couch. "She loves handwritten notes, and she had all these really cute cards, so I purchased a shadow box at West Elm to display it all. In a home this small, you have no choice but to display your things. By putting everything in a pretty storage solution, it makes it part of the decor," Cheban says.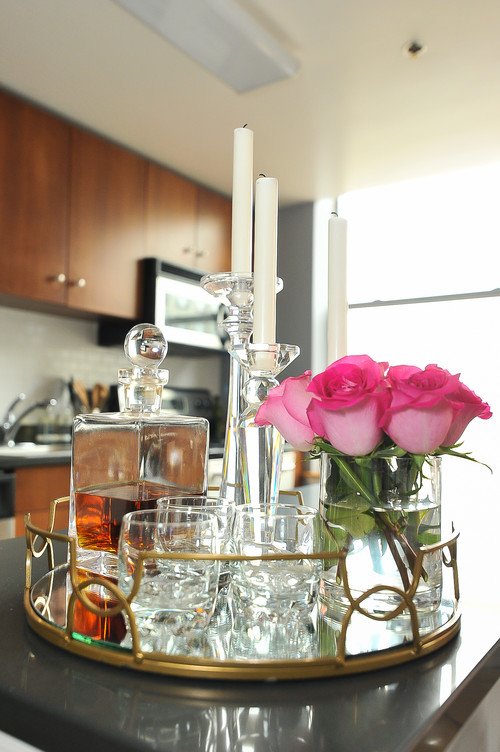 Get The Look: Gold Mirrored Trays  | Liquor Decanter Sets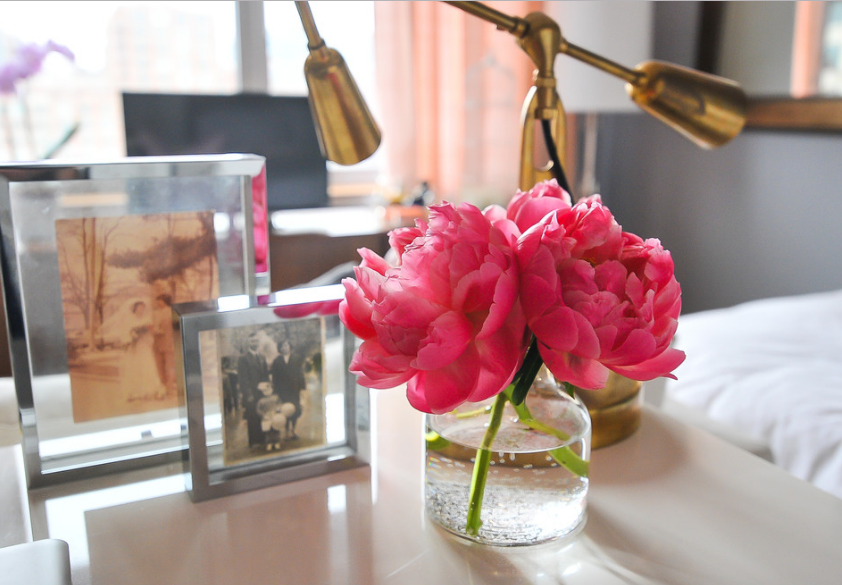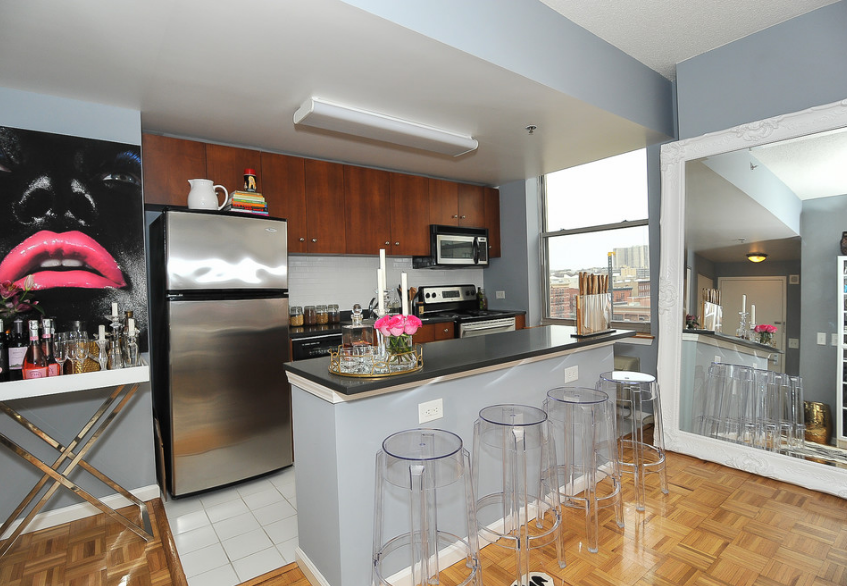 Get The Look: Acrylic Bar Stools 
Her goal for this studio was to make sure the apartment didn't feel overly cluttered or packed with furniture.
"There had to be roadways in between all the furniture, so it wouldn't look like a storage unit," Cheban says. "By using clean lines and simple design, nothing overstuffed, it brings great balance to the room," she says. She adds that she uses acrylics wherever she can. Since it's clear, it doesn't break up the space. Extra-large mirrors are added as a finishing touch to open up the room.
If you enjoyed this Charming 500 Sq Ft Studio Apartment Decor, Check out Cheban Interior for more beautiful designs.
All Photos & Info Courtesy Cheban Interiors via Houzz
For More Small Space Decor Ideas & Tips: