Decor Trends 2020 – What You Can Expect To See This Year.
It's a new year and there are lots to look forward to in the world of decor and design. It's time to take a look at some home decor trends for 2020!
While I don't follow trends religiously, (I typically go with what I think looks good and within my budget) I still think it's good to know what's popular and therefore available. Trends encourage retailers to stock up on high-in-demand goods. And when those goods are items that you love and want more of, it can be a good thing! It means that they're always available. More importantly, you can capitalize on competitive pricing!
So what's trending in home decor for 2020? Take a look!
Decor Trends 2020!
Art Walls
Everyone's tapping into their artsy side these days with abstract wall murals, adding a splash (or blob) of color to their interiors. Art is quickly moving out of frames and onto walls, furniture, and other home accessories. "Abstract wall murals make a big impact relative to their time and monetary costs, so everyone seemed to be grabbing a brush and giving it a go." – ApartmentTherapy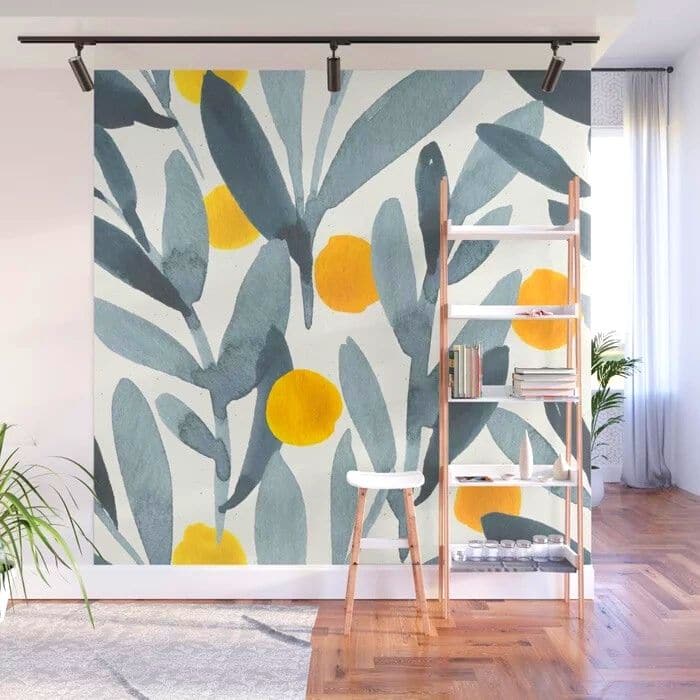 IMAGE: Watercolor Leaves and Orange Fruit Pattern Wall Mural – From Society 6
3D Wallpaper
New on the decor trends 2020 list. Textures and 3-dimensional shapes are going to be a thing in 2020. Ordinary patterns will come to life on walls this year with 3D wallpaper options. "3 Dimensional wallpaper is edgy and bold. And for those with more contemporary spaces, this may be your jam in 2020. It can provide a sense of realism and texture to your interior. The 3-D effect can include everything from realistic brick and wood wallpapers to geometric designs that play on the eyes." – Milton and King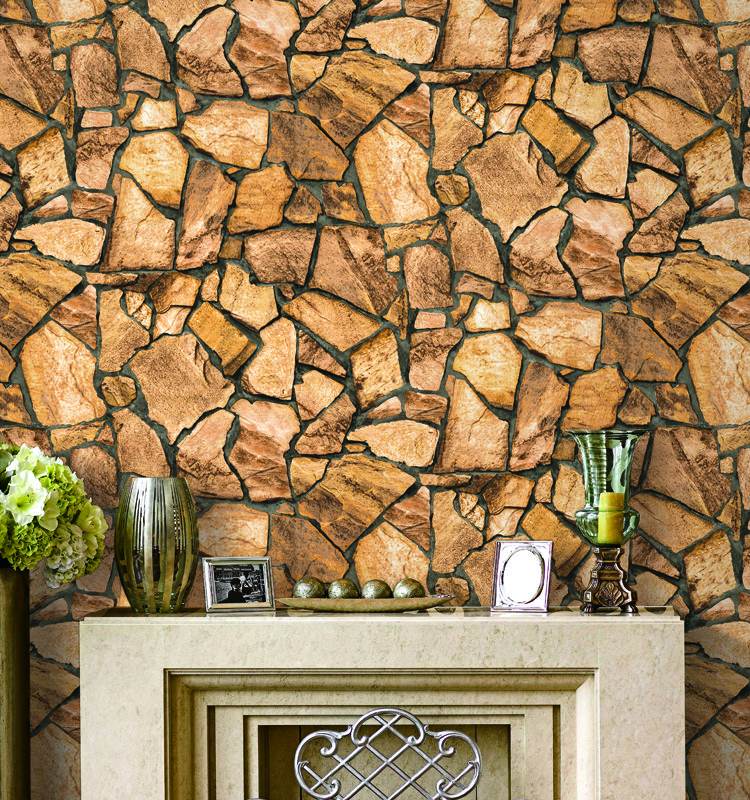 Browse Textured Stone Wallpaper Here On Amazon
"Classic Blue" by PANTONE
The color of the year pick by Pantone Color Institute is always a highly anticipated announcement. "This year, their color experts searched for a shade that would bring a sense of calm to our fast-paced, technology-filled world. Enter: a rich, timeless hue called Classic Blue. Reminiscent of a twilight sky, the deep shade of blue evokes a tranquil feeling. This sounds like the perfect color to ease us into the new decade…" – Better Homes & Gardens
Classic Blue would be perfect as an accent wall in smaller rooms!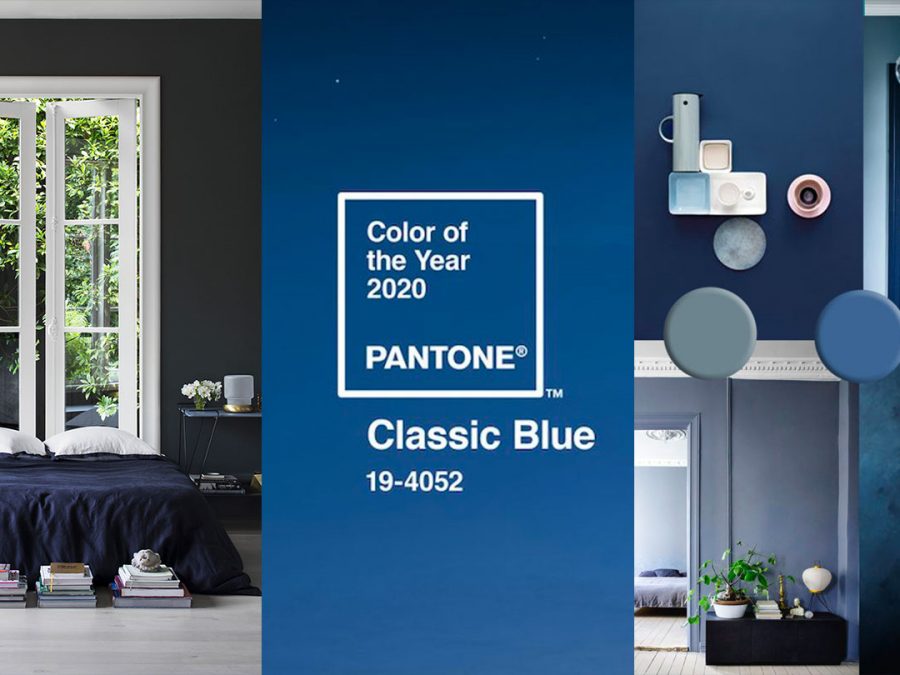 The 2020 Pantone color of the year is intended to reflect a "desire for a dependable and stable foundation on which to build as we cross the threshold into a new era," according to a press release from the company. "As deep blue is considered one of the most soothing shades, this sounds like the perfect color to ease us into the new decade." – Better Homes & Gardens
Related Posts:
You're Gonna Love These Dark Accent Walls In Small Spaces
Bold Paint Color Ideas For Tiny Kitchens
"First Light" by Benjamin Moore
Benjamin Moore's First Light 2102-70 is a soft shade of pink that continues the trend of rosy hues featured as 2020 colors of the year. The color reflects "a shift in mindset from the material to satisfying the core needs in life: community, comfort, security, self-expression, authenticity, and ultimately, optimism," according to Andrea Magno, Benjamin Moore director of color marketing and development, in a news release.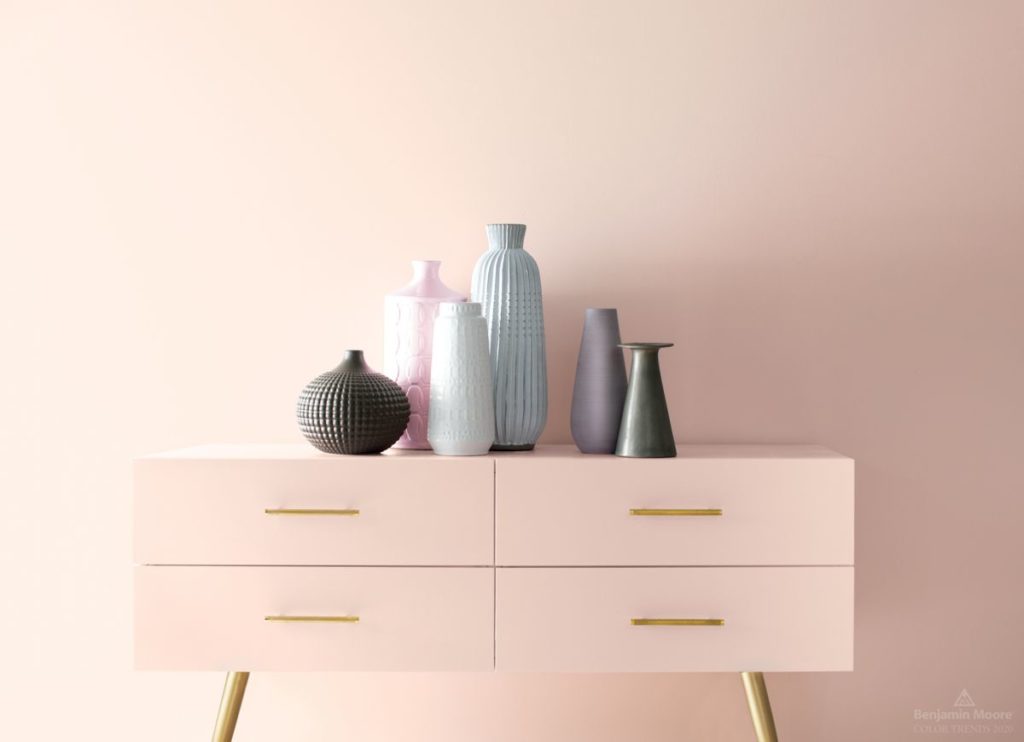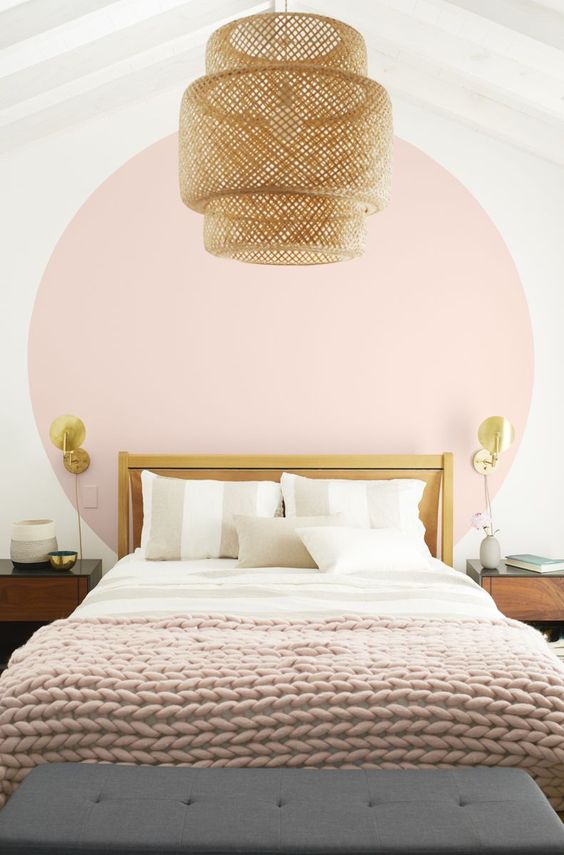 "First Light as a new neutral—the shade is subtle enough to be used on every wall in a living room or bedroom—and pair it with bright white or beige decor." – Benjamin Moore
Cane, Wicker & Rattan Furniture
If you have an Instagram or Pinterest account, you'll know that this one is a no-brainer. This decor trend has staying power in 2020, as more and more people are moving towards natural and sustainable furnishing. Rattan furniture is no longer considered outdoor, old-timey patio furniture. We saw beautiful modern Rattan beds, sofas, and shelves all over the internet last year and they're not going away anytime soon. "Previews of spring 2020 lines at this year's furniture shows indicate there's much more to come. "We expect more of the natural, bringing in the soul and elements from nature," says Richard Oullette of Les Ensembliers. – House Beautiful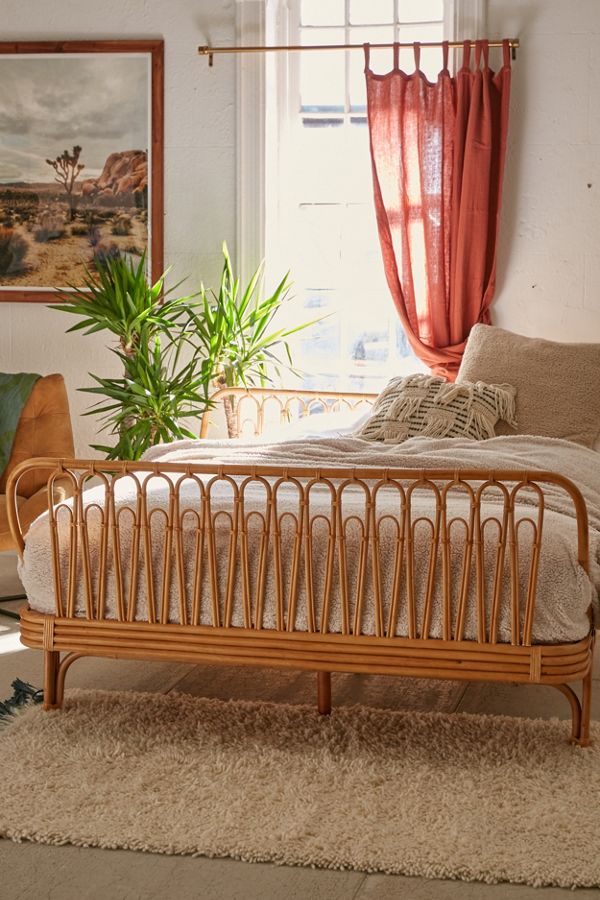 IMAGE: Canoga Rattan Bed – Urban Outfitters
"Rattan/wicker is having a resurgence; it warmly reminds me of my childhood and has evolved in fresh and exciting ways whether, in chairs, tables, or lighting, it is the perfect layer to balance modern and traditional style." — Nicole Fuller of Nicole Fuller Interiors
Related Post: Modern, Stylish Rattan Furniture That Won't Break The Bank!
Natural Materials & Sustainable Furniture
Eco-Friendly Decor is going to continue to be in demand in 2020. We're seeing an uptick across the board in furniture made from natural and sustainable materials and they're popping up everywhere and becoming more and more affordable. Feel even better about your love of rustic and natural styles by picking pieces with an eye on the environment. Look to reclaimed or sustainably grown wood, rattan, and bamboo or recycled materials for stylish finds that are equally Earth-friendly. – Hayneedle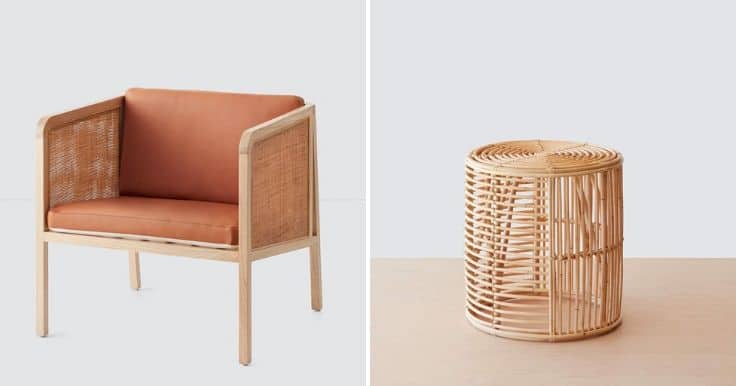 IMAGES: Tesso Lounge Chair | Java Rattan Stool / End Table – From Citizenry
Places To Shop Rattan & Natural Material Furniture & Decor: Citizenry , Burrow, Amazon's Natural Materials and Modern Rattan Pieces to start with.
I recently rounded up some Modern Rattan Favorites Here! I think you might like these!
Space-Saving, Multipurpose Pieces
A must for small spaces & tiny homes. People are catching on to the small space, tiny home lifestyle and choosing double-duty pieces that work harder for them. As a result, demand for multifunctional pieces will continue to climb in 2020. "Originally designed with small spaces in mind, these clever pieces provide a blend of style and function to get the most out of your space. Look for options with charging ports, hidden storage, or adaptable pieces you can move and repurpose as needed." – Hayneedle
Lift-top coffee tables are heating up and for good reason too! Also, people are looking for Stylish Storage Solutions to combat clutter and stay organized. There's nothing better than pretty storage!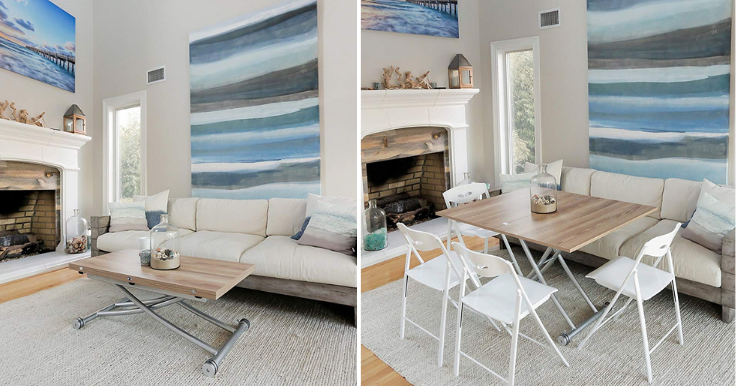 Related Post:
9 Space-Saving Tables That Are Perfect Small Space
This Must-Have Table Goes From Console To 12-Seat Dining Table In Seconds
Curved Lines
New on the decor trends 2020 list, rounded edges and carved furniture are going to be a hit this year. Rounded furniture is great for small spaces too. Curved furniture help to break up harsh, straight lines in smaller rooms, making it feel less boxy – Designers Cecilia Sagrera and George Brazil of Sagrera Brazil Design. Especially long, narrow rooms.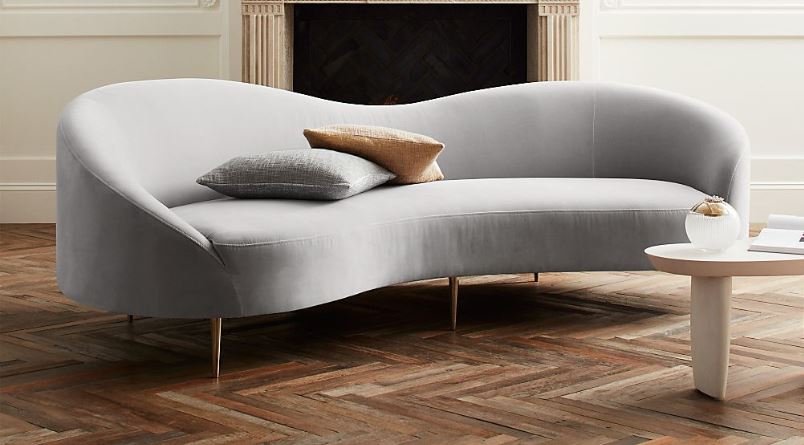 "More and more designers and homeowners are opting for the soft, romantic feel of curved furniture. Sofas with curved-back armchairs and dining chairs. We're looking at a curvy road ahead for design. "2020 is the year of the gentle curve as we move away from more structured, rectilinear styles toward elegant curved and asymmetrical pieces that created softer environments," confirms designer Chad James. – House Beautiful
If you're looking for small scale furniture check out this post: Where To Buy Furniture For Small Spaces?… That's Not Ikea.
Home Accent/Decor Trends 2020
Mirrors
Double-Duty Decor pieces will thrive this year. Decor and storage will blend to create stylish, space-saving accents. "As small spaces continue to trend, we're demanding that all of our objects do double duty, and mirrors of all types are no exception to this rule. That's why mirrors are now sporting built-in shelves. These little perches might not offer tons of storage, but it's the perfect spot for toiletries, jewelry, or other little knickknacks." – ApartmentTherapy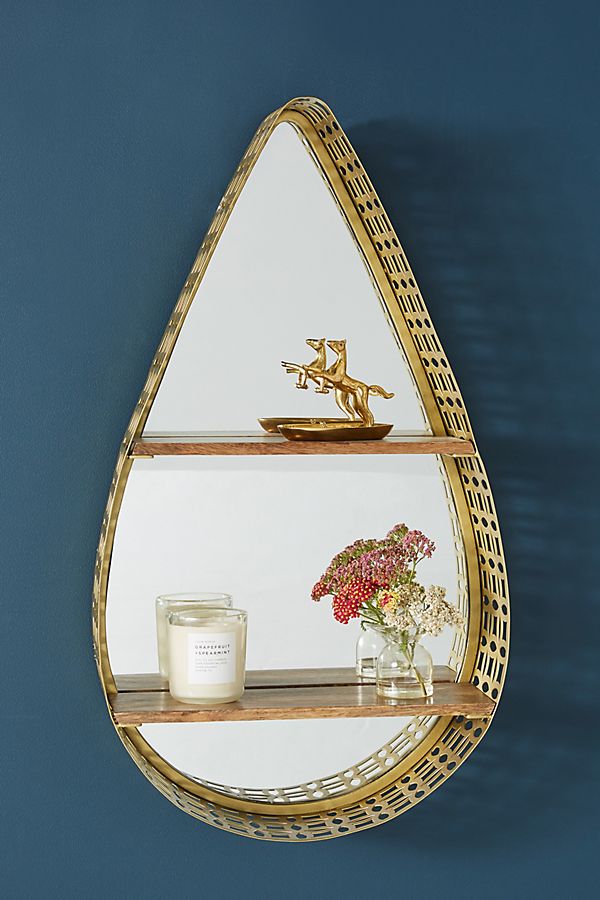 Brass Tear Drop Mirror With Wooden Shelves ($186) – Anthropologie
For more mirrors like this, I rounded up these 20 Stunning Mirrors With Extra Storage.
Plants. REAL Plants!
Ditch the plastic plants this year and go for low maintenance, live plants instead. There are lots of 'hard-to-kill plant options out there, so there's really no excuse to not get one. After all, faux plants can't clean the air in your home. Get a real one and reap all the health benefits plants provide. "Greenery isn't going anywhere, but the tree that captured the hearts of Instagrammers everywhere, the Fiddle-Leaf Fig, is starting to take a backseat to its close cousin, the Ficus Audrey. These smaller, trees are so much easier to maintain". – Apartment Therapy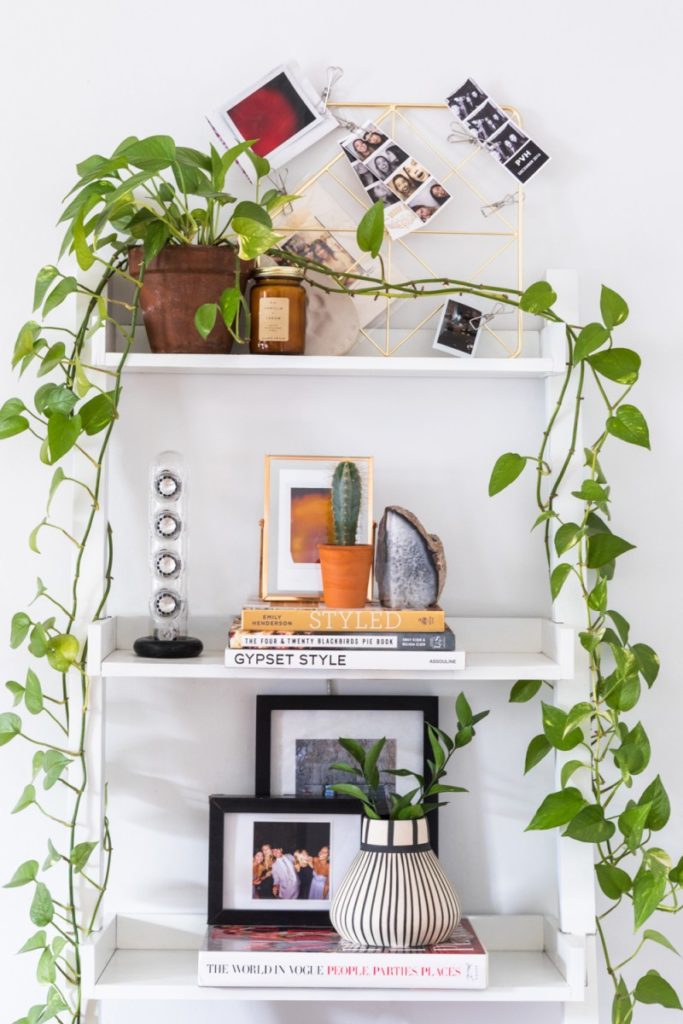 Some low-maintenance, hard-to-kill plants: The Snake Plant (almost impossible to kill) from Bloomscape, the Spider Plant, and the beautiful trailing Pothos (like the one above!).
SPECIAL OFFER From Bloomscape: Get $10 Off Your First Bloomscape Order Over $50 & Free Shipping On Orders Over $75! Use Code: NEWBLOOM10
Faux Marble
Fake it till you make it this year with Faux Marble Furniture. "In 2020 we are going to see a big shift of people using faux marbles (porcelains and man-made materials) on their kitchen countertops. Not many people want to deal with the upkeep of real stone."— Hilary Matt of Hilary Matt Interiors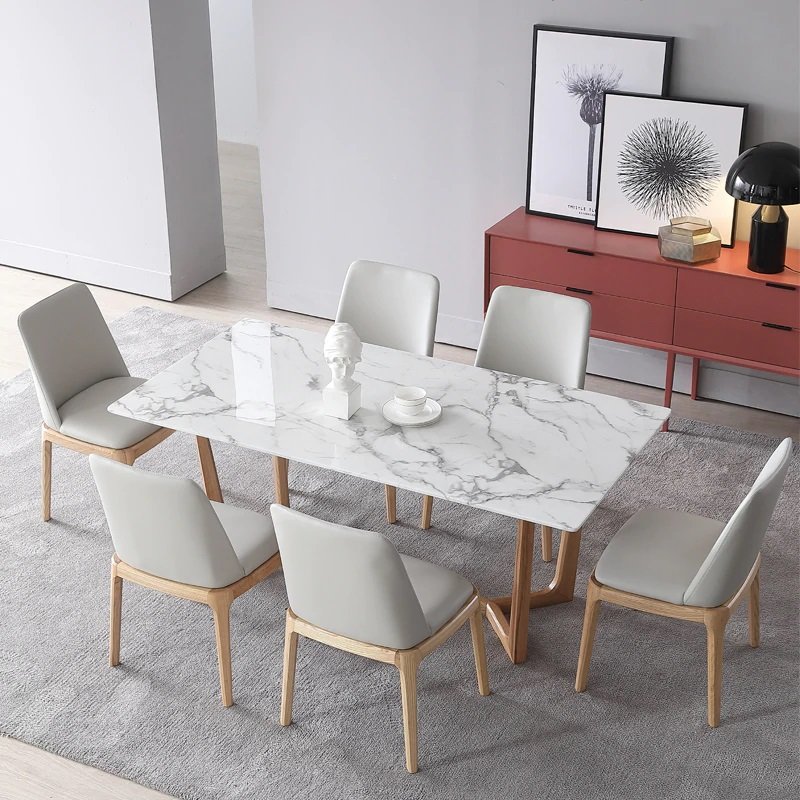 Renter Hack: If you're on a budget but love this trend, try the peel and stick Faux Marble options on Amazon. They can be used on countertops, tables, or cabinets. Use them as a backsplash for your kitchen or bathroom too. Faux marble gives you that classic, luxe look for less. All without risking your security deposit!
Biophilic Design
We're going to see more and more homes filled with lush indoor gardens and living vines. It's maximalist design for plant lovers. "In a world where technology is evolving at the speed of light, we often forget about our primitive roots connected with the earth and the benefits that nature has on our overall psyche. We believe that increasing our connectivity to nature directly or indirectly through biophilic design has health, environmental, and economic benefits…
Adding a living wall or a low-maintenance biomontage wall to a little corner of your home makes your space beautiful while improving mental health and the overall ecosystem. It's simpler than you think, and the benefits are plentiful!" — Becky Shea of Becky Shea Design via Elle Decor
Related Posts:
Open & Multipurpose Spaces
"The commitment to integrate different areas of the home to create diaphanous and multipurpose environments is becoming increasingly clear. This solution will allow you to enjoy more meters, the ones you gain from the eliminated partitions, and very practical spaces for the whole family. The integration of the kitchen and living room is the most common in flats with a few meters." – Boc De Lobo Exclusive Design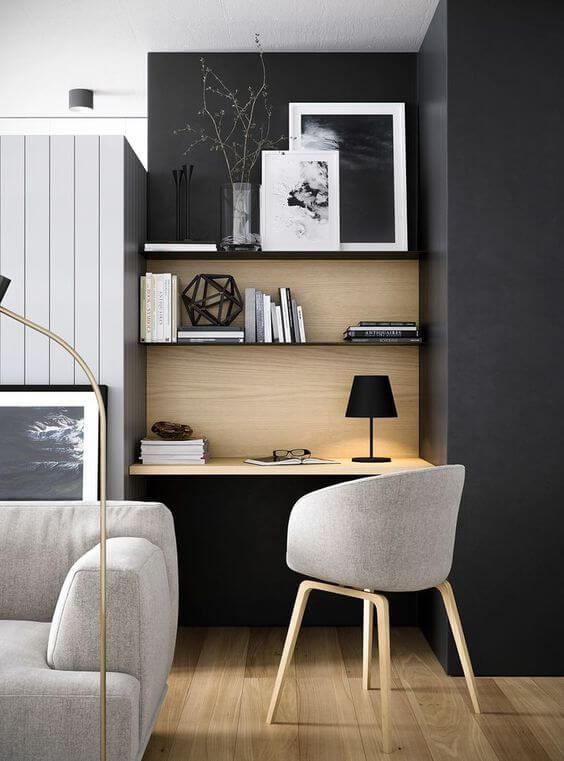 Related Post: 7 Ways To Carve Out An Office In Your Small Home
Neutrals Aren't Going Anywhere
"Neutral colors will be in once again this upcoming year. What can we say? Neutrals come in pretty classic and serene shades, and most importantly, they're not super busy. If you're thinking, "Big whoop! Neutrals are so plain," then you're wrong for several reasons. Neutral colors are whites with cool or warm undertones… Don't underestimate the power of neutral decor either. It'll make an excellent choice for your walls, but they're also great options for furniture including sofas and bedding." – Collected Interior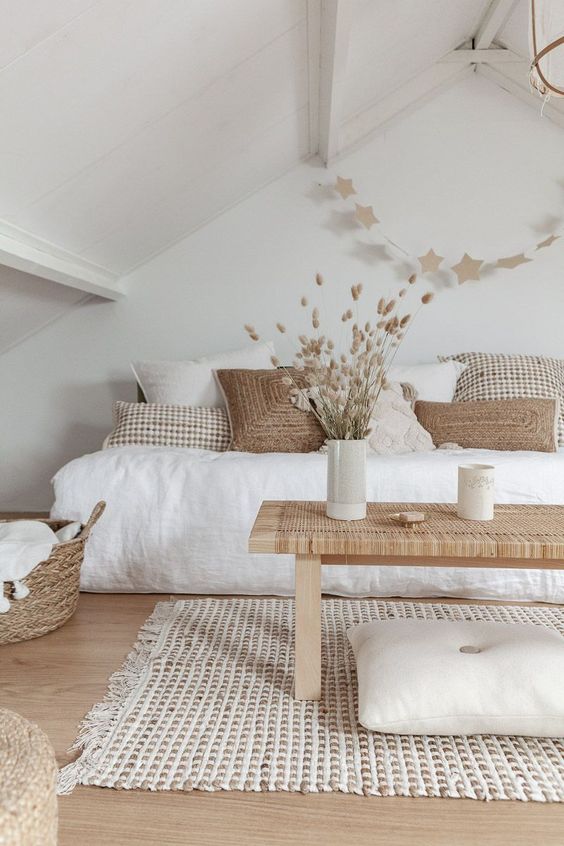 "We see a transition into gorgeous warm neutrals that cleanse the palate and hint at the reemergence of tradition," she says. Neutrals that are often relegated to the background—off-whites, tinted grays, earthy ochres, and tactile beiges—will instead step to the fore, continuing that reconnection with nature and authenticity". – Architectural Digest.
Check out Citizenry for stunning Neutral, Natural & Handmade Decor Accessories.
Geometric Designs
"Geometric patterns have been on an upward trend for years now, so much so that you can find geometric patterned anything, anywhere. The only problem with geometric patterns being so popular is that it's on everything–cups, notebooks, wallpaper, couches, bedding, art, floors, light fixtures, and other decor. It's so easy to overdo it, but don't expect geometric designs to be going away anytime soon. That's why 2020 is all about geometric balance. You can still make a statement with bold and vibrant geometric patterns." – Collected Interior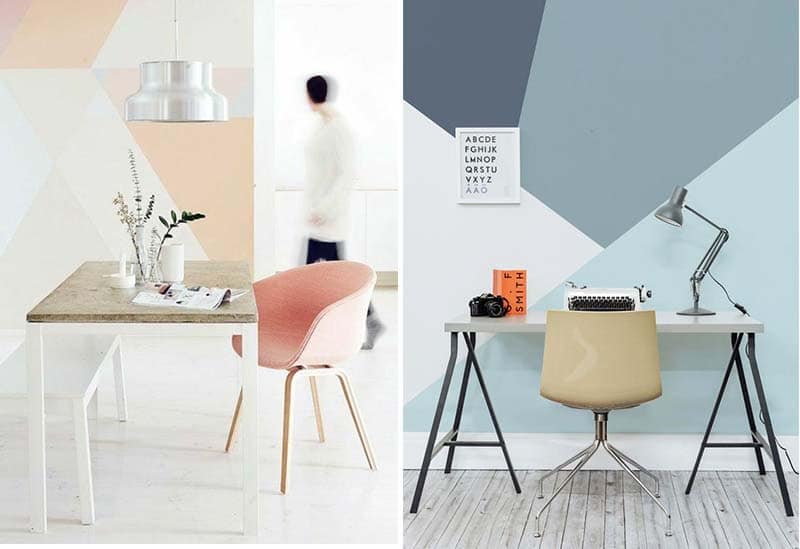 Stick with more classic or contemporary patterns with chairs and throws. Pick an area of your home where you want the geometric pattern to make a bold statement. How about geometric bathroom floor tiles, or a thin-lined geometric wallpaper with a not so busy pattern? It's all about being strategic, – Collected Interior
Related Post:
Incorporating These Trends Into Small Spaces
Those are some of the major decor trends you can expect to see this year. Many of them started in 2019 but seem to be picking up momentum in 2020. Of course, all of these can be incorporated into small spaces. That Classic Blue paint color and 3D wallpapers would be perfect for an accent wall or used for color-zoning a studio apartment. Geometric walls are popular for color-zoning too. The Faux Marble countertops are such a great way to update your apartment decor and add a bit of luxury to your space.
Rattan & Wicker furniture is often the right scale for smaller rooms. They add a beautiful boho, tropical vibe without occupying too much visual space. Again, rounded furniture would be a nice addition in smaller boxy rooms. They'll help break up all those harsh lines. Go for a round coffee and accent table to balance the room. Mirrors are a must in smaller rooms. Add one to every room to open up that space. I rounded up a few stylish Mirrors With Shelves & Hooks so you can squeeze in some extra storage.
There You Have It!
Some of the major home decor trends for 2020. Pick the one you already love or try them all. Get creative decorating this year. Have Fun!
PIN THIS FOR LATER!