50 Studio Apartment Layouts That Just Work
If you're looking for studio apartment layout ideas, then you're in the right place!
Just because you live in a small studio, doesn't mean it has to feel like a tiny dorm room. In fact, there are many creative ways to arrange your small space for optimum comfort and function. While you can't physically increase your apartment's square footage, choosing the right layout can make it feel open and ample.
When you're done browsing these studios, check out the Lofts I Fell For This Week!
Pin This For Inspiration Later!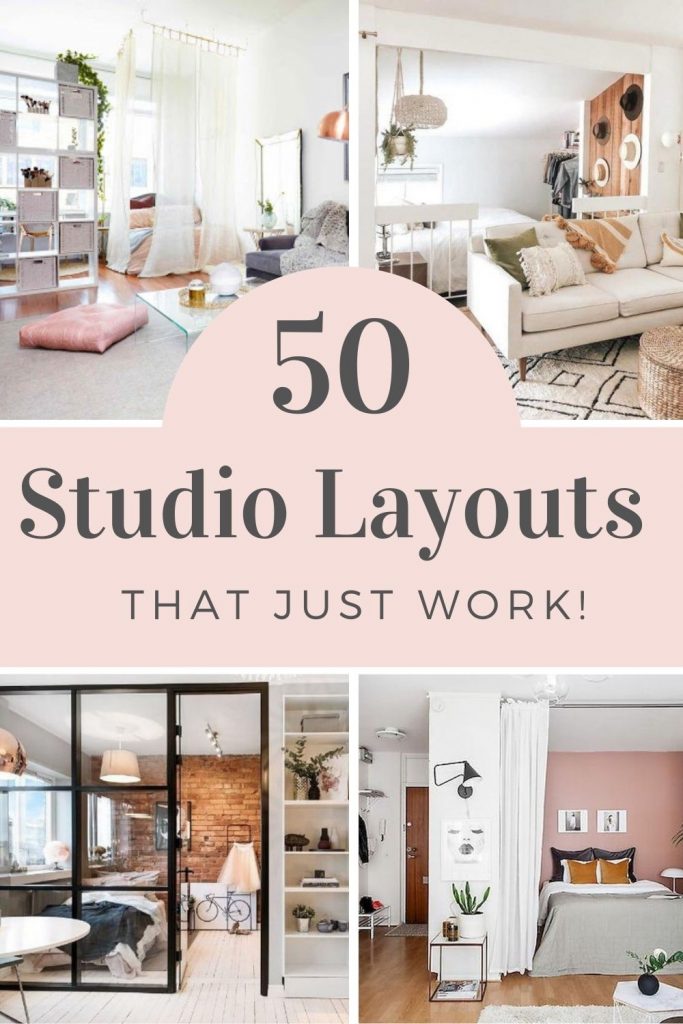 If you're not sure where to start then, stick around! I put together 50 studio apartment layout ideas that will inspire. These apartment layouts will show you how other small-space dwellers make it work. With a little space planning, the right furniture placement, you can maximize every square inch of your place to create the home you deserve!
But First…
7 Design Tips For Laying Out A Studio Apartment.
Create Zones.
Create visual separation to avoid that 'furniture showroom' look. Use rugs or furniture, such as a tall bookcase or a console table to separate living spaces. This is also known as 'Zoning'.
Float Your furniture
Even in a small space, furniture does not have to hug the walls. Floating furniture is the process of moving most of your furnishings to the center of a room. Try leaving a foot or so of space between them and the walls. It's an efficient use of square space because it allows for better traffic flow in and around the room. Your open floor plan will look less disjointed and more cohesive. Floating your furniture in a studio can also help divide the space.
Choose 'Leggy' Furniture
Furniture that sits high on tall, thin legs lets the eyes scan the floor. Believe it or not, this trick can make your apartment feel more spacious. A 'Leggy Sofa' will consume less visual space and avoid that cluttered look you sometimes get with lower, pieces. Mid-Century Modern furniture is perfect for achieving that uncluttered, spacious look.
Be Strategic About Your Bed & Sofa Placement
Place your sofa and bed on opposite sides of the room. This creates a visual separation between living and sleeping areas. Although, I've seen layouts where the back of the sofa is placed at the foot of the bed. This works too!
Always Aim For Flexible Furniture.
This is definitely a Pro move right here! Choosing the best types of furniture for small spaces is essential. Furniture that is multifunctional, or provides storage will help you maximize your space. A wall-mounted desk can act as a dining table. A bed with a full set of drawers underneath can provide extra storage and prevent clutter. These are investment pieces! You won't regret buying them.
Carve Out A Cozy Bedroom.
Create a separate sleeping space where you can relax and unwind. Try placing your bed in a corner with a bookcase at the foot of the bed to act as a divider. Or use an actual room divider. Curtains can also work for creating separation and privacy.
Don't Ignore Vertical space.
Add wall-mounted shelves…all the way up! Your walls are prime real estate with endless possibilities for storage & decor. Choose decorative shelves for more stylish storage.
Now that you have the basics, let's get inspired!
50 Inspiring Studio Apartment Layouts That Work!
---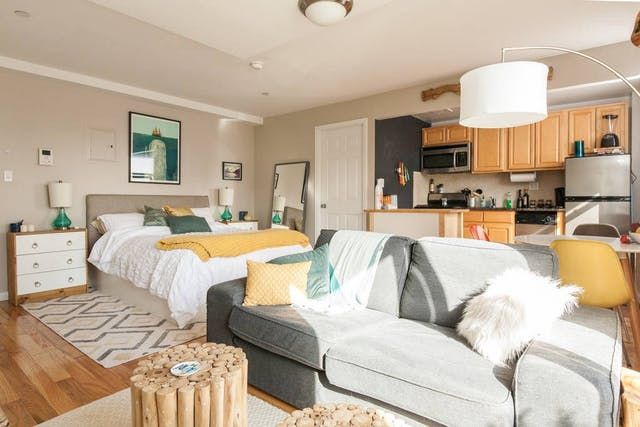 There you have it. 50 gorgeous studio apartment layout ideas to get you inspired for your next decorating project or property investment. Don't let your small space stress you out. Follow the wonderful tips that are out there, gather ideas, and make it your own. Most importantly, don't forget to Have Fun!
If you're looking for more small apartment solutions, check out my other post: 8 Common Small Apartment Problems SOLVED! There is also a ton of decorating guides and tips here on Square Inch Home. Feel free to Explore The Blog!
Happy Decorating!
Want More Studio Apartment Ideas?
Pin This For Inspiration Later!