These Hidden Amazon Sections Are Full Of Small-Space Solutions & Renter-Friendly Hacks!
I just found my new favorite Amazon sections! These secret home sections on Amazon are gold mines for small-space and apartment dwellers alike.
You've probably heard of the Home Essentials section or even the Home Trends section, where you can shop popular looks. You may have even heard about the Discover Your Style Section, where you simply "Like" a product, and Amazon suggests more products like it.
But chances are good that you've never heard of these curated sections, packed with solutions and hacks for small spaces.
**This page may contain affiliate links. If you purchase something through these links, I may receive a small commission. You will NOT pay more for products purchased through these links. I only recommend products that I love and trust! **
Hidden Amazon Sections For Small Spaces & Apartments!
Amazon's Hidden Rental Hacks Section
---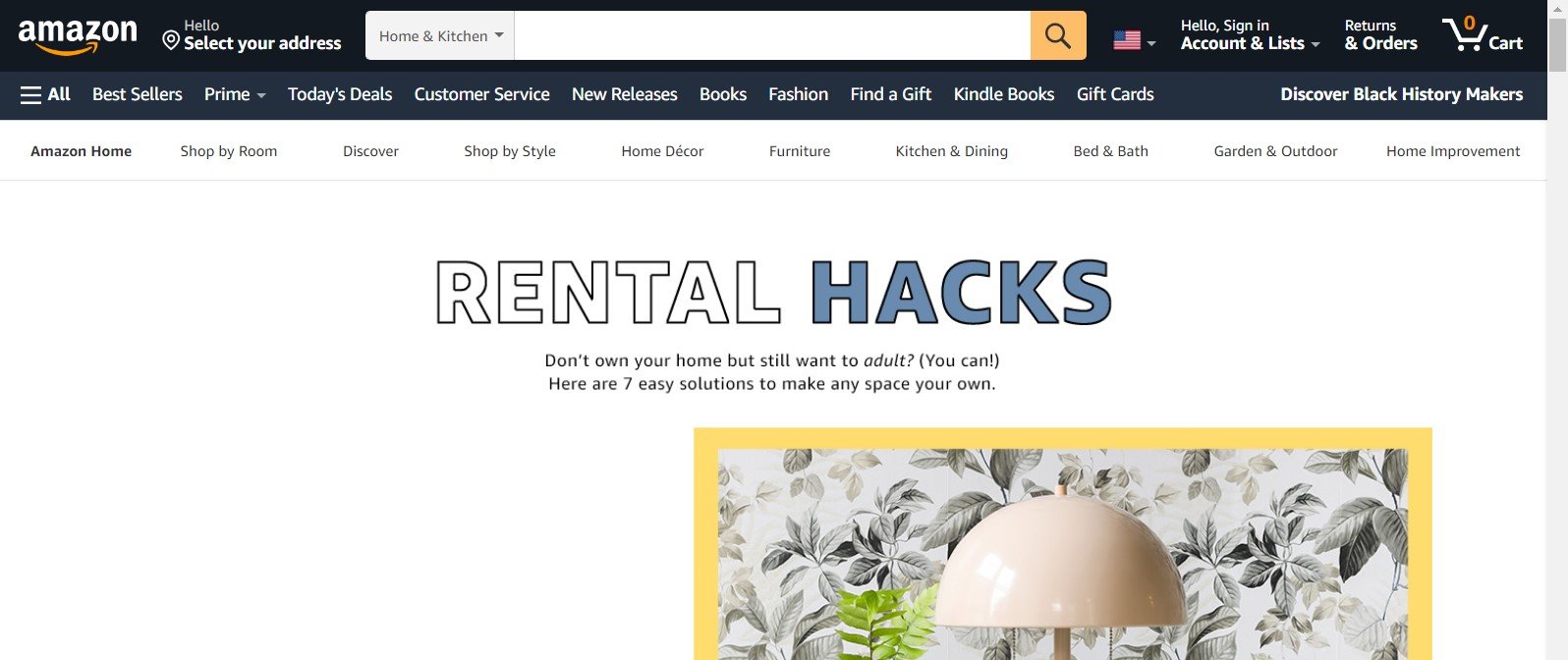 This Rental Hacks section addresses some of the most common problems that small apartment dwellers face and offers simple solutions. Plus a curated selection of products you can shop to create your perfect home.
Here are some favorites from Amazon's Rental Hacks list:
Dining Space Solutions: Create a Cozy Dining Nook With A Small Table, A Chair & A Storage Ottoman
With small apartments, a designated dining room isn't always possible. But that doesn't mean you're stuck eating dinner on your couch. Creating a small dining nook is as simple as getting a small table, 2 chairs, and/ or a small storage ottoman.
Favorites From The Dining Nook Collection…
Space-Saving Indoor Garden Solutions
It's no secret that plants are good for mental and physical health. Living in an apartment shouldn't stop you from reaping the many benefits plants have to offer. Amazon has curated space-saving planters and stands to make it easier to add plants to your home or create an indoor garden. Add theme wherever there is natural light.
Faves From Their Apartment Garden Collection
There are so many more ideas and curated renter solutions to explore in this section, including; Entryway Solutions, Bad-Lighting Solutions, Kitchen Storage Solutions, and more.
Get More Renter-Friendly Ideas & Solutions Here On Amazon's Rental Hacks Section
Amazon's Hidden Small Space Solutions Section
---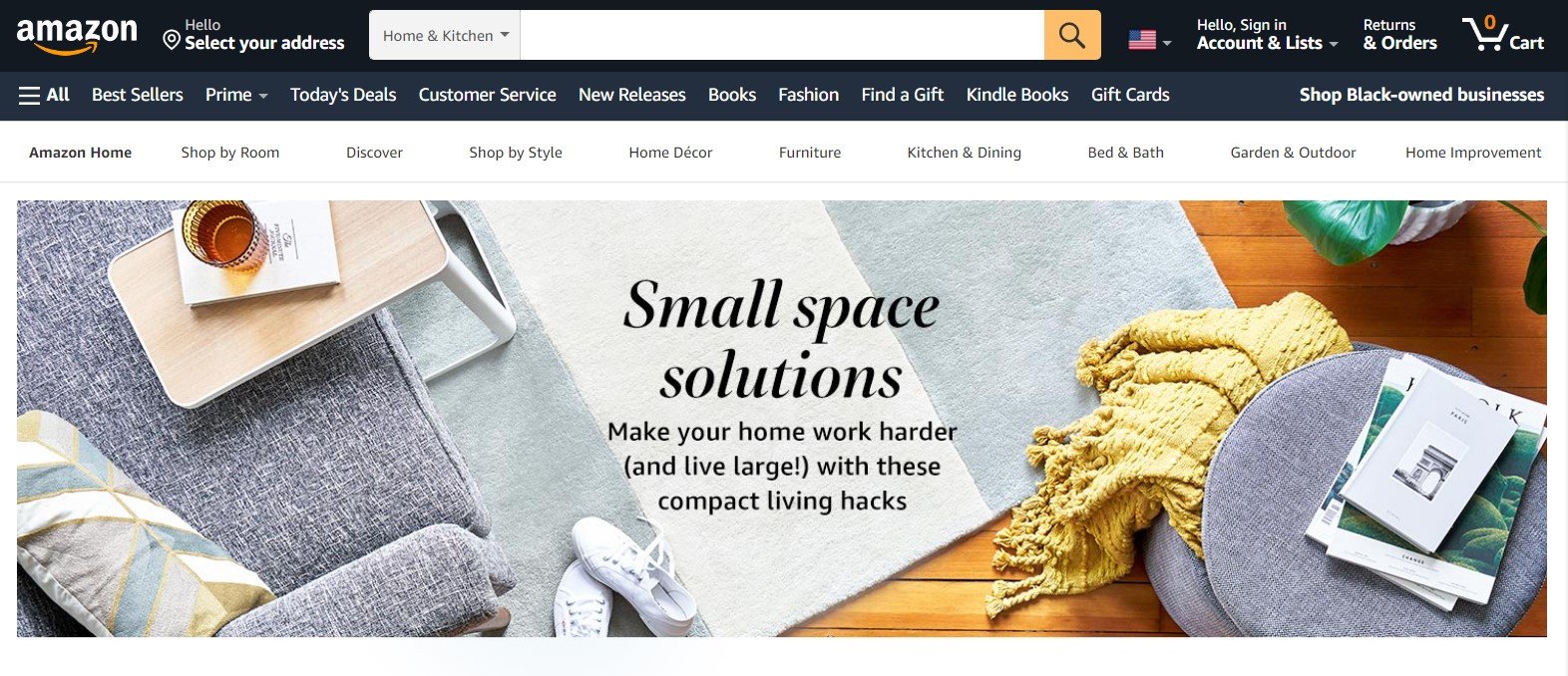 This Small Space Solutions Section includes perfectly scaled, space-saving, and clever solutions for small space living. Below is a summary of what's included in this Section.
Small Living Room Solutions
The Small Living Room Section is a curated collection of multipurpose furniture like sofa-beds, storage furniture, and small-scale accent pieces like stylish magazine holders, storage ottomans, baskets, and shelves.
Wood Lift Top Coffee Table with Hidden Storage (See more like these in This Roundup!)
See More From Amazon's Small Living Room Solutions Here!
Small Entryway Solutions
Amazon's curated Small Entryway Solutions features stylish hanging wall storage, shoe storage, and small benches. Create the perfect entryway Decor no matter the size of your space.
Some Favorites:
Modern Pub Mirror With Pocket & Hanging Pegs. (I Compiled 20 Stunning Mirrors With Shelves & Hooks!)
Slim Two-Tier Shoe Rack Cabinet with Drawer ( See More Entryway Storage Cabinets in This Roundup!)
See More From Amazon's Small Entryway Solutions Here!
Small Kitchen Solutions
If you're short on pantry space, look no further. In this Small Kitchen Collection, Amazon put together dozens of space-saving solutions for tiny kitchens! Helping you to maximize space and stay clutter-free all at the same time.
See More From Amazon's Small Kitchen Solutions Here!
Want More Small Kitchen Storage Ideas? Check Out My Other Posts:
Small Dining Space Solutions
Maybe you're not into the whole dining nook thing suggested above. Maybe you prefer a setup that looks and feels more like a traditional dining room, just on a small scale. Amazon's Small Dining Space Section has some options for this. Although, you can find more pieces by simply searching for small dining tables/sets on Amazon's regular home pages. But this section is still a good place to start!
See More From Amazon's Small Dining Space Solutions Here!
Small Bedroom Solutions
Small Bedrooms often mean limited closet space. Amazon's Small Bedroom Solutions offers storage beds, under-bed storage, nifty space-saving closet essentials, and more.
Some Favorites From This Curated Collection:
See More From Amazon's Small Bedroom Solutions Here!
Discover More Hidden Home Sections On Amazon:
Want More Bedroom Storage & Ideas? See My Other Posts:
Pin It For Later!
Don't Miss The Latest Posts: